Noah Geekie had a big decision following the 2016-2017 hockey season where he played with the Yellowhead U18 Chiefs. He scored 30 times and added 23 helpers in 50 games that season as he averaged more than a point-per-game.
Known as an all-star baseball player growing up as well, the Strathclair native had to decide whether he wanted to pursue baseball moving forward or continue with his hockey playing days. It wasn't an easy decision by any means, but in the end, Noah chose to pursue baseball and over the past few years, his career has certainly blossomed.

In 2017, Geekie got his big break on the national stage after years and years of hard work. Three years before the 2017 Canada Summer Games that were played in Winnipeg, the selection process for that team began. The process included tryouts and exhibition games as Manitoba looked to field the best possible roster. One year prior to 2017, Geekie was cut from Team Manitoba, the team that would take part in the Western Canadian Summer Games.
A couple of months prior to the start of the Canada Summer Games in late July, Geekie received some good news as he made Team Manitoba for the first time in a career that has now led him south of the border.
"That was an unbelievable experience. To get the chance to play on that big of a stage and be the host province, that was unbelievable," said Geekie. "The run that we went on during that event was also super special. No one really expected us to do as well as we did, it was unreal. It's certainly one of my favourite weeks of my life, without a doubt."
Geekie helped Manitoba to a perfect 5-0 round-robin record by going 7-for-11 from the plate. He had six singles and one double. The perfect round-robin earned the team a berth in the semi-final where Geekie went 1-for-3 as they downed Alberta, 1-0. It was a battle of the prairies in the final as Manitoba played Saskatchewan. Saskatchewan would edge Manitoba, 3-1, in the finals to claim the championship.
Noah ended up going 8-for-17 from the plate which adds up to a batting average of .470.
"I thought I performed to the best of my abilities, I think I did pretty well," continued Geekie. "Everyone on the team was contributing and did their part. It was a tough loss in the finals, but it'll still go down as a week I won't forget, it was tremendous."
Geekie, who is now 20-years-old, made the move to Alberta when he was in grade 12 as he joined the Okotoks Dawgs academy team.
Last summer, he joined the Dawgs team that competes in the Western Canadian Baseball League (WCBL). The league features top collegiate players from across North America, all of which
are looking to stay sharp while collegiate seasons take a break during the summer months.
Noah suited up in 19 games and he had 10 hits and a batting average of .256. Geekie also pitched six innings where he had nine strikeouts and a 1-0 record. The team went 40-15 as they won the regular-season crown by 9.5 games. Okotoks would end up nabbing the league title. Noah had to miss the championship series because he moved to play collegiate baseball.
"Playing with Okotoks was unbelievable, it's a first-class organization," said Geekie. "I really believe the year prior with the academy team really helped me grow as a player as well. It was a great two years. We had a special group of players last summer."
On The Move:
After finishing his high school studies at Foothills Composite in Okotoks, Noah packed his bags again as he was headed south of the border for the first time to not only continue his studies, but continue his baseball playing days.
In time for the 2018-2019 season, Geekie joined the Barton College Cougars team, home of 57 national championships. In the first 59 games of his college career, Geekie had 74 hits in 218 plate appearances. The Strathclair native also chipped in 38 RBI and his batting average of .339 was one of the tops on the team. It's safe to say that Geekie's first full season of action in the National Junior College Athletic Association was a solid one; however, he knew he had more in him.
"I didn't really know what to expect going into my first year, I knew no one at Barton and I didn't really know the area," said Geekie. "I really feel I developed a lot throughout the season and I had some pretty solid stats. With that said, I wasn't satisfied, I wanted to come back the next year and be better than I was."
Noah also only gave up one hit in 3.1 innings pitched to go along with 7 strikeouts and he had a fielding percentage of .938.
As mentioned above, Geekie went back to play with the Dawgs in the summer after his first college season and the team won the WCBL league championship. Back at Barton for the 2019-2020 season, Geekie was back to doing great things at the plate with his .346 average through 21 games. He also had 22 strikeouts in 16.1 innings pitched to go along with a .938 fielding percentage, the same he had the prior season.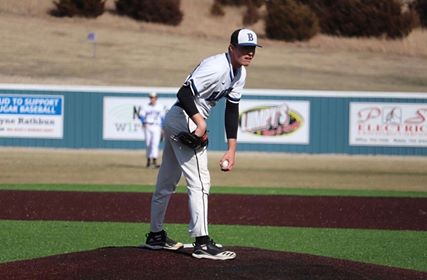 The Cougars in all were off to a torrid start to their season as they were 19-3 through 22 games. After a 12-1 win on Thursday, March 12, the season was officially cut short because of COVID-19, a virus that shut down the sports world across the globe for months. The team was also ranked as the 18th best in the country.
"We had a super special group of guys and everyone just wanted to improve and contribute somehow," said Geekie. "I honestly felt like I was just sort of starting, I think I was going to keep going. I still think of what we could have done that season, I think it could have ended up being something incredible."
Two years have officially passed in Geekie's college career and with Barton being a two-year junior college, the Strathclair native is officially back on the move as he continues his journey to what he hopes one day will lead to a professional contract.
Noah will now move to Emporia, Kansas, where he has committed to play for the Emporia State University Hornets of the Mid-America Intercollegiate Athletics Association. The process to becoming a Hornet began last October when their coaching staff reached out to Geekie and expressed their interest in the 20-year-old. When this past season was ended, the Hornets were 13-7 overall and 5-1 in conference play. They also won their final two games of the season and seven of their final eight.
"I'm really excited to get going with the Hornets, it's a really great program and I think their coaching staff is really going to help me develop and become the best player I can be," said Geekie. "We also have a couple of guys from Barton so I'll see a few familiar faces; it's going to be fantastic. I'm really happy with the decision I made to join the team."
Family Affair:
As you can see, Noah's journey is certainly well documented and it's included many stops along the way. But, he's not the only Geekie who is making it big. Conor Geekie was the second-overall selection by the Winnipeg ICE in the 2019 WHL Bantam Draft. He went on to suit up in several games this past season with the Western Hockey League Club. He also spent time with the Yellowhead U18 Chiefs.
Morgan Geekie won a Calder Cup title last season with the Charlotte Checkers. He made his NHL debut with the Carolina Hurricanes this past regular season and it was quite the debut. He scored two goals in his NHL debut as the 'Canes dispatched of Sidney Crosby and the Pittsburgh Penguins, 6-2.
Morgan ended the season with Carolina while Conor is expected to be a big piece of Winnipeg's success next season.
"It's pretty crazy to think about. I don't think any of us would be where we are today without our parents and our entire family," concluded Geekie. "We have pushed ourselves so hard over the years and our parents have been right by our side the whole time. It's been pretty unreal to watch their success as well, it's very special."
During this COVID-19 crisis, the Geekie's have had the opportunity to be together under one roof again, something that doesn't happen very often anymore. It's truly a family affair.