Contests
If you love Love Songs, love singing, and love winning, you'll love CKDM's Love Notes Contest!
Three times a day, we'll ask you to call in to play Love Notes. We'll play a line from a popular love song, then stop the song. YOU have to sing the line that follows. If you get it correct, you qualify to win our lovely Grand Prize of a spa stay for 2 at the Temple Gardens Mineral Spa in Moose Jaw, valued at $1,000!
Special thanks to our wonderful Parkland sponsors for supporting this Contest!
Mr. Mike's Steakhouse Casual; Sycamore Electric; Speedy Glass; Ruff's Furniture and Appliances; Birss Greenhouse Soil and Landscaping; North of 51 Designs and Computers, your Authorized Rogers Dealer in Dauphin; Nutter's Bulk and Natural Foods; and Western Bakery!
Al Gaines will announce the grand prize winner on Valentine's Day morning!
Details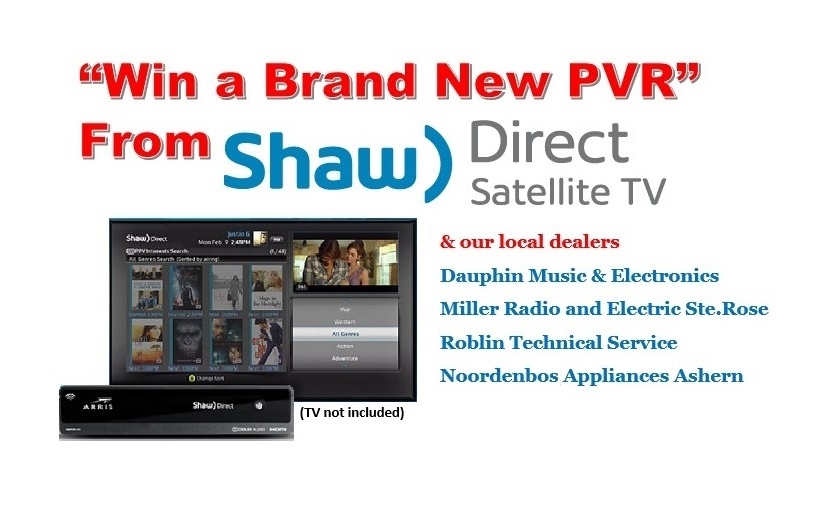 Post your favourite Movie, TV Show, or Sporting Event you can watch over and over or never miss, on the CKDM Facebook page! And you could win a brand new PVR! Courtesy of Shaw Direct Satellite TV and these participating local retailers; Dauphin Music and Electronics, Miller Radio and Electric in Ste.Rose, Roblin Tech, and Noordenbos Appliances in Ashern. We'll announce the winner on Monday October 2nd!
Details
Congratulations to the Dauphin and District Chamber of Commerce's Banjo Bowl Experience Auction winners Laurie and Harvey Armstrong of Dauphin! Enjoy the game!
Details
Congratulations to our local listeners who each won weekend passes to the Ashern Rodeo, this September Long weekend! Steve Hillcoff from Dauphin, Lori Osmond from Winnipegosis, Tamara Eastman from Crane River, and Marry-Anne Tomashewski from Gilbert Plains! 
Details
CKDM's Allan Truman and Bruce Leperre Congratulate Crystal Amyotte from Dauphin, our Parkland's Favourite 150 Contest Winner! She has won a Canadian Dream Vacation for two to her choice of Victoria, Banff, Niagara Falls, Ottawa, or Charlottetown! Congratulations Crystal.
Details
Thank you to our Major Sponsors 
The Cooperators in Dauphin and Ste.Rose, 
Embroidery by Design in Dauphin, 
Nutter's Bulk and Natural Foods Dauphin, 
Parkland Source for Sports Dauphin, 
Kelleher Ford Sales Dauphin, 
Dauphin Clinic Pharmacy, 
Aspen Insurance in Dauphin, 
North of 51 Designs and Computers  
Thank you to our Saturday Favourites Sponsors:
Stone Cabinet of Dauphin, 
Sharon's Lingerie, 
Dauphin Consumers Co-op
The Mossey River Inn (Winnipegosis). 
Dauphin Super Thrifty, 
Dauphin Super 8
Twin Motors Dauphin
Details
Congratulations to Curtis Kaleta on winning our Father's Day Par Free Contest! Curtis has won a $1,000 golf package of the Parkland that includes Dauphin Lake Golf Resort, Gilbert Plains Golf & Country Club, Poplar Ridge Golf Course and Clear Lake Golf Course. Special thanks to our contest sponsors Jenkins Flooring and Corrina's!
Details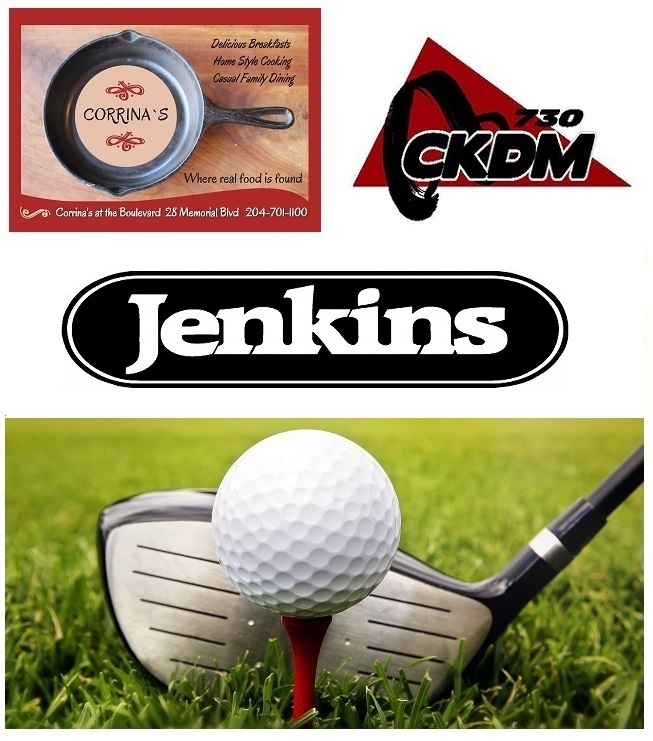 Congrats to Curtis Kaleta from Dauphin, he won a $1000 golf tour package that will take him golfing across the Parkland! 
Details
Our ticket winners are:
Ivan Lukey of Grandview,
Shedon Tarrant of Dauphin,
Andrew McKerchar of Dauphin
Jade Redy or Pine River!
Guns 'n' Roses plays Investors Group Field on August 24th!
Details
Congratulations to Deb Gray Thacker and her Mom, they are our winners in the "Like Mother, Like Daughter Mother's Day Contest! They win a Mother/Daughter Spa Getaway package from the Elkhorn Resort, which includes a 2 night stay in a deluxe room, as well as gift certificates for the Solstice Spa, and Restaurant, plus a whack of other prizes! Thank you to contest sponsors: Elkhorn Resort Spa and Conference Center, Countryfest Community Cinema, Birss Greenhouse Soil and Landscaping, Nutters Bulk and Natural Foods, Canadian Tire Dauphin, Parkland Source for Sports, Gloria Gayle's, Canada's National Ukrainian Festival. 
Details
Congratulations to Jim Winfield from Grandview! Jim wins the Early Bird Weekend Passes to Dauphin's Countryfest! Thank you to all of you who called in and qualified for this contest. CKDM Morning Personality Al Gaines Congratulates Jim on his win! 
Details