Local News
As families in the Parkland get ready to celebrate Christmas, businesses in the community will be too.

Below is a list of some businesses holiday hours to keep in mind:

Dauphin Liquor Mart will be open Christmas Eve from 9-6 pm, closed Christmas Day, and open Boxing Day from 10- 6 pm.

Dauphin City Hall will be open Christmas Eve between 9- 12 pm, closed Christmas Day and Boxing Day.

Super Thrifty Pharmacy will be open today from 9 to 3 pm, closed Christmas and Boxing Day.

Dauphin Clinic Pharmacy is open today until 5 pm, closed Christmas, and open Thursday from 10-2 pm.

The Dauphin Clinic is running on regular hours today, it will be closed Christmas, and the Walk-In Clinic will be open Boxing Day from 10- 1 pm.

Both Co-op Gas Bars are open today until 6 pm, closed tomorrow, and open Boxing Day from 830 am- 9 pm.

The Dauphin RCMP office will be closed starting at noon today until Friday.

The Parkland Rec Complex's administration office closes at noon today. The Kinsmen Aquatic Centre is closed until Friday, and the walking track is closed until January 6th.

CKDM's office will close at noon today and will reopen next Monday the 30th.

Don't forget to take in the Telus Manitoba Junior Curling Championship at the Parkland Rec Complex and Credit Union Place from January 1st to 5th.
Details

Contributed by

Josh Sigurdson
The Government of Manitoba says they are proud of the investments they made into improving mental health and addictions services in the province in 2019.
The investments include $25 million spent in the last three months of the year towards new or enhanced programming.
Health, Seniors and Active Living Minister Cam Friesen says that since being re-elected the government has accelerated efforts to help make sure that Manitobans get the help they need.
Some of the initiatives announced this year include enhancing access to school-based mental health and addictions supports by expanding school clinical teams with psychiatric nurses, and implementing the Métis CART pilot project, which will provide support for at-risk families.
Some new announcements made include some increased support for the Rapid Access to Addictions Medicine (RAAM) clinics, and a partnership with Bell Let's Talk to offer programming online and over the phone for families with mental health issues.
Minister Friesen said that the announced initiatives show the government's commitment to repairing mental health and addictions programs in the province.
"We know there is more to do," said Friesen. "We have shown we are up to that challenge and will continue to roll out initiatives in the New Year that help Manitobans, their families, and communities."
Details

Contributed by

Josh Sigurdson
The second week of the RCMP's Holiday Checkstop Program was another busy one.
The week of December 9-15th, saw officers check 2500 vehicles during 121 check stops across the province.
15 people were charged with Criminal Code Impaired Driving offences, with 12 people being impaired by alcohol, 2 impaired by drugs, and 1 person refusing to conduct a sobriety test.
The highest blood/alcohol reading of the week was 0.280.
There were 5 alcohol or drug-related tiered administrative roadside suspensions.
184 traffic charges were laid, and 14 written warnings were handed out.
Details

Contributed by

Josh Sigurdson
The battle over time change may soon take over Manitoba.
The Opposition NDP is launching a website and performing public consultations on whether the province should stop changing the clocks in the spring and fall, and if so, what time should be permanent.
The NDP say that there are a lot of problems associated with the time change that have been studied, such as negative sleep impacts.
"There's significant changes in terms of people's health," said NDP member Adrien Sala. "It's important that we do understand where Manitobans are at on this issue."
The fight over time change is nothing new. As recently as last year, former MLA Cliff Graydon introduced a private member's bill to adopt standard time. The bill received minimal support and no one in the governing PC caucus has shown an interest in adopting the permanent change.
Other provinces have also gone to battle over time change, including B.C. where the government put forward legislation to adopt daylight time year-round. B.C. Premier John Horgan is hoping to see Washington, Oregon, and California willing to go along with the change.
Alberta has also let residents weigh in on the issue by launching an online survey last month.
In the U.S, Florida and other states have passed bills to adopt permanent daylight time, but the changes require federal approval.
In 2014, MPI released numbers saying that collisions in the province were 20 percent higher on the first Monday of the spring clock change, compared to all other Mondays that year.
The Manitoba Liberal Party has proposed making the time change a referendum question in the next provincial election in 2023.
Details

Contributed by

Josh Sigurdson
The number of fraud-related complaints Manitoba Hydro received this year is 5 per cent more than last year, which is a sign more customers are getting bogus e-mails and texts attempting to scam them out of their money.
904 text and e-mail scam complaints have been filed, up from 862 last year.
The 5 per cent increase to last year's scam numbers is a lot less than the 300 per cent jump 2018 saw compared to 2017 when only 221 complaints were made.
This year, text and e-mail scams made up 87 per cent of all scams, phone and at-the-door sales are the other 13 per cent.
In a press release, Chris McColm, Manitoba Hydro's Security and Investigations Supervisor, says scammers are finding new ways to trick people.
"Increasingly phone scammers pose as utility providers and insist customers — usually small businesses during busy hours — are delinquent on their bills and risk disconnection if they don't pay immediately. They typically ask for payment in the form of a prepaid debit card. These scammers also rig caller ID to make it look like the call is from Manitoba Hydro, and have even mimicked our automated phone system so the recordings and prompts are similar to Manitoba Hydro's."
Manitoba Hydro will make reminder phone calls to customers who are in arrears, and they'll request payment to prevent disconnection of service.
However, they don't make last-minute threats, request specific payment types like prepaid debit cards, accept payments over the phone, or ask customers to wire money.
To protect yourself against the scams, never purchase a prepaid card to avoid service disconnection or shutoff because legitimate utility companies don't specify how to make a bill payment and offer a variety of ways to pay a bill. If someone threatens immediate disconnection or shutoff of service, hang up the phone, delete the text or e-mail, or shut the door because companies never send a single notification one hour or less before disconnection, and if a customer suspects someone is trying to scam them, they should hang up, delete the e-mail or text, or shut the door, call Manitoba Hydro at 1-888-624-9376 or message Manitoba Hydro on Facebook and Twitter, not the phone number the scammer provides.
Details

Contributed by

Isaac Wihak
The holidays are a time of joy and happiness, but for some people with mental illness, it can be a difficult time of year.

Shadoe Davis is the host of the "Shadoe Davis Mental Wellness Show", and he says that many things can make the holidays a rough time for someone.

Some things he pointed out were the stress of buying someone the perfect gift, trying to make sure everyone gets together, and the traffic of the malls, roadways, and parking lots.

On top of all that, he said that, on his show, one topic was brought up more than anything else- the loss of a loved one through the year.

"Over the year, people may have lost a close relative, a friend, someone they spent the holidays with, someone that was integral in their life, and that seat's going to be empty at the table this Christmas," said Davis.
"Many people have a very difficult time coping with that because of what that person meant, not just to them, but the entire family. That would be true of people who don't have a mental health challenge, but for those that do, it makes it very difficult to deal with."

Davis says that the best way to help someone deal with the stresses of the season, especially someone with a mental illness challenge, is to just sit with them and calm them, and tell them that everything is going to be okay.

He added that even if you manage to calm someone down in a particular situation, it doesn't mean that they've overcome the thing they are struggling with.

"It can get dark as well, it can definitely get dark," said Davis. "We may have seen statistics for this time of year, where the suicide rate goes up, that's not true."

He went on to say that the suicide rate stays the same for the holiday season, but it does go up in January, once the festivities are over.

"I would say for people who don't deal with a mental health issue, after the holidays, and during the holidays, but after the holidays especially, reach out to somebody that you think might be going through this," said Davis. "Because that phone call, that text, that Facebook message could be the difference between tragedy, and ongoing life and hope."

If you are someone who deals with a mental illness issue, Davis says the best thing you can do is reach out and talk about it with someone you feel comfortable with.

That being said, if you or someone you know, is in crisis, you need to reach out to a doctor, emergency services, or the suicide hotline.

People wanting to listen to Davis' podcast "The Shadoe Davis Mental Wellness Show" can do so wherever they listen to their favourite podcasts. Davis also has a Facebook group, where people can go for advice and support from others who struggle with a mental illness issue, not doctors or psychiatrists. The group is called "Shadoe's Mental Wellness Support Group."

Be sure to tune in to CKDM this afternoon at 12:40, to hear more from Shadoe Davis.
Details

Contributed by

Josh Sigurdson
In the spirit of giving, 69 Canadian firefighters, including some from Manitoba are giving up their holidays to try and help fight the devastating wildfires in Australia.
The Canadian Interagency Forest Fire Centre (CIFFC) said that after a request for assistance, 21 highly skilled firefighters were deployed to Austrailia for a 38-day assignment on December 3rd.
Last Thursday, another 30 were sent on a 38- day assignment, and on December 30th, 18 more firefighters will be deployed to Australia for about a month.
The executive director of the CIFFC says that Canada has asked for help from Australia four times in the past four years, and the agreements are reciprocal in nature, so when Australia asked for help for the first time, it was time to act.
Crews from 8 provinces are helping in a variety of roles including aviation, planning, logistics, and operations, but they won't be on the front lines.
The crews are from Manitoba, Newfoundland and Labrador, Quebec, Yukon, Ontario, Saskatchewan, Alberta, and B.C.
Record high temperatures mixed with strong winds, have help fan over 100 fires in New South Wales, Australia alone.
The fires have killed two volunteer firefighters and destroyed dozens of houses since Thursday.
Details

Contributed by

Josh Sigurdson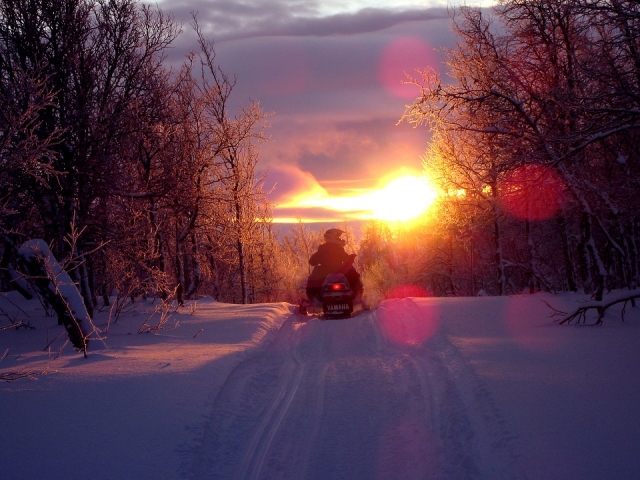 The organization that represents the 53 snowmobile clubs in the province that maintain snowmobile trails is trying to make trail fees included with snowmobile registration.
As it stands right now, snowmobilers must buy a Snopass for $150, to be able to access the province's 12,000 km of snowmobile trails.
Snoman Incorporated is hoping to see all owners of registered snowmobiles pay trail fees.
The president of Snoman Alan Butler, says they are just trying to maintain a viable snowmobile trail system in Manitoba. He added that most of the money from the Snopass goes toward the upkeep of the trails.
Butler went on to say that only 19,000 snowmobilers bought Snopasses, which is a low number considering the fact that there are 35,000 snowmobiles registered in Manitoba.
If the change comes into effect, drivers using the trails without a Snopass will be fined $488.
A combination of conservation officers and RCMP will be used to patrol the trails.
For the proposed changes to become law, they will have to be passed by the provincial conservation ministry.
If the government decides to adopt the changes, the system will mirror the one currently in place in Saskatchewan.
The Association of Manitoba Municipalities is supporting Snoman, and is urging the provincial government to adopt the changes.
Butler is hoping the changes will be made in time for next season.
Right now, commercial fishermen and trappers are exempt from having to purchase a Snopass, and if the changes are made, more exemptions may come down the pipeline.
Vintage sled could see up to a 50 percent reduced rate. An exemption would also be given to drivers who live in remote communities, as long as they only drive within the community.
Butler said that the reason that Snoman is proposing the changes is due to a lack of volunteers and increased maintenance costs.
He added that a lack of winter tourism in rural Manitoba is forcing businesses like restaurants and hotels to rely on snowmobilers.
According to Butler, snowmobiling contributes $300 million to the economy every year and produces around 900 related jobs.
Details

Contributed by

Josh Sigurdson
Manitoba's justice minister says there are no current plans to build a new jail in Dauphin, despite a recent inquest report stating that the ageing facility could have been a factor in an inmate's death.
In 2013, the then NDP government announced plans to replace the more than 100-year-old Dauphin jail. The City and RM had donated land to the project, and in 2014, a request for proposals was issued.
After the PC government was elected, then-justice minister Heather Stefanson had said that the proposal for a new jail was being looked at in a review of capital projects in the province.
Justice Minister Cliff Cullen has now said that the province and community can do without the new building.
"We can accommodate our inmate counts on the correction side with our existing facilities," said Cullen.
An inquest report, released this week, into the 2016 death of inmate Freeman Zong, said that the Dauphin jail is the oldest facility in the province. It added that, compared to the other eight correctional facilities in the province, the design of the Dauphin jail is outdated.
The jail has undergone some changes since Zong's death including renovating the bathrooms to make them more "open concept," and new security vents have been installed.
A new desk and a new closed-circuit TV monitor have also been installed, to make sure staff can look at the cells at any time.
The union that represents the workers there said that while there have been some changes, more work needs to be done.
When speaking about the 61-inmate facility, the president of the Manitoba Government and General Employee's Union, Michelle Gawronsky, said that it's in desperate need of repair.
"The jail is one of the largest employers in Dauphin," said Gawronsky. "The folks that are working there, the families that have loved ones working there, they deserve to know what their future holds."
Minister Cullen stated that the age of the facility has been taken into account, and the government is aware that there have been issues about access to the courthouse. He added that the department is looking at some options there.
The 2014 request for proposals said that the province had planned on building a 180-bed facility, meant to ease pressure on jails in Brandon and The Pas.
Details

Contributed by

Josh Sigurdson
Now that it's Christmas time, people will be driving all over the province and country to see their families.
Since it's winter, Brian Smiley with MPI says it's very important motorists drive to the road conditions.
"If we have snow out there and ice-covered roadways, you need to reduce your speed, otherwise driving to road condition. Speed limits are set for ideal road conditions, I think we would all agree in the Dauphin, Parkland area, that icy roads, blowing snow, blizzard-like conditions are far from ideal. So, slow down and drive to the road conditions."
Smiley says using cruise control in the winter is risky.
"Because if you're driving along at a speed and all of a sudden you come across black ice your cruise control is activated, you're not able to reduce your speed quickly, you have to touch your break to de-activate or turn it off, so in many cases, using cruise control can possibly put you at risk, if you're on icy winter type roads."
Before leaving, Smiley says your vehicle should be in good running order, make sure you're topped up on anti-freeze and windshield washer fluid, make sure your tires have good tread, look into the winter tire program if you don't have winter tires, and make sure your windshield wipers are in good running over.
Other things Smiley suggests is if you're planning a long road trip in the winter, tell people where you're going and when you're arriving if you break down in the ditch, don't leave your vehicle, eventually, someone will find you, and if you stay in your vehicle it will provide enough warmth to survive the night.
Details

Contributed by

Isaac Wihak
The Manitoba Justice Department didn't take the necessary steps to prevent an employee of the Manitoba Youth Centre from enduring ongoing harassment from co-workers based on his sexuality.

In a report done by the Manitoba Human Rights Adjudication Panel, it said that the complainant, only known as T.M. in the ruling, has worked at the Youth Centre as a juvenile councillor from 2002- 2009. He had told a co-worker that he was gay a year into working there after being questioned.

The ruling said that after coming out to his co-worker, T.M was harassed with racial and homophobic slurs.

T.M. said that he was also the brunt of ongoing jokes about him being gay, including being paged as "Code Pink" when responding to emergency calls.

A paragraph in the decision said "Eventually, he said, that was all he was- the "gay guy" and while there was a core group who's harassing was constant; a good 70 percent of the staff would from time to time make comments about his sexual orientation."

The harassment continued and ramped up to the point where staff would make graphic comments related to sex with men, at which point, T.M. told begged his colleagues to stop.

He told the panel, that he believed a superintendent witnessed the harassment in its early stages and did nothing to stop it. T.M. added that he thought it was "futile to complain."

The report went on to say that the ongoing harassment caused T.M. to suffer a panic attack at work, resulting in him being admitted to the hospital and taking 5 weeks off of work.

After another stress leave in 2010, T.M. was moved to another position in the Justice Department outside of the youth centre.

He was relocated to the Youth Centre again in 2012, when later that year, at a Christmas party where he says he was sexually assaulted and threatened by a co-worker.

It's said that the only person aware of the incident at the time was T.M.'s husband.

T.M. brought forward a written complaint describing the harassment to management, but because he failed to provide names in the complaint, it was discarded without him knowing.

In 2014, he was told that his managers would attend sensitivity training, but the ruling said that there is no record as to who attended the training.

T.M. left his position with the Justice Department in 2017.

After a three-week hearing, the Human Rights Panel ordered that the Justice Department pay the complainant $75,000, and to undergo sensitivity training and hire a respectful workplace advisor.

The Human Rights Commission says that the Panel's decision reinforces employers' responsibility to investigate complaints of harassment, and if an investigation is impossible, take steps to stop the harassment.
Details

Contributed by

Josh Sigurdson