Local News
Last night at the WAC a federal election debate was held, featuring all the candidates for the Dauphin-Swan River-Neepawa riding.
Each candidate had 2 minutes for opening statements before a mixture of questions from a panel and the public were asked.
The panel featured CKDM's James Blake, the Dauphin & District Chamber of Commerce's Stephen Chychota, the Brandon Sun's Drew May, and the Dauphin Herald's Shawn Bailey.
Kerry Auriat moderated and Matt Goerzen coordinated audience questions, both are with the Brandon Sun.
The main topics from the evening were agriculture, developing industry, Indigenous issues, and cell service.
Right before the first commercial break, the candidates were asked their stance on the ag situation with China.
Green Party candidate, Kate Storey answered by saying similar canola numbers were still sold, and instead of canola, more wheat went to China. She added we need to be smart and careful when dealing with China.
Conservative Party candidate, Dan Mazier then had his input saying China does their own thing and we need to work on Canada's influence in the world.
Finally, Liberal Party candidate, Cathy Scofield Singh said Canada is moving forward and mentioned how canola sales haven't dropped.
Shortly after the first commercial break, the candidates were asked if in this campaign, they had visited any of the 14 first nations or reserves in the riding and if they had, how many.
Christian Heritage Party Candidate, Jenni Johnson, and Scofield Singh haven't visited any, the NDP's Laverne Lewycky, Mazier, and Storey have visited 2, and the PPC's Frank Godon has been to 6.
After the second commercial break, the candidates were asked about how they'll work to improve cell service.
Johnson said the CHP plans to defund the CBC and use the 500 million dollars towards infrastructure, including internet and cell phone service.
Godon wants to create competition for current internet and cell providers, which could ultimately lower prices.
Storey started her answer by expressing a need for the CBC, adding that the Green Party will look into 5G technology, but it costs to put up towers.
Scofield Singh also started by saying CBC is important, and that the Liberals plan to improve infrastructure which covers internet and cell phone service.
Lewycky made a point that improving rural cell service is 1 of 6 main priorities for the NDP.
Mazier ended the question by saying the Conservatives want to improve rural broadband service.
All candidates say they will vote for the people and won't allow themselves to be whipped into blindly voting for their party.
The debate ended with each candidate getting 2 minutes for closing remarks and a meet and greet with the candidates hosted by the Dauphin and District Chamber of Commerce.
Details

Contributed by

Isaac Wihak
Government officials came to the Ste. Rose Community Hall to further explain the changes made to the province's Crown Land Leasing Program.


The meeting follows an announcement made on Friday that the government would offer current legacy leaseholders, the first right to renewal.


While the ranchers in the room felt the move was in the right direction, it is just one item on the long list of changes that they feel need to still be made.


The concerns that echoed around the room were the ability to complete unit transfers, longer terms, and cheaper rental rates. Under the current format, rental rates are expected to more than triple.


The meeting ended with the government workers promising to bring the concerns of the room, to the provincial Ag Minister.


Dauphin MLA Brad Michaleski also gave a short speech to assure producers that his door is always open to talk about their concerns.


After the meeting, producers had the chance to bring up their individual concerns to the government officials, as well as the MLA.


Dakota Sorenson, a young producer, from Eddystone, is hoping the meeting brings results.


"If they listen, I think it'll help a lot. There were a lot of good points made, and they tried to answer questions, but there are too many things to work on, to be able to answer all the questions," said Sorenson. "There needs to be change, more than questions."


Sorenson added that if he had known of the changes happening to the crown lands program, he wouldn't have moved away from Saskatchewan.


The head of the Manitoba Crown Lands Leaseholders Association, Brent Benson, said that the meeting went the way he thought it would go.


"I guess it's what we expected, there are no real concrete changes for sure yet, and there are proposed changes. I guess we heard that there's maybe a willingness to listen to us and consider other changes we brought forward," said Benson. "I think they clearly got the message that we are frustrated, and this is a big problem that could severely affect our businesses."


There is another meeting scheduled for tomorrow night at the Moosehorn Community Hall, near Ashern, from 7- 9 pm.
Details

Contributed by

Josh Sigurdson
Tonight there'll be a federal election debate at the WAC at 7.
This debate will feature a panel made up of CKDM's James Blake, the Dauphin & District Chamber of Commerce's Stephen Chychota, the Brandon Sun's Drew May, and the Dauphin Herald's Shawn Bailey. Kerry Auriat will be the moderator and Matt Goerzen will coordinate audience questions, both are with the Brandon Sun.
Following the debate, Chychota is hosting a meet and greet with the candidates.
Chychota hopes by the end of the debate, the public will have a better understanding of the candidates and their parties to make a smart decision with their vote.
All candidates say they're attending.
Election Day is Monday, October 21st.
Details

Contributed by

Isaac Wihak
The advance voting period over the weekend saw the most advance votes ever.
4.7 million Canadians lined up on the holiday weekend to cast their votes, making for a 29 percent increase from 2015.
According to Elections Canada numbers, 1.24 million votes were cast on Friday, 977,000 on Saturday, 915,000 on Sunday, and 1.6 million ballots were submitted on Monday.
During the advance voting period for the 2015 election, 3.65 million votes were cast.
Details

Contributed by

Josh Sigurdson
The province of Manitoba is still feeling the aftermath from the snowstorm that hit Thursday to Saturday.
Over 225 thousand people were affected by power outages.
Manitoba Hydro is working to bring power back to the almost 15 thousand customers that still don't have power.
It could take more than a week to restore power.
Manitoba Hydro says the delay comes from all the trees that have to be removed before they can figure out how damaged a line is.
Over the weekend, Premier Brian Pallister declared a state of emergency to bring in help from Saskatchewan, Ontario, and Minnesota.
Manitoba Hydro has never had to bring in mutual aid before this storm.
Details

Contributed by

Isaac Wihak
Sometime between 8:30 last night and 10 this morning Showdra's Meat in Dauphin was broken into.
About 1000 dollars in damage was done to the property, an additional 500 dollars worth of meat product and money was stolen, and their shovel was taken.
This is the second time in recent memory Showdra's Meat has been broken into.
If you have any information on the incident, contact the Dauphin RCMP.
Details

Contributed by

Isaac Wihak
Along with the provincial government, several Treaty 2 first nations have declared states of emergency because of the snowstorm.
Interlake Reserves Tribal Council Chairman, Cornell McLean says their communities are vulnerable in natural disasters like these.
Dauphin River, Lake St. Martin, Little Saskatchewan, Pinaymootang, Lake Manitoba Nations, and O-Chi-Chak-Ko-Sipi are seeking immediate action from the Province of Manitoba for emergency management.
The Red Cross is helping by opening a warming shelter in Winnipeg for individuals from First Nations that don't have power.
The response is part of an agreement between the Canadian Red Cross and the federal government to provide disaster assistance to First Nations in Manitoba.
Details

Contributed by

Isaac Wihak
Manitoba Hydro made a dent into its 21.6 billion dollar debt in 2018-19.
The utility profited 121 million dollars compared with the year before when they profited 37 million.
They are attributing the improvement to the rate increases, lower restructuring and operating expenses, and favourable weather.
Manitoba Hydro's export power sales earned them 430 million dollars.
Details

Contributed by

Isaac Wihak
Thanksgiving is a time for family and food, but what are Parklanders most thankful for?
Cheryl, from Dauphin, is thankful for her family and friends and for them all being able to be together.
Ryan, from Dauphin, is thankful for his newborn baby boy.
And Elaine from Dauphin is thankful for her health and the health of her family.
When asked about what their favourite part about Thanksgiving was, this is what they had to say.
Elaine's favourite part is getting together with family and friends.
Ryan's favourite part is the long weekend that comes with Thanksgiving.
And Cheryl's favourite part is the pierogis and the turkey, and the good laughs shared around the table.
And the final question we had for them was what does Thanksgiving mean to them?
All of the people asked had very similar answers, they all said that Thanksgiving means that they should appreciate what they have, their family, and the time they have with their loved ones.
Details

Contributed by

Josh Sigurdson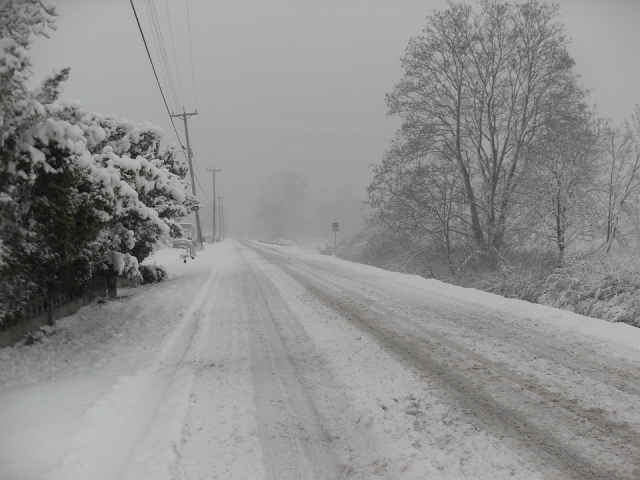 Manitoba Hydro has requested that Premier Brian Pallister declares a state of emergency.
This is due to the snowstorm that has blown through southern Manitoba.
Manitoba is facing a number of problems because of the storm, one of the major ones being, some areas won't have power for days.
Manitoba Hydro is working to restore power in the province, saying they are turning their focus to rural Manitoba.
In a press release, the utility reminds everyone to stay away from downed power lines.
"If you see a line on the ground, just assume it is still live. Stay away from it, keep others away from it and call 911 immediately. Also, notify our Contact Centre at 1-888-MBHYDRO or 204-480-5900 so we can get a crew there as quickly as possible to make the area safe. It may take some time to get through, but public safety is our first priority."
Details

Contributed by

Isaac Wihak
All highways leading out of Dauphin are closed.
For those in the city, Dauphin crews are asking for everybody to stay off the streets while they are cleared.
Highway 5 is closed from Dauphin to Grandview, from Dauphin to the Highway 10 junction, from Ste. Rose to the Highway 10 junction, from Ste. Rose to McCreary, and from Neepawa to the Trans-Canada Highway.
Highway 10 is closed from the North entrance of Riding Mountain to Clear Lake, and from the Ashville junction to Ethelbert.
Highway 20 is closed from Dauphin to Fork River, and from Dauphin to Ochre.
Highway 68 is closed from Ste. Rose to The Lake Manitoba Narrows.
Highway 6 is closed from Ashern to Grand Rapids.
You can check current road conditions under the news tab on our website or tune in to 730 CKDM for updates.
Details

Contributed by

Isaac Wihak