Local News
Showdra's Meats in Dauphin is in the midst of a cleanup.
Between 5:00 a.m. and 7:00 a.m. Friday, August 16, someone broke the glass on the front door and entered the building.
They ended up taking about $50 from the till and that's all.
15 years ago, someone broke in and took about $500 worth of jerky and other meats.
Details

Contributed by

Darnell Duff
The town of Esterhazy, SK, which is about 80 kilometres southwest of Russell, experienced an earthquake last night.
The 4.1 magnitude quake shook the town for a couple of minutes around 8:30.
The epicentre was 5 kilometres from a nearby potash mine, causing miners to head to refuge stations as a precaution.
A few minutes after the quake, power went out for two and a half hours.
SaskPower has said the earthquake affected the transmission system in the area but they aren't sure how badly.
There weren't any reported injuries.
This isn't the first time there's been an earthquake in the area, in fact, 17 have hit since 1981 with the last one being in 2016.
Details

Contributed by

Isaac Wihak
The government of Manitoba is hoping to build a lab in Dauphin to detect a harmful disease in deer that experts believe is working its way to Manitoba.


Manitoba Sustainable Development posted a request for proposals last month to build the Dauphin Big Game Health Laboratory.


A spokesperson said that there already is a lab in Dauphin as part of its disease surveillance program and now Chronic Wasting Disease is the main concern.


Chronic Wasting Disease or CWD is a fatal neurological disease similar to mad cow that has no cure.


Manitoba has extended the surveillance area for CWD and is requiring hunters to submit the heads of their kills for analysis.


CWD is loosely known as "zombie deer" disease because late-stage symptoms of the disease in elk, moose, caribou, and deer include excessive drooling, salivating and urinating, and an inability to hold their heads up.


The disease has been found in some provinces and U.S states but not in Manitoba.


There have been cases documented in Saskatchewan, with the latest scare, being confirmed last month at a white-tailed deer farm in Alberta.


Research suggests that the diseased proteins from animals infected with CWD can be harmful to humans if consumed.


Once it's detected in a deer, the general approach is to cull the entire local population in hopes of stopping the spread.


Hunters must turn in samples in Manitoba, Saskatchewan, Alberta, and Yukon, and it's voluntary in all other provinces.


The surveillance area in Manitoba includes Game Hunting Areas 5, 6, 6A, 11, 12, 13, 13A, 18 and 18B (west of PR 366), 18A, 18C, part of 22 (west of PTH 83), 23, and 23A.


For more information on the submission of biological samples, go to the government of Manitoba website.
Details

Contributed by

Josh Sigurdson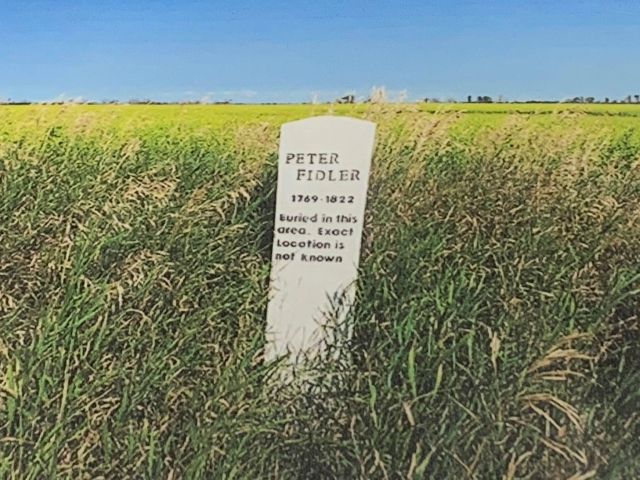 Today is Peter Fidler's 250th birthday.
Fidler came to Canada in 1788 to work with the Hudson Bay Company for 31 years, becoming an important part of agricultural history.
He travelled all over Canada to trading posts and settlements.
He was an agricultural whiz, always carrying seeds in his pockets, leaving a garden everywhere he lived, introducing the first cow, bull, and hen to the Selkirk Settlement and proceeding to teach those settlers the art of farming.
Theresa Deyholos says back in 1993, Fidler's contributions got him inducted into the Manitoba Hall of Fame.
"Peter Fidler was a district manager for the Hudson Bay Company here in the RM of Dauphin. He retired at Fort Dauphin in 1819 and remained there until his death in 1822."
Fort Dauphin is celebrating Fiddler's birthday by extending the exhibit on the life of Peter Fidler, and the fort will be having cake and refreshments from 1-4 this afternoon. Admission is free today as well.
Deyholos says people should go because it's a great piece of Dauphin and Parkland history. She adds they'd like to recognize his contributions with the Hudson Bay Company.
Details

Contributed by

Isaac Wihak
Federal Agriculture and Agri-Food Minister Marie- Claude Bibeau announced yesterday a Stay of Default for the 2018-2019 Advance Payment Program. The Stay extends the repayment deadline for cash advances issued to grain, oilseed, and pulse crop producers, The repayment deadline will now be March 31st, 2020 pushed back from the original date of September 30th, 2019.

A Stay of Default means that farmers with a 2018 cash advance now have an additional six months to repay their advance. Details of the Stay of Default include:
1. The Stay comes into effect on August 15, 2019;
2. The end of the production period for 2018-19 eligible advances will be extended from September 30, 2019, to March 31, 2020;
3. The interest-free benefit will be maintained throughout the six-month extension;
4. Effective August 15, 2019, farmers who are eligible for the Stay will be able to make a cash repayment on their 2018-19 advance without providing proof of sale documentation or facing cash repayment penalties.


While conditions of the Stay come into effect today, all other existing terms and conditions associated with the 2018-19 APP remain in effect. Repayments on existing advances must be made every time a farmer sells the commodity associated with their advance, including advances that are eligible for the Stay of Default. 2018 advances that include interest-bearing portions will continue to accumulate interest throughout the extension.

Producers with questions about their advances or the Stay of Default are encouraged to call the Canadian Canola Growers Association at 1-866-745-2256
Details

Contributed by

Josh Sigurdson
Last night around 11:40 the Dauphin RCMP received a report that a prisoner had escaped from the custody of Manitoba Corrections Officers.
34-year-old Dustin Joseph Racette, from Dauphin, was being treated at the Dauphin hospital, but then assaulted and ran from corrections officers.
An immediate search of the area failed to locate Racette. RCMP say he may have been picked up in a nearby vehicle.
Racette is described as 5'9", 210 pounds, with brown hair and brown eyes. He was last seen wearing grey sweat pants and a grey sweatshirt.
Racette is charged with escaping lawful custody, assault with a weapon, and assault a police officer with a weapon. A warrant for his arrest has been issued.
The RCMP is asking that you don't approach Racette because he may become violent.
Anyone with information regarding the whereabouts of Dustin Joseph Racette is asked to contact the Dauphin RCMP at (204) 622-5020, call Crime Stoppers anonymously at 1-800-222-8477, or submit a secure tip online at www.manitobacrimestoppers.com.
Details

Contributed by

Isaac Wihak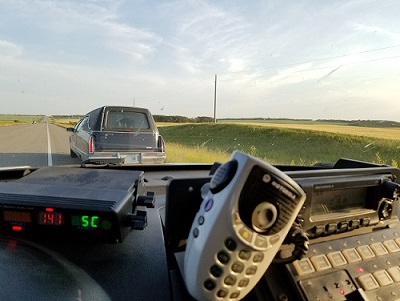 Minnedosa RCMP had an unusual traffic stop yesterday.
A vehicle that is known for driving slow, a hearse, was clocked driving at 141 km/h in a 100 km/h zone.
The driver was given a $586 ticket.
RCMP said the driver was working at the time but was not transporting a body.
Details

Contributed by

Josh Sigurdson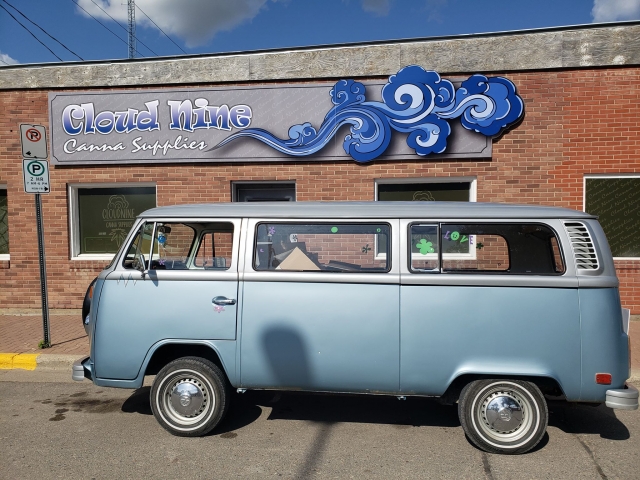 On June 26th, yet another new business opened up in Dauphin. It's Cloud Nine Canna Supplies, located at 14 Memorial Boulevard. That address may ring a bell for residents of Dauphin as it used to be Country Boys Choppers.

"Cloud Nine is a new store in Dauphin, we offer everything from smoking to growing supplies", said owner Callan Michaluk when we caught up with him recently.

When you think "growing supplies", you may recall that growing recreational cannabis at home has been prohibited in Manitoba since legalization. Medicinal cannabis patients are allowed to however, and Cloud Nine has everything a grower would need. While edibles aren't available yet in stores, you can make them at home, and they have the supplies required for that as well.

If you choose not to consume cannabis, Michaluk notes his store has products for things like growing food and flowers inside your home year-round. "You can start your tomatoes in the spring time, petunias, whatever flowers you might be growing… lettuce, tomatoes, kale, spinach, all that kind of stuff". If you grow using hydroponics, Cloud Nine can also help you with that.

Perhaps the greatest convenience of all offered by Michaluk is that you no longer have to make a trip out of town to find certain supplies and equipment he has. "[Dauphin] doesn't have some of the items that I carry, and there's lots of people in the area who are medical growers, and with the legalization of cannabis, people are more and more interested - even in literature - in all the fun stuff that comes along with it". An added bonus to saving on gas is the competitive pricing at Cloud Nine.

Michaluk welcomes everyone to stop by and see what his store is about, regardless if you consume cannabis or choose not to. He even has some neat relics on display such as some packages of Zig Zag rolling papers from World War II.

You can find Cloud Nine Canna Supplies on facebook and at 14 Memorial Boulevard in Dauphin.
To avoid confusion; the plant shown in the picture below is a money tree.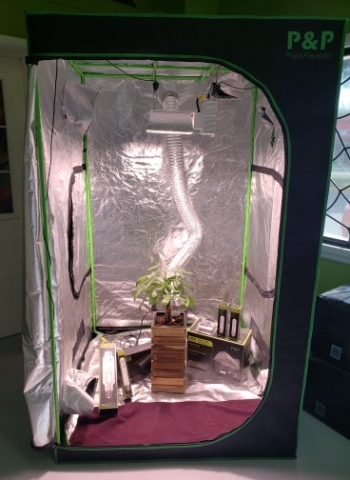 Details

Contributed by

Alec Woolston
The municipality of Gilbert Plains has announced they are having a by-election in November.
Council passed a resolution, declaring a by-election is required on Tuesday's council meeting.
Senior Elections Official, Leanne McKay, says they are hoping for a lot of strong residents that would like to step forward to help continue the work to becoming a more efficient community with taxpayers' dollars.
They chose November 27th as the by-election date out of respect for the councillor who passed away and they had to call the by-election within 6 months.
The nomination period will begin in late September, and then potential candidates will meet with McKay to figure out all the paperwork and requirements for becoming a candidate. To be a candidate someone would have to be a resident of Gilbert Plains for 6 months.
Details

Contributed by

Isaac Wihak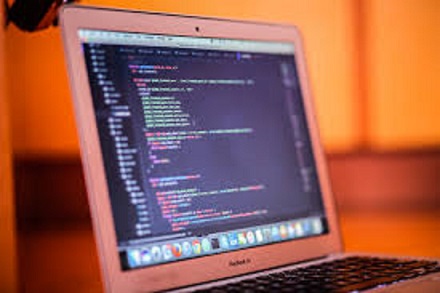 As social media becomes more and more prevalent in society, more and more people become victims of cyberbullying.


The disturbing trend has shifted to livestock producers who recently have been attacked by vegan activists online.


A young farmer in Quebec stated she became scared for her safety after vegan activists sent her death threats online. She said she had to change her account settings after receiving close to 100 hateful messages a day.


Michelle Miller, otherwise known as the "Farm Babe", is an American farming advocate and social media influencer who has been a victim herself.


After posting a video calling out a staged video made by vegan activists, her social media profiles were bombarded with hateful messages. The messages included death threats, and some of them went as far as to wish cancer on Miller and her family.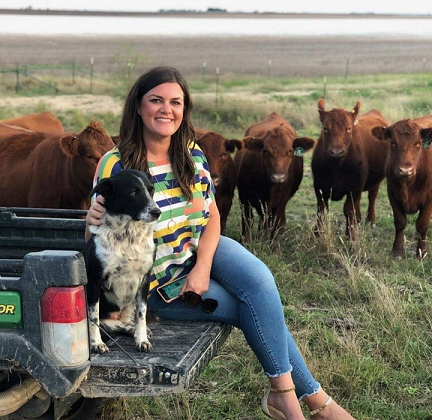 'It's just crazy to me because you act like you're so compassionate like you just care about animals so much, yet you wish death and cancer upon your fellow human beings" said Miller "Like isn't that just insane?"


Trends like this have caused increased stress levels and mental health issues on a growing number of producers, forcing the Standing Committee on Agriculture and Agri-Food to propose changes to the Criminal Code to include penalties against cyberbullying.


Miller said that the best way to prevent misinformation being spread and fueling these kinds of acts is to speak out and educate people on what is really happening on livestock farms.
Details

Contributed by

Josh Sigurdson
Early this morning around 12:30, the Russell RCMP received a report of an assault on Highway 16 near the Russell Airport.
A 40-year-old male was transported to the hospital where he later succumbed to his injuries.
The Russell RCMP and Major Crime Services are continuing to investigate.
Details

Contributed by

Isaac Wihak