Local News
The board that decides on speed limits across the province was dissolved in the spring.
That means municipalities have control over their speed limits.
Deputy City Manager, Renee St. Goddard says the city is changing the speed limit of one road. The section of Triangle Road that has a speed limit of 70 km/hr will be changed to 50 on September 1st.
She says they don't have any other concerns with speed limits but if you do,
"They should come into city hall and voice their concerns. We'll take a look at it or discuss the issue with them and go from there."
Details

Contributed by

Isaac Wihak
The 3-month search for Robert Fleury is over. Fleury was last seen as the driver of a vehicle involved in a pedestrian hit and run earlier this year on the Waywayseecappo First Nation.
On April 24th a 24-year-old female was struck by the vehicle in question which immediately fled the scene. The victim was transported by ambulance to hospital and has since been released.
33-year-old Robert Fleury from Gambler First Nation was located by Brandon Police on July 23rd and arrested on outstanding warrants.
Fleury faces the following charges:
-Dangerous Operation of a Motor Vehicle Causing Bodily Harm
-Failure to Stop after Accident Resulting in Bodily Harm
-Impaired Operation of a Motor Vehicle
-Assault with a Weapon
-Failure to Provide the Necessaries
-Uttering Threats against a person (x3)
-Failure to Comply with Probation Order
Fleury has been remanded in custody and is scheduled to appear in Brandon Provincial Court.
Details

Contributed by

Josh Sigurdson
Around 140 people from the Marcel Colomb First Nation have been evacuated to a hotel in Thompson.
The evacuation is needed because of wildfires burning in the area.
The Canadian Red Cross is providing lodging, food and other necessary support for members of the community.
At 7:45 p.m. Wednesday, the Canadian Red Cross was activated by the federal government to support the evacuation of the community.
Buses were provided for those who required transportation to Thompson, others drove.
It isn't known how long the evacuees will be out of their community.
Since Red Cross disaster assistance to First Nations is supported by the federal government, the expenses for the response are covered.
Details

Contributed by

Isaac Wihak
Today is one for the history books for Steiner Plumbing & Heating in Dauphin. They are set to celebrate their 40th Anniversary.
Al Gaines will be there until 11 to celebrate the occasion. Carla Wolfenden is the Co-owner of Steiner Plumbing and Heating and she's excited about the day.
"This day is really meaningful to us because my parents ran it for 38 of the 40 years and they put a lot of blood, sweat, and tears into it," said Wolfenden. "They grew the business and customer base that we benefit from today. It's really nice to keep the family business going in this community."
They will also be having a Customer Appreciation BBQ from 11-1. All proceeds will go towards the Habitat for Humanity Dauphin Chapter.
"We would love if you came out to help Habitat for Humanity and we're also going to have some great prizes," added Wolfenden.
They have also launched a brand new website. You can check it out at Steiner Plumbing & Heating.
With 39 years now in the past, Carla and the whole crew are looking forward to the future.
"We really want to thank everyone for all of their support over the years," she concluded.
Details

Contributed by

Darnell Duff
The province of Manitoba announced today it will be granting $32,500 to the Swan River Historical Museum for their train project.


The funding is a result of a successful application to the Building Sustainable Communities program.


The train at the museum is a 1/8th scale replica of a working railroad that visitors will be able to ride around the heritage village. The locomotive and a few cars were on display Thursday with sample rides for the people at the press conference.


When complete the first loop will be over 3000 feet long. A level crossing will be installed across the museum access road and a train station will be built as well. The hope for the train station is that it will double as a photo location for weddings in the Swan Valley.


"We're gonna drive you through history on the train." said the Fundraising Chairperson for the museum Bill Gade. "It'll get a lot more people to the museum, even today we had some people out at the announcement that live here, they've been here for years, but they haven't been to the museum in 20 years, some of them. And this was something exciting enough to get them to come back and take another look."


Swan Valley Chamber of Commerce President Jonny Wintoniw said that the town will benefit from this train. "Restaurants will see more visitors, hotels will see more overnight stays and our retailers can see increased traffic as visitors make Swan River a destination for their vacation- from seeing Magnet Hill to visiting our lakes and soon, riding our very own passenger train at the museum."


Phase One of the train project is now fully funded. The grand opening of Phase One is expected during Manitoba's 150th Birthday celebrations in 2020.


Phase Two of the train project is proposed for next fall and will include a winter celebration component.
Details

Contributed by

Josh Sigurdson
Fire crews are fighting multiple fires in the Lynn Lake, Marcel Colomb First Nation areas.
11 fires have been identified burning, but crews are focused on four that are in close proximity to the communities.
One of the fires is 50 hectares and is about 4 km north of Lynn Lake.
140 residents from Marcel Colomb First Nation have been evacuated to Thompson by the Canadian Red Cross. There isn't any indication of Lynn Lake being evacuated according to the province.
Lightning is believed to be the cause of the wildfires.
Details

Contributed by

Isaac Wihak
A 34 and a 22-year-old male are facing charges after the police recovered a stolen vehicle and prohibited weapons.
It all started at 11 am, Wednesday, July 24th.
Witnesses reported a suspected impaired driver driving in the wrong lane, into oncoming traffic. Police found the vehicle was also stolen from the Boissevain area and the suspects could have firearms.
Just after 11, the police went to the residence of one of the suspects, locating the stolen 1986 blue dodge pickup.
Police set up a perimeter on the residence in the 000 block of 14th St. N, while a search warrant was obtained.
About half an hour later, the police had the 34-year-old male in custody. The 22-year-old wasn't located until 10:45 pm at a different location.
Around 8 pm the police got the search warrant for the property and found a sawed-off shotgun and suspected matching piece of the barrel.
Further investigation led the police to a rural area southwest of Brandon. There, they found a broken down double-barrel shotgun and other property believed to be stolen.
The 34-year-old male faces charges of possessing property obtained by crime, possession of a prohibited weapon, possess a weapon while prohibited, fail to comply with weapons prohibition order X 2, breach of probation X 2, and breach of recognizance.
The 22-year-old male faces charges of possessing stolen property, and breach of undertaking.
Today is their court date.
Details

Contributed by

Isaac Wihak
The newest store to the city, Parkland Fabrics and More officially opens its doors today.


The new store will be the only fabric store in the Dauphin area and will also feature locally designed apparel and home décor.


Owner Roxanne Shuttleworth says she is excited to be back home in the Parkland after living and working in Winnipeg for years.


Shuttleworth says that she will welcome other designers and crafters who are interested in being part of the in-store boutique.


As well as selling customers their sewing needs, Shuttleworth is hoping to offer sewing classes in the fall.


Parkland Fabrics and More is located at 26 1st Avenue NW in Dauphin.
Details

Contributed by

Josh Sigurdson
This summer has seen quite a lot of projects completed in the City of Dauphin.
Director of public works and operations for the city of Dauphin, Bill Brenner says there will be a significant amount of road construction coming up specifically on 4th Ave SW.
In addition, there will be 3 sidewalk projects coming up, 2nd St. NW from 1st to 2nd, River and Mountain, and Hedderly between Hawthorne and Brown.
Bill Brenner gives more insight into how things have gone.
"So far, and knock on wood, the projects have gone very well. The weather has been very cooperative this year for construction. So that has been a definite bonus and we've been cruising along quite well with all of our projects."
Bill Brenner says to sign up for email notifications to stay up to date from the city.
Details

Contributed by

Isaac Wihak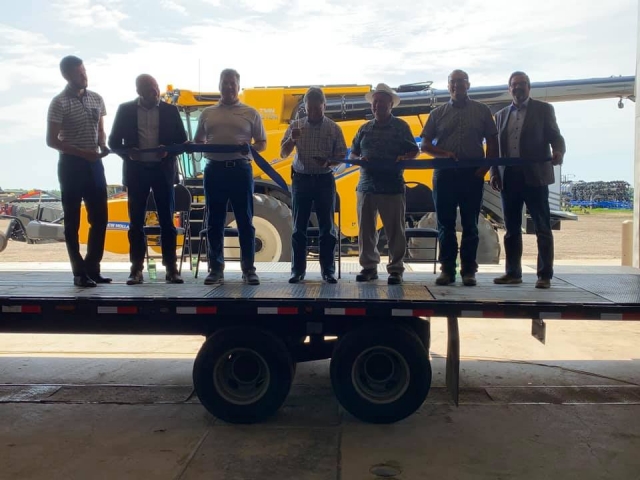 Today is the grand opening for the Mazergroup in Dauphin.
Just after 12:30 they had the ribbon-cutting ceremony, Mayor Al Dowhan, President and CEO Bob Mazer, and North America Vice President for New Holland Brett Davis all spoke just before the ribbon was cut.
Mazer is happy to be in Dauphin.
"We're very excited to be here in Dauphin, we were located in Ste. Rose and a little bit smaller community, but we're very excited to be in Dauphin and maybe a little bit more of a hub for activity."
The grand opening will be on til 3 this afternoon.
Details

Contributed by

Isaac Wihak
Occasionally needles can be found on the ground and in parks.
Rob Tuff with the Dauphin RCMP says to be as safe as you can when dealing with needles, the needle should be placed securely inside a bottle, Tuff says ideally a bleach bottle but a laundry detergent bottle or plastic pop bottle work too, once secure, the bottle can be taken to any PMH facility. PMH suggests tongs, pliers or tweezers when picking up the needle, pointing the tip down and away from the body, and don't put the cap back on the needle.
Tuff adds the reason for taking needles to Prairie Mountain Health is the RCMP doesn't have a storage facility and way to dispose of needles like the health unit.
"Not that we don't pick them up, I mean we can, but when it comes to the disposal of them, we're not equipped for that."
According to PMH, if a needle were to poke you, let the puncture site bleed and don't squeeze it. It helps flush germs away. Wash the area with soap and water. Then go to an emergency room as soon as possible. There, they'll be able to assess exposure, risk and provide the necessary care. PMH adds the risk of infection is very low.
Details

Contributed by

Isaac Wihak