Local News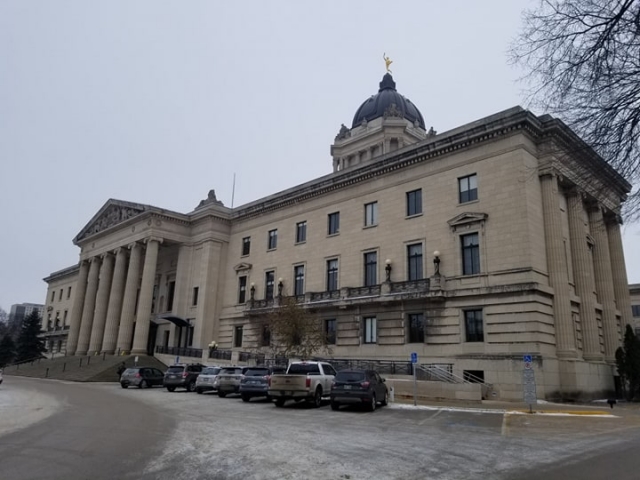 The provincial government is going to court to challenge the carbon tax imposed on Manitobans.
Last year the province got legal advice the federal government has the constitutional power to impose a carbon tax, but only on provinces that don't implement plans of their own.
Pallister explained that they had introduced the Made-in-Manitoba Climate and Green Plan as their method of avoiding the federal tax. But that didn't stop the federal government.
"They stated they would impose their higher – and rising – carbon tax on Manitobans. They have now done this, despite granting special treatment and exemptions to other provinces," said the premier.
Pallister says the carbon tax is unfair to Manitobans and threatens jobs and the economic growth of the province.
Details

Contributed by

Benjamin Schwab
Brandon will be the hottest destination this summer but don't worry; you'll get to cool off at the same time.
Brandon Bouncy Castles is set to open a "summer" water park on the Keystone Centre grounds at the corner of Richmond Avenue and 13th street.
James Ruser owns Brandon Bouncy Castles and he will be bringing in the new attraction.
"I've been playing with the idea of opening a new waterslide park for a few years and everything has come together," said Ruser. "Keystone Grounds has been fantastic to work with. I've ordered a bunch of waterslides from California and they're getting manufactured and they'll be on their way up."
There will be eight different waterslides ranging from 10 feet to 50 feet. There will also be bubble soccer and a game called archery combat tag among other things.
One of the slides is called the "Dropkick" and it's a zero-gravity slide. There is also a slide that is 43 feet high that's called the "Purple Monster".
"We have slides that are also designed for young kids and any of the grandparents coming out as well," added Ruser. "I really built it with the family in mind. It's tailored to the whole family coming out for an experience."
"Archery combat tag is like laser tag and paintball but it's with specially designed arrows that have foam tips and bows as well," he added.
The water park is expected to open on June 12 and it will remain open until July 28.
"There is a lot of work to be done but I know the community is going to love it," added Ruser.
Details

Contributed by

Darnell Duff
Flin Flon RCMP responded to a report of a stabbing around 9 pm on April 1st.
A 16-year-old boy was located with life-threatening injuries.
The officer, acting quickly, administered emergency first aid by applying pressure to the stab wound to help stop the bleeding while EMS was en route.
The youth was transported to hospital, where he remains in stable, but critical, condition.
Shortly after, officers located a 16-year-old male suspect, arrested and charged him.
The boy's charges are Aggravated Assault, Possession of a Weapon for Dangerous Purpose, and numerous bail violations.
He was remanded into custody for a court appearance, April 4th.
The Flin Flon RCMP are continuing the investigation.
Details

Contributed by

Isaac Wihak
The Fork River Fire Department relies on their cell phones to get notified of emergencies.
But now any cell coverage that was in the area is going away.
BellMTS is cutting their CDMA service and plunging the 23 volunteer firefighters in the dark.
Fire Chief Darren Kippen believes the situation is life-threatening. Saying volunteers could be in the field, and their neighbour's house a few miles away might be on fire, but they wouldn't know about it.
"None of us have desk jobs. Most of us are farmers or truck drivers, stuff like that. so we're never by our landlines. So we have always counted on our cell phones to get our calls. We've been using the cell phones here for the last 25 years at least."
They currently use a system that works very well called Paging Unlimited.
"What they do is, 911 they contact the Fork River Fire Department, they intercept the call then they text us, call our cellphone, they also call our house phones then they also email us."
When Kippen phoned BellMTS customer relations they told him that cellphones were a privilege. They also told him to use a service they already use.
"Right now we have a Fleetnet system, but it's the old system, and it works, but it doesn't work. Even the RCMP have problems with it. What we're going to have to do, the only thing I can think of, is go back to what they call the paging system. We'll have to put up a tower and then buy pagers. Which to me is stepping back in time."
Kippen says the paging system will only broadcast around five to seven miles. Some of the guys have land over 20 miles away and could miss something important.
BellMTS says the CDMA network coverage did not formally extend to Mossey River, although it's possible signals could be picked up in areas around nearby communities that did have coverage. They continue to expand wireless service in Manitoba as part of their $1 billion investment plan for the province but do not have any announcements right now about expanded service in this particular area. They say Sifton, however, is already well covered with LTE.
Details

Contributed by

Benjamin Schwab
Manitoba Angel Dresses is an organization that provides bereavement outfits for angel babies.
Jennifer Neiman, Dauphin group leader, says they've stocked 95 per cent of rural Manitoba and 100 per cent of Winnipeg funeral homes and hospitals in Manitoba with outfits.
The outfits are made out of donated wedding gowns.
Since they re-organized last year, they've turned about 400 gowns into Angel items.
Parents of the angel baby don't have to pay for the outfits from Manitoba Angel Dresses.
If you would like to make a donation you can go to their website, www.manitobaangeldresses.com or call Neiman at 204 638-7672 if you'd like the donation to stay local. They are looking for money, yarn, ribbon, thread, lace, and flannel.
They are also looking for volunteers who can sew, make bracelets, collectors to hold gowns when they open up to receive gowns, and people to package items for distribution. You can go to their website to become a volunteer.
They aren't accepting new wedding gowns currently.
Details

Contributed by

Isaac Wihak
Ashern RCMP are asking for the public's help after 23 break and enters since January 2nd.
The break-ins have been to a variety of businesses including a medical clinic, law office, arena, and school.
Most times the suspects gain entry by breaking a window, it occurs during the early morning hours.
The suspects take mostly cash or small items from the businesses.
Lundar RCMP Sergeant Richard Marshall says in a press release.
"We want to remind everyone in the area to be alert and vigilant. If you see something, say something. Report any suspicious activity to police. For store owners, secure your doors and windows, keep outdoor lights on, and consider installing an alarm or video surveillance."
Anyone with information is asked to contact Ashern RCMP at 204-768-2311, call Crime Stoppers anonymously at 1-800-222-8477, or submit a secure tip online at www.manitobacrimestoppers.com.
Details

Contributed by

Isaac Wihak
The federally-imposed Carbon Tax is significantly impacting Parkland drivers.
MP Robert Sopuck says the Tax hits rural residents, who rely on vehicles to get to work.
"Many people who live in the suburbs have to commute to work. A lot of people live outside of Dauphin, for example, commute to Dauphin. And other people live in Dauphin and, let's say, work in the head office in Riding Mountain National Park."
Sopuck says there is no consideration at all for rural residents.
"The tax return, that they claim they're going to be giving us, will show up next year, I guess. But all of us will be paying this Carbon Tax right now."
The price of gas jumped to 120.6 yesterday, and is expected to keep climbing as the summer driving season kicks into gear.
Details

Contributed by

Benjamin Schwab
Swan River RCMP responded to a call early this morning and are investigating a death in downtown Swan River.
This is the second death in three months by the CN Rail Park.
In January, less than 500 metres away from this morning's incident, a 39-year-old was stabbed to death.
Police are still on scene and haven't released additional information yet.
Details

Contributed by

Isaac Wihak
STARS will be completely upgrading their nine helicopter fleet.
Chad Saxon, communications lead with STARS Manitoba, says they'll be upgrading to the model H145 helicopter.
Each new helicopter costs 13 million dollars.
After completing an extensive assessment they were recommended to go with the H145 helicopter, which is the next generation of their BK117 helicopter.
Saxon says the federal government allocated 65 million dollars which is equivalent to 5 helicopters to help replace their fleet across Western Canada.
"It's really great news for STARS and for patients across the prairies. This funding is still quite new and somewhat unexpected, so we don't really know how we'll allocate it, in which helicopters will go to which base. It was tremendous news for STARS and the people who will truly benefit from it is our patients."
The current fleet is being replaced because the helicopters are ageing and it's becoming more difficult to find parts and by 2022 parts for the current helicopters will no longer be made.
The advantage STARS gets with having a uniformed fleet is when a pilot has to move to a different location, there is no learning curve with a new aircraft as they already know how to fly the helicopter.
Details

Contributed by

Isaac Wihak
Today is the start of the Dauphin Arts Fest.
Martijn Van Luijn, chair for the Dauphin Arts Fest, says Arts Fest is about children performing on stage while being adjudicated.
On Saturday Night at 7, there will be a final showcase with the top performers from each discipline.
He says the festival is very exciting and special for the kids because they are being critiqued in a positive way.
Things are changing from last year when they had lots of events like workshops and an open mic night.
They are doing a scaled-down event this year because of illnesses in their group.
The Arts Fest doesn't need volunteers for this year, but if you are interested in volunteering next year you can contact them through their website.
If you'd like to see the schedule of the performances, click here.
Details

Contributed by

Isaac Wihak
The inquest into the death of Freeman Zong began yesterday.
During day one of the inquest, Provincial Court Judge Christine Harapiak was presented a CCTV recording of the common room, which Zong, 26, shared with three other inmates.
The video was of July 14th, 2016, and featured the hours of 6 pm till the time Zong was taken away by EMS personnel around 8 pm.
Judge Harapiak also heard of Zong's suicidal rating, which was classified as medium status. He was to be watched every 30 minutes to make sure he was okay.
At 7:33, a corrections officers called a Code Red alert, after finding Zong in the shower. EMS arrived at the scene at 7:44 pm.
The staff made resuscitation attempts and called emergency medical responders, however, those efforts were unsuccessful, and Zong died at the Dauphin Correctional Centre.
The computer system used to control the doors at the centre had a malfunction during the evening. A reboot was necessary to allow the system to get back up and running. During that time, the doors were not able to be opened. The EMTs were able to arrive with no issue, but were delayed when leaving, as staff attempted to open the gates manually. This problem had never occurred before and has not occurred since.
Court recessed at 4 pm, and will resume this morning at 10.
Details

Contributed by

Benjamin Schwab