Local News
With the year wrapping up Robert Sopuck is looking at 2019 and anticipates there are a number of issues we'll be dealing with.
"The issue of Canada's competitiveness is extremely important. We're starting to see foreign investment leave this country. For example, I think, Encana Pipelines has closed down their head office in Calgary. We saw the closure of the GM plant in Oshawa. There could be some major economic headwinds coming towards us."
Crime is also a big issue for the Parkland, and in 2018 it hit home for Sopuck.
"We had the shooting in the Onanole area, and I live quite close to there. Friends and neighbours were involved in that, and it was a very frightening time for people. I can't have anything but praise for the police officers who were the first responders, one of course was injured, and they caught the criminals."
He says the problem of crime is always there but, hopefully, they can stay on top of it in 2019.
Details

Contributed by

Benjamin Schwab
Around 4000 vehicles were checked in Week Three of the RCMP's Holiday Checkstop Program.
68 checkstops were conducted all over the province with 21 people charged with Impaired Driving because of alcohol.
The highest blood/alcohol reading was almost three times the legal limit and driver was found with a .220.
During the week that ran between the 17th and the 23rd, there were six alcohol-related tiered suspensions and one drug-related tiered suspension.
Two people were charged with Refusing a Breath Demand.
12 people were charged with improper storage of alcohol or cannabis in a vehicle.
There was also no fatal traffic-related collisions during week three.
Details

Contributed by

Benjamin Schwab
Manitoba Public Insurance released their top five fraud cases of the year.
They estimate that auto insurance fraud costs $50 million a year and broken down that's about $50 for each ratepayer.
Suspicious claims are handled by Manitoba Public Insurance's Special Investigation Unit. As of the end of this November, claims savings are more than $10 million with the SIU closing 1,600 investigations.
Here is their list:
No. 1: "Comic Con Job"
A devout fan of Comic-Con, the 25-year-old woman was observed walking around Winnipeg's Convention Centre for six hours, enjoying her favourite superheroes, wizards, spaceships, and zombies. An investigator also observed the woman going on numerous shopping trips and driving the two-hour round trip from her rural home to Winnipeg.
Just one problem: the woman was collecting income replacement payments after stating she was unable to work due to injuries from a motor vehicle collision. She told her MPI case manager she could only walk a maximum of 15 minutes before getting dizzy and was unable to drive for long periods of time. After receiving information via the Tips Line, an investigation was opened.
With all the conclusive evidence in hand, Manitoba Public Insurance terminated the woman's income replacement payments and demanded repayment of $34,000 in benefits already paid out.
No. 2: "Polite Arsonist"
The registered owner opened a theft claim, telling her MPI adjuster she had given her car to her 22-year-old son, who reported the keys were stolen while he was attending a house party. The truth would become evident days later thanks to a number of witnesses, who had quite the story to share with police and MPI investigators.
One witness stated that while driving down a road in rural Manitoba around 7 a.m., he was shocked to see a man deliberately light a fire within his vehicle which was parked in a ditch.
As the vehicle quickly became engulfed in flames, the witness stopped and asked if the man was okay. The young man replied, "Yes, thanks. And have a nice day," before running off into the bush. The witness contacted RCMP.
The investigation would also uncover that the same vehicle had been involved in a hit-and-run collision the previous evening in Winnipeg. After being awoken by the loud crash, a neighbour quickly attended to the crash site where he came upon a young man who told the neighbour "not to speak to police."
The man, who appeared highly intoxicated, then quickly drove away in a Dodge Nitro ─ the same vehicle which was burned hours later in the rural ditch.
Police showed photos of several individuals to the witnesses, who were able to conclusively identify the driver. With the evidence in hand the claim was denied for false statement, resulting in a savings of $57,000 to Manitoba Public Insurance ratepayers.
No. 3: "Breakfast Blunder!"
The registered owner of the vehicle opened a total theft claim with her MPI adjuster after police found her vehicle badly damaged. She reported she had given her vehicle to her son, who told MPI staff he had gone for breakfast with his brother at a downtown hotel. The son, 45, claimed that after breakfast he went to the washroom while his brother also left their table to play VLTs.
The son presumed an opportunistic thief must have taken the vehicle keys out of his unattended sweater which had been left on a chair.
The man's story quickly unravelled when hotel staff confirmed the restaurant hadn't served breakfast in a number of years and the brother stated he hadn't seen his brother in over nine months.
MPI subsequently filed a Statement of Claim for repayment of the $22,800 already paid.
No. 4: "Not So Jolly Christmas Party"
The Winnipeg man told his adjuster that while he and his girlfriend were attending a Christmas party, someone stole his vehicle from a parking lot. He confirmed that he was missing a key. The man's Dodge Journey was recovered not far from the man's residence ─ badly damaged after crashing into a tree.
An investigation was launched after several suspicious circumstances came to light. Investigators would learn the man and his girlfriend did return home from the party, with the male appearing highly intoxicated and agitated. Shortly after arriving home the 22-year-old vehicle owner was seen driving off in his vehicle.
When presented with all the facts the vehicle owner withdrew their claim. Savings to Manitoba Public Insurance ratepayers: $22,600.
No. 5: "Vehicle Technology Tells All"
Thanks to an anonymous call to MPI's Tips Line, Autopac ratepayers were saved nearly $40,000.
The vehicle owner opened a claim after his 2014 Nissan Titan was badly damaged after crashing into a ditch in rural Manitoba. The man claimed that he was driving at the time of the crash. However, due to tips/information provided, investigators believed the man's wife was actually driving and was heavily intoxicated at the time of the crash. However, police were unable to place her at the crash.
The vehicle owner was told that the vehicle's onboard Crash Data Recorder had been removed and staff with MPI's Training and Research Unit were going to download the data which would confirm occupants' weight in the front seat at the time of the crash. The man then withdrew his claim.
Anyone with information about auto insurance fraud is encouraged to call the Manitoba Public Insurance TIPS Line: 204-985-8477 or toll-free 1-877-985-8477. All calls are anonymous.
Details

Contributed by

Benjamin Schwab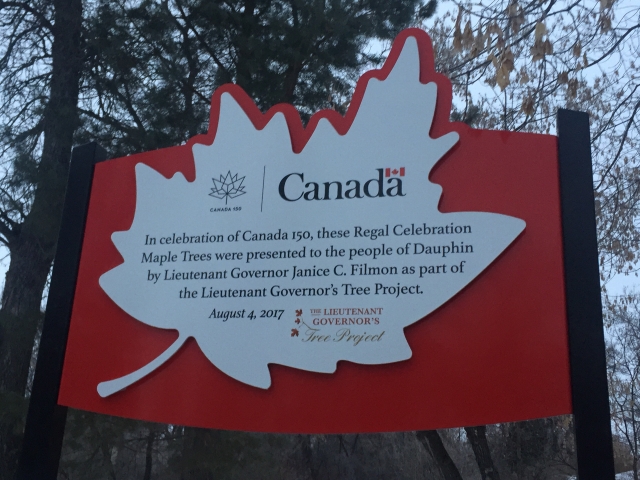 The City of Dauphin installed a new sign in Vermillion Park to show off our Canada 150 trees.
Last year Lieutenant Governor of Manitoba Janice Filmon donated five Regal Celebration Trees to Dauphin.
"They are planted in Vermillion Park towards the east end of where the camping is, or the loop where people can drive through the park. Part of the cities commitment to this donation was to put up a sign saying what the trees are and to acknowledge who gave them to us and why they are there."
Sharla Griffiths says Dauphin was one of only 6 locations outside of Winnipeg to get the trees.
The sign was designed, constructed, and installed by Graphic Factory.
Details

Contributed by

Benjamin Schwab
One person is dead and three people are in the hospital in Neepawa following a collision at 5:30 this morning.
An ambulance was transferring a patient to Winnipeg when it collided with another vehicle on Highway 16.
Two paramedics and the patient in the ambulance are in the hospital in Neepawa.
Highway 16 is now open.
Details

Contributed by

Isaac Wihak
There are a few rules to know when it comes to shovelling in Dauphin.
When the average person shovels, they are not allowed to shovel onto the street.
For business owners, snow must be shovelled onto the street by 10 am the morning following a snowfall to be cleared by the city.
If a business owner doesn't shovel their sidewalk, the city will do it for them and then charge them accordingly.
Shovelling is mandatory for business owners.
For everyone else shovelling is not mandatory, the city will eventually clear off all public sidewalks.
Some mail deliverers won't deliver mail if there's too much snow on someone's property.
Details

Contributed by

Isaac Wihak
According to the RCMP, more people died on Manitoba roads in 2018 than in 2017.
There have been 75 crashes this past year, resulting in the deaths of 81 people.
In 2017, there were 68 crashes with 76 deaths.
The total is above the five-year average of 79.
The majority of the deaths can be attributed to drivers failing to wear seatbelts, and driving while impaired or distracted.
Details

Contributed by

Isaac Wihak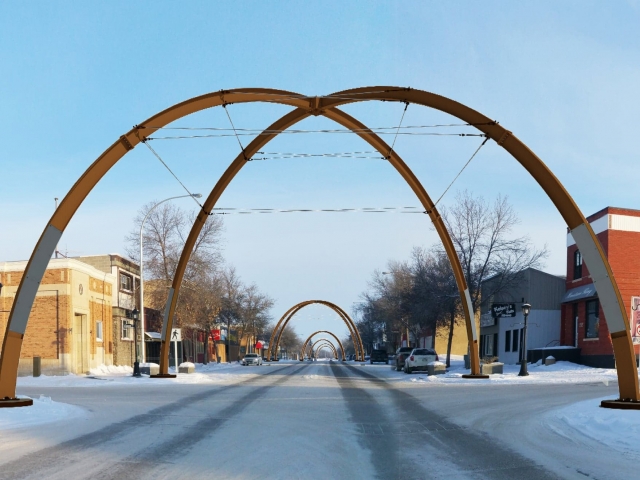 Russell is creating what they call an open air museum.
Spencer Reavie, the chairperson for the Main Street Revitalization Committee, explains what's going along with the new arches the community recently installed.
"What we're doing is putting up aluminum panels, or steel panels, on the base of each of the arches. So there will basically be 32 panels on our Main Street at the base of the arches. Each one will be laser cut out and have a theme on them. And we're looking at different themes for this outdoor museum."
Some of the themes of the panels include cultural diversity of the area, agriculture, community history, local history, and the natural surrounding of the area.
When someone scans a QR code on a panel, they will be presented with videos, stories, scenes, and photography to go along with the theme of the arch.
The panels are being installed in the summer. The committee is going to put out a request for submissions from artists to submit ideas for the laser cut panels and the media to go along with it.
They have 54 submissions so far.
Details

Contributed by

Benjamin Schwab
Manitoba Infrastructure is building a service road by Reit-Syd Equipment.
Once the road is done it will be open for public use.
Other than weather issues the city also faced, Bill Brenner, is unsure if there have been any other setbacks.
As soon as the ground is dry in the spring, MI will touch up the base and pave the road.
Details

Contributed by

Isaac Wihak
An Ochre River family has received some bad news right before Christmas.
David Montealegre's wife was diagnosed with stage 3 cervical cancer on December 20th.
They have to move to Winnipeg for the treatment and his wife had to quit her job.
Her birthday is on Christmas and he's trying to stay positive.
"We feel kind of alone, sad about it. But, she's a strong woman, I know she will survive and she will be okay. Hopefully, God will bless us and keep us forever."
Montealegre has set up a Go Fund Me to raise 5 thousand dollars to raise money for an apartment, transportation, medication, and food.
For the link to their Go Fund Me page, click here.
Details

Contributed by

Isaac Wihak
Santa and a convoy of Parkland truckers are converging on Ochre River.
Truckers, coming from all directions, even as far as Brandon, are driving to the community to support the family of Travis Vandepoele.
Travis died recently away from home, and volunteers decided to bring Christmas to his family.
"We're going to do a convoy over to Ochre River, to the hall, where his family is waiting. We've got some gifts for the kids," said Dean Myhre who is an organizer. "We've got Santa Clause coming to give goodie bags to whatever kids are there. And we're hoping it distracts them a little bit and gives them something to smile about."
They also started a GoFundMe page to raise money for a trust fund for the kids.
The group from Dauphin left around 10:30 and headed down Highway 5.
Details

Contributed by

Benjamin Schwab