Local News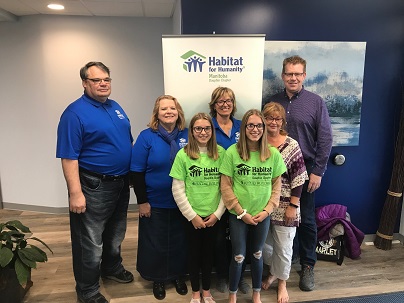 The Dauphin chapter of Habitat for Humanity added two new members on Thursday.

Habitat named Ava and Kara Paziuk as their new youth ambassadors.

The 13-year-old twins from Dauphin got involved in Habitat for Humanity at the young age of 5.

"Our mom helped with the first home build, and we, kind of, just got a little inspired," said the twins. "So when we were 5 years old, we started donating our birthday money to different charities, local charities, not local charities, and then we decided we wanted to donate to habitat. It's just a great cause."

Their job as youth ambassadors is to spread the message and goals of Habitat for Humanity to their school, and all youth in the community.

Rodney Juba with Habitat is excited for what the girls will do as ambassadors.

"It gives us an opportunity to connect with the youth of our community," said Juba. "With two ambassadors, we get two for the price of one."

Ava and Kara say they are excited to get started in their new positions.
Details

Contributed by

Josh Sigurdson
The BC RCMP held a press conference today to discuss the investigation into the homicides from mid-July.
The RCMP described the videos and photos found on a camera Bryer Schmegelsky and Kam McLeod took after killing Leonard Dyck.
In the first video, the two took responsibility for the murders of Dyck, Lucas Fowler, and Chyna Deese, and announced their plan to go to Hudson Bay, steal a boat, and run away to Europe or Africa.
In the second video, they reached Nelson River, Manitoba, and discussed suicide.
In the third video, both teens had shaved in preparation for death, talked about killing more people, and expect to be dead in a week.
In the fourth video, they describe suicide.
The fifth video was taken unintentionally.
Finally, the sixth video was their last will and testament. The teens wish to be cremated. This is the video shown to their families.
There were a few photos as well.
Schmegelsky, alive but lying down with an SKS rifle, a blurred image unintentionally taken, and a selfie of McLeod.
The RCMP won't be releasing the videos out of respect for the families.
Details

Contributed by

Isaac Wihak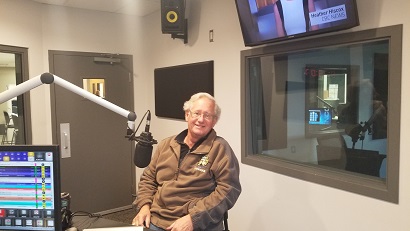 Rotary Radio Week continues on 730 CKDM. During the course of the week, we will be highlighting different members of the Rotary Club of Dauphin.
Malcolm Strang has been a Rotarian for 25 years and is now an Associate Director for the region.
He dropped by the Al Morning Show to discuss why he joined.
"What drew me to Rotary was an opportunity to contribute to the community, an opportunity to have some influence on what's happening to develop programs and community events that might make a difference, make a change."
Tune in tomorrow morning at 8:30 for the final interview of Rotary Radio Week.
Details

Contributed by

Josh Sigurdson
A Dauphin woman has been sentenced after admitting to a home invasion earlier this year.
29-year-old Jeanine Guiboche was in court Wednesday, where she was sentenced to 379 days in jail.
On March 2nd of this year, a 55-year-old woman was unlocking the door to her apartment when Guiboche came behind her and shoved her inside. Guiboche then grabbed a knife, cut the phone line, and forced the victim into the bathroom before taking several items and fleeing.
Details

Contributed by

Josh Sigurdson
The City of Dauphin Fall Clean-up Campaign will begin on Monday, October 7th.
Crews will start in the day 4 area of the garbage cycle and work backwards.
Garden waste, grass, leaves, shrubs and tree branches will be collected if it is in a clearly identifiable pile in the back lane.
Residences that don't have a back lane are asked to place the items on the boulevard near the curb.
In addition to the clean-up, composting materials can be delivered to the City Waste Disposal Site, northwest of Dauphin, anytime.
Plastic bags, house or commercial garbage or scrap aren't allowed in the compost site.
For more info call 622-3202.
Details

Contributed by

Isaac Wihak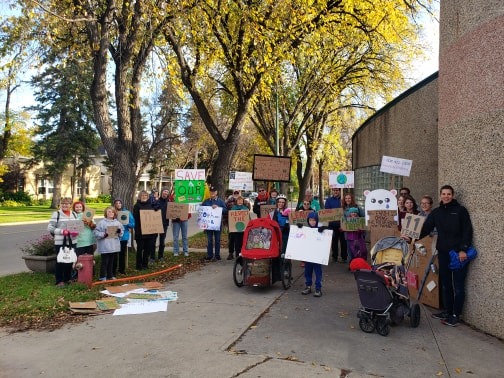 Today, residents of Dauphin participated in a climate strike to protest the lack of action being taken against climate change.
Dauphin is one of 860 cities around the world participating in the protest, the second such event in a week. The first strike took place on September 20th.
The strikes were inspired by 16-year-old Swedish climate activist Greta Thunberg, who on Monday, took her movement for action against climate change to the United Nations.
Thunberg started #FridaysforFuture after protesting in her hometown for three straight weeks.
250 of the 860 scheduled protests are taking place in Canada, with huge events planned in Calgary, Vancouver, Toronto, Winnipeg, and Montreal. Thunberg will be taking part in the march in Montreal alongside political leaders.
In Winnipeg, there will be a rally, a march, and a large-scale art installation, along with live speakers and performances.
Details

Contributed by

Josh Sigurdson
The goal of the week is to highlight the special role that trees play in our world.
National Forest Week was first started in 1967 but didn't gain official status until 2011.
Patricia Pohrebniuk is the Executive Director of the Manitoba Forestry Association and she says trees and forests do more for the world than we think.
"(Forestry Week) is a week that has been put aside to raise awareness of the special role that trees play in our everyday lives," said Pohrebniuk "Environmentally, just the fact that they are important for the production of clean air, clean water, they help with soil erosion control, they provide shelter, and they provide food. Economically, they are very important, to not only Manitoba but to all Canadians right across Canada."
Pohrebniuk says that it is very easy for people to get involved in Forest Week.
"It's just a matter of, even taking a walk down your street, or in a community park. Try to identify some of the trees that are in and around your yard sites, along the street, within the park. Have a better understanding of the trees, and how to try and maintain your trees."
National Forest Week always takes place the last week of September.
Details

Contributed by

Josh Sigurdson
Rotary Radio Week continues on 730 CKDM. During the course of the week, we will be highlighting different members of the Rotary Club of Dauphin.
Clayton Swanton has been a part of the rotary club for 10 years. Swanton joined Al Gaines to talk about how the Rotary Club supports the community.
Swanton's involved with the contingent of the Rotary Club that focuses on active living projects. Over the past seven years, since the mud run was created, the Rotary Club has been able to support numerous community projects.
50 thousand dollars went towards getting the water slide at the Kinsmen Aquatic Centre up and running, they partnered with Parkland Crossing to give 30 thousand dollars to towards the indoor playground, they kicked off Whitmore School's fundraising campaign for the playground with a 25 thousand dollar donation, and they're working with the Dauphin Derailleurs to make sure the north gate mountain bike multi-use trail facility gets built.
Rotary Radio Week continues all week long on 730 CKDM, be sure to tune into the Al Morning Show, where he will have interviews with the Rotarians.
Details

Contributed by

Isaac Wihak
Last night around 8:45 the RCMP responded to a report of a two-vehicle collision at 3rd St. SW and 4th Ave. SW.
A 76-year-old man from New Brunswick was driving westbound on 4th Ave. SW when he collided with a parked car.
The man stated low light and poor visibility made it difficult to see the other vehicle.
There weren't any injuries reported and alcohol wasn't a factor.
No charges have been laid.
Details

Contributed by

Isaac Wihak
On Tuesday, a 17-year-old from Gilbert Plains who can't be named due to his age made an appearance in Dauphin court in connection with the stabbing incident in Gilbert Plains on Tuesday, February 12th.
He had his matters adjourned until October 8th. The other man accused in the incident, 21-year-old Roger Keshane, will be in court on Wednesday, November 20th.
In the incident, a 36-year-old man was stabbed at a home in Gilbert Plains and some cannabis was stolen as well.
Details

Contributed by

Alec Woolston
Fire Prevention Week runs from October 6th to 12th.
The theme this year is "Not Every Hero Wears a Cape. Plan and Practice Your Escape!"
Dauphin Fire Chief Cam Abrey says home escape plans are a big part of being fire safe.
"We do our utmost to prevent fires from happening, but in the incidents where a fire accidentally starts, we want people to be able to get out of the home safely. We know we practice them in school on a regular basis and a lot of employers in the workplace have fire plans in place, but what do we do in our homes? So that at 3 in the morning when the alarm starts to sound and we're quite groggy and tired, are we going to know how to get out safely?"
The first step in having a home escape plan is to draw a floor plan and plan two ways out of every room whether it's out a door or window. There is equipment available for second-floor windows. The second step is to make sure all smoke alarms are working. Finally, do a dry run by sounding the fire alarm and getting out. Abrey adds that they encourage adults to try a drill at night to see if the kids will recognize the sound and get out.
Abrey says members of the fire department will be out in the community.
"Even though Fire Prevention Week doesn't start until Sunday, October 6th, we have partnered with the Dauphin Kings again this year, and on Friday, October 4th, we're going to be doing our own kick-off to Fire Prevention Week here in Dauphin. The Dauphin Kings are hosting the Portage Terriers that night but you'll see firetrucks on both the north and south side of the building where people can come take tours of the trucks prior to the game starting. The first 100 kids that come into the game will receive a free prize package and there'll be handouts for the adults as well."
Also at the game, there'll be a fire extinguisher simulator, using a laser fire extinguisher on a digital fire. Sparky will also be in attendance.
Throughout the week the fire department will be doing some more activities in the community. They have plans for Monday and Tuesday but are keeping them under tabs for now. Then on Wednesday evening, the fire department has partnered with the Dauphin Public Library. There'll be another opportunity for a tour of a fire truck. In the library starting at 7, firefighters will be showing off equipment and reading to kids. There'll be some prize giveaways for kids and raffles for adults. Finally, on Thursday there will be an open house at the fire hall where the public can get a tour of the fire station and see more equipment.
Details

Contributed by

Isaac Wihak