Local News
To kick off the New Year, the upcoming Chamber Lunch series features three different presentations.
Stephen Chycota says this is a lunch you should not miss.
The first is by Carissa Caruk-Ganczar on the pilot Dauphin and Area Business Incubator followed by Clayton Swanton giving an update about the newly developed mountain bike trails up by the Selo sight and the 2020 Manitoba Summer Games.
The lunch will wrap up with a presentation by Mary and Alison from Dauphin Neighbourhood Renewal about the ins and outs of the Unity Project.
Tickets are still available for the lunch that takes place on Tuesday from 11:45 to 1 pm at the Parkland Rec Centre.
Details

Contributed by

Benjamin Schwab
RCMP are searching for an escaped inmate from the Saskatchewan Penitentiary who was last seen in a prison truck in Yorkton yesterday at 4 p.m.
Police say 24-year-old Steven Briggs was spotted driving a blue 2015 four-door crew cab Dodge truck with a CSC logo in the Yorkton area.
During the 10 p.m. count at the penitentiary on New Year's Eve, guards were short an inmate.
Briggs is described as about five-foot-nine-inches tall and 157 pounds with tattoos on both hands and his left forearm.
He is serving seven years and three months on assault and theft charges.
Yorkton RCMP is asking for the public's assistance with any information in regards to his whereabouts and of the CSC truck.
Details

Contributed by

Benjamin Schwab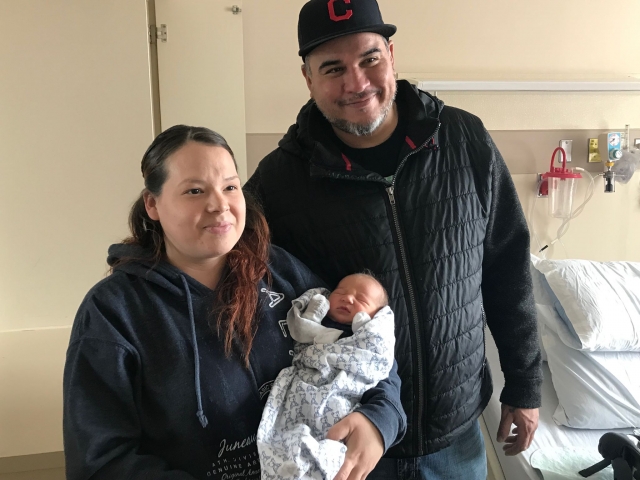 Damian Catcheway-St Paul is Dauphin Hospital's first baby born in the New Year.
Damian was born at 3:17 in the morning on January 1st.
He was 8 pounds 13 ounces and 22cm.
His parent Chelsea Catcheway and Dennis Stpaul are from Skownan.
Details

Contributed by

Benjamin Schwab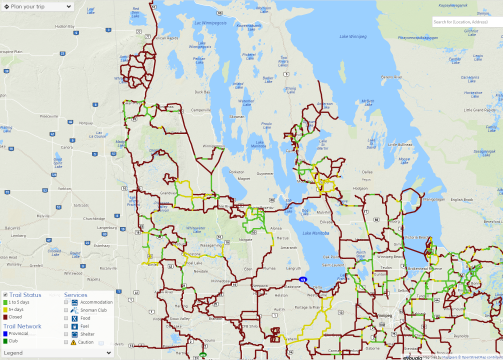 Snoman has a new interactive map that snowmobilers across the Parkland can use to see which trails are closed and which are freshly groomed.
Al Butler, President of Snoman, explains what's changed this year.
"The old maps we had that were on the website were basically just a picture of our trail system. The new interactive map allows you to go in and expand it, you can plan routes by taking your mouse and clicking on one point and go to another point, and it will give you the distance between those two points."
Each groomer is equipped with GPS units. So within 24 hours of a trail being groomed, it will turn green, and after five days it will become yellow.
The system is like programs used in neighbouring provinces. The group likes to see consistency between the provinces of Ontario and Saskatchewan. With the new maps, all three have basically the same system.
The map can be found here.
Snoman is also developing a mobile app that should be ready to download in the next few weeks.
Details

Contributed by

Benjamin Schwab
The City of Dauphin and Manitoba Infrastructure are working on a new agreement for snow removal in the city.
The city currently plows provincial trunk highways 5A and 20A, which is a part of Main St, part of 2nd Ave NW, part of 1st Ave NE, and a part of River Ave for MI.
The main points in the new agreement are, MI will pay the city to clear off certain parts of the highway that enter Dauphin, they will pay the city a depending on how many centimetres of snow gets cleared, the city will follow safety and health obligations and move the snow to an approved snow disposal site.
The deal is still being worked on.
Bill Brenner expects it to be ready sometime in the New Year.
Details

Contributed by

Alec Woolston
Over half of all home heating fires happen in December, January, and February.
Anything flammable should be moved at least three feet away from a heat source.
Some ways to lower the risk of a fire or to stay safe is to keep snow from banking against your furnace exhaust, make sure your carbon monoxide alarm works, and get your furnace checked out.
Most heating fires happen in the winter months because they get used more often.
Heating equipment causes 1 in 7 home heating fires.
1 in 5 home fire deaths are caused by heating equipment.
Details

Contributed by

Alec Woolston
Update:
Helenne Beaulieu has been safely located.
RCMP thanks the public and the media for their assistance.
----
Portage La Prairie RCMP are asking for the public's help in finding a 19-year-old female.
Helenne Loraine Beaulieu is described as 5'7", 130lbs, with long brown hair with blond streaks and has a tattoo on her neck that says, "broadway".
She is believed to be in Winnipeg.
The RCMP are asking anyone with information to call the Portage La Prairie RCMP at 204-857-4445, or call Crime Stoppers anonymously at 1-800-222-8477, submit a secure tip online at www.manitobacrimestoppers.com or text "TIPMAN" plus your message to CRIMES (274637).
Details

Contributed by

Benjamin Schwab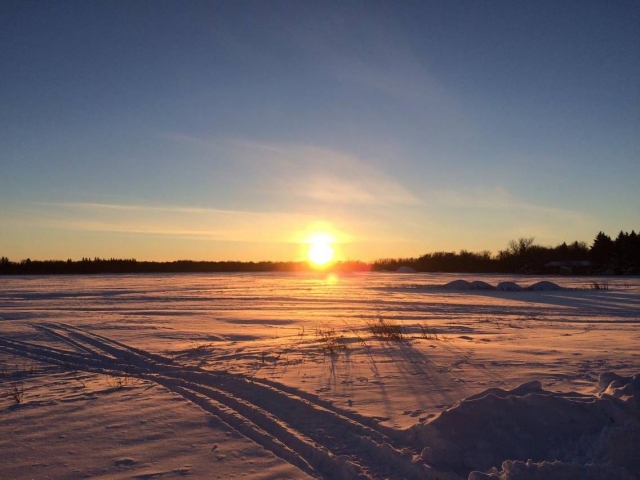 The extreme cold warning has ended across the Parkland.
Temperatures will moderate slightly this afternoon but increase substantially tomorrow as a warm front pushes in from the west.
Tomorrow, Dauphin is expecting a High minus 6 with wind chill at minus 19 in the morning and minus 13 in the afternoon.
Details

Contributed by

Benjamin Schwab
The Crocus Quilter's Guild, based out of Dauphin, donated a quilt to each of the 24 patients in the Dialysis Unit at the Dauphin Regional Health Centre.
"As somebody who works in the hospital, I regularly see the Dialysis patients come in all the time. And it's almost like a forgotten disease, no one really remembers them. But these people are dealing with this on a day to day basis, and it's a long-term thing. So, we brought it back to the guild and said 'you know what, there's only 24 patients so why don't we make it our goal to make the quilts and we can give them to the patients themselves and they are their own quilts. They are not part of the dialysis unit or anything. They belong to a person."
President of the guild, Cindy Hamilton, says all 50 members of the group helped out with creating the quilts with everyone doing their part to complete the project.
Some members built the squares, while others put the squares together and then those larger blocks would be quilt together, and then others would bind them and put the label on them.
Because of privacy laws, the quilts were given to nurses at the hospital to hand out to the patients.
Hamilton says the people they've heard back from are really appreciative of their gifts.
"They were absolutely thrilled. They could not believe that we had done this and that they would get these quilts to keep. We received cards from a couple of them."
"One of the patients brings their blanket with them, their quilt, every time they come for dialysis, so it's every second day. She brings her quilt with her just because it means that much to her. One of them, that I know personally, was talking about hanging it on her wall and said because she didn't want to use it. And I said 'no, it's to use. It's washable and dryable you can use it.' So she was just absolutely thrilled with it."
There are plans to create a quilt for each new dialysis patient as they begin treatment going forward.
The group meets the first Thursday of the month at the Watson Art Centre beginning at 7, and they also have a sew day on one of the Saturday during the month that is great for those interested in learning how to sew.
Details

Contributed by

Benjamin Schwab
***UPDATE***
Police say Shenille Roulette has been safely located.
Original story bellow:
Police are asking for the public's help in locating a 16-year-old last seen in Sandy Bay First Nation.
Shenille Roulette was last seen on December 29th in the community.
She's described as First Nations, approximately 6 feet tall, 200 lbs, and long brown hair and brown eyes. She was last seen wearing black tights, a camouflage winter jacket, and black/white high-top shoes.
Manitoba First Nations Police Service says Roulette left her residence in an unknown direction and it's unknown if she left on foot or was picked up.
Police are concerned for her well- being and are asking anyone with information regarding her whereabouts to contact Manitoba First Nations Police Service, Sandy Bay Detachment at 204-843-7700.
Details

Contributed by

Benjamin Schwab
A lot has happened in 2018 including the legalization of marijuana and a new free trade deal.
Local MP Robert Sopuck sat down with us to talk about some of the big changes that happened this past year.
"Trade is truly important to us. So that's why I'm glad the NAFTA negotiations concluded. Could have been done better, I guess, but at least it seems we have a deal and trade will be secure."
"The legalization of marijuana naturally was a big issue. And I happened to be in town at a reception here and saw the store in the mall, and it's a shock to an old guy like me, but I guess times have changed."
"The issue of pipelines, even though it may seem like it will not affect this constituency, many of us including myself have spent time working in the oil fields. I worked in the oil fields before I became a member of parliament. So the health of the energy sector is critical to this constituency and indeed the entire country."
Sopuck is looking forward to helping with the Conservative Party of Canada's re-election campaign, and he intends to be a very active member of parliament until he steps down after the 2019 election in October.
Details

Contributed by

Benjamin Schwab