Local News
A business in McCreary was robbed at gunpoint last Sunday.
The business on Mountain View Drive had just closed, around 8:15 pm, when a male knocked on the back door.
The employee answered the door and the male came around the corner holding a long gun. The suspect demanded money and fled with an undisclosed amount.
RCMP say the suspect left in a dark-coloured four-door car. He's described as Caucasian, around 25-years-old, 6 feet tall, and 160 lbs. He was wearing a camouflage ski mask, camouflage jacket, black gloves and was carrying a backpack.
RCMP are asking anyone with information to contact Ste. Rose du Lac RCMP at 204-447-3082 or call Crime Stoppers anonymously at 1-800-222-8477, or submit a secure tip online at www.manitobacrimestoppers.com.
Details

Contributed by

Benjamin Schwab
The 2019-20 Budget for the Turtle River School Division has been released.
Shannon Desjardins, secretary-treasurer, says there aren't any huge changes.
The Turtle River School Division is listening to the government's mandate of limiting a tax increase to 2%, theirs is 1.98%.
Desjardins says even though they have a balanced budget, they are receiving .6% less provincial funding.
They have a .63% increase in both expenditures and revenue this year.
They are repurposing money from the Indigenous Academic Achievement, English as an Additional Language, and French Language Education to help fund EA's in all schools, there will be a decrease in their IT budget, a swim program has been created, and they have removed one FTE Educational Assistant.
Details

Contributed by

Isaac Wihak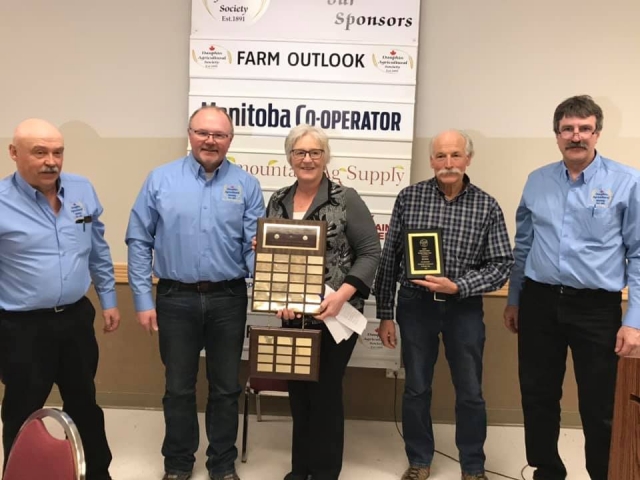 At Farm Outlook 2019 the Dauphin Ag Society presented the Ron Brook Memorial Award to Don Dewar.
"It's a real honour to have been chosen. You do what you do. And I did what I did. I was having fun. I enjoyed it and made a lot of great people." Dewar continues, "Like I said in my talk, nothing was personal. We would argue, not yell at each other, but come pretty close. And yet you'd sit down at the end of the day and talk about something else."
The award is very localized according to Dewar.
"You'd have to have known Ron Brook when he was on the Ag Society. He was very dedicated; he was a very giving person. He gave a lot of this time. Actually, he was working of the Dauphin Fair that year when he had a devastating heart attack. So the Ag Society decided to make this memorial award. I'm rather fortunate to have been chosen."
Dewar says he really enjoyed being on boards, but in the past few years, he has been trying to withdraw from meetings. "I'm still on our local hemp co-op and the Canadian Hemp Trade Alliance. But those don't take me away from home very often, I'm not on the road near as much. I enjoyed it all."
"I hope enough young people will come up. We don't have the, I'm going to say, the organization in place that used to train people for these jobs. It's good to see a few of them stepping up."
Dewar says he was also fortunate to have been told he was chosen a few weeks ago.
Details

Contributed by

Benjamin Schwab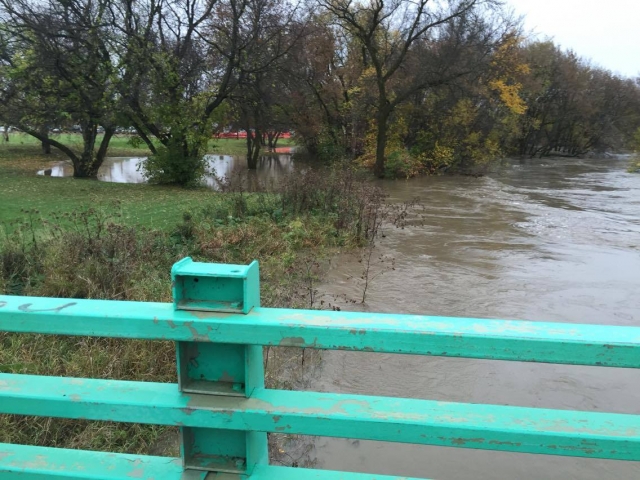 With winter just about over, all the snow is about to melt and that can mean flooding.
Randy Daley, the emergency coordinator for the RM and city of Dauphin, says to do a little survey where you live to avoid flooding.
Things to do include clearing your gutters, downspouts and runoff drains, remove branches and leaves that could block water flow.
He also thinks you should make sure water will have a place to run so it doesn't pool up and flood your home or garage.
Daley says you shouldn't wait and do as much as you can now because we don't know how fast the snow will melt.
Details

Contributed by

Isaac Wihak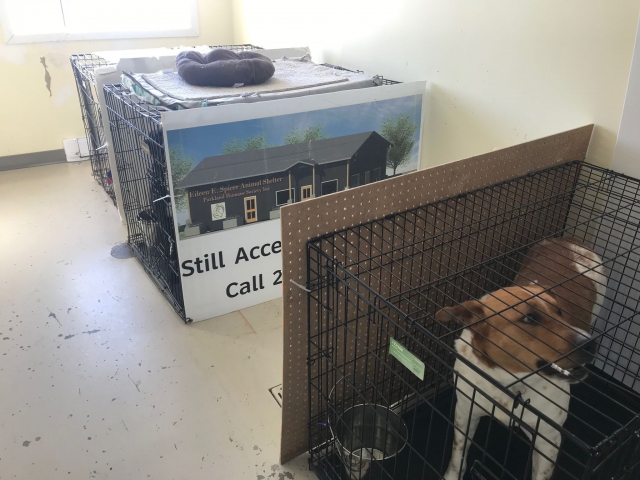 The Parkland Humane Society will be renovating one of their dog rooms.
It will be modeled after their other dog room which has floor to ceiling kennels.
The renovations will allow the dogs to have a better quality of life and be more comfortable.
The renovations have been paid for from the Neighbourhood Renewal Grant and the Thomas Sill Foundation from Winnipeg.
Details

Contributed by

Isaac Wihak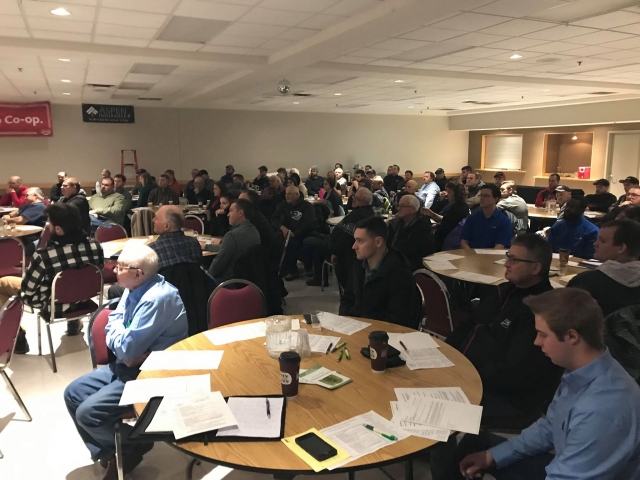 Farm Outlook 2019 was a big success for the Dauphin Ag Society.
Boris Michaleski says everyone who came out learned a lot from the diversity of speakers.
"By the attendance throughout the whole day and the number of questions and interaction with the crowd, I think that's a good indication that there is a lot of interest in the information that was being presented."
The Dauphin Ag Society is already making plans for next year.
"We have one potential confirmation, and that's Wheat Pete. He's out of the US primarily. A number of people follow some of his commentary and hopefully, he will be able to bring an interesting perspective to agriculture."
Michaleski says attendance was up this year, compared to 2018.
Don Dewar was given the Ron Brook Memorial Award.
Details

Contributed by

Benjamin Schwab
As promised, the PST has dropped from 8 per cent to 7 per cent. That will come into effect on Canada Day. The drop will save the average Manitoba family $239 this year and 500 dollars on average for future years.
This year, the province's deficit will drop to 360 million dollars, down from the projected marker of 470 million dollars for the 2018-19 fiscal year.
Provincial spending is expected to increase by 57 million dollars this year to a total of 17.48 billion dollars. Manitoba's debt is expected to rise to 26.1 billion dollars. In 2018-19 the debt rose 902 million dollars because of the 360 million dollar deficit and 542 million dollars in capital spending.
The largest increases in the budget are 130 million into education and 18 million into sport, culture, and heritage.
The biggest cut is health, losing 120 million dollars because there's less spending on hospitals and equipment.
Municipality funding is static.
Details

Contributed by

Isaac Wihak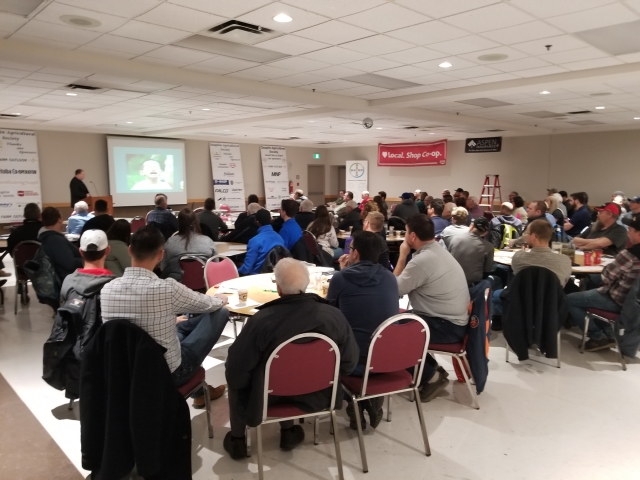 It's a full house at the Dauphin Ag Society's Farm Outlook 2019.
The day began with Neil Townsend, with Farm Link Solutions, giving the outlook for the year.
There's lots going with presentations all day until 4:30.
You can still attend. Tickets are only 20 dollars and can be purchased at the door.
Details

Contributed by

Benjamin Schwab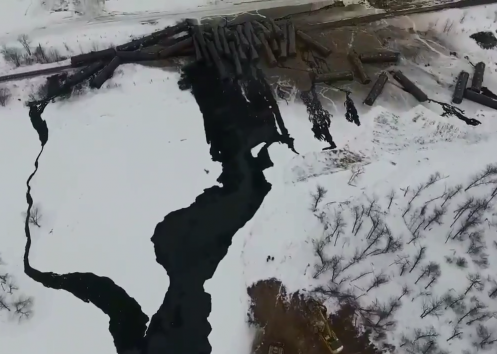 The number of Canadian railway accidents increased by seven per cent last year to 11-hundred-and-70.
But there were fewer fatalities at 57. That's compared to 76 a year earlier.
The Transportation Safety Board says the number of serious injuries rose from 65 to 91. Most of these accidents happened at crossings.
Accidents involving dangerous goods increased nine per cent to 125, with six resulting in the release of dangerous materials.
Details

Contributed by

Benjamin Schwab
Update:
This morning at approximately 2:50, Dauphin RCMP and the Emergency Response Team attended a residence on Jackson Street in Dauphin to execute a search warrant under the Controlled Drugs and Substances Act.
While officers were arresting five people, the residence caught on fire.
Everyone escaped the house unharmed, and the neighbouring homes were evacuated.
The Office of the Fire Commissioner is on the scene and an investigation is ongoing.
----
The Dauphin Fire Department responded to a fire around 3 this morning.
The home on Jackson Street is a total loss and one of the neighbouring properties suffered some heat damage to the siding.
The department says there are no injuries or estimates on the damages at this time.
Crews remained on scene until around 5:30 to make sure all hot spots were extinguished.
The investigation is being conducted by the MB Office of the Fire Commissioner.
Details

Contributed by

Benjamin Schwab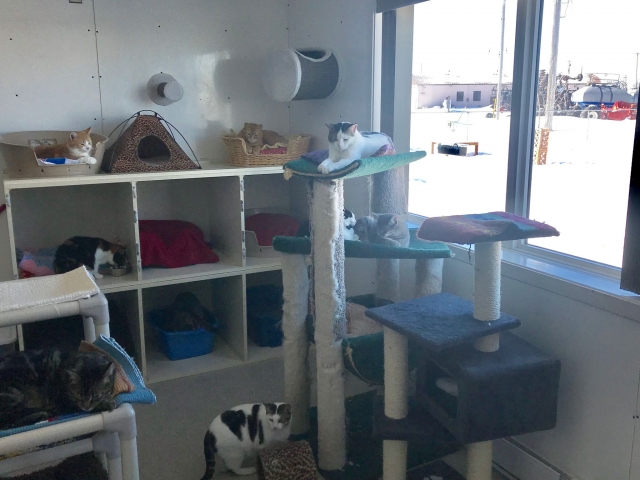 The Parkland Humane Society will be building a cat patio in the spring.
The cat patio will be an addition to the shelter off of cat room 3.
It'll allow the cats to get out of their room and have some fresh air.
The patio will be protected from the elements and should be usable from April to September once it's ready.
They are looking for donations, they need about 1200 dollars.
If you are interested in donating, contact the Parkland Humane Society at 638-6966, mail a cheque, or drop off a donation.
Details

Contributed by

Isaac Wihak