Local News
The City of Dauphin gets an annual boost from Countryfest.

Dauphin's Countryfest is a non-profit organization that puts money back into the community every year.

The festival generates an economic impact of $10 million. The festival injects over $150,000 of direct cash contributions to volunteer community organizations each year.

One of the main contributions in recent years is the festival's funding of the Countryfest Community Cinema where they donated more than half the money needed to build the theatre.

The money doesn't just stay in Dauphin; it is donated to many community projects, like arenas, around the Parkland.

Dauphin Mayor, Allen Dowhan, says the success of festivals like Countryfest wouldn't be possible without the countless hours of dedicated volunteers.
Details

Contributed by

Josh Sigurdson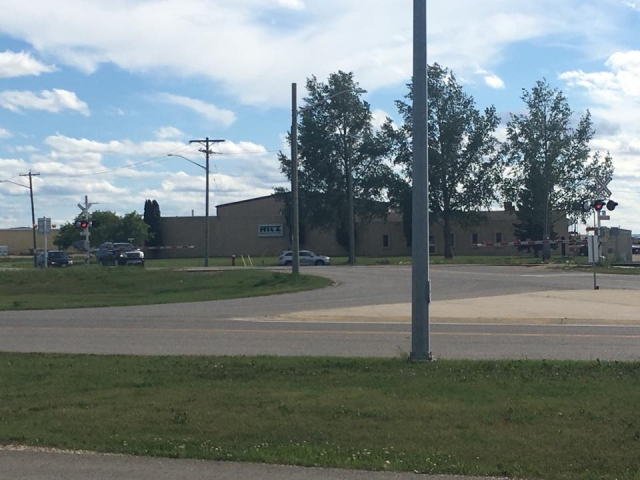 Tuesday afternoon, you may have noticed the railway crossing gates on Mountain Road and 1st Ave SE were down. That lasted for over 2 and a half hours starting around 3 pm.
Yesterday morning a CN crew was on location to finalize the required repairs. CN is still trying to work out what the problem was.
If the problem occurs again, CN asks that the CN emergency line is contacted. The phone number is 1 800 465-9239 and can be found on every CN grade crossing. By calling that number, the dispatchers will have direct contact with the signals department who would deploy the necessary equipment to regulate the problem as fast as possible.
Details

Contributed by

Isaac Wihak
This weekend, the RCMP increased their presence on Manitoba Highways as they usually do for long weekends.
There were formal checkstops set up in Dauphin for Countryfest, the Interlake, and Norway House. To deal with increased traffic to and from Dauphin, additional traffic enforcement resources were also deployed to major highways around Winnipeg, along Highway 6, around Steinbach and throughout the western part of the province.
This weekend, there were a few minor traffic collisions, one serious collision, which was an ATV rollover in the Steinbach area that saw one serious injury, and there weren't any fatalities reported.
According to RCMP media relations officer, Julie Courchaine, 22 people were driving impaired, and 18 tiered suspensions were handed out. Courchaine adds the suspension number might be a bit low because clerical staff will likely still be catching up with getting everything into the system.
Details

Contributed by

Isaac Wihak
Manitoba First Nations Police Service responded to reports of a man in possession of a handgun on Saturday night at the Sandy Bay First Nation.
Police located the suspect in a bushed area just off Center Road and after being asked to exit the bush, the suspect took off running.
After a short foot pursuit, the suspect was quickly arrested and taken into custody. Police located what appeared to be a home-made handgun that the suspect pulled from his pants. The weapon was seized and secured.
25-year-old Edmond Raymond Spence has been charged with Possession of a weapon dangerous to the public, Resisting arrest, Failure to comply with probation, and Possession of a controlled substance (methamphetamine).
This arrest was part of the Manitoba First Nations Police Service's "Guns and Gangs Initiative"
Details

Contributed by

Josh Sigurdson
The public will be allowed to access the Whirlpool Lake area of Riding Mountain National Park this summer.
After being monitored for the past year with all test results coming back negative for the presence of zebra mussels, Parks Canada is opening up the lake and the campground is open for self-registration.
Whirlpool Lake had opened this past winter for winter activities, but there was no word until now on whether the lake would open up in the summer.
Whirlpool Lake is experiencing some low water levels due to the management of the lake depth in minimizing the risk area identified by DNA test results. As well, levels are low to optimize the ability to effectively monitor the lake, and due to very little precipitation during the summer of 2018.
Parks Canada wants to remind those that will be on the waters to remain vigilant and ensure they have inspected all watercraft.
Details

Contributed by

Isaac Wihak
Since the start of the summer, STARS Air Ambulance has responded to a record number of calls.


Crews have had 252 calls between the start of their fiscal year on April 1st and today. This is up from 183 calls at this time last year.


The crew was especially busy in May responding to 88 calls across the province, which beat the previous record of 61.


A large number of calls were ATV accidents. Chad Saxon, Manitoba Communications Lead, says that it's rare that a day goes by without hearing of an ATV accident or attending one.


STARS attend the majority of ATV calls based on the severity of riders' injuries and the remote location that the crashes occur.


"Whatever you do, just please keep safety at the front of your mind" added Saxon. Not to say people aren't being safe, accidents do happen, but certainly, we wanna make sure that people are being extra cautious because we have seen a number of those (ATV accidents )"


Of the 93 all-time calls to the Dauphin area, 14 of them took place last year. Since this fiscal year has started there have been 9 calls to the area.
Details

Contributed by

Josh Sigurdson
Throughout her years at the DRCSS, Kendra Suss was always known as a hard worker and someone that always gets the job done.
She was also known as one of the nicest girls you'll ever meet. Now that her high school days have come to an end, Kendra will take the next step in her life and she'll do that with some help.
The 18-year-old finished up high school by winning eight scholarships. One of the said scholarships is the Ernest & Elizabeth McGirr Award for Academic Excellence and it's worth $10,475. Kendra's average in her grade 12-year was above 95%. The scholarship was given out by the University of Manitoba.
"I really wasn't expecting to win the big scholarship, but I definitely felt really honoured and it feels good to know that my hard work really paid off," said Suss.
"I've always been really committed to school," she continued. "I would keep my binder tidy and I would always ask questions if I needed help."
Kendra's seven other scholarships total $2550.
"It was a really cool feeling to win all of the other scholarships as well," said Suss. "At the moment, I didn't really realize how much I had won until everyone was taking pictures with me, it was pretty surreal."
The 18-year-old is now set to hit the road in the fall. She'll attend the University of Manitoba. She's currently enrolled in University One. She also plans to pursue being a music teacher or occupational therapist.
One of the biggest changes Kendra will have to get used to is the population difference. Dauphin is home to roughly 9,000 people while Winnipeg's population is roughly 750,000.
"I'm pretty nervous, absolutely. But, I think it's going to be a good change and I'm ready for it," said Suss.
After spending four years at the DRCSS, Kendra knows some of the best moments in her life came during her time at the school.
"The people were so amazing. The teachers were really fun as well, I had such a great time at the DRCSS," concluded Suss.
Kendra also says her textbooks will be her best friend in the fall.
Details

Contributed by

Darnell Duff
Another Dauphin's Countryfest has come and gone.
9000 people took in the festival and 3500 campsites were occupied.
"The weekend went well. It wouldn't be Countryfest without a little bit of rain and that, of course, happened on Saturday," said Ann Ransom. "That forced a couple of delays, but the amphitheatre cleared out very quickly and everyone was still having a lot of fun. Our volunteers are a well-oiled machine and we're really pleased with how the weekend went."
The festival kicked off on Thursday with the 730CKDM Thursday night Kick-Off Party. The Nitty Gritty Dirt band headlined the evening. Also performing was Meghan Patrick and Streetheart.
"With everything being upstairs, it really created that kitchen party, getting together type of party," added Ransom. "Nitty Gritty was fantastic. It was such a great evening and we had lots of fantastic comments from people."
Preparations for next year's Dauphin's Countryfest have already begun.
"We have lots of great things planned and we also plan to celebrate Manitoba's 150th during the festival as well," said Ransom. "Our members will get the word first, so that's an exclusive perk for them. After that, we'll get it out to the public shortly after."
Tickets for Dauphin's Countryfest 2020 are now on sale.
More Countryfest facts:
Number of festival week volunteers: 1500
Number of volunteer directors: 11
Number of full-time Dauphin's Countryfest staff: 5
Number of artists: 54 bands on 3 stages over four days
Number of artist meet-and-greets during the weekend: 13
Number of lucky fans who got to attend meet-and-greets: 325
Pounds of bacon consumed in the bacon eating contest: 16
Number of vendors on-site: 40
Number of meals served in the VIP tent over the weekend: 2700
Daily 50/50 Take Home Totals: $11,427.50 / $16,927.50 / $18,674.00 / $18,442.50
Details

Contributed by

Darnell Duff
As of Monday at midnight, the provincial sales tax in Manitoba is 7 per cent.
This follows the PC government's announcement in March that they would drop the tax rate from 8 percent.
The reduction comes a few short months before the provincial election on September 10th.
Finance Minister Scott Fielding called this tax cut the biggest in Manitoba's history. He added that he cut would mean $325 million in annual savings.
For 2019, a single person will save about $86 and a four-person household will save about $239 in the next six months. In 2020, the savings for both households will more than double.
Manitoba now has the third lowest PST rate in the country behind Alberta, who has no PST, and Saskatchewan, who has a 6 percent tax.
Details

Contributed by

Josh Sigurdson
While people were enjoying themselves at this past weekends festivities, the Dauphin Fire Department was hard at work.
First, on Thursday, a faulty propane line caused a lot barbecue to set fire to a trailer at the Countryfest site. Thanks to fast-acting neighbours and firefighters on site the fire was put out quickly.
Then early Saturday morning at 3 am, firefighters responded to a structure fire on Merrell Avenue where the home was completely engulfed. Crews stayed on scene for 4 hours.
Shortly after the Merrell fire, crews responded to a structure fire on 5th Avenue South West where a carport was aflame and spreading to the next house. Crews battled the fire for 3 hours. The fire is being treated as suspicious in nature and is under investigation.
No injuries were reported at any fire and no damage estimates have been released at this time.
Details

Contributed by

Josh Sigurdson
Later this week, the festivities continue and Mossey River Days starts up.
Riley Chartrand, vice chair for the Mossey River events committee, says they focus on the family aspect.
There'll be activities for adults and kids, Chartrand says there's a small town environment and they focus on local talent.
You'll be able to take in the fireworks, kids shows, petting zoo, kids' carnival, pedal-tractor pull, kids' races, bouncy castles, axe throwing, an inflatable obstacle course and a whole lot more.
It costs 5 dollars to get in on Friday and 10 dollars to get in on Saturday.
The money raised goes to bettering the event in future years, supporting local organizations and sponsoring local events.
For more information on what to expect at Mossey River Days click here.
Details

Contributed by

Isaac Wihak