Local News
The kick-off to the 2019 Breakfast Series hosted by the Dauphin & District Chamber of Commerce takes place this Thursday the 17th at 7 in the morning at the Dauphin Super 8.
The session, which will feature Mick Lautt of Taiga Consulting, is called "Why Failure is Crucial to Your Success".
"We're going to be playing around with the concept of failure and what that means to people. It's kind of a scary word for some people, but we'll talk about how that looks in business, and why it's important to put yourself out there and experience failure, and learn from failure." Explained Lautt.
"He's been doing the kick-off for the past few years now and it's always a great presentation. People enjoy him, he always comes with something interactive." Said Chamber Director Stephen Chycota, who also notes that tickets for Thursday are still available. You can also get a "passport" which includes a ticket to all 5 Breakfast Series sessions.
For tickets, you can get a hold of Stephen at the Chamber Office by phoning 622-3140. You can also email This email address is being protected from spambots. You need JavaScript enabled to view it., or stop in at the chamber office at City Hall. If you'd like more information, check out the event page on facebook.
Details

Contributed by

Alec Woolston
If you drive down Main Street in Dauphin on Saturday mornings, you'll see some demonstrators wearing bright yellow vests.
For around four Saturdays now yellow vest protestors have gathered at Dauphin City hall.
The local group is worried about the actions Prime Minister Justin Trudeau is doing that are hurting the country, the carbon tax, globalization, the global compact on migration, among other issues.
Gord Stokes was apart of the protest, "I think it's important to wake people up to what Trudeau has been doing. We've got an election coming up this year, and we're in a situation where we really have to turn it around. I mean, people may be debating about Andrew Scheer or Bernier, or the options against the Liberals and the NDP. We have to unite. We've got to get together because it's pretty scary what's going on."
Stokes encourages anyone who wants to join the protests to come down to city hall Saturday mornings at 11.
Details

Contributed by

Benjamin Schwab
Campground reservations for Riding Mountain National Park are available.
One micrOcube, 460 backcountry camping, thirty oTENTiks, and one Yurt are the 4 options for booking.
RMNP is piloting two types of campgrounds.
The MicrOcube is tailored more towards a group of 2 people, and the Yurt was the original model they planned to use back in 2006 before they went a different route.
The oTENTiks fit up to 6 people.
There's been some construction going on in the moon lake area to build 3 all season oTENTiks and construction will start at Lake Audy to build 3 summer oTENTiks.
Details

Contributed by

Isaac Wihak
Millions of tonnes of lithium, which is a key part of electric car batteries, has been found around Snow Lake, 200km east of Flin Flon.
A geologist with the mining company, Snow Lake Resources is hoping to get 3 or 4 mines set up.
That could mean 500 people directly employed.
Snow Lake Resources has dibs on a 6.3-million-tonne resource estimate, while Far Resources is digging into an initial resource of 1.1 million tonnes.
This could save hundreds of jobs because last year Hudbay announced its intentions to pull up stakes in Flin Flon by 2021 due to a lack of ore in the ground.
Another setback saw Vale lay off 169 employees at its Thompson mine last year.
Details

Contributed by

Isaac Wihak
This year you can nominate a couple to be hosts for Canada's National Ukrainian Festival.
The hosts greet people when they enter the festival, as well as, mingling with people, take part in the opening ceremonies, they get to be in the parade, and attend most of the grandstands.
CNUF is looking for a couple who get involved in the Ukrainian community or just the community in general, who volunteer, and are good mentors in the community.
To nominate a host you can contact the CNUF Office at 204-622 4600 or by email at This email address is being protected from spambots. You need JavaScript enabled to view it..
All nominations will be reviewed by the CNUF Board of Directors.
The nominations must be submitted by mail or email no later than February 8, 2019.
No nominations will be accepted after the due date.
Details

Contributed by

Isaac Wihak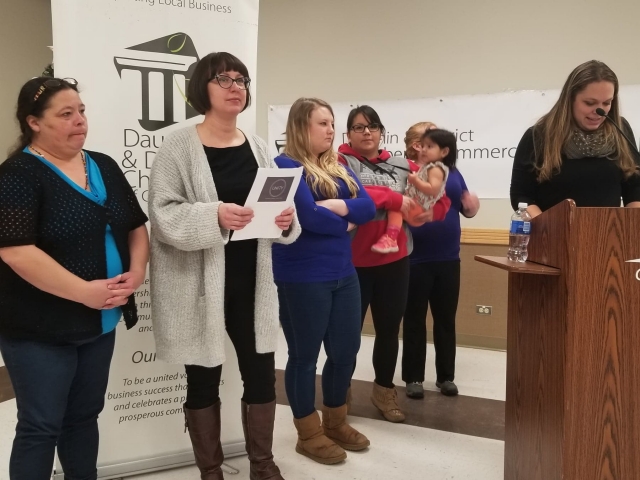 Women involved with Dauphin Neighbourhood Renewal's Unity Project have learned skills in making artisan goods and developed their business skills.
Brittany Trowbridge is one of the 15 women taking part in the project. She says they have had a lot of different opportunities to meet people that helped improve their business.
"Parkland Job Opportunity Centre, they taught us about employability and how to make a resume, and things like that. We also have been united with local beekeepers around Laurier, and a woodworking shop that's just out of town here."
Trowbridge shares some of the products they've created with help from local businesses.
"So far we have done glass etching, so we've made cups and things like that. We also have done concrete vessel, made beeswax candles, and things like that. We also have been doing some crocheting of hats, mittens, and cowls.
Proceeds from purchases go back to the collective to buy more material so they can make more products.
The Unity Project: Women's Maker Collective is expecting to have another intake of women sometime in the New Year. It's an opportunity for more women to come in and learn some valuable skills. Contact Dauphin Neighbourhood Renewal to find out more.
To find out when their next sale is, check them out on Facebook.
Details

Contributed by

Benjamin Schwab
RCMP is still aggressively investigating the murder of Leah Anderson from Gods Lake Narrows.
It has been six years since Leah Anderson's severely beaten body was found on a remote snowmobile and walking trail in the community.
Leah died on January 4th, 2013, her body was found 2 days later on the 6th.
She was murdered on her way to a community skating rink.
When Leah was found, she still had her skates with her. The skates and the bag they were in were positively identified as Leah's by her sisters.
Leah's clothing and swabs from her body were sent for analysis and came back with a male DNA profile.
More than 270 people were spoken to by police. On July 26, 2017, RCMP arrested a 23-year-old male from the community. The next day, he was released without charges but remains a suspect in this investigation.
The RCMP wants to bring the person responsible for her death to justice.
Police say they will continue working to find justice for Leah, her family, and her community.
Details

Contributed by

Isaac Wihak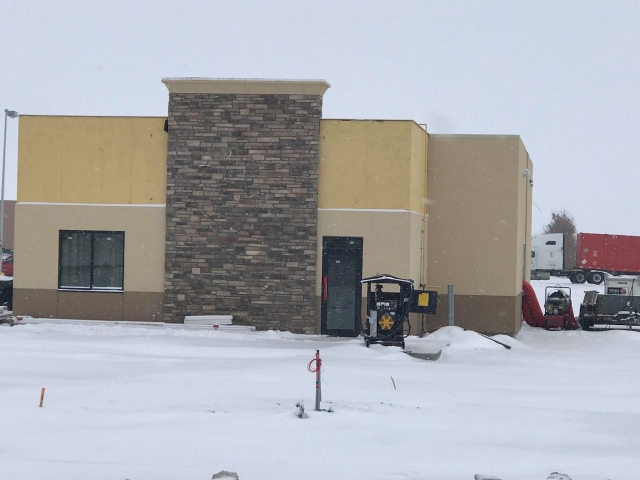 Dauphin's newest fast food restaurant is expected to open in March.
Eric Rochefort, Dairy Queen Franchise Developer, explains what stage the project is in.
"We've just begun our lease –holding improvements, so the interior basically. We have equipment scheduled to land in Dauphin at the end of the month, I believe it's January 28th."
DQ is looking to hire 50 to 60 people around town for both full and part-time positions.
"We're going to begin our recruitment process as well, as we build out the store."
The recruitment process is getting going in the next couple of weeks.
The project was initially expected to open late January or early February but it was delayed for a couple of reasons including weather.
"There were some delays at the beginning of the project from the landlord's side, and even on our side, there were a few delays. The weather didn't help, obviously," Rochefort continued. "We're probably going to open up with an unpaved parking lot at this point. But we feel that it's the right thing to do here, to be able to serve our fans in Dauphin."
Details

Contributed by

Benjamin Schwab
The City of Dauphin is developing a plan to install rapid charging stations for electric cars.
Steven Sobering says the plan is to have stalls installed by this summer.
"I'm working on the direct current fast chargers, as part of the city's commitment to sustainability. The city is interested in growing the economy around sustainability and active living, and currently when we look at the greenhouse gas emissions in the province of Manitoba 30 percent of that is from the transportation sector."
Sobering says their plan will offer stations that would allow charging a vehicle from an empty battery to full in around an hour.
Mayor Dowhan says having these stalls will help with the city's goal of developing tourism.
"We talk about tourism all the time, but we need to have the infrastructure and the necessary sites and that for people to come. Provincial tourism is what's happening in the industry right now, and we have a lot of it here."
The idea is to have the largest rapid charge network in Manitoba that goes from Dauphin to Winnipeg and connect the communities in between.
"Especially with the 2020 Summer Games and the world-class mountain bike trail that we're building we need this type of devices in our community to attract people. And also along the way, like Neepawa, Portage, etcetera. So they can see Manitoba easily, and there's not a drawback for people to access our communities," Dowhan said.
The project is in the research stage, and Steve is pursuing different partners like the province, Manitoba Hydro, and other forward-thinking municipalities to help build a network.
Details

Contributed by

Benjamin Schwab
There has been a group of Manitoba parents advocating for seatbelts on school buses.
This group advocating seatbelts on school buses is nothing new to Bart Michaleski.
In recent memory, there have been accidents bringing significant attention to school buses.
Despite school buses still being fairly safe, there are concerns.
A major concern of Michalski's is if the driver is incapacitated it could be very difficult for the students to get out of the bus.
A major pro to putting seatbelts in school buses is they could be safer when there is a collision with the bus from the side or if there is a rollover.
School bus seats are designed for capacity, so two older kids or 3 small kids can sit on a seat together.
That makes it difficult for school buses to structure where seatbelts can go.
Details

Contributed by

Isaac Wihak
Spending by Indigenous people, businesses and governments in Manitoba totalled more than nine billion dollars in 2016.
The data was compiled in a report from organizations representing chiefs in the north and south that looked at the impact of the Indigenous economy and of urban reserves across the province.
The report says the Indigenous economy also contributed more than two-billion dollars, or almost four percent, to Manitoba's gross domestic product.
M-K-O Grand Chief Garrison Settee says the report validates Indigenous people as important contributors to the province.
Details

Contributed by

Benjamin Schwab