Local News
A lack of childcare services in Ochre River is having a huge impact.
There is no daycare and a community group is trying to establish a centre.
There is an approximate 2-year wait-list to get into a daycare in Dauphin.
Liza Hess, member of the New Beginnings Daycare, talks about some of the challenges parents are having:
"So, there's some families that we've found out are traveling from Dauphin, all the way to Ste. Rose, to put their kids in daycare in Ste. Rose and traveling back to Dauphin to work and doing this twice a day."
They're looking for support in the form of testimonials, which can be emailed to This email address is being protected from spambots. You need JavaScript enabled to view it..
Details
Wetlands in the Parkland will be affected with the cancellation of the National Wetland Conservation Fund.
The federal government made the decision to cancel the fund last week.
Local MP Robert Sopuck is strongly fighting to get the Liberal government to reverse their decision.
"In terms of conservation, in terms of water-quality, in terms of biodiversity, in terms of duck production, it's critical that we do what we can to preserve wetlands."
Sopuck urges everyone to contact members of parliament and the minister to show support for the conservation fund.
Details

Contributed by

Josh Sigurdson
An Extreme Cold Warning is in effect across the Parkland.
Overnight, low temperatures will approach minus 30, and a strengthening northwest wind will bring extreme wind chills of minus 40, or colder, tonight and Sunday morning.
Gusty winds, from the Riding and Duck Mountains, will also bring local blowing snow.
Environment Canada says the extreme windchill will end, around noon, tomorrow.
Details

Contributed by

Josh Sigurdson
Funding applications are being accepted by the Dauphin and District Community Foundation.
There's around 80 thousand dollars available for community groups.
Richard Bankert, Grants Chair for the Foundation, says these are a great help for projects:
"So many times you are trying to get project money together for a particular thing that you are doing. If you are a not-for-profit or charity, and you need that extra boost to get through, then definitely look at letting the Community Foundation be a part of that."
Those interested have until February 28th to submit their applications.
Details

Contributed by

Josh Sigurdson
Dr. Roxane Neufeld received an award from the Manitoba Veterinary Medical Association.
She says it's based on many years of hard work and dedication to the MVMA.
Dr. Neufeld, from the Dauphin Vet Clinic, talks about some of the reasons the association honoured her with the award:
"We initiated the provincial Spay Day, which happens at the beginning of November. We've had 2 of those now. And then they are also recognizing the contributions that I've made, even locally, for example, Pet Patrol that we air daily at 3:45."
She received the award last night in Winnipeg.
Details

Contributed by

Josh Sigurdson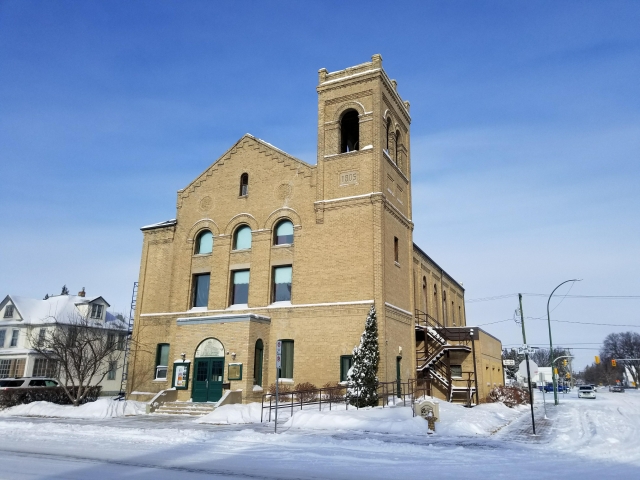 A long running arts festival is returning to Dauphin.
The Juried Arts Festival's committee is preparing for the upcoming festival in May.
Dauphin Art Group President David Yeo explains what's been going on behind the scenes:
"The Jurors have all been arranged, and the grant that we usually receive from the Arts Council has been applied for, and everything's ready to go. We're starting to advertise, and we invited students from the high school to participate."
The Arts Festival rotates between Dauphin and Russell, and is open for the Parkland region.
Details

Contributed by

Josh Sigurdson
A local Dauphin veterinarian is receiving the Award of Merit from the Manitoba Veterinary Medical Association.
Dr. Roxane Neufeld, from the Dauphin Vet Clinic, is excited about the honour.
She talks about why she was chosen to receive the award:
"It's based on the years that I've spent on the Manitoba Veterinary Medical Association Council. I was on council from 2013 through 2016. During that tenure, I spent one year as president and then the 4th year I was as past president."
Dr. Neufeld receives the award tonight, before the association's AGM.
Details

Contributed by

Josh Sigurdson
Spring will come early here in the Parkland according to Manitoba Merv.
Manitoba Merv, the groundhog at Oak Hammock Marsh, didn't see his shadow, which means early spring for those in the Parkland.
Groundhog Day falls on the halfway point between summer and winter solstice, if the groundhog doesn't see his shadow, it signals an early spring.
Details
Swan River residents can go back to their normal water usage.

The town now has 2 operational wells and have removed water restrictions.

Work crews are now starting work on the last wellhead, installing its pump and related components.

Once installed, it will be flushed and tested before being put into operation.
Details

Contributed by

Josh Sigurdson
Vehicle manufacturers are rapidly developing driverless technology.
The provincial government is proposing changes to legislation to allow driverless vehicle testing and usage in Manitoba.
Local MLA Brad Michaleski is unsure of how quick it will arrive here in the Parkland area:
"You know, I don't know if it would specifically happen up in the Parkland. It's a provincial law that is being changed, so I guess that testing could be done anywhere. But, if it got pushed up into this area, and research, technology, and testing, was done up here, that would be great."
Manitoba's Highway Traffic Act was written on the basis of a human driver being in physical control of a vehicle.
Details
Road work on Highway 10 through Riding Mountain National Park begins on Monday.
Parks Canada advises anyone driving south that construction starts from km 40 north to km 54.1.
Visitors should expect single-lane alternating traffic, speed reductions, and occasional delays of up to 20 minutes.
Speed restrictions are in effect from 7 in the morning to 6 in the evening.
Details