Local News
As of today; new impaired driving laws have come into effect which means police officers can now stop and test anyone for alcohol in their system, without reasonable suspicion. Refusal of a breathalyzer test could also now be charged as a criminal offence.
Before today, officers needed to have at least 2 reasons to pull someone over.
The new laws are a part of Bill C-46 which was passed earlier this year.
Details

Contributed by

Alec Woolston
Premier Brian Pallister was in Dauphin this morning for the official opening of the new MRI machine.
"It's a tremendous boost to the region, the whole region, not just the folks around Dauphin but in the whole Parkland area. And we shouldn't lose sight of the fact that it is going to save people a lot of time and money because travelling to Brandon is not a small investment and it's tough when people are ill, to begin with, and it's, and it's tough on their families too. So this is going to be a real help that way.
The new MRI machine is projected to perform around 3,500 scans per year As patients who would have had scans at other sites are scheduled for MRI appointments in Dauphin, spaces will open up at other sites, reducing waits province-wide.
"It's the kind of investment that makes good sense. I would say having the community get behind it is helpful. But also we're looking to spend smarter as a government and not just spend because it's in a certain area. But spend because it's a smart thing to do.'
"MRIs are crucial for making important diagnoses and monitoring illnesses," said Dr. Brock Wright, chief executive officer, Shared Health. "The addition of this equipment in Dauphin will enable Manitobans in this part of the province to access these valuable services much closer to home."
The new MRI won't have effects just impacting the Parkland. It's expected to reduce the number of inter-facility transfers required for patients who would previously have been transferred to another site, such as Brandon or Winnipeg, to receive a diagnostic scan.
"It will also be a help, that frankly the people who need to be tested in Brandon. Because it will help shorten those wait times they've been experiencing down there. And I shouldn't just say Brandon, because I understand some of the patients had to go further afield, as far as Boundary Trails Hospital down between Morden and Winkler. So, with the new federal carbon tax coming on that's going to add to the bill for gas as it is and it just saves people that extra money that can now stay on their kitchen table instead of having to come off," says Pallister.
"The new MRI machine will significantly improve access to health services for people in the region, particularly for our ageing population," said Doug Deans, chair, Dauphin Hospital Foundation. "The new MRI unit further strengthens access to health-care services at our hospital, which has developed into a true regional health centre for the Dauphin and Parkland area."
The addition of the scanner is expected to help decrease the MRI wait times across the province. Since July 2017, average wait times for MRIs have seen a 30 percent improvement, declining to 16 weeks from 24.
Details

Contributed by

Benjamin Schwab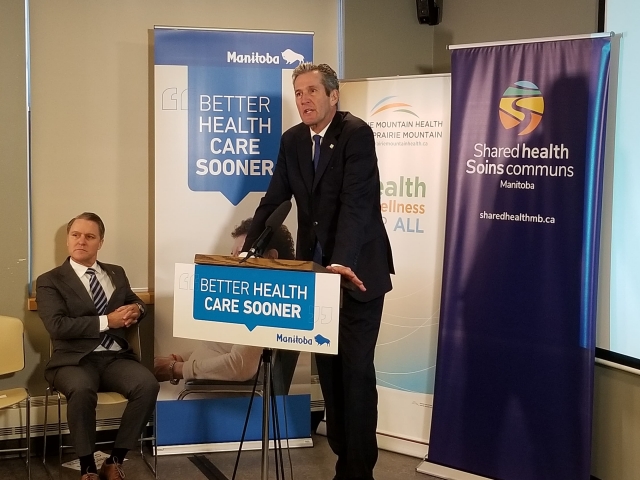 Manitoba Premier Brian Pallister is in Dauphin for the official opening of the MRI Machine.
The event started at 9 this morning. Health, Seniors and Active Living Minister Cameron Friesen is also on hand.
The announcement is being streamed on YouTube at youtube.com/ManitobaGovernment. CKDM's Benjamin Schwab is there.
Details

Contributed by

Alec Woolston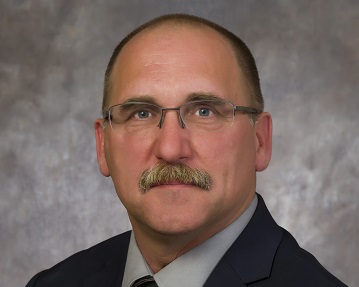 Changes to the provincial electoral division boundaries have been made.
Brad Michaleski thinks the right decision was made and the changed electoral boundaries are better for the Parkland than the original proposals.
The changes make sense because they follow the trading patterns for Dauphin.
Michaleski thinks the consultations were good and may have brought up concerns that the commission maybe wasn't aware of.
Details

Contributed by

Isaac Wihak
The new electoral divisions in Manitoba have been released.
Dauphin mayor, Allan Dowhan is pleased they have gone with the east-west boundary he wanted.
In terms of trade, school boundaries, medical, dental, airport, and other services, Dowhan is very happy with how things have turned out.
Dowhan has noticed a big change in the boundaries from what was originally proposed.
"I think they really listened and took all the proposals to heart because they are a lot different from what was originally proposed."
Details

Contributed by

Isaac Wihak
Dozens of lakes around the Parkland are restocked with trout each year.
The 2018 Trout Stocking report has been released by the Swan Valley Sport Fishing Enhancement Inc.
As of November some of the lakes include Beautiful Lake with 2000 brown trout and 2,500 rainbow trout, East Blue Lake has 24,900 rainbow trout, and Grandview Pond was stocked with 2,000 rainbow trout. Pine River with 6,000 brook trout, Ste. Rose Pond added 1,000 rainbow trout, and Uncle Bobs Pond in Dauphin with 500 rainbow trout.
Lakes are stocked by provincial hatcheries like Whiteshell Fish Hatchery and Swan Creek Hatchery.
For the full report click here.
Details

Contributed by

Benjamin Schwab
A woman is dead in The Pas and the RCMP are investigating her death as a homicide.
At 7 this morning, police responded to a report of a body on Bignell Avenue, near the Hudbay Rail Station.
Officers from The Pas RCMP, Major Crime Services and the Forensic Identification Services are assisting with the ongoing investigation.
Anyone with information is asked to call The Pas RCMP at 204-627-6204 or call Crime Stoppers anonymously at 1 800-222-8477, submit a secure tip online at www.manitobacrimestoppers.com or text "TIPMAN" plus your message to CRIMES (274637).
Details

Contributed by

Benjamin Schwab
Tonight, the Dauphin Friendship Centre is hosting their annual Christmas Dance from 7-11.
Tickets for the evening will be sold at the friendship centre or at the door tonight. They will cost 15 dollars.
Eldon Campbell Band will be performing. The night will have a nice relaxing Christmas feel, with light snacks and refreshments.
There will be a silent auction with a few small items from businesses around the community.
Details

Contributed by

Isaac Wihak
The 2018 Manitoba Electoral Divisions Boundaries Commission has submitted its report establishing the boundaries for the next provincial election.
The 2018 boundary for Dauphin includes Grandview, Gilbert Plains, Winnipegosis, McCreary and Ste Rose.
The riding representing Swan River includes Roblin, Russel, Rossburn, Ethelbert, Camperville, and Minitonas.
After the Commission held their provincial wide consultations their report has changed 56 of the 57 electoral division boundaries and 14 of the 57 of electoral division names.
13 public hearings were held throughout the province. Over 200 submissions were received.
The new boundaries will go into effect for the next provincial general election, to be held October 6, 2020, unless a general election is called sooner. If a byelection is called before then, the existing boundaries from 2008 would be in effect.
For the full detailed map click here.
Details

Contributed by

Benjamin Schwab
Meth use in Winnipeg is causing an outbreak of blood-borne illnesses, and Prairie Mountain Health is seeing more clients citing injection drug use as the most likely mode of acquisition for Sexually Transmitted and Blood Borne Infections (STBBI).
PMH's current data shows there are low numbers of verified cases of HIV.
Due to privacy regulations, PMH can't release any other statistical breakdowns.
There is an increased crystal meth use in the province and a rise in Crystal Meth use via Intravenous drug use.
Prairie Mountain Health says there can be an association with sharing of needles with injection drug use and Sexually Transmitted and Blood Borne Infections.
Although there is an increase in people citing injection drug use as the most likely mode of acquisition for STBBIs, heterosexual contact remains the primary risk factor for HIV throughout the province, including in Prairie Mountain Health.
PMH offers harm reduction supplies which may include condoms, naloxone kits or injection supplies are available through designated nurses trained in Harm Reduction across the region.
For more info about Sexually Transmitted and Blood Borne Infections and where to get tested, contact your local Public Health Office or your primary care provider.
Details

Contributed by

Isaac Wihak
The RCMP detachment in McCreary has permanently closed, and now all officers are based out of Ste. Rose.
Staff sergeant Shelly Lepla explains why it was decided to close the detachment.
"The hub model was instituted. So basically out of the new hub model, it benefits the communities who we serve by placing resources where they are most needed to ensure we provide a consistent service delivery to all communities. Contracts with communities will not be affected. The policing service will be maintained and delivered from the hub detachment. So basically the members that were in McCreary are working out of Ste. Rose."
She says the RCMP D-Division has done an extensive review of community policing requirements and decided the hub model was the best possible position to respond to needs in the area.
"All the administrative duties that were in McCreary has been moved to Ste. Rose so the people from the community if they need criminal record checks or administrative activities of functions."
If you need to get a criminal record check completed or other admin related tasks Lepla suggests phoning the detachment ahead of time to make sure someone is going to be there when you arrive.
The Ste. Rose Department's number is (204) 447-3082.
Details

Contributed by

Benjamin Schwab