Local News
Yesterday was the AMM Parkland District meeting.
Sharla Griffiths says they announced a plan to hold a meeting in October at the Parkland Rec Complex.
That regional meeting would include municipalities in our region, along with representatives from First Nations, and the MP and MLA.
The purpose of the meeting would be to discuss topics of common interest. Those topics would include increased reliability of cellular coverage, economic development, housing, recreation, and public transportation methods to, from, and between communities, including scheduled air passenger service.
Most people at the AMM meeting agreed things can get accomplished in a better way when working together.
Griffiths adds that along with identifying areas Dauphin needs help with, they can find ways for Dauphin to help other areas too.
A big topic from yesterday's meeting other than the regional meeting was health care, and even though health care doesn't fall under the municipal government umbrella, they may talk about it in October because it affects everybody.
A tentative date of October 16th has been set for the meeting.
Details

Contributed by

Isaac Wihak
The weather is gorgeous and that means the Brandon Bouncy Castles Waterslide Park is set to open tomorrow.
The 15,000 square foot park will be open for 42 days. More than 40 employees and volunteers have joined forces with James Ruser, Owner to make this a reality for the summer.
"It's super exciting. After three years of dreaming about it and changing it like 100 times, it's really great to see my vision come to life," said Ruser one day before opening. "There were planes flying over yesterday and a ton of people wanted to just come to check it out and the feedback has been super positive so far. It's a really exciting time and I can't wait for tomorrow."
The park will be open seven days a week from 11:00 a.m.- 8:00 p.m. weather permitting. The location is at the south side of the Keystone Grounds There will also be a food truck that will include all of your favourites, plus a lot more.
On top of it all, if you're looking for the ultimate thrill, James and the whole gang have got you covered.
"The big attraction is we have a 47-foot waterslide with a 100-foot slip and slide. I would say it's one of the biggest waterslides in the province," added Ruser.
In all, there are eight waterslides, archery tag, a 75-obstacle course that was built and a kid's area.
The cost to get into the park is as followed:
0-2-years-old: Free.
3-10-years-old: $10 for just the waterslides or $12 includes everything in the park.
11-18-years-old: $12 for just the waterslides or $15 includes everything in the park.
18+: $15 for just the waterslides or $20 includes everything in the park.
There is also an option for anyone who just wants to enter the park. It's $8 and does not include waterslides or other attractions.
Details

Contributed by

Darnell Duff
Over 4,000 Manitoba First Nations residents are beginning to see compensation from the federal and provincial governments after being evacuated eight years ago.
Residents of the Lake St. Martin, Little Saskatchewan, Dauphin River, and Pinaymootang First Nations were forced to leave their homes during the 2011 flood. They and 3,000 community members living off-reserve were eligible for compensation after winning a $90 million class-action lawsuit against the federal government.
Sabrina Lombardi, a lawyer representing some evacuees, confirmed compensation cheques were mailed beginning last week.
Of the 7,000 people eligible, only 70 percent successfully applied.
Evacuees receiving compensation fall into three categories: Those disrupted for more than three years, those disrupted less than three years, and those living outside of the community during the flood but were disrupted from accessing the community after the fact.
Another category of "special circumstances" applicants which account for 7.5% of claimants who incurred extraordinary health care costs or job loss, will have to continue to wait until that process is completed.
The amount of compensation being received by each evacuee has not been disclosed.
Hundreds of people were never able to return home, those who did had to wait several years to do so. Reconstruction is ongoing in the communities affected. The money is solely meant to compensate people for the personal impact of the flood, not on rebuilding the community.
Almost 100 people from Lake St. Martin died over the past six years due to illness that some say was associated with the stress of the evacuation.
CKDM reached out to a spokesperson for the Pinaymootang First Nation who declined to provide a comment.
Details

Contributed by

Josh Sigurdson
Registration is still open for the Walk for Alzheimer's happening on June 19th.
This walk helps to raise funds for the Alzheimer's Society. Over 80% of their funding comes from fundraisers like these.
Wanda Sime, the Parkland Regional Coordinator for the Alzheimer Society of Manitoba, says brochures can be picked up at the IG Wealth Management building or the Alzheimer Society of Manitoba building in Dauphin.
Last year the walk started at Vermillion Park, this year they've moved back somewhere they've started before, CN Park
The route is the same one as normal. The goal is to raise awareness and let people know they're out there and can help or support those dealing with any kind of cognitive changes.
The walk registration will start at 5, the walk will start at 7, there'll be a barbecue during the day, and face painting.
Details

Contributed by

Isaac Wihak
A Waywayseecappo man is in custody after being apprehended by Manitoba First Nations Police Service and their K9 Unit.


MFNPS officers were circulating the area in an effort to find a suspect wanted on five outstanding warrants.


Police went to the residence of the suspect to learn that the suspect had fled the home. K9 CETO immediately picked up his scent and began tracking him for 200 meters in a densely bushed area.


The suspect was found hiding in the bush and was quickly arrested and taken into custody.


41-year-old Graham Sparvier was arrested on outstanding warrants for sexual assault, sexual interference, fail to attend court and 2 counts of failing to comply with conditions on his recognizance.


Sparvier has been remanded in custody to June 13th, 2019 to appear in Brandon Provincial Court.
Details

Contributed by

Josh Sigurdson
The 3rd Annual State of the District was held in Winnipegosis yesterday.
Reeve of the Mossey River Municipality, Ron Kostyshyn, says having a bunch of municipalities partake in the conversation was great.
Kostyshyn thinks the municipalities are looking at opportunities for economic growth and development to help the municipalities grow and benefit ratepayers.
He adds that they talked about Mossey River and Winnipegosis and what they have to offer the Parkland, such as a hospital, emergency service, and opportunities for business.
Kostyshyn says all the municipalities strive for economic growth and business opportunities.
Details

Contributed by

Isaac Wihak
The Charlie Major and George Canyon concert in Grandview brought in 35 thousand dollars.
Dennis Lukey would like to see more concerts in Grandview.
"We'll see how things go. Maybe try to work with Countryfest and maybe get something done again next year. Grandview's hosting a big reunion they do every 5 years, so that'll be August long weekend next year. So, maybe try to plan something for then."
There was a lot of hype and excitement in Grandview leading up to the concert.
The money will help the Grandview Kinsmen Club continue their many local initiatives.
Details

Contributed by

Isaac Wihak
Gas prices have been going down in the Parkland recently and that trend is expected to continue.
Dan McTeague, the senior petroleum analyst with gasbuddy.com says that prices could drop by another 5 to 8 cents a litre over the next week.
He added that he doesn't expect a hike for the upcoming Canada Day long weekend unless trade relations between the United States and China improve, which could cause prices to take a U-Turn.
The trade dispute between the two superpowers is the main reason for the fall in prices and while that may be good on the wallet, it is not good for the global economy overall. If the low wholesale value of gasoline continues to be low it could have a negative effect on the Canadian economy due to the amount of gas we produce and sell.
McTeague says that this is the first spring in six years that gas prices have fallen instead of risen. And even though gas prices may continue to fall the federal carbon tax of 4.6¢/litre will make sure that prices stay above $1.10/litre.
Details

Contributed by

Josh Sigurdson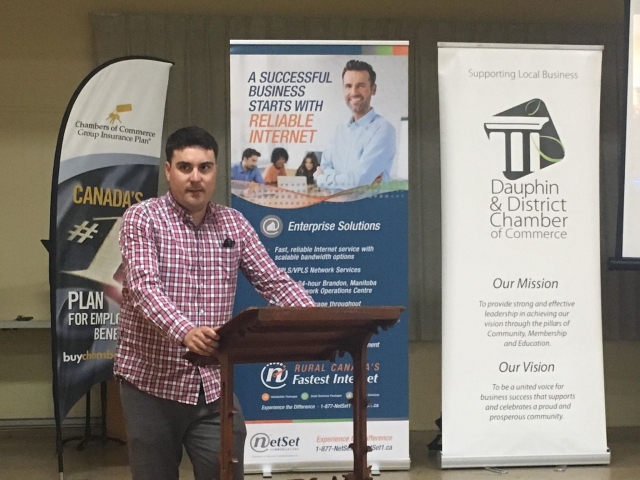 The State of the District was held in Winnipegosis yesterday afternoon.
Stephen Chychota says it went very well.
"There was lots of great information and presentations. It's an opportunity to collaborate, connect and gain some insight into what's going on in the Parkland."
Chychota says municipalities and community groups shared the opportunities that they have in their areas.
"There are business opportunities, people can definitely pull up their sleeves and be a little entrepreneurial."
A lot of history was talked about as well; there were presentations relating to how things started in the Parkland and what it took to get where we are today.
This was the 3rd annual state of the district and second in a row away from Dauphin. Last year it was held in Grandview. Plans are for next year's to make a return to Dauphin.
Details

Contributed by

Isaac Wihak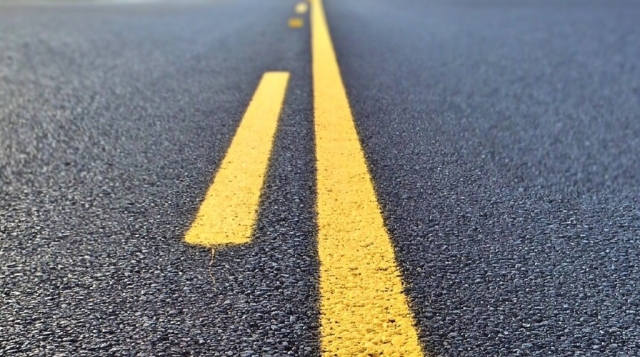 Manitoba Infrastructure and Transportation will be painting lines on streets in Dauphin.
Crews started today and will be working until Friday.
They ask drivers to drive with care and caution.
Details

Contributed by

Isaac Wihak
Early yesterday morning the Manitoba First Nations Police Service executed a search warrant at a home on the Sandy Bay First Nation.


During the search, Police located and seized 23 firearms some of which are suspected to be stolen and 3 of the guns were loaded.


Two adult males have been arrested and face several charges including unauthorized possession of a firearm, careless storage of a firearm, and possession of a weapon obtained by crime.


Both suspects will appear in court at a later date.


This search was conducted as part of the "MFNPS Guns and Gangs Initiative" and funding is provided by the provincial government.
Details

Contributed by

Josh Sigurdson