Local News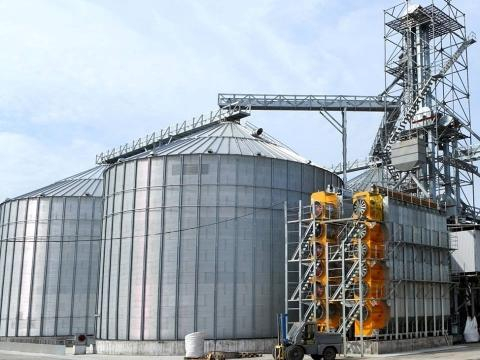 The provincial government is making it easier to inspect grain dryers.
Growth, Enterprise and Trade Minister Blaine Pedersen announced today that they are streamlining the process for approval and inspections of grain dryers.
The Office of the Fire Commissioner has established a central booking process co-ordinated with Manitoba Hydro to streamline the scheduling of inspections.
"We recognize the importance of responding in a timely fashion, and the OFC has taken strides to improve the inspection and approval process for grain dryers," Pedersen said. "When producers find they need to dry the grain in their bins, it is important to be able to move quickly and accommodate a large number of requests that may come in at the same time."
They are also making a 24-hour inspection hotline available from August 15th to December 31st.
"We have heard loud and clear from producers that we must do better when it comes to reducing red tape on grain dryers," Agriculture Minister Ralph Eichler said. "The work we have done in conjunction with the Office of the Fire Commissioner and with Minister Pedersen means this process will be streamlined and that producers can focus on what they do best – working to feed the world."
The OFC and SaskPower, in Saskatchewan, are working to align the approval process and installation requirements like venting, dryer and fuel tank protection and general installation code requirements.
Harmonizing installation requirements with Saskatchewan is expected to reduce confusion as equipment suppliers and installers often serve clients in both provinces.
Minister Eichler says this is a step in reducing red tape. "I think this is a big step in the right direction, but I would be remiss if I didn't remind farm families not to wait until the crop is needed to go into the grain bin. Get these things set up ahead of time, so you're ready when you need them."
Producers will still need to make sure the installation is completed in compliance with the manufacturers' installation instructions and Canadian Standards Association code requirements, and that all checks are completed prior to the inspection to avoid unnecessary delays.
For more information or to schedule an inspection, contact the Office of the Fire Commissioner at 1-204-945-3373, 1-204-945-3322 or email This email address is being protected from spambots. You need JavaScript enabled to view it..
Details

Contributed by

Benjamin Schwab
Manitoba Ag Days starts this morning.
Canada's Largest Indoor Farm Show is starting at 9 am at the Keystone Centre in Brandon. It will run for the next three days from 9 to 5.
This year's show is celebrating "Tell Your Story – Be An Agvocate". They have 237 exhibitors who jumped on board with the theme and will display facts about the agriculture industry in their booth throughout the show.
There are 60 speakers on a variety of topics presenting in the FCC and MNP theatres. This year's program is packed with people talking about the importance of connecting with consumers, the latest in technology, agronomy and market outlooks as well as topics on data and how it can be used to positively benefit the bottom line, and much more.
Benjamin Schwab Is heading down to Brandon to cover everything going on throughout the first day.
Details

Contributed by

Benjamin Schwab
The Dauphin Fire Department is responding to a fire in the basement of Smitty's Restaurant.
It's not known at this time what caused the fire.
More to come.
Details

Contributed by

Benjamin Schwab
The federal government is changing how Ottawa allocates almost two billion dollars in annual funding for First Nations education.
Starting in April, the government will take a new approach it says will mean a more predictable base of money for First Nations schools.
The government says the changes will mean making their budgets comparable to those of public schools run by the provinces.
Education is a service the federal government pays for on reserves but provincial governments handle off reserves.
Indigenous Services Minister Seamus O'Regan says the new model was created partly with input from the Assembly of First Nations.
Details

Contributed by

Benjamin Schwab
Manitoba Public Insurance is warning its customers not to respond to a text which is offering an e-transfer of money.
The text, which appears to be from MPI, asks the customer to click a link which will send a refund via e-mail transfer. It appears that the e-transfers are coming from different phone numbers.
Manitoba Public Insurance does not conduct business in this manner. Customers who have concerns are asked to contact either their Autopac broker or Manitoba Public Insurance's Contact Centre: 204-985-7000.
Details

Contributed by

Benjamin Schwab
Around 5 o'clock this morning, the Dauphin Fire Department responded to an unknown fire on Merrell Avenue.
When they got there, they discovered that people at the residence were hauling furniture to a bonfire in their back yard. They said they were doing that because the dump was closed.
The Dauphin Fire Department reminds you that burning garbage within city limits is prohibited, and under City of Dauphin Bylaw 01-2013, you could be charged up to $500 for doing so.
"They're new to the community and unaware of our burning by-laws," said Cam Abrey, Fire Chief. "We did let them off with a warning on this instance. All people should know that there is no unauthorized burning within city limits and that includes garbage or even yard waste."
Details

Contributed by

Alec Woolston and Darnell Duff
A new committee is working to reduce poverty in Dauphin and the Parkland.
The intent of the committee is to reduce homelessness, crime, addiction, abuse and other related social issues.
Sharla Griffiths and Councillor Riehl attended the inaugural meeting a few weeks ago.
"It seemed like there were many organizations trying to help many different people. And sometimes it feels like we're all pulling in the same direction and sometimes it feels like we're not. Many agencies thought it would be good to get together and find out what each agency is doing."
Other partners in this committee include Prairie Mountain Health, Dauphin Neighbourhood Renewal, Echo Housing, the Dauphin and District Food Bank and others who are personally interested in the initiative.
She says the group is in its infancy and still figuring out an appropriate strategy.
"We want to help people. That's always our main goal. We want to streamline some services. If there is streamlining to do. But for right now, we're finding out what's available. And once we find that out, I think we'll be able to be more focused on what we want to accomplish."
In addition to hosting the meeting, the City has identified housing, crime reduction, and safe communities as its priories.
Details

Contributed by

Benjamin Schwab
Non-smoking week has been celebrated since the '80s and has always been about issues related to tobacco.
It used to be about second-hand smoke, it's now about quitting smoking.
The week used to be very formal, now, it's more of a week that extra attention and information gets put out about quitting smoking.
It also can be used as a second chance to quit smoking if it was a resolution that ended up failing.
Jo-Anne Douglas, tobacco dependence councillor, says that over time it has become more commonplace not to smoke, so the week is less formal and is used more as a reminder to not let things get out of hand.
Details

Contributed by

Isaac Wihak
Manitoba RCMP have arrested a 30-year-old man in connection with the fatal stabbing in Swan River over the weekend, and aren't seeking any other suspects.
RCMP say they were called to a home in Swan River on Friday night, and were led to an injured and unresponsive 39-year-old man when they arrived.
E-M-S attempted to treat the man, but he was pronounced dead at the scene.
Details

Contributed by

Benjamin Schwab
The Parkland should have some clear skies tonight to witness the total lunar eclipse.
Starting at 9:34 tonight the moon will begin to enter the shadow. The total eclipse begins at 10:41.
The total lunar eclipse ends at 11:43.
During totality, the moon will turn a copper orange due to sunlight refracting or passing through our atmosphere much like those hot summer sunsets on earth.
The next total lunar eclipse will take place on May 16, 2021.
Details

Contributed by

Benjamin Schwab
Two men were determined guilty of manslaughter in the death of Jeanenne Fontaine by a Jury.
The verdict was delivered this morning in a Winnipeg courtroom.
Christopher Brass and Jason Meilleur pleaded not guilty.
Fontaine was shot in the back of the head inside her house, which was then set on fire.
During the trial, the jury was told the two men went to the home, with a third man, Malcolm Miles Mitchell, to collect a drug debt from the victim's boyfriend.
When the boyfriend wasn't home, they decided to rob Fontaine.
The jury was also told Mitchell was the shooter.
The trial had been going on since January 7th.
Details

Contributed by

Isaac Wihak