Local News
The Chamber of Commerce Executives of Canada is a group that shares resources and information, has training elements, and has an accreditation process.
Stephen Chychota has been nominated for the board and says being on the board will help the Dauphin Chamber a lot.
"Where I'm more connected to other chambers across the country, more integrated into the whole program of CCEC, find better resources, strengthen my ability as an executive for the chamber. So, what I'm able to do in-house here for the chamber becomes better quality and I can gain more insight from other professionals. The members benefit from that, the board for the chamber here also benefits from that, and myself too."
He isn't quite sure who nominated him, but he figures it was someone from the Manitoba Chambers of Commerce.
Chychota will be recognized at the AGM for being an executive for 5 years. Being a member has helped Chychota a bunch, with the massive online resource the CCEC has. Being a member also makes the Dauphin Chamber more valuable and look better. Chychota looks forward to developing that further, bringing more ideas to the board, and being connected with other chambers.
The vote is this upcoming Friday, September 20th.
Details

Contributed by

Isaac Wihak
There are some new voting rules for the federal election that apply to those living out of the country.
In the past, Canadians who'd been living outside of Canada for more than 5 years couldn't vote, now, any eligible Canadian elector that lives abroad can vote, regardless of when they las lived in Canada.
In order to vote, those living out of Canada have to be registered on the International Register of Electors and to be on that list, they have to provide documents that establish their citizenship.
Those who aren't registered can apply online or print off an application form and send it to Elections Canada by mail or fax.
Votes cast by Canadians living abroad count in the electoral district where they last lived before leaving Canada.
Details

Contributed by

Isaac Wihak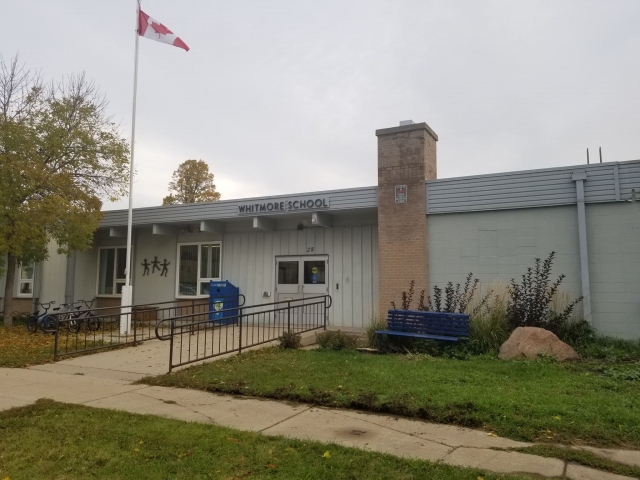 Whitmore School is asking for support in helping to raise funds for the school's breakfast program after funding cuts have left the program thousands of dollars short of being able to run smoothly.
The breakfast program runs five days a week at the school at 10:45 am and provides the students with a nutritious meal.
One of the main grants that support the program, didn't have the capacity to assist with the program in the same way it has in years past, resulting in the shortage of funds.
Principal Lesia Jensen says there is an easy way to help contribute to the program. On Tuesday, the 17th, they will be hosting a barbecue during the Dauphin Co-op's Fuel Good Day.
All proceeds from the barbecue will go towards the breakfast program. Also on Fuel Good Day, 10 cents a litre will go towards the Whitmore School Playground Equipment Fund.
Details

Contributed by

Josh Sigurdson
A 25-year-old man was given a large fine after speeding through a construction zone on Highway 16.
The man was clocked going 161 km/h through a clearly marked 60 km/h construction zone while workers were present.
He was slapped with a $2694 fine and a Serious Offence Notice.
The driver's excuse was he was running late for church.
Details

Contributed by

Josh Sigurdson
We've received reports of a vehicle rollover south of Onanole.
Expect possible traffic delays from the incident.
We'll keep you updated as information becomes available.
Details

Contributed by

Isaac Wihak
On Friday, August 30th, Snow Lake RCMP arrested Daniel Hughes, a 34-year-old man from Flin Flon, and charged him with multiple offences including Sexual Assault; Sexual Interference; and Sexual Exploitation as a result of an investigation that started back on Thursday, August 8th.
Snow Lake RCMP began the investigation after getting a report from an adult male who said he'd been sexually abused as a child while living in Snow Lake between 2004 and 2012, and gave the name of the suspect.
During the investigation, a second adult male came forward with similar allegations toward the same suspect.
Hughes, who has since been released with numerous court-imposed conditions, lived in Snow Lake until 2016 and moved to Flin Flon. He was last employed as a house parent responsible for the supervision of children in residence at Frontier Collegiate Institute in Cranberry Portage from 2016 to early 2019.
Police are concerned that there may be more victims. Anyone who may have been a victim or has information is encouraged to contact Snow Lake RCMP at 204-358-7723 or call Crime Stoppers anonymously at 1-800-222-8477, or go online to www.manitobacrimestoppers.com.
The RCMP has also partnered with Klinic Community Health, who can accept reports from survivors of sexual assault who are 16-years-old or older from anywhere in Manitoba. The survivors can remain anonymous and work with Klinic counsellors to determine the best way forward. Victims can also call the Klinic 24/7 Sexual Assault Crisis Line at 1-888-292-7565.
Snow Lake RCMP along with assistance from the RCMP Major Crime Unit continue to investigate.
Details

Contributed by

Alec Woolston
Tonight is the harvest moon, the full moon closest to the fall equinox.
The harvest moon gets its name from being big and bright, allowing farmers to stay out a little later during harvest.
Although the harvest moon is normally large and orange, this year, it'll be different.
The moon will appear unusually small because the 2019 harvest moon is a micromoon.
Micromoons happen when the moon is at its farthest point from the Earth.
It normally takes about 50 minutes after sunset to see the moon, but with the harvest moon, it can appear as soon as 10 minutes after sunset.
Another reason the harvest moon is special this year, is it lands on Friday the 13th.
The last time there was a full moon on Friday the 13th was in October 2000.
The next time we'll experience a full moon on Friday the 13th will be in August 2049.
Details

Contributed by

Isaac Wihak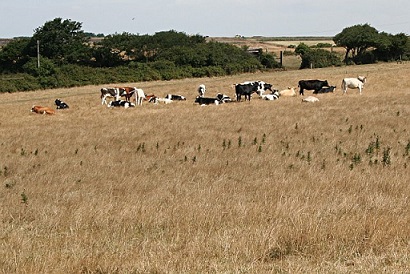 Provincial Agriculture Minister Ralph Eichler announced that livestock producers who have been affected by dry pasture conditions can apply for funding to support water access and management under Ag Action Manitoba.


The announcement comes after over a dozen RM's in the Parkland and Interlake regions declared states of agricultural disaster. The RM's were hoping for quick action by both the federal and provincial governments.


Eichler said the province recognizes that many producers are feeling the effects of a dry summer and that they may require additional assistance to secure a safe and reliable water source for their livestock.


Funding is provided through the Managing Livestock Access to Riparian Areas beneficial management practice (BMP).


Projects eligible for the funding include:
-drilling new or deepening existing wells, test hole drilling, screening, casing, well caps and related activities;
-installing water pumps and required plumbing components and related activities, such as professional and contractor fees;


-constructing new or rehabilitating existing dugouts including professional and contractor fees; and


-establishing alternative watering system equipment and permanent fencing to restrict livestock access to surface water and dugouts.


To be eligible, applicants must complete an environmental farm plan (EFP) that will help manage risk on their farm, related to water quality and supply, soil health, air quality, and biodiversity.


Producers have until November 1st, 2020, to submit their EFP statement of completion.


Applications will be accepted and reviewed until Oct. 11. The province said priority will be given to producers in federal tax deferral areas, as identified under drought watch.
Details

Contributed by

Josh Sigurdson
Newly re-elected Premier Brain Pallister says that a decision on the fate of Swan River MLA Rick Wowchuk will be made soon.
When asked about Wowchuk's future in caucus, Pallister said that will be decided when caucus meets in a couple of weeks.
He wouldn't elaborate if he wanted Wowchuk to remain in caucus or not.
"That'll be a caucus decision. I'm not trying to prejudice the decision," said Pallister. "A caucus membership is a decision caucus should make, not the leader."
The membership decision follows the findings of an internal investigation found that Wowchuk violated the legislative assembly's respectful workplace policy multiple times with his former constituency assistant, including an incident where Wowchuk showed her a picture of naked women.
Wowchuk has since apologized and said he deeply regretted his actions.
Despite the results of the investigation coming out five days before election day, Wowchuk was re-elected with more than double the vote total of his opponents combined.
If Wowchuk is removed from caucus, he would be the second PC Party member expelled in less than a year.
Former Emerson MLA Cliff Graydon was removed from caucus in October 2018 after it was alleged he made an inappropriate comment to a legislative staffer.
Details

Contributed by

Josh Sigurdson
The New Beginnings Daycare in Ochre River is open.
Liza Hess, the vice-chair of the daycare, has more.
"So we've been, in the past two years, in the process of getting the daycare up and running, getting our licensing, fundraising so we can open a facility in the Ochre River School. So, we were excited to open the doors, September 3rd was our 1st opening day. We have three full-time staff working in the centre, where there is 9-12 kids fulltime every day."
Right now there is some space open at the daycare but it depends on the scheduling of the child. If you'd like to see if your scheduling works, you can email them at This email address is being protected from spambots. You need JavaScript enabled to view it..
Hess says securing the operating grant was their toughest hurdle.
"So we could actually get up and running, cause without that, then the doors wouldn't be able to open. As far as the support of the community, it's been phenomenal, and the volunteers and the opportunities we were given, with Co-Op Fuel Days, the municipality and the village making a very generous donation is what's made it so we can open our doors today."
Hess is grateful for the opportunity to do the project, the staff at Ochre River School, and she'd like to thank their staff and director for all the work they've done to make the daycare a success.
Details

Contributed by

Isaac Wihak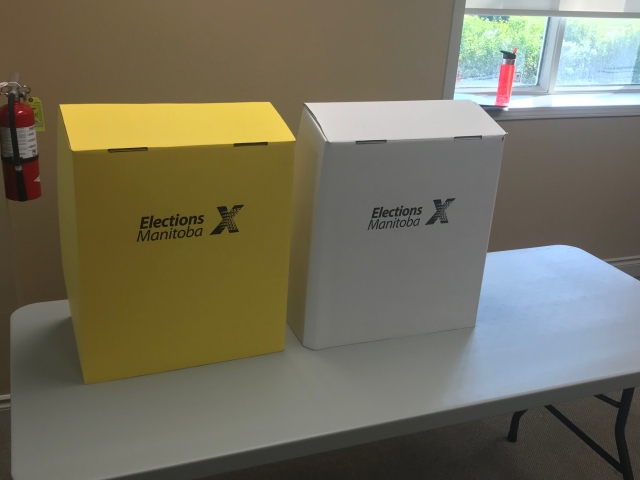 Voter turnout for Tuesday's provincial election was below the percentage of voters who went out and cast their votes in the 2016 election.


According to unofficial results from Elections Manitoba, voter turnout was 55.4 percent.


That number is two percent short of the turnout in 2016, where 57.4 percent of eligible voters cast their votes.


The decline in voter turnout comes after there was an increase in advance voting numbers. Elections Manitoba said that, including absentee and homebound votes, there was a total of 113,605 advance votes during the 2019 advance voting period compared to the 110,000 votes cast in 2016.


While voter turnout may have been down provincially, the turnout in the Dauphin riding was very similar. In 2016, 61.85 percent of eligible voters cast their ballots and in 2019 that number was 61.6 percent.


Elections Manitoba officials say that, historically, non-voters tend to be younger. In 2016 for example, 70 percent of eligible voters between the ages of 18 and 29 identified as non-voters.


The lowest turnout on record for a provincial election in Manitoba happened in 1941 when only 50.5 percent of eligible voters went to the polls.
Details

Contributed by

Josh Sigurdson