Latest Sports
Kurtis Luke is coming off an All-Star type of season with the Parkland Rangers, and now he's set to take his talents to the National stage.
He'll be suiting up for Team Manitoba at the National Aboriginal Hockey Championships in Nova Scotia.
"I'm super excited for the first game," said Luke from his hotel room. "We've watched a few games already, so I'm just really excited to get on the ice."
Last year was a golden one for Team Manitoba at the Championships, and two years ago they won bronze, and Luke is thinking this year could be another great one.
"I think we definitely have another chance of winning it all," he added. "We have a really tight-knit group. And, we've been here before, so we're going to use our experience to our advantage."
In 44 games with the Rangers this past season, he had 67 points (30 G, 37 A), but he's not worrying much about his point production this week, just winning.
"It would be nice to get points, but I just want to win," he said. "Points don't really matter in the end, only winning does."
"I've never played on the East Coast, and it's a really good feeling wearing the Manitoba jersey," said Luke. "It's a pretty cool atmosphere out here, and everyone's ready to go."
Luke and the rest of Team Manitoba play their first game tonight at 6:00, and you can watch it live at National Aboriginal Hockey Championships.
Details

Contributed by

Darnell Duff
After three games, the Dauphin Clippers baseball team is still winless in Prairie West High School Baseball league action.
The team took to the field in a double dip on Sunday, beginning with a game against Vincent Massey in Brandon.
The club mustered five runs but gave up seven in a 7-5 loss.
In the second game, the Clippers made the short trip to Hamiota, where once again offence wasn't the problem.
The Clippers scored seven but gave up 11 in an 11-7 loss.
Dauphin will look to win their first game of the season on Wednesday when they welcome Birtle to town for a 6:00 p.m. first pitch.
Details

Contributed by

Darnell Duff
It's going to be an exciting week for Swan River's Kaila Powell.
Shell be wearing a Manitoba jersey, as a part of Team Manitoba at the 2018 National Aboriginal Hockey Championships in Nova Scotia.
The teams first game is tomorrow night against Ontario South.
Keep it locked here on 730CKDM all week long to see how Kaila and the rest of the team is doing.
Details

Contributed by

Darnell Duff
If you're looking for something to do today, head down to KIN Field.
Over 50 girls aged U-16 & U-18 are battling for a spot on the Team Manitoba womens rugby team.
The field is home of the "Parkland Pirates rugby" and is a part of Vermilliom Sportsplex.
Details

Contributed by

Darnell Duff
Dauphin's Connor Shaw officially wrapped up his jr hockey career yesterday at the MMJHL's banquet, and he was rewarded for all his hard work, and commitment to playing at the highest possible level.
He was named to the MMJHL's Second All-Star Team.
"It was definitely pretty special," said Connor. "As a goalie, the one thing you want to do is gain the respect of your teammates, and know they trust you. But, to be respected by teams around the league is pretty special."
Connor found out he was named to the All-Star Team when Transcona held their windup last week.
Now that his competitive hockey career is over, Connor had the chance to reflect on what was a successful career between the pipes between several teams.
"I remember one game we had in Steinbach and we lost 2-1," he said. "But, I remember it because I made 52 saves in that game. That definitely gave me confidence that I could play hockey at the junior level."
His competitive hockey career may be over, but playing competitive sports will definitely be very much a part of Connor's life going forward.
"Now that hockey's in the rear-view mirror, I hope to play some competitive golf," said Connor Shaw. "So, I'll be playing some events throughout the summer, and hopefully, I can play for the University of Manitoba Bisons golf team next fall."
On top of his award at the banquet, Connor also won the 50/50 draw.
Details

Contributed by

Darnell Duff
The 2018 National Aboriginal Hockey Championships get underway this weekend, and the Parkland will be well represented on the Manitoba men's team.
Kurtis Luke who played his midget hockey with the Parkland Rangers will suit up for the team. On the bench, Daniel Chartrand and Tarran Lacquette will serve as Assistant Coaches.
The Manitoba men are known to have success at the Championships. Last year they won gold and earned bronze two years ago.
"The team is looking really good," said Kevin Monkman, Head Coach. "We have strong goaltending, defence and I think we have pretty good depth on our forwards. I definitely believe we're going to do really good again."
The team will play four round-robin games kicking off on Monday against Ontario South.
This will be Kevin's fifth-year coaching Manitoba at the Championships and he's no stranger to success. On top of winning bronze and gold, he's coming off winning the Keystone Jr. B Championship earlier this year with the Peguis Juniors.
"The most exciting part is just bringing all the players together," he added. "These guys all play against each other, and have for years, but it's a good feeling when they all come together and work as one team."
Stay tuned to 730CKDM throughout next week to see how the Manitoba men do.
Details

Contributed by

Darnell Duff
Roblin's Jakob Brook was drafted in the second round, 40th overall by the Prince Albert Raiders in the 2017 Bantam Draft, and it didn't take the 16-year-old long to sign with the club.
In late-March, the Raiders signed him to a WHL Standard Player Agreement.
"I actually signed in Moose Jaw when my brother was playing against Prince Albert," said Brook. "Then I went back to PA, and I got to hang out with the team, and see what the WHL life was. I was super happy I decided to sign with them."
"They had been so good to me ever since they picked me in the draft," he added. "When I went there for camp, they treated me like I was already on the team. When I was having problems, they were always helping me, and they always treated me like one of their own. I felt it was a good fit for me."
Brook spent the 2015-2016 season with the Parkland Rangers, and the last two years he played for the Rink Hockey Academy. Playing for RHA allowed Brook to develop as an elite hockey player while playing against teams from all over Canada on a regular basis.
In his one-year with the Bantam RHA squad, he had 32 points (20 G, 12 A) in 27 games, while in his one season with the Midget RHA team, he had 36 points (12 G, 24 A) in 34 games.
On top of his 36 points this season, Brook had a very good season on the ice winning wise as well. The team went 28-6-2, which was only behind Burnaby in the standings.
"The competition and coaching were absolutely amazing," said Brook. "They always pushed me so I could make the next step. They were really specific in teaching me the right skills to have success at the next level."
Although this year's hockey season has wrapped up for Jakob, preparation won't be stopping as he gets ready for next season.
"I'll be training day in and day out to make sure I'm ready for what's next," he said. "I have to make sure I'm fully focused on cracking the Raiders roster. It's a matter of how I impress the coaching staff and working hard every time on the ice."
Jakob isn't the only successful Brook on the ice. His older brother Josh Brook plays for the Moose Jaw Warriors, and Aidan Brook has now been drafted by the Seattle Thunderbirds. Family domination? Some would say yes.
"I've seen my brother go through it, and I've always looked up to him," said Brook. "Having success at the WHL level obviously allows you to make the next step most time, so I'm hoping I can do that as well."
Jakob plans to be at the Raiders Camp next fall.
Details

Contributed by

Darnell Duff
What a season it's been for 14-year-old Aidan Brook.
First, the Roblin native was invited to Hockey Manitoba's Top 40 Camp, and now he's a part of the Seattle Thunderbirds.
He was drafted earlier this morning at the WHL Bantam Draft in the fourth-round, 76th overall.
Stay tuned to 730CKDM to hear reaction from Aidan later today.
Details

Contributed by

Darnell Duff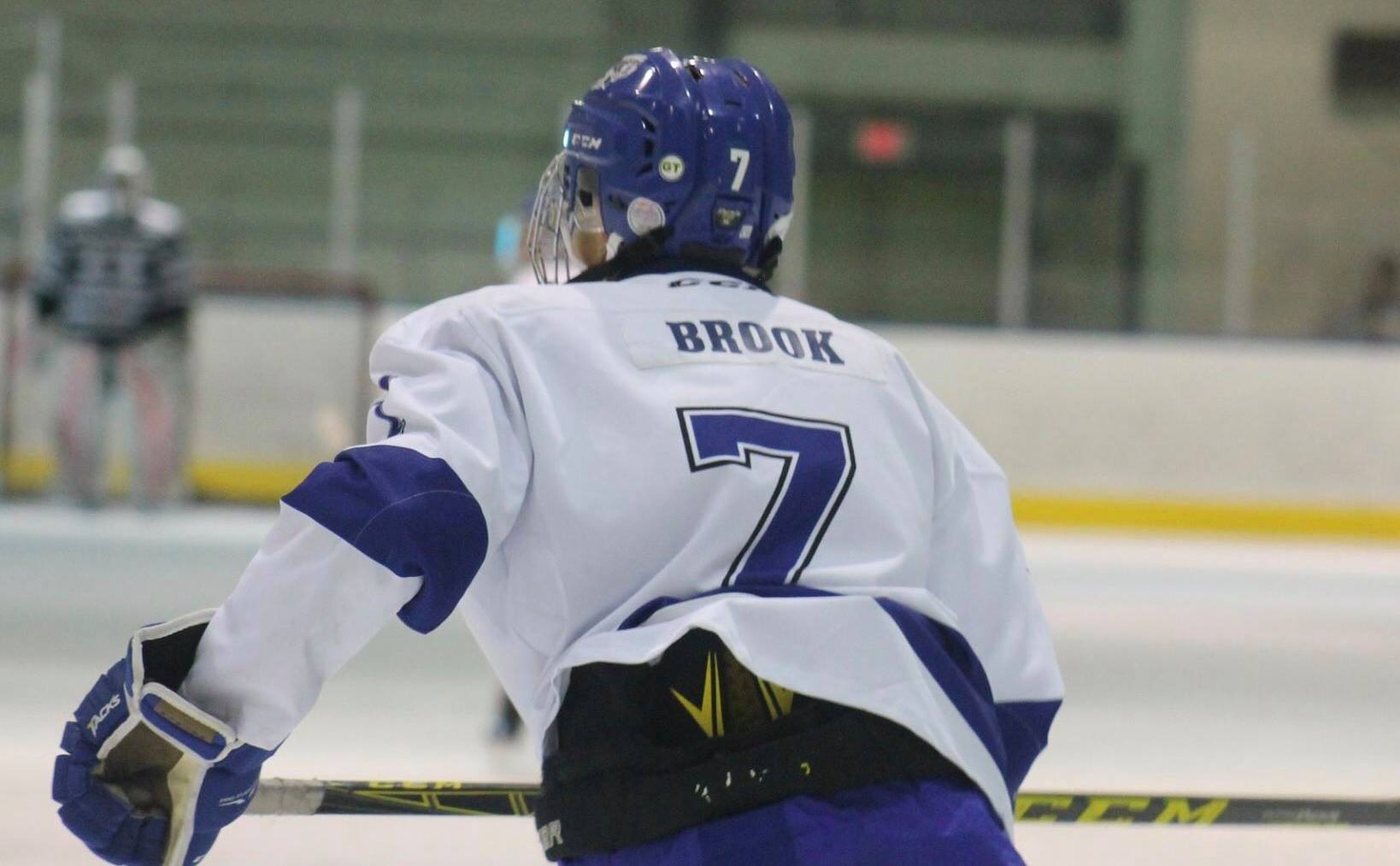 Roblin's Aidan Brook is the fourth and final Bantam Parkland Ranger that is heading to Hockey Manitoba's Top 40 Camp.
He joins Keaton Ziprick, Tyson Zimmer, and Wyatt Tweet at the camp which will feature 40 of the best U-16 players across the province.
"It's a pretty cool, and humbling feeling," said Brook. "It's sweet to be in the top 40 in Manitoba, and I'm super excited to get it started."
Of the 36 players and four goalies at the camp, coaches and evaluators will trim the numbers down to form a roster that will compete as Team Manitoba at the 2019 Canada Winter Games.
Brook doesn't really think that adds any pressure.
"I think whenever you're playing hockey, you should be competing at your highest level," he added. "There's no real difference. I just have to keep doing what I'm doing, and we'll see what happens."
The 14-year-old from Roblin knows it'll be a tough challenge, but he's looking forward to it.
"I'm looking forward to playing all the best players from Manitoba in my age group," said Brook. "You don't get to play against them all the time because of prep school, and whatnot, so it's pretty exciting and it should be a lot of fun."
He's also coming off one of his most impressive competitive seasons to date. With the Bantam Rangers, he put up 21 points (3 G, 18 A) in 36 games, for a team that won a bronze medal at the Rural Provincial Championships.
"Playing for the Rangers definitely helped me get better," he said. "You get to play against some really good players and learn how they play. It was a really fun time, and showed me how to compete at a level that I need to succeed."
The Top 40 Camp is set for May 10-13th in Portage.
Details

Contributed by

Darnell Duff
The Dauphin Clippers baseball season didn't get off to the start they wanted.
They dropped their home opener, 7-5 on Wednesday night against the Major Pratt Trojans from Russell.
Details

Contributed by

Darnell Duff
Russell's Keaton Ziprick is another Parkland Ranger who has been invited to Hockey Manitoba's Top 40 Camp in Portage.
Ziprick is one of four goalies that were invited to the Camp and one of four Parkland Rangers that will take part.
"This gives me quite a bit of confidence," said Ziprick. "It makes me feel that they like what I'm doing. It feels really good to be invited because only three other goalies in all of Manitoba were invited."
Keaton now has eight days to prepare for the camp which starts on May 10th.
"I'm going to do anything and everything I can to stay fit," he added. "It's going to be a really tough challenge, so I have to make sure I'm ready for it."
The Top 40 Camp serves as a tryout for players who want to take part in the Canada Winter Games next year in Red Deer, and Keaton has a good mindset going in.
"The most exciting part is trying to make the next cut," said Ziprick. "Making Team Manitoba would be a huge honour."
He also says he will continue to work his hardest, to get as far as he possibly can.
Details

Contributed by

Darnell Duff