Latest Sports
All summer long, Dauphin's Tommy Montpetit was trying out for the Manitoba Men's Football Team, and as each cut was made, Tommy's goal of making the team became closer to becoming a reality.
Then on July 9, all of Tommy's hard-work and determination paid off, as he was named to the final 40-man roster, that was set to represent to the province at the Football Canada Cup.
After a week of practicing in Winnipeg, Tommy and the rest of the team headed to Calgary for the Championships.
"It was a total honour to make Team Manitoba," said Montpetit. "Calgary was really fun. Prior to last week, I hadn't been there. It was absolutely gorgeous."
Tommy and the team kicked off their Canada Cup against Saskatchewan, and it didn't go the way the team planned. After a slow start, the Black & Gold couldn't recover as they fell 48-6.
Next up for the team was a game three days later against Nova Scotia, and this time it did go the way they hoped. They ended up winning the game, 18-13 to even up their record.
"Saskatchewan and Nova Scotia were two completely different teams with how they played and executed," said Montpetit. "We kind of shot ourselves in the foot against Saskatchewan, but we definitely didn't against Nova Scotia."
Although Tommy has had his fair share of success playing high school football, this was the first team he's suited up for Team Manitoba in a national tournament. After the tournament, Tommy had nothing but great things to say about the coaching staff of Team Manitoba, and all the work they put in as well.
"We had some amazing coaches for sure," said Montpetit. "They worked so hard to make sure we had the best chance of winning games."
"I feel like moving forward, I am a way better football player," he added.
Tommy feels he improved his hand movement, hip movement and everything that is critical to being a strong defensive player on the field.
The 17-year-old is now set to move to Brandon to play for the Crocus Plains Plainsmen in his final year of high school football.
Details

Written by

Darnell Duff
After an absolute monster game last week against Toronto, Winnipeg Blue Bombers Andrew Harris has been named a Shaw CFL Top Performer.
For the third straight game, Harris rushed for more than 100-yards, piling up 161, which is a career best. His previous high was way back in 2012 when he was with the BC Lions and he rushed for 147.
All in all, the Winnipegger finished the game with two touchdowns and 177 total yards. And, those 161 yards rushing moved him into 15th place on the CFL's all-time rushing list at 6,878 yards. He's now in second place on the list of all-time Canadian rushers.
Overall this season, Harris has seven touchdowns and 610 rushing yards.
The Blue & Gold are back on the field on Friday as they take on the Toronto Argonauts.
Details

Written by

Darnell Duff
Al Porter stepped up to the tee box on the 11th hole on Saturday, July 21 at the Dauphin Lake Golf Club, and the rest is history.
With a 7-iron, Porter struck the perfect ball, and it ended up going right into the cup for a Hole-In-One.
This is Porter's second Hole-In-One at the 11th hole at the DLGC.
Details

Written by

Darnell Duff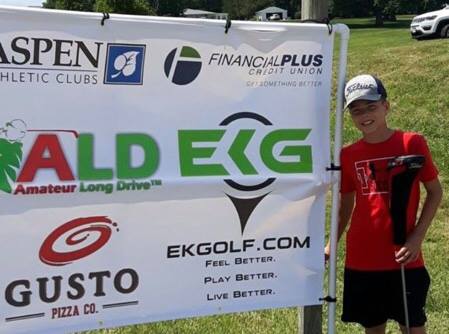 Russell's Dru Mushumanski is heading to South Carolina for the Amateur Long Drive World Championships.
The 12-year-old was in Des Moines, Iowa this past weekend for a qualifier event, and what a performance the young big-hitter put forward.
He ended up finishing in first place.
"It felt really good to win," said Mushumanski. "Now I get to go to South Carolina with my dad. I was kind of expecting to win because I hit the ball pretty far, and not many kids my age can hit as far as I can."
Dru stepped up to the tee and drove the ball 252 yards, which was three yards short of the record. But, that 252-yard drive is a lot more impressive because of the conditions. The wind was gusting near 25 MPH right into Dru's face when he was hitting.
"It was pretty tough to hit it because of the wind for sure," said Mushumanski. "I had to adjust, and I finally got a really good one out there. It felt awesome."
"I had to change up how I did things quite a bit," he added. "I usually hit the ball pretty high and far, but the ball just wasn't going anywhere with the wind. So, I was forced to hit a low-ball, and it ended up working out."
Now that Dru conquered the qualifier, the "World Finals" will be at Myrtle Beach, and he's confident heading in.
"My goal is to be in the top-5 for sure," said Mushumanski. "I know there is going to be lots of people who can hit the ball far."
The "World Championship Finals" is set for mid-August in Myrtle Beach, South Carolina.
Details

Written by

Darnell Duff
The Winnipeg Blue Bombers have traded a receiver that is widely regarded as one of the best in CFL history.
The Blue & Gold dealt Adarius Bowman to the Montreal Alouettes in exchange for a conditional eighth-round draft pick in the 2019 CFL Draft.
In six games played this season, Bowman has picked up just 95 yards on nine receptions, and he hasn't picked up any receiving yards in two of his last three.
Previous to coming to Winnipeg, Bowman played seven seasons with Edmonton Eskimos, where he was named a CFL All-Star three times.
Details

Written by

Darnell Duff
The Dauphin Clinic Pharmacy Junior Golf Open took place on Saturday at the Dauphin Lake Golf Club.
Here are the results:
9 & Under:
Girls - Ella Watson.
Boys - Hayden Shtykalo.
10 - 12:
Girls - Crystal Zamzow.
Boys - Jaxon Bodnar.
13 & Over:
Girls - Lane Prokopowich.
Boys - Eric Prokopowich.
Details

Written by

Darnell Duff
Dustin Howden knew he was going to be the Head Coach of the Neepawa Natives next season, but now he's also going to be the General Manager.
Natives President Ken Waddell made the announcement last week.
"With Myles stepping down about a month ago, they approached me, and I was definitely a little bit surprised," said Howden. "I've never really done anything like this, but it's definitely the next step in a coach's career."
"It's a huge honour, and a huge responsibility," he added. "I'm in charge of the program now. We're not reinventing the wheel or anything like that, but a lot of things went through Myles before he stepped down, so I'll need to get all of that in order as well. I'm looking forward to moving forward with the Natives."
Heading into his first year as the team's GM, Howden will have his work cut out for him after several players graduated from Jr. hockey after last season, and a couple more will be looking to make it to the next level this season.
"We graduated five forwards, and we have two forwards who are going to try to make a WHL roster," said Howden. "So that's seven forward spots that we need to fill. The most important thing right now is getting the pieces together to ice a competitive roster."
"We don't want to just bring players in to bring them in, we want to bring them in and help them develop so they can make it to the next level," said Howden. "So it's going to be a challenge, but I have some good help and I'm confident we'll get what we're looking for... and that's a competitive roster."
With the offseason well underway, the Natives have already held their "Summer Camp" which was from July 9-10 in Brandon and was primarily for their list players, and other players who are interested in playing for the team.
Neepawa won't hold any more camps or on ice sessions really until their "Main Camp" in late August, so from now until then, Howden will be working nearly around the clock to get the pieces he needs in order for the upcoming season.
"The offseason has gone fairly well for sure," said Howden. "We signed a couple kids at the "Summer Camp" which was great. There's really not much more time until "Main Camp" so we'll be working hard to get in touch with some players who're interested in coming to Neepawa, and some that don't know much about the program."
Last season was a disappointing one for Howden and the Natives. After a good start to the season, the team ended up with a 25-31-3-1 record which put them in ninth place.
"We have two eligible goalies that can return for this season which is a really good thing," said Howden. "Most of our d-core is also intact which is nice. But, we'll definitely have some new faces up front."
"For us, winning the league is always first and foremost our goal," said Howden. "We're looking to get in the 5-8 range realistically, and make some noise in the playoffs."
Dustin notes being the GM will add some pressure personally, but he always stresses winning and is committed to giving it everything he has.
AUDIO: Dustin Howden.
Details

Written by

Darnell Duff
The Gilbert Plains Men's Open brought to you by 730CKDM and Vanguard Catalyst Credit Union wrapped up earlier today.
Here are the results:
CHAMPIONSHIP FLIGHT
1ST – Tyler Lacquette - 71
2nd – Chad Facey - 72
3rd – Taylor Fletcher - 74
FIRST FLIGHT
1ST – Dean Murray – 83 c/b
2nd – Chris Porter – 83 c/b
3rd – Shawn McQuarrie – 83 c/b
SECOND FLIGHT
1st – Scott Lynxleg – 86 c/b
2nd – Jerron Kyle – 88 c/b
3rd – Dennis Lukey – 88 c/b
THIRD FLIGHT
1ST – Harry Harrell - 93
2nd - George Lobert – 94 c/b
3rd – Chris Todoruk – 94 c/b
FOURTH FLIGHT
1ST – Ernie Walker – 100 c/b
2ND – Billy Murray – 100 c/b
3RD - Mike Korey – 101 c/b
CLOSEST TO THE HOLE # 4 - Derek Benson
CLOSEST TO THE HOLE #9 - Riese Gaber
CLOSEST TO THE HOLE #14 - Derek Benson
CLOSEST TO THE HOLE #17 - Mike Korey
Details

Written by

Darnell Duff
A couple different teams wrapped up their baseball seasons this weekend.
13U Parkland AAA at Provincial Qualifier:
Lost 10-0 to Oildome.
Lost 8-2 to Pembina Hills.
15U Parkland AAA at Provincial Qualifier:
Lost 12-2 to Oildome.
Lost 13-0 to Midwest.
Lost 9-1 to Pembina Hills.
Parkland Source for Sports Midgets at Provincials:
Beat Brandon, 8-7.
Lost to Fort Garry, 11-7.
Lost to Winkler, 11-1.
Details

Written by

Darnell Duff
The Winnipeg Blue Bombers used a rock solid first quarter to thump Toronto this afternoon, 38-20.
The Bombers led by Matt Nichols and Andrew Harris led 15-1 after 15 minutes, and they never looked back.
Overall, Nichols completed 70.4 percent of his passes. Harris rushed for 161 yards on 27 carries.
The Blue & Gold will hook up with Toronto again next Friday, at Investors Group Field.
Details

Written by

Darnell Duff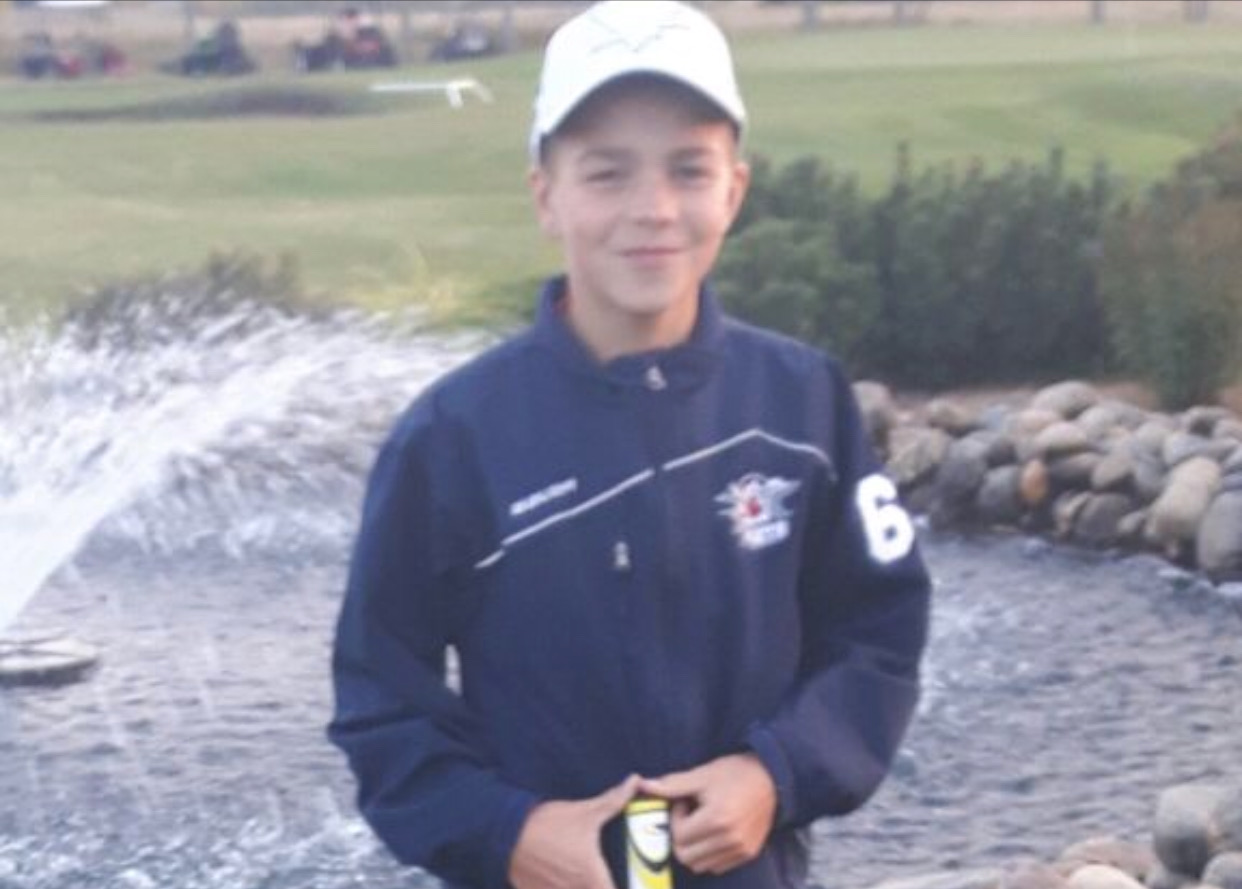 In the winter, Russell's Dru Mushumanski is outplaying opponents on the ice, but, in the summer he's on the golf links smashing balls... literally.
The 12-year-old is currently en route to Des Moines, Iowa to take part in an Amateur Long Drive Qualifier. The event will feature other competitors from around the United States, as well as Canada.
"I really am so excited to get the chance to compete in this event," said Mushumanski. "I've been practicing since the day the golf season began, so it's been a lot of hard work to prepare for it."
Dru has spent hundreds of hours at the driving range working on his swing, as he looks to master not only a long drive but a straight one as well.
How did Dru even find out about the qualifying event over 13 hours away? Well, he was invited.
"Getting invited definitely gives me a lot of confidence," he added. "I'm just hoping I can do really good."
In the end, all those hours at Happy's Driving Range has paid off for Dru, as he will enter the event as one of the favourites.
The record for the 12 & Under age group is 255 yards, and Dru has shown on a consistent basis that he can hit the ball more than 260 yards.
"I'm definitely feeling some extra pressure on myself heading in," said Mushumanski. "It's not even just about how far you hit it, it has to be straight. I can hit it 265, but if it's not straight enough, it won't count."
Dru and his dad rolled through Nebraska earlier this afternoon for some lunch before he will get to Des Moines this evening. Although he's mentally prepared for tomorrow, he's enjoying everything that comes with travelling a long distance.
"It's been a lot of fun seeing so many new things," he added. "And, of course, meeting lots of new people has been enjoyable."
"It's just been fun seeing things I haven't seen before," said Mushumanski.
When asked if he thought he would be in this position, Dru said "Not really" as he chuckled.
If Dru is successful, he will advance to the Amateur Long Drive Finals in Myrtle Beach in mid-August.
Details

Written by

Darnell Duff