Barry Trotz Stories
The parade celebrating Barry Trotz's Stanley Cup win led to Credit Union Place for pictures with the Stanley Cup.
Before the picture taking started, Mayor Allen Dowhan entered the room with the cup and proclaimed today, August 22nd, 2018, to be Barry Trotz Day. Moments after the proclamation, the mayor presented Trotz a with a 2,000 dollar cheque from the rotary club. The money comes from a bet made back during the Stanley Cup Finals between the Washington Capitals and Vegas Golden Knights.
Mayor Dowhan bet the mayor of Summerside, where Vegas' coach Gerard Gallant comes from, that Washington would win Lord Stanley's Cup.
When Washington wound up winning, Summerside's mayor shipped 100 lbs of lobster to Dauphin. Selling lobster was how the 2000 dollars was raised for the Barry Trotz Matching Fund. Once all the money is counted up it will be fed back into the community.
Details

Contributed by

Benjamin Schwab
"The Barry Trotz Story" is a half-hour audio documentary that tells Barry Trotz's life story. From growing up playing hockey in Dauphin to winning The Stanley Cup, this story covers all of the challenges and obstacles that Barry had to go through to get where he is today.
Details

Contributed by

Dallas Jansen
Barry Trotz had accomplished so much with the Nashville Predators.
Although he never won a Stanley Cup there, Trotz built the team from the ground up and led some very good teams. And, of course, everything Barry did outside of hockey for the Nashville community will leave an impression that will never go away on the streets of Smashville.
But, it was time for Barry to move on after 15 seasons in Tennesee and that move was to DC.
Trotz was brought on as the Head Coach of the Capitals in the 2014-15 campaign and he made an immediate impact. In the season before Trotz joined the team, the Caps went 38-30-14 for just 90 points.
In his first season with the team, Barry led the Caps to 45 wins and a second place finish in the Metro. In the next two seasons, the Caps won 111 games and won the President's Trophy in both years with 120 and 118 points respectively.
But, in the playoffs, it ended up not going the way they would have hoped. In both seasons, Sidney Crosby and the Penguins edged Trotz and the Caps. Once was in six games, and the other was in seven.
"Pittsburgh was simply the best team, I mean just look at what they ended up doing," said Trotz. "They were led by one of the greatest players in the world in Crosby, and Malkin might be the best player in the world when he wants to be."
"We just couldn't find a way to get past them," added Trotz.
Despite not finding a way to win in the playoffs those two seasons, winning two President's Trophies is something Trotz won't forget. At the end of the day, only one team can win the league.
"I take a lot of pride in knowing our team had so much success in the regular season, it's not easy to do what we did through 82 games," said Trotz. "We got a lot of criticism for not winning the Stanley Cup."
Then, things all changed this past season. Trotz and the Caps once again met Sidney and the Pens in the playoffs. Leading 3-2 in the series, Washington scored an overtime winner to finally beat the Pens and move on in the playoffs.
The Caps then went on to beat Tampa Bay and Vegas to win the Cup for the first time in franchise history.
"It's an honour to be a Stanley Cup Champion," said Trotz. "It's something you never really know if it's going to happen. It's very special."
Moving On:
Shortly thereafter winning Lord Stanley, Trotz stepped down as the Head Coach of the Capitals. On June 21, Trotz was signed as the Head Coach of the New York Islanders.
"Everythings been very positive," said Trotz. "It's a very exciting time, and I'm looking forward to my time on the Island. I loved Washington and everything about it, and I'm ready to now create memories and win games with New York."
Barry will have his work cut out for him though. The Islanders struggled heavily last year defensively.
"It's all about being accountable," said Trotz. "We need to play on both sides of the puck, and if we do that, we'll be good."
"I'm looking forward to the challenges that will come with it," he added. "And, the success we're going to have. It's an exciting thing, and it's been a whirlwind."
Wrap-up:
For the past week, we've been taking a deep look into Barry Trotz hockey career.
In case you missed any of the stories, the links are below:
Barry Trotz Minor Hockey Days.
Barry's Junior Hockey Journey.
Barry is set to be in Dauphin with the Stanley Cup on Wednesday.
Details

Contributed by

Darnell Duff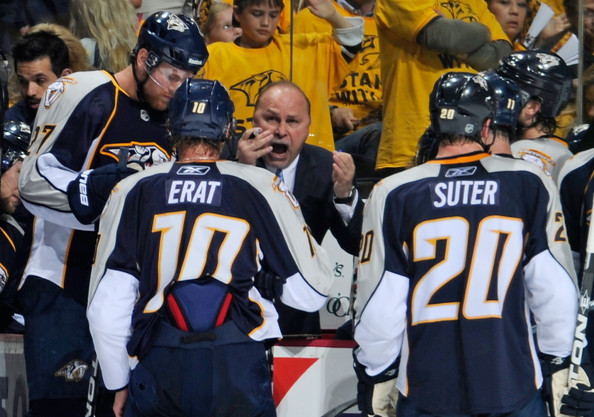 He was with the Portland Pirates for four seasons. In that time, he won a Calder Cup and led the team to the finals two seasons later.
Barry Trotz spent five years as a professional American Hockey League Head Coach between Baltimore and Portland. In those years, he never missed the playoffs once.
But, when was Barry going to get his big break and make the leap to the National Hockey League? The answer is 1998-99 when the Nashville Predators entered the league as an expansion team, and Barry proved enough in order to get a chance at leading the NHL's newest team at that point.
"It was a pretty surreal moment," said Trotz. "The things that you're going to remember in your life are the firsts. I always dreamed of making the NHL as a player, but that kind of went away when I realized I wasn't good enough. But, I made it another way and it was just a totally surreal moment."
When Trotz was offered the job from David Poile, he looked back at a conversation he had many years back when he went to the Washington Capitals camp. It was at that time that Jack Button said: "I brought you here because you're going to be a great minor league leader, or you'll be a good coach one day."
"David reminded me of that conversation," said Trotz. "At that point, Jack had passed away, but he was so right."
"I needed an opportunity and Jack Button and David Poile believed in me and gave me that opportunity," added Trotz. "I'm glad they saw something that someone else didn't see."
So the honeymoon stage of getting his first NHL gig was somewhat over, and it was time to get down to business for Trotz and the rest of the new Predators as they looked to build a winning franchise.
"The great thing about an expansion team, is you can do everything the way you want to from the start," added Trotz. "It was way different back then. Most of the players that we could pick from weren't even everyday NHLer's, they were minor league players, but that was all a part of the process."
As expected, the Predators struggled heavily in their first few seasons in the league, failing to make the playoffs in each of the first five seasons. But, things started to turn around as Barry and the rest of the organization started getting more comfortable.
"We struggled in the first few years, but I actually think teams were surprised with how we were doing and competing," said Trotz. "We started from scratch and had to go through the whole process of building a team from the ground up in a way that we could compete in the NHL, and that was tough."
After those five years of missing the playoffs, the Predators made the playoffs in the 2003-04 season before losing in the Q-Finals against Detroit. In fact, that was the first of four straight years the team did make the playoffs.
"We definitely started to be a threat, and teams were worried to play us because we built a strong foundation," added Trotz.
Barry ended up leading the Predators to the playoffs seven times in his 15-year tenure with the organization.
Outside of Hockey:
Although he's not in Nashville anymore, Barry will always be remembered as someone who wanted to make a change and help out the community in anyway he could.
"You had to be in the community," said Trotz. "Nashville is a very community-based town, which grew into a huge city and there are so many friendly people."
Throughout his years in Tennessee, Barry was heavily involved in the "Best Buddies" charity.
Best Buddies International is a non-profit organization that creates opportunities for leadership and employment for people with intellectual and developmental disabilities.
"It was known that I have a son with special needs," said Trotz. "It was one of the things I felt was very important, and I'm privileged that I was given the chance to take part and help out."
Dauphin Clippers:
The Clippers hockey program made several trips to Nashville while Barry was in town, and he would always make sure the players from Dauphin went home with an experience of a lifetime. They were invited into the dressing room, got to meet players, and so much more.
"That was really all Bruce Helgeson who started that, and made sure it happened," said Trotz. "I was here and ready to help where I could, but I really can't take any credit for that. I know those kids went home after a great trip, and I'm glad I was able to help."
Nashville Farewell:
But, in January 2014, the Dauphin Clippers visited Nashville for the final time. That's because Barry Trotz coached his final game with the Predators on April 13, 2014. The Preds failed to make the playoffs that season.
As he takes a look back, Barry will never forget about his favourite moments in Nashville.
"I don't think there was anything that was my favourite, it was just everything as a package," said Trotz. "I loved the people and the city. Coaching wise, I loved the entire process, the struggles and when we had success. I have nothing but great things to say about Nashville. It really was a great 15 years."
Back To Nashville:
Now with the Washington Capitals, Barry returned to Nashville for the 2016 NHL All-Star Game, and he made his way to the Eastern Conference bench during the skills competition on Saturday night. The rest was history as the packed Bridgestone Arena gave Barry a standing ovation for everything he gave the organization in his 15 years there.
"That validated all the sweat equity I put into that organization," said Trotz. "Nashville had grown to that point that they were a very successful team on the ice."
What's Next?
On Monday, we will take one final look at where Barry headed next, as we prepare for Barry Trotz to be in Dauphin on Wednesday, August 22. And, a special Trotz Documentary is coming your way on Tuesday at lunch.
Details

Contributed by

Darnell Duff
Barry Trotz achieved a lot in his junior hockey career.
He won a WHL Championship with the Regina Pats and almost won two others. He won an MJHL Championship, Manitoba Championship, and Anavet Cup Championship with the Dauphin Kings.
But, his junior hockey career was bound to come to an end like all junior hockey careers, and it did at the end of the Abbott Cup when the team lost to Abbotsford.
The question then became, what was next for Barry? He admittedly said he didn't think he was good enough to play at the next level, but he knew his passion for the game of hockey was just as strong as the first time he ever picked up a hockey stick so many years earlier in Dauphin.
And, the answer was coaching. Barry turned his focus from scoring goals to leading players and teams behind the bench.
In 1984, Trotz became the Assistant Coach for the University of Manitoba Bisons. In that season, Trotz and the Bisons won the Great Plains Athletic Conference (GPAC) Championship as they beat Regina in the final.
After such a successful junior career, some players likely would have had a tough time getting over the fact their playing days were over, but not Barry Trotz.
"I think I got over the fact a few years prior," said Trotz. "I was able to recognize where I was in my life, and where I was as a player back then. I knew my playing days were over, but not my hockey days."
After honing his skills for one year and winning a Championship with the Bisons, Barry returned to Dauphin to become the Head Coach and General Manager of the Dauphin Kings in the 1985-86 season.
"Getting the HC/GM job for the Kings in my hometown was special," said Trotz. "It was a great opportunity, and I was thrilled about it."
Coaching in Dauphin:
At this point, it was almost like Barry was contagious... but in a good way, because everywhere he went, he won.
Now, Barry didn't come in and bring immediate success to the Kings, although you also can't say it was a bad season. They made the playoffs in the 1985-86 season, before falling in five games to the Selkirk Steelers in the playoffs and the Steelers ended up being league finalists that year.
"In the first year, I had a lot of guys that were from the previous regime," said Trotz. "But, we still made the playoffs and really did give Selkirk a run for their money. We lost in five, but it was a lot closer than that."
Then you fast forward to the 1986-87 season and it was definitely a step up from the past season.
But, before we get to the season, it's time to introduce Bruce Helgeson.
"He just introduced himself and told me he was working at the high school," said Trotz. "He said he played junior hockey and we really hit it off. So he said if I needed any help he was there, so I asked him if he'd be interested in being an Assistant Coach, and he said he couldn't make it to all the games, but of course. He was fantastic."
To this day, Barry and Bruce remain great friends, and always get in touch with each other.
"Barry was very much a man who paid attention to detail," said Helgeson. "If we won a game we would stay up in his father's basement and work on what we could improve on. If we didn't win, we would stay up even longer."
"I was definitely lucky to get the chance to coach with Barry," he added. "He was all in, and he gave everything he had. I learned so much about the game from him."
In the regular season, Trotz and Helgeson led the Kings to a 29-19 record, which was just behind the Selkirk Steelers who were led by Neil Wilkinson who went on to play 11 seasons in the NHL.
The Kings then dispatched of the Portage Terriers in the first round of the playoffs in five games, which set up a heavyweight tilt with the Selkirk Steelers who won the Division.
The series was an instant classic and went down to the wire. Eventually, the Steelers beat the Kings in the seventh game to advance to the League Championship. Selkirk ended up sweeping the league finals, but they lost to Humboldt in the Anavet Cup... something Barry won as a player years prior.
During his time with the Kings, Barry was getting just $1000 to be the HC/GM. After that season, his contract expired and he never coached another game for the Dauphin Kings.
"They asked me if I wanted to reapply because they were going to open it up to everyone," said Trotz. "They were going to pay three or four more than what I was getting paid, so I didn't reapply."
Leaving Dauphin:
Barry then accepted a coaching job with the Portage Terriers, but he wasn't there for long.
"The job opened up there, so I applied and they offered me it like five minutes later," said Trotz.
In fact, Barry ended up being in Portage for just three days, before he became the Head Coach of the Manitoba Bisons. On top of being the HC of the Bisons, Trotz also served as a scout for the Terriers that season and was a scout for the WHL's Spokane Chiefs and Part-Time scout for the Washington Capitals.
Was wearing that many hats tough for the Dauphinite? Not really.
"I mean, you're doing that anyway because you're always looking for talent," said Trotz. "And, I took it as a great opportunity to get out into the community. It was really important."
After that season with the Manitoba Bisons, Barry scouted for a few more seasons which included being the Chief of Western Scouting for the Washington Capitals from 1989-91.
Then in the 1991-92 season, Barry made the jump to professional hockey when he signed a contract as the Assistant Coach for the Baltimore Skipjacks of the American Hockey League.
"It was definitely a really exciting opportunity and thing to happen," added Trotz. "When I coached in junior and at Manitoba I had success. Then, you add my experience and scouting and I really think that was the reason I got the chance with the Skipjacks."
During that season, the Skipjacks struggled immensely finishing up with a 28-42-10 record which was last in their division, and second last in the entire league.
Barry then became the Head Coach of the Skipjacks in the 92-93 season and led the team to the playoffs, where they eventually fell to first place Binghamton in seven games.
So, after losing $2.5 million dollars in six seasons in Baltimore, owner Tom Ebright moved the team to Portland, and what a move it turned out to be.
As the leader of the Pirates, Barry led them to a 43-27-10 record in their first season in Maine. From there, Trotz and the Pirates made history as they ended up beating Moncton in six games in the American Hockey League Championship series.
For his efforts, Barry was named Coach of the Year.
What was next?
Well, Barry remained the Head Coach of the Portland Pirates for three more seasons and had a ton of success in the regular season, but they never won another AHL Championship.
The 1996-97 season was Barry's final in Maine. Tomorrow, you can find out what was next for Barry, and to give you a hint... he moved up.
Details

Contributed by

Darnell Duff
His Minor Hockey days were over, and he was a National Champion.
It's safe to say Dauphin's Barry Trotz had quite the successful hockey career in Dauphin and Notre Dame, but what was next? His goal was to make it to the NHL, and after years of winning, it would be weird if it all just ended after his time in Wilcox. Well, it didn't, and the success continued.
"The long weekend had just past, and I didn't have enough money to go home, and there was only 10 of us left at school," said Trotz. "At this time, I was on the Regina Pats protected list, and they were having these camps and you could go to them."
"So, my friend and I packed up our bags and hitchhiked to Regina to try and make the team," he added. "I didn't really think I was good enough to actually make the team, but I ended up making it. It was pretty crazy from just hitchhiking to Regina because I went from not being able to go home, to making the team."
When Trotz made the Pats, it was safe to say his hockey career wasn't ending anytime soon.
Being under six feet tall, Barry was quickly tasked with adapting to not only a better brand of hockey but also with having to keep up with the players who were older and bigger than him. But with his passion and dedication to the game, despite his size, Barry never made an excuse. He always just kept trucking along.
"Of course there were times that you were really sore, but I always had the mindset that I'd heal up," said Trotz. "There's going to be those days when you have a black eye, or you can't lift your arm or something, but the best players work through it and that's what I wanted to do."
Despite pushing through, even Barry admits being a smaller player back then had its own challenges.
"It wasn't easy being a smaller player," added Trotz. "It was a totally different ERA and style of hockey."
During his time with the Pats, Trotz had the opportunity to play with some excellent players, including Doug Wickenheiser.
"He never really excelled professionally, but he's one of the best junior hockey players to ever play the game," added Trotz. "But, some of the best players I ever played with never even really played, or excelled in the NHL."
Memorial Cup Debut:
The year was 1980 and it was Trotz's first season playing with the Regina Pats. Luckily, his team was dominant.
After sweeping the Lethbridge Hurricanes in the first round, the Pats went 2-2 in a Round-Robin format in the semi-finals to advance to the Division Finals. They once again had no troubles as they beat Medicine Hat in five games.
Trotz and the Pats then followed that up by dominating the WHL Championship, winning it in five games.
As co-hosts of the Memorial Cup with Brandon that season, Regina got the chance to not only play on their home ice but had all sorts of momentum after winning the WHL Championship.
Back then, just three teams played in the Memorial Cup, as Regina was joined by Cornwall and Peterborough. After starting off 0-3, Regina stormed back with an 11-2 win over Cornwall in their final round-robin game, which gave them a chance at advancing to the final.
For that to happen, Peterborough, who was previously 3-0, had to beat Cornwall. But then, the unthinkable happened.
"We were a very good team," said Trotz. "There was some controversy that Peterborough threw their final game because they didn't want to play against us in the finals. But, there was nothing that could be done."
Peterborough was beating Cornwall 4-1 before they put in their backup goalie, and Cornwall came all the way back to win the game 5-4. In the final, Cornwall went on to beat Peterborough.
In the following season, which was Barry's second with the club, the Pats once again finished atop their division, but this time they fell in the Conference semi-finals.
The Dauphinite would return to play in Regina for one more year, and this time the team finished second in their division (48-24) and they got hot in the playoffs to advance to yet another WHL Championship. However, this time they lost to the Portland Winter Hawks in five games.
What was next for Barry?
Barry was then traded to the Brandon Wheat Kings for the 82-83 season, but he didn't play there.
"They didn't have the team I was hoping they would, so I was hoping to join the Kamloops Blazers," said Trotz. "But, they were sort of reluctant to trade me, so I decided to go back to Dauphin and I thought I would play there until I was traded, but I never was."
Back To Dauphin:
He tore it up when he played minor hockey in Dauphin, and now Barry was back in his hometown playing for the Dauphin Kings, the same team he made as a 15-year-old before he moved to Saskatchewan.
During his time in Dauphin, Trotz continued his ways of being a part of teams that always won, and won a lot.
Playing in his final season of junior hockey, Barry recorded 50 points and was the team captain. During that year, the Kings went 34-13-1 and won the North Division by an astonishing 17 points over the Winkler Flyers and Selkirk Steelers.
In the playoffs, they lost just three games, which included one in the finals as they beat the St. Boniface Saints in five games.
It was now off to the Manitoba Championship for Trotz and the Kings as they played the Pas Huskies. They scored 28 goals and only gave up eight as they swept the Pas in three games.
Then, in the Anavet Cup Championship against Yorkton, the Kings scored 39 more goals and beat the Yorkton Terriers in five games to advance to the Western Canada Championship (Abbott Cup).
"That was a really fun time, and scoring 10 goals in the first game against Yorkton was awesome," said Trotz. "The DMCC was a tough building to come into, and we loved playing there. They were cheering us on super loud, just like usual."
After scoring 14 goals in the first two games of the WCC against the Abbotsford Flyers, the Kings went on the road to play in the Flyers' arena and lost four straight games as they saw their season come to an end.
"I really had a blast that year," said Trotz. "I knew that I wasn't going to play pro or anything like that. That was the one year that I just really enjoyed playing hockey. I always enjoyed it, but I knew this was my last year playing, so I just went out there and had a ton of fun."
Coming back home allowed Barry the chance to play his final junior season right in his own backyard where his family and friends could watch.
"It was a really good thing," added Trotz. "It was really special getting to play in front of mom and dad because I hadn't for a few years already."
That game against the Abbotsford Flyers in the 1983 season was the final time Barry ever wore a Dauphin Kings jersey, but that doesn't mean he didn't return to the organization and make another splash.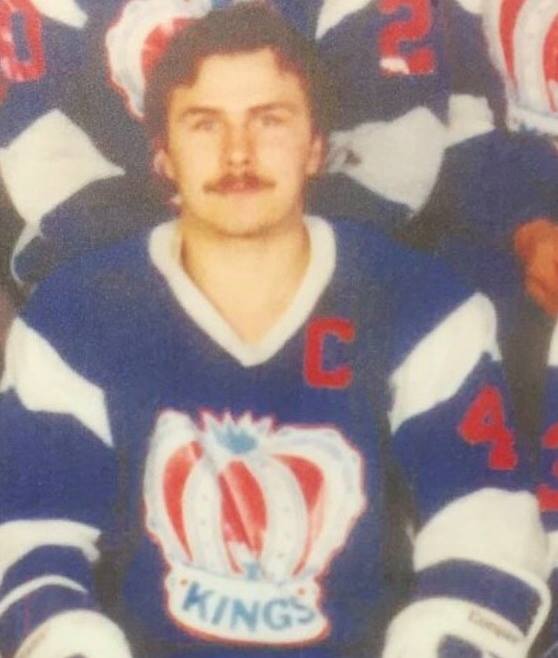 Tomorrow, we take a deep dive into what life after playing hockey looked like for Barry as we continue our "Quest to the Cup".
Details

Contributed by

Darnell Duff
Dauphin's Barry Trotz is a Stanley Cup Champion as a coach, but he didn't grow up thinking he would win the biggest prize in the NHL as a coach.
Like so many others, Trotz wanted to be the next "Great One", and it all started as a young kid right here in the "City of Sunshine".
"I lived across from an outdoor rink right in Dauphin," said Trotz. "We played street hockey, and I just talked to my parents about playing and starting in hockey... so I did."
"As I went on and played every day, I noticed I was getting quite a bit better," he added. "I knew I wanted to be a really good player, so I always worked on it really hard."
Despite his passion for the game and wanting to play at the outdoor rink all day, every day, Barry had to go to school during the day. But after school, if you were looking for Barry it was almost guaranteed that he'd be at the rink showing off his skills.
"Usually right after school, there were games going on, so we'd play until dinner," said Trotz. "Then, right after dinner, we would go right back to the rink and play... and usually, my dad Ernie would have to come to get me at 9:00 p.m., because the lights were off... but we wouldn't leave."
"On the weekends, we would head to the rink the second we could, and just play all day," he added. "That was sort of how my day would look when I was younger."
Just like most Canadians who aspire to become a professional hockey player, Trotz had a favourite player who he wanted to be just like, and that player was Bobby Orr.
"I always wanted to be just like him," said Trotz. "I always wore #4 when I could. In his ERA, he was so much better than any other player... simply the best. I always wanted to be like him growing up."
Throughout the years during his minor hockey days, Barry played on the rep team in Dauphin, which allowed him to travel with some of the good friends he made as they looked to dominate the province. One of those friends Barry made was Mike Penrose.
"I played with Barry for a number of years on the rep team, which we sort of called it the "All-Star" team," said Penrose. "He was a really good guy and a fabulous hockey player. He was always a captain on our team, and he had such a knowledge for the game, even though he was just a young guy."
"He had the personality that everyone sort of looked up to," he added. "And, being the leader... he commanded respect."
When Barry takes a look back at his days in Dauphin playing minor hockey, the friendships he's made is one of the things he'll never forget.
"I played with a lot of great guys, and made some friendships that I'll have for a lifetime," said Trotz. "There were so many fun trips around the province... and it was all done as a kid. From what I remember... which is a lot, It was such a great experience."
Moving Day:
Barry was just 15-years-old when he made the Dauphin Kings. Although this is something Barry really wanted to pursue, his dad, Ernie, thought otherwise.
"My dad really didn't think it was a great idea to play junior hockey and hang around 18-19 and 20-year-olds when I was only 15 years old," said Trotz.
So Barry didn't end up playing for the Kings as a 15-year-old. Instead, he moved to Wilcox, Saskatchewan and joined the Notre Dame Hounds where he would go on to play his midget hockey.
"That was a pretty eye-opening thing for me to go through," said Trotz. "You know, I lived at home all my life, and I was one of the best players in my age group, but in Notre Dame the program was much better. I went from being one of the best in Dauphin to being one of the average players at Notre Dame."
"It was definitely one of the best life experiences I've ever had," he added. "If you're an aspiring hockey player, I'd highly recommend going to Wilcox. I went to school, played sports and created some really special bonds with lots of people. It really was special."
Something Barry remembers very well about Notre Dame is not only just how good the program was, but how hard they had to work. If they didn't, they definitely wouldn't be playing.
"I definitely grew up, and I did it pretty quickly there," said Trotz. "I mean there were times when I was super sore, but I had the mindset that I would just heal up and I never said I couldn't do something. You know you're going to get hurt, I did, but that was what I signed up for so I expected it."
During his time in Notre Dame, Barry got the taste of what it felt like to come up just short, and then what it felt like to be a Champion.
In the 1978-79 season, Trotz and the Hounds crushed Ottawa West 7-2 to win bronze at the Air Canada Cup, which was the National Championships.
In the following season (1979-80), Barry and the Hounds did two better as they beat Ste. Foy 5-1 to win the Air Canada Cup, and they were then able to call themselves National Champions.
Ending:
There is no doubt that Barry had quite a decorated minor hockey career, which wrapped up with him winning a National Championship. What was next for him? Keep it locked here to 730CKDM.com, and you'll find out tomorrow what was next in his career.
Details

Contributed by

Darnell Duff