Music News
MUSIC NEWS: MONDAY, MARCH 21, 2016
LORETTA LYNN - HIGHEST-CHARTING ALBUM
At the age of 83, Loretta Lynn has achieved her highest-charting album ever. Her ``Full Circle'' album debuted at number 19 on the Billboard 200 album chart this week. Her highest-charting album before this was ``Van Lear Rose,'' which hit number 24 in 2004. 
---
BAD COMPANY - TOURING GUITARIST
Black Crowes guitarist Rich Robinson will be the guest guitarist on Bad Company's next tour. Guitarist Mick Ralphs says he's just not feeling up to the travel of touring this time, and he's glad the band found Robinson to fill in for him. Robinson says it's an honour to be able to play with the band. Bad Company will co-headline a tour with Joe Walsh beginning May 12th in Dallas. 
---
WILD FEATHERS - LIKE FAMILY
You'd think after spending nearly every day together for six years in a van, the members of Wild Feathers would put some space between each other when they have a break. On the
contrary: they still hang out when they're at home. Singer-guitarist Ricky Young says they really do love each other and really like each other, which he calls ``bizarre.'' He says even their wives question why they still seek each other out when they're on a tour break.
Bandmate Joel King says nobody knows the troubles they've seen so nobody else can relate. Wild Feathers have a new album out called ``Lonely is a Lifetime.'' 
---
MICHAEL JACKSON - BUBBLES - MOVIE
A film is in the works based on Michael Jackson's chimp, Bubbles. The Hollywood Reporter reports the film ``Bubbles'' will tell Jackson's story from the chimp's perspective.
It will be made using stop-motion animation. A release date was not announced. 
---
SMOKEY ROBINSON - AWARD
Smokey Robinson is getting recognized for his charitable efforts. The MusiCares MAP Fund, which helps musicians with addiction recovery, will give Robinson an award on May 19th in Los Angeles. CeeLo Green, Babyface, El DeBarge and Kem will perform in Robinson's honour. Robinson also will perform. Cedric the Entertainer will host. 
---
TAYLOR SWIFT - SURPRISES PATIENTS
``American Idol'' host Ryan Seacrest had a surprise guest when he unveiled a new broadcast studio at a Nashville hospital on Friday: Taylor Swift. The studio at Monroe Carell Junior Children's Hospital at Vanderbilt University is the tenth one Seacrest has built at a hospital. Swift says the studio will help kids find their creativity, whether they want to make a radio show or record their own music. She says the fact that it's in Nashville means there's a wonderful opportunity for musicians to stop by and help. Seacrest says the studio broadcasts to patients' rooms, so the ones who can't get out of bed can still call the studio and talk to any visiting celebrities. 
---
BLAKE SHELTON - LAWSUIT
Blake Shelton denies he went to rehab or that Miranda Lambert ever videotaped him drunk and showed him the tape the next day. The Nashville Tennessean reports Shelton filed a document last week in support of his two-million dollar lawsuit against the publisher of In Touch magazine over a story published in September saying he was an out-of-control drunk. Shelton says he has never been to rehab, nor has he urinated on a mailbox, nor did he start drinking at the age of 14. He says he jokes about drinking on Twitter to amuse his fans and they get the jokes. He argues that the In Touch story hurt his business dealings.
---
PRINCE - AUTOBIOGRAPHY
Prince is telling his life story, from his first memory to his Super Bowl performance. Prince told an audience in New York on Friday that publishing house Spiegel and Grau made him an offer he can't refuse. He says the working title is ``The Beautiful Ones.'' He says his brother Dan is helping him with it because he's a good critic and not a ``yes'' man. The book will come out in the fall of 2017.
---
SNOOP DOGG - TOURISM - ROMANIA
Snoop Dogg's spelling mistake is the biggest thing to happen to a small Romanian village. Snoop posted a selfie on Instagram while on tour in Bogota (boh-goh-TAH'), Colombia, but he misspelled ``Bogota'' as B-O-G-A-T-A, which is a town in Transylvania of about two-thousand people. Bogata mayor Laszlo Barta says it was a mistake but it's been good advertising for the town. A tourist website VisitBogata-dot-com is playing up the mistake, saying the village is the ``best place for chillin' in Romania.'' It also advises bringing a sleeping bag because there are no hotels in Bogata. 
---
GWEN STEFANI - LINKEDIN
Even Gwen Stefani understands the importance of connections in business. She's joined LinkedIn. She lists herself as a singer/songwriter, coach on ``The Voice,'' fashion designer and entrepreneur. She has posted an essay entitled, ``The Key to Creativity -- and Success -- Is Truth.'' Stefani says three constants in whatever she does are, ``I remain real to myself, pure about the project and true to my whole esthetic.'' Stefani just released a new album called ``This Is What The Truth Feels Like.''
---
BRUCE SPRINGSTEEN - TARDY NOTE
It was an excuse note -- signed by The Boss himself. Fourth-grader Xabi Glovsky and his dad Scott went to the sold-out Bruce Springsteen show in Los Angeles last Tuesday night. Xabi held up a homemade sign saying: ``Bruce, I will be late to school tomorrow. Please sign my note.'' After the show, Springsteen invited the pair backstage where they posed for photos. And Bruce scribbled a note for the boy's teacher. The note said: ``Dear Ms. Jackson, Xabi has been out very late rocking & rolling. Please excuse him if he is tardy.'' 
---
(The Associated Press)
Details
WEEK OF March 21, 2016
730 CKDM TOP TWENTY 
MUSIC DIRECTOR:  BRUCE LEPERRE 
The Parkland's Best Music ... 730 CKDM
  TW  LW   WO         TITLE/ARTIST/LABEL                                                        WEEKS @ #1
| | | | | | |
| --- | --- | --- | --- | --- | --- |
| 1 | 2 | 10 |   | Heartbeat – Carrie Underwood (19/Arista Nashville) | 1 |
| 2 | 3 | 14 |   | Beautiful Drug – Zac Brown Band (SouthrnGrnd/Varvatos/BMLG) |   |
| 3 | 6 | 5 |   | You Should Be Here – Cole Swindell (Warner Bros./WMN) |   |
| 4 | 5 | 9 |   | Drunk On Your Love – Brett Eldredge (Atlantic/WMN) |   |
| 5 | 1 | 10 |   | We Went – Randy Houser (Stoney Creek) | 1 |
| 6 | 8 | 10 |   | Confessions – Florida Georgia Line (Republic Nashville) |   |
| 7 | 7 | 11 |   | Little Bit Of You – Chase Bryant (Red Bow) |   |
| 8 | 11 | 12 |   | I Like The Sound Of That – Rascal Flatts (Big Machine) |   |
| 9 | 9 | 6 |   | Hearts On Fire – Chad Brownlee* (MDM) |   |
| 10 | 10 | 3 |   | I Got This – George Canyon* (Big Star) |   |
| 11 | 13 | 6 |   | Snapback – Old Dominion (RCA Nashville) |   |
| 12 | 14 | 8 |   | Nobody to Blame – Chris Stapleton (Mercury Nashville) |   |
| 13 | 15 | 5 |   | My Church – Maren Morris (Columbia Nashville) |   |
| 14 | 16 | 4 |   | Mind Reader – Dustin Lynch (Broken Bow) |   |
| 15 | 18 | 3 |   | Heard You In A Song – Gord Bamford* (Cache/Sony Music Canada) |   |
| 16 | 20 | 2 |   | Think Of You–Chris Young & Cassadee Pope (RCA/Republic Nashville) |   |
| 17 | 17 | 5 |   | That Doesn't Sound Like You – Lee Brice (Curb) |   |
| 18 | 19 | 3 |   | Somewhere On A Beach – Dierks Bentley (Capitol Nashville) |   |
| 19 | – | 1 |   | Humble & Kind – Tim McGraw (Big Machine) |   |
| 20 | – | 1 |   | Maybe It's The Moonshine – Washboard Union* (Waner Music Canada) |   |
This Week's Adds: Came Here to Forget - Blake Shelton (WB/Warner)(HIT PICK)
Huntin, Fishin' and Lovin' Every Day – Luke Bryan (Capitol Nashville/Universal)
Make You Miss Me - Sam Hunt (MCA Nashville/Universal)
Be You - High Valley* (Open Road)
Bad Blood - Jesse Mast* (Cache/Sony)
Lonely Girl – David James* (MDM)
Dirt Road in 'Em – Aaron Pritchett* (Big Star/Universal)
Bow & Arrow – Nicole Rayy* (Indie)
Found – Dan Davidson* (Sharp 9)
Fallin' For You – Kira Lynn* (Indie)
Contact Bruce atThis email address is being protected from spambots. You need JavaScript enabled to view it.This email address is being protected from spambots. You need JavaScript enabled to view it.
*INDICATES CANADIAN ARTIST
Details
MUSIC NEWS: FRIDAY, MARCH 18, 2016
DAVID GILMOUR - POMPEII
Maybe this time people will show up when David Gilmour plays Pompeii. Gilmour has announced he will play the Pompeii Amphitheatre in Italy on July 7th and 8th. Pink Floyd shot their ``Live at Pompeii'' film at the amphitheatre in 1972. It's notable because the band played live but there was no audience. 
---
KURT COBAIN - GUN PHOTOS
Police in Seattle are releasing photos of the shotgun Nirvana frontman Kurt Cobain used to kill himself decades ago. A Seattle police cold case detective is shown holding Cobain's gun at different angles in five photos posted to the department's website. The photos were taken in June 2015 and added to the city of Seattle's computer system earlier this month. It's not clear why they took the photos last year or why they're releasing them to the public. Cobain was 27th when he died in 1994. 
---
50 CENT - VARIETY SHOW
50 Cent says he grew up watching variety shows, and now he'll star in one of his own. He will produce and host a series called ``50 Cent Presents'' for the A-and-E Network. It will include comedy sketches, standup, reality experiments, music, magic, dance numbers and celebrity guests. 50 Cent plans to bring on his A-list friends and have them show off some of their lesser-known skills. An air date was not announced. 
---
TIM McGRAW - BOOK
Tim McGraw is turning his song ``Humble and Kind'' into a book. Hachette Books has announced the book version will include lyrics, illustrations and an introduction by McGraw.
The song was inspired by his daughter leaving for college. The book comes out May 17th, just in time to give as a graduation gift.
McGraw will donate the proceeds to charity. 
---
MADONNA - BRISBANE CONCERT
Madonna fans in Brisbane, Australia, were angry they had to decide whether to stay for the end of her show or take the last train home. Madonna was supposed to go on stage at 9 p-m Wednesday but did not show up until 11:22 p-m.
Hundreds of fans had left by then and demanded refunds at the ticket office. When Madonna finally did make it to the stage, she joked, ``You were here too early. You should have taken your time doing your hair and makeup. Then I wouldn't have been late.'' The last train left at 12:15 a-m, but Madonna did not wrap up the show until about an hour later. 
---
MAN PLEADS CASE - ADELE SONG 
A man facing sentencing figured he had nothing to lose by singing his own version of Adele's song ``Hello'' to the judge. The Ann Arbor News reports 21-year-old Brian Earl Taylor sang to Washtenaw County Trial Court Judge Darlene O'Brien on March 10th. He sang, ``Hello there, your honour'' and changed the words to, ``I want to say I'm sorry for the things I've done and I'll try and be stronger in this life I chose, but I want you to know, that door, I closed. And your honour I'm sorry, sorry, sorry, sorry.'' O'Brien says Taylor is ``obviously a talented young man.'' Still, she sentenced him to two years in prison on a concealed weapon charge and 18 months to 15 years for unlawful imprisonment. 
---
ROLF HARRIS FACES NEW INDECENT ASSAULT CHARGES
``Tie Me Kangaroo Down, Sport'' singer Rolf Harris answered more indecent assault charges in a London court yesterday.
Harris, who is 85, is already serving a six-year sentence for sex offences against four girls. The new charges are related to assaults allegedly committed between 1971 and 2004, including three victims under the age of 14. Harris appeared by video link from prison yesterday and denied all charges. 
---
SHAKIRA RECALLS - EARLY SETBACK
Imagine you're ten years old and your music teacher rejects you for the choir and your classmates think you sing like a goat. That's what happened to Shakira. She says the teacher thought she sounded too dissonant and her friends didn't like her vibrato. Shakira says her father told her not to give up and someday people would hear that vibrato on the radio and know it was her. As she puts it, ``Here I am with my vibrato!'' Shakira says family support is so important and she would have abandoned music if it weren't for her family standing behind her. 
---
STRYPER'S MICHAEL SWEET - TED CRUZ COMPARISON
Stryper singer Michael Sweet is not secretly running for president as Senator Ted Cruz. Sweet has been the subject of an online joke recently that claims he and Cruz are the same person, based on photo comparisons. At first, Sweet played along, tweeting that he was going to cancel Stryper's next tour so he could focus on his campaign. Now he's tweeted an apology to Cruz over ``the silly blow up'' about them being the same person. 
---
BATACLAN - REENACTMENT
You'd think no one would want to relive the night of November 13th in Paris at the Bataclan night club. However, French lawmakers are hoping to learn from a reenactment of that night.
Eighty-nine people were killed during an Eagles of Death Metal concert at the Bataclan when three gunmen opened fire. Yesterday, lawmakers and first responders returned to the venue to hold an exercise aimed at avoiding a repeat of the tragedy. Some families of the victims are criticizing the move as needlessly painful. 
---
'AMERICAN IDOL'
Jennifer Lopez was weepy at the judge's desk on ``American Idol'' last night. She had tears in her eyes after Trent Hamron performed ``Simple Man.'' Later, J-Lo was sobbing when La'Porsha Renae did Mary J. Blige's ``No More Drama.'' La'Porsha was crying too, as J-Lo said how she was moved by La'Porsha's powerful performance. Last night, the judges exercised their last save of Idol's final season. That goes to Sonika Vaid, who gets to come back next week. She was in the bottom-two with Tristan McIntosh, who now goes home. 
---
50 CENT - TV SERIES
Heeeerre's Fiddy? Looks like 50 Cent is trying to take his place among people like Jay Leno, Johnny Carson and David Letterman. He is planning to a variety T-V show for A&E. The network says its drawing up a series called ``50 Cent Presents'' _ and it will feature sketch comedy and music. The rapper says he grew up watching variety shows on T-V _ and wants to bring his own take on the genre to the table. 
---
(The Associated Press)
Details
MUSIC NEWS: WEDNESDAY, MARCH 16, 2016
MICHAEL JACKSON ESTATE SELLS MUSIC CATALOG
The Beatles music catalogue will no longer be in the possession of Michael Jackson's estate. Sony will buy Jackson's stake of the Sony/ATV Music Publishing catalogue for 750 million dollars. It includes works by The Beatles, Bob Dylan, Eminem and Taylor Swift, but it does not include Jackson's master recordings or publishing. Jackson bought his stake in the A-T-V portion of the catalogue in 1985 for 41.5 million dollars and later merged it with Sony. It was the asset that made him the most money at the time of his death in 2009, but Jackson was hundreds of millions of dollars in debt by then. 
---
TRISHA YEARWOOD IS NERVOUS AHEAD OF SUNDAY'S AIRING OF ``THE PASSION''
Trisha Yearwood is hoping for divine inspiration as she portrays Mary in a T-V retelling of the story of Jesus' death. Yearwood says she's out of her element with ``The Passion'' because it's live T-V and she has five songs to sing. She says she has seriously asked her friends to pray for her.
``Telenova'' star Jencarlos Canela will portray Jesus, Chris Daughtry plays Judas, Seal will be Pontius Pilate and Prince Royce plays Peter. The program will use songs like Hoobastank's ``The Reason,'' Tina Turner's ``We Don't Need Another Hero'' and Imagine Dragons' ``Demons.'' Daughtry says the basis of the story is universal: ``love, compassion, acceptance and forgiving.'' ''The Passion`` airs live on Fox on Sunday. 
---
PRODUCER PONDERING WHETHER TO INCLUDE DR. LUKE IN MINISERIES ABOUT POP MUSIC
The maker of an upcoming miniseries about the modernization of pop music is reconsidering using an interview with producer Dr. Luke. Jeff Dupre, the producer of the P-B-S series ``Soundbreaking,'' says he's discussed the issue with his colleagues over the last couple of weeks and they haven't made a decision. The miniseries is being screened this week at the South By Southwest music festival in Austin, Texas. Kesha and Dr. Luke are involved in a legal battle. She says he raped her a decade ago and he says she's making it up to get out of her contract. 
---
ESPERANZA SPALDING RELEASES ``EMILY'S D + EVOLUTION''
You can credit the new album ``Emily's D + Evolution'' to Esperanza Spalding, but she credits it to Emily.
That's the alter ego she channels for the new direction of her music. Emily also happens to be her middle name. Spalding calls Emily a name for a process ``when you sense that there's something pent up that you haven't been developing.'' Spalding says the rock group Cream and Joni Mitchell's ``Hejira'' album are her latest inspirations. Spalding also looks a bit different these days.
Instead of an afro, she wears braids and big glasses. She says it's part of her desire to get in touch with ``that fundamental ground floor of my expression.'' 
---
MADONNA SAYS SHE DOESN'T PERFORM DRUNK
Once again, Madonna is defending herself against rumours that she was in an altered state on stage. She plays a character who does a shot onstage during her current world tour.
Madonna wrote on Instagram on Tuesday she would never perform high or drunk. She says it's ``too bad people don't know the art of acting and playing a character.'' She calls the accusations that she was drunk ``sexist.'' In January, Madonna wrote on Instagram she never drinks and performs, and no one would make those accusations of a man. She said at the time she made a joke about doing a comedy act dressed as a clown and being able to drink alcohol. 
---
HOZIER'S ``ARSONIST'S LULLABYE'' SEES BOOST AFTER ``WALKING DEAD''
It was a good career move for Hozier to allow his song ``Arsonist's Lullabye'' to be used in the March 6th episode of ``The Walking Dead.'' Billboard reports the song had a three-thousand-per-cent gain in sales the week after the episode ran. It also set a record on the music-identifying app Shazam for the most tags on a single song, with 195-thousand. ``Arsonist's Lullabye'' was used in the trailer for season 6 last summer. 
---
DOLLY PARTON DISCUSSES REISSUE OF ``TRIO'' ALBUM
New tracks from the ``Trio'' sessions featuring Dolly Parton, Emmylou Harris and Linda Ronstadt will be released, but it's unlikely we'll see a reunion of the three to do the songs live. Ronstadt has Parkinson's disease and is unable to sing. Parton says it's ``just the saddest thing in the world'' that Ronstadt can't sing anymore. She says they hope that perhaps Ronstadt will be able to appear with her and Harris and just speak, but they haven't confirmed that. As for the new ``Trio'' music, Parton says they had recorded several tracks that had not been released, then recorded more songs that became the original ``Trio'' record. The previously unreleased tracks will come out with reissues of ``Trio'' and ``Trio 2'' in September.
 ---
CHRISTINA AGUILERA CREATES GAME SHOW
Christina Aguilera is the mastermind behind a new music game show that will run on Spike T-V. The Hollywood Reporter reports the show ``Tracks'' will feature contestants trying to guess songs after hearing only one instrument track, like just the bass or guitar. Surprise celebrity music guests will appear to play songs that may or may not be their own. Aguilera will be an executive producer. The show is scheduled to air later this year. 
---  
``THE VOICE''
One of the kids on ``The Voice'' this season is getting a second chance. Fifteen-year-old Shalya Fearing was dropped by Christina Aguilera during last night's ``Battle Rounds.''
But she was picked by Pharrell Williams in a steal. Williams says Shalya was so talented she deserves to be on the show. Each of the coaches get two so-called steals during this stage of the competition. That's when they pick up a performer dropped by another coach. Next week, the Battle Rounds continue on The Voice. 
---
(The Associated Press)
Details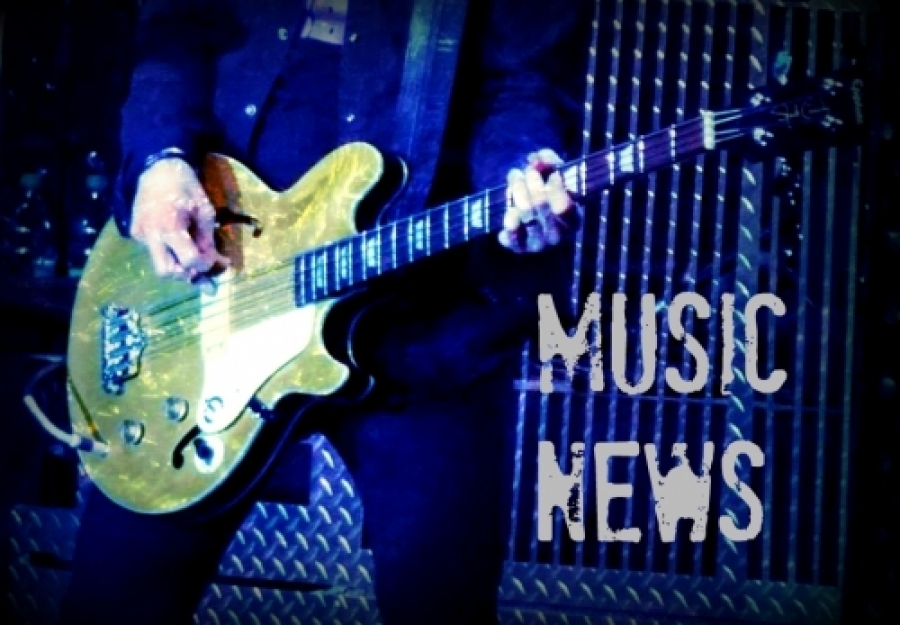 MUSIC NEWS: TUESDAY, MARCH 15, 2016
MIRANDA LAMBERT CREATES LINE OF DOG TOYS AND ACCESSORIES
Miranda Lambert hopes that outfitting your dog will help other dogs find homes. Lambert has teamed with Petmate to create a line of dog toys, collars, bedding and other items.
Proceeds will benefit her MuttNation Foundation, which funds dog adoption programs. The items for sale include a bandanna collar, beds with cow print patterns and tambourine and guitar chewie toys.
Don't have a dog? Lambert's collection also includes six plush toy puppies that are based on real-life rescue dogs. 
---
RANDY HOUSER TALKS ABOUT GETTING FIRED UP AND RELEASING ``FIRED UP''
Randy Houser admits he was a little freaked out the first time he stood in front of a crowd of 50-thousand people.
Houser says he never played for audiences that big until he toured recently with Luke Bryan, and his adrenaline just went nuts. Houser says sometimes he pretends it's his back yard and he's just hanging out with friends. Houser just released a new album called ``Fired Up.'' He calls it ``a good representation of where I have been, where I am and where I am going.'' 
---
GOGI GRANT DIES
The woman who took the song ``The Wayward Wind'' to number one in 1956 has died. Billboard reports Gogi Grant died Thursday at the age of 91. ``The Wayward Wind'' was the song that knocked ``Heartbreak Hotel'' by Elvis Presley off the top spot after an eight-week run. Grant was also used as actress Ann Blyth's singing voice in the 1957 movie, ``The Helen Morgan Story.'' Grant took two decades off to raise her family but returned to singing in 1987. She performed into her late 80's. 
---
ERNESTINE ANDERSON DIES
Jazz singer Ernestine Anderson has died at the age of 87. The Seattle Times quotes the King County Medical Examiner's Office as saying it received a report that Anderson died of natural causes at a nursing home on Thursday. Anderson's 1958 album ``Hot Cargo!'' received rave reviews and hit number 15 on the Billboard
200 chart. She quit singing in 1966 and returned to music in the 1970's. Her ``Now and Then'' album was a hit on the jazz charts in 1993. Her childhood friend, producer Quincy Jones, once described her voice as the sound of ``honey at dusk.'' 
---
SONY BUYS MICHAEL JACKSON'S STAKE IN MUSIC CATALOG
Michael Jackson's stake in a massive music catalogue has been sold to Sony for 750 million dollars. Sony and Jackson's estate announced the sale in a joint press release yesterday. Jackson's estate owned a half share of the catalogue, which includes The Beatles and Bob Dylan. But the sale doesn't transfer to Sony ownership of Jackson's master recordings or rights to the songs he wrote. 
---
RACHEL PLATTEN HAS HER DOUBTS
Not everything Rachel Platten sings is about conquering the world. Platten says when she feels inspired and empowered, she will write songs about that. She says she also writes songs when she has demons in her head and she doubts herself.
Platten says it's important for her as an artist to share who she is, and honesty is what helps her connect. She says both kinds of songs feel just as good to sing. 
---
MOTION CITY SOUNDTRACK ANNOUNCE FINAL CONCERTS
Motion City Soundtrack will embark on a farewell tour this spring. It will begin May 5th in Portland, Oregon. The tour ends in their hometown of Minneapolis on June 24th, and they have a one-off show in Sayreville, New Jersey, on August 6th. The band says in a statement they've been having conversations about the future of the band, but they have concluded, ``For now we are done.'' They say if you have been touched by their music, come out and sing with them one last time. 
---
JACK ANTONOFF GETS FIRST BAND BACK TOGETHER FOR FESTIVAL
Jack Antonoff's first band will reunite for his ``Shadow of the City'' music festival this summer. Antonoff will get back together with Steel Train at the festival set for June 18th in Seaside Heights, New Jersey. The 1975 will headline, and other performers include Carly Rae Jepsen and BORNS. Antonoff staged the first ``Shadow of the City'' festival last year. He says year two gives him so much joy because it makes him feel like he can really keep doing it. 
---  
GOOD CHARLOTTE REUNITE FOR NEW RECORD
You can thank 5 Seconds Of Summer for giving Good Charlotte the boost they needed to get back together. Good Charlotte singer Joel Madden says writing with 5 Seconds Of Summer made them nostalgic for Good Charlotte again. They will release an as-yet-untitled album this summer. Guitarist Benji Madden says they took a break after their ``Cardiology'' album in 2010 because they needed to find out who they were outside of the band. 
---
BET HONORS RIHANNA, GLADYS KNIGHT
Rihanna and Gladys Knight will be honoured at BET's ``Black Girls Rock!'' awards. Other honorees include T-V producer Shonda Rhimes, ``Walking Dead'' star Danai Gurira and actress Amandla Stenberg. ``Black Girls Rock!'' will tape April 1st in Newark, New Jersey. It will air on B-E-T on April 5th. 
---
(The Associated Press) 
Details
MUSIC NEWS: MONDAY, MARCH 14, 2016
KEITH EMERSON - APPARENT SUICIDE
Police are investigating the death of Keith Emerson of Emerson, Lake and Palmer as a suicide. Authorities say Emerson had what appears to be a self-inflicted gunshot wound to the head. He was 71. His longtime partner, Mari Kawaguchi, called police to Emerson's condo in Santa Monica, California, early Friday morning. She says he could have died anytime between Thursday evening and Friday morning. Emerson was a musical prodigy who was playing in clubs as a teenager. He was part of The Nice before joining Lake and Palmer in 1970. Their hits included ``Karn Evil 9,'' ''Lucky Man`` and ''From the Beginning.`` Kawaguchi says Emerson hated being called a rock star and always wanted to be known as a composer. Emerson was supposed to begin a tour of Japan on April 14th. 
---
KEITH EMERSON - TRIBUTE
Singer Greg Lake of Emerson, Lake and Palmer says he spent some of the best years of his life with keyboardist Keith Emerson. He says for as sad and tragic as Emerson's death is, he wants people to remember Emerson's ``remarkable talent as a musician and composer.'' Emerson died of what appears to be a self-inflicted gunshot wound to the head last week. Drummer Carl Palmer says Emerson was ``a pioneer and an innovator whose musical genius touched all of us in the worlds of rock, classical and jazz.'' 
---
EAGLES OF DEATH METAL - APOLOGY
Eagles of Death Metal singer Jesse Hughes is apologizing for hinting that some security guards at the Bataclan concert hall in Paris had advance knowledge of the November 13th attack. Hughes had told the Fox Business Network that six guards did not show up at the Bataclan that night and ``it seems rather obvious that they had a reason not to show up.'' Eighty-nine people were killed in a terrorist attack at the concert. Hughes has issued a statement asking forgiveness for ``the absurd accusations'' he made.
Hughes says he has had non-stop nightmares since the attack and he has not been himself, but he says there is no excuse for his words. 
---
JOEY FEEK - FUNERAL
Joey Feek of Joey and Rory has been laid to rest in a family plot on her farm in Tennessee. Her husband, Rory Feek, writes on his ``This Life I Live'' blog that family and friends attended the funeral last Tuesday. A team of mules pulling a wagon from the 1800s carried his wife's simple wooden box to the grave.
Rory Feek says after everyone was gone, he took their daughter, Indiana, to see her one more time. Joey Feek died of cancer on March 4th. 
---
IRON MAIDEN - TOUR AIRPLANE DAMAGED
Ed Force One has been damaged in an accident. Iron Maiden say the accident to their airplane happened while it was tethered to a tow truck in Santiago, Chile, on Saturday. It was being taken for refuelling and a steering pin fell out. The plane tried to make a turn, but it ran into the truck. Two ground workers were injured and the undercarriage and engines of the plane were severely damaged. The band, crew and equipment still made it to Cordoba, Argentina, for their next show. Iron Maiden's management say they are looking for a replacement Ed Force One ``while our current beauty is healed.'' 
---
DON HENLEY - THE EAGLES - DONE
Don Henley says The Eagles are likely done after the death of Glenn Frey. Henley tells B-B-C's Radio 2 it was ``very difficult and very emotional'' to do ``Take It Easy'' in Frey's memory at the Grammys last month. He says they nearly didn't do it but the Recording Academy was insistent. Henley says, ``I don't think you'll see us performing again. I think that was probably it.'' He calls it ``an appropriate farewell.'' 
--- 
CHRIS CORNELL - ADVICE - ROLLING STONES
Chris Cornell is glad to see that the Rolling Stones are picking up where Audioslave left off. Cornell says he thought a lot more bands would have played Cuba after Audioslave did it in 2005. The Rolling Stones will play a free show in Havana on March 25th. The Audioslave concert was a logistical tangle that cost the band one-million dollars. Cornell says Fidel Castro's people reviewed their music beforehand, and the band was told their rooms would probably be bugged. His advice for the Stones is, ``They should just use up every second that they're there and not sleep and just be there with the Cuban people.'' 
---
PEARL JAM - EAR PLUGS
Pearl Jam wants fans to be able to hear them for years to come. The band has teamed up with MusiCares to offer limited-edition Pearl Jam earplugs at their concerts. They come in a case with the Pearl Jam logo. Fans can get them for a donation to MusiCares, which assists musicians who fall on hard times. Bassist Jeff Ament says fans should wear hearing protection ``or you'll end up with a 1.5k ring in both ears every night.'' Ament says he can't enjoy the serene quiet of an empty desert or a forest without his ears ringing. 
---
HARRY STYLES - MOVIE
Harry Styles will make his feature movie debut in a film about World War II. Variety reports Styles will act in the film ``Dunkirk.'' It's about the British military evacuation of the French city of Dunkirk in 1940. Shooting begins in May. 
---
OBIT - SOUTH BY SOUTHWEST - CO-FOUNDER DIES
Just as the South By Southwest music festival started this past weekend, news broke that co-founder Louis Meyers had died. Colleague Aengus Finnan says Meyers died Friday in Austin, Texas, at the age of 60. The cause of death was not immediately known. Meyers helped start South By Southwest in 1987 to bring more exposure to Austin musicians. He left the management of the festival in the mid-1990s. This year's South By Southwest featured acts like The Avett Brothers, Bleachers, The Roots, Ryan Adams, DNCE, Nas (NAHS) and hundreds of other musical acts. U-S President Barack Obama was the first sitting president to speak at the festival when he did so on Friday. 
---
KESHA - FANS - PETITION
A group of Kesha fans rallied outside Sony's New York headquarters to demand she be released from her contract with Sony. About 35 fans delivered a petition with more than 411-thousand signatures asking for Sony to let Kesha out of her contract and to drop producer Dr. Luke. Kesha and Dr. Luke are involved in a legal fight. She says he drugged and raped her a decade ago. He says she's making it up to get out of her contract.
Dr. Luke has not been charged with a crime. Sony did not respond to requests for comment. 
---
(The Associated Press)
Details