Music News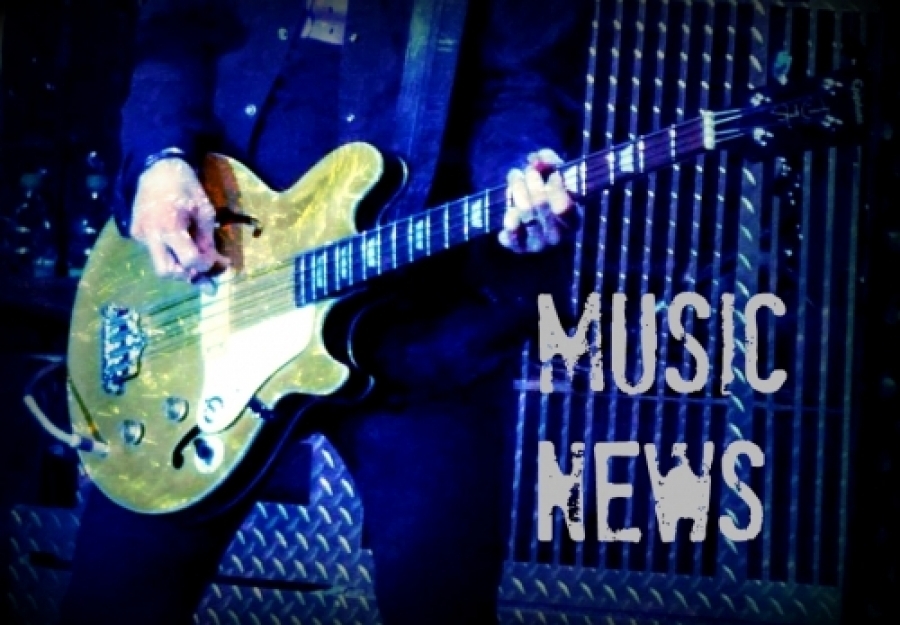 Eminem joins Drake on stage to quash rumoured quarrel 
---
Drake and Eminem have knocked down rumours of bad blood by appearing on stage together at Drake's show in Eminem's hometown of Detroit on Tuesday night.
The rappers have been the topic of online conversation this month amid a beef between Drake and Joe Budden, who is a part of Eminem's Shady Records.
The Detroit Free Press reports (http://on.freep.com/2bmLBMe ) Eminem rose from below the stage near the end of Drake's concert at Joe Louis Arena. The newspaper reports Eminem's rhymes on Drake's ``Forever'' were drowned out by a wildly excited crowd. Drake told the crowd Eminem was the ``greatest rapper'' to ever get on a microphone.
The two also posed for a picture posted on Eminem's Instagram .
---
Britney Spears to perform at MTV Video Music Awards 
---
Britney Spears is returning to the MTV Video Music Awards stage after 10 years.
MTV said Tuesday that Spears will perform her latest single, ``Make Me...,'' at the Aug. 28 show at New York's Madison Square Garden. Spears last performed at the 2007 VMAs.
Rapper G-Eazy will hit the stage alongside the pop star this year.
The 34-year-old Spears will release her new album, ``Glory,'' two days before the VMAs. Spears's VMA career has included five wins and 28 nominations.
Beyonce is this year's leading nominee with 11, followed by Adele, who earned eight nominations. They will compete for video of the year along with Kanye West, Justin Bieber and Drake.
Rihanna will also perform at the live show and receive the Michael Jackson Video Vanguard Award.
(The Associated Press)
---
Celine Dion to perform during 'Stand Up To Cancer' TV special 
---
Pop superstar Celine Dion will perform during the televised ``Stand Up To Cancer'' benefit show.
A number of Canadian channels including CBC, City, CTV and Global will air the one-hour special on Sept. 9, which will also feature performances by Keith Urban and Little Big Town and appearances by celebrities including Ben Affleck, Matthew McConaughey, Emma Stone and Anna Kendrick.
Dion's husband and manager Rene Angelil died in January after a long battle with cancer.
The superstar singer put her career on hold several times to help care for Angelil.
``Stand Up To Cancer'' is being executive-produced by movie star Bradley Cooper, who lost his father to lung cancer in 2011.
The charity behind the live fundraising broadcast has raised more than US$370 million since launching in 2008.
---
MUSIC Montreal Concert


---
Montreal will host an international concert in September to raise awareness about the fight against AIDS, tuberculosis and malaria.
Usher, Half Moon Run, Metric and Grimes were announced Tuesday as some of the artists scheduled to perform.
Prime Minister Justin Trudeau and Microsoft founder Bill Gates are special guests who have been invited to the Sept. 17 show at Montreal's Bell Centre.
The concert is being presented by Denmark-based Global Citizen and The Global Fund, an international partnership dedicated to eradicating AIDS, tuberculosis and malaria.
The Global Fund's donors are gathering in Montreal a day prior to the event for a conference.
Canada has pledged $785 million between 2017 and 2019 to The Global Fund, a 20 per cent increase compared with its last instalment to the financial partnership.
(The Canadian Press)
Details
MUSIC NEWS: TUESDAY, AUGUST 16, 2016
GLENN YARBROUGH - OBIT
The musician who sang ``Baby, The Rain Must Fall'' has died. Glenn Yarbrough died at home in Nashville on Thursday after suffering from chronic obstructive pulmonary disease, dementia and other health issues, according to his daughter. He was 86. Yarbrough was a founding member of the folk group The Limeliters, who took their name from a club Yarbrough owned in Aspen, Colorado, called the Limelite. Their ``Tonight: In Person'' album was a hit in 1961. One of their most famous works was singing ``Things go better with Coke'' for Coca-Cola commercials in the early 1960s. Yarbrough's biggest solo hit, ``Baby, The Rain Must Fall,'' hit number 12 in 1965. 
---
ELVIS CANDLELIGHT VIGIL - PROTEST
A group associated with the Black Lives Matter movement is planning a demonstration during the annual candlelight vigil at Graceland that marks the anniversary of Elvis Presley's death. The Memphis Commercial Appeal reports the Memphis Coalition of Concerned Citizens will lead its ``Operation Blue Suede Shoes'' tonight. Group member Al Lewis says they chose Graceland because it ``represents the tremendous disparity of what works for a few and what doesn't work for the many.'' He won't say what the protesters intend to do. The group's Facebook page says they have no issue with Presley nor his fans. Memphis police say they will have additional officers in the area as they always do during Elvis Week. 
---
ADELE - SUPER BOWL
Adele has turned down one of the highest profile gigs in the world. Adele told the crowd at her Los Angeles show on Saturday she was asked to do the Super Bowl halftime show and she said no. She says, ``Come on, that show is not about music.'' She adds that she ``can't dance or anything like that.''
She says maybe she'd do it after her next album. Adele also shut down rumours that she's pregnant, saying she's just been eating too much cheese. 
---
BONNAROO - DRUG CASES
For the first time ever, the court in Coffee County, Tennessee, had an entire day of hearings for people who were busted at Bonnaroo. The Nashville Tennessean reports two judges spent Friday working through 277 criminal cases for defendants cited for drug-related offences at the Bonnaroo Music and Arts Festival in June. Usually the cases are spread throughout the summer. Prosecutors cut plea deals with many defendants that included community service, paying court costs and donating money to the county sheriff's Narcotics Enforcement Team. Court officials say about 60-per cent of the cases were heard. The rest are scheduled for early September. 
---
BILLY CORGAN - WRESTLING COMPANY
Billy Corgan is moving up in the wrestling world.
Impact Ventures has named Corgan as its new president. Impact is the parent company of Impact Wrestling and T-N-A Wrestling. Corgan will lead the company's day-to-day operations. He had been a senior producer for the company since May 2015. 
---
DAN AND SHAY - SHAY MOONEY - ENGAGED
Shay Mooney of Dan and Shay is getting married.
He posted a photo of himself hugging his girlfriend, former Miss Arkansas U-S-A Hannah Billingsley, as she looks like she's about to cry looking at a ring on her finger. He writes, ``I liked it...so I put a ring on it.'' He adds, ``I'm the luckiest man in the world.''
Billingsley posted the same photo and wrote, ``Words aren't enough.
Truly the happiest day of my life.'' 
---     
(The Associated Press)
Details
WEEK OF AUGUST 15, 2016
730 CKDM TOP TWENTY 
MUSIC DIRECTOR:  BRUCE LEPERRE
The Parkland's Best Music ... 730 CKDM
  TW  LW   WO         TITLE/ARTIST/LABEL                                                        WEEKS @ #1
| | | | | | |
| --- | --- | --- | --- | --- | --- |
| 1 | 2 | 18 |   | Fix - Chris Lane (Big Loud Records) | 1 |
| 2 | 4 | 21 |   | Head Over Boots – Jon Pardi (Capitol Nashville) |   |
| 3 | 1 | 16 |   | Record Year – Eric Church (EMI Nashville) | 1 |
| 4 | 6 | 9 |   | Make You Miss Me – Sam Hunt (MCA Nashville) |   |
| 5 | 5 | 10 |   | From The Ground Up – Dan + Shay (Warner Bros./W.A.R.) |   |
| 6 | 7 | 16 |   | American Country Love Song – Jake Owen (RCA Nashville) |   |
| 7 | 11 | 5 |   | Lawn Chair Lazy – James Barker Band* (Universal Music Canada) |   |
| 8 | 8 | 7 |   | I Hate You For It – Chad Brownlee* (MDM) |   |
| 9 | 9 | 6 |   | Peter Pan – Kelsea Ballerini (Black River Entertainment) |   |
| 10 | 10 | 13 |   | You Look Like I Need A Drink – Justin Moore (Valory) |   |
| 11 | 14 | 4 |   | Different For Girls – Dierks Bentley ft. Elle King (Capitol Nashville) |   |
| 12 | 12 | 4 |   | She's Got A Way With Words – Blake Shelton (Warner Bros./WMN) |   |
| 13 | 13 | 8 |   | Running For You – Kip Moore (MCA Nashville) |   |
| 14 | 16 | 3 |   | Rock On – Tucker Beathard (BMLG/Dot) |   |
| 15 | 15 | 5 |   | Without A Fight – Brad Paisley ft. Demi Lovato (Arista Nashville) |   |
| 16 | 17 | 5 |   | Cast Away – Zac Brown Band (SG/Varvatos/Dot) |   |
| 17 | 19 | 2 |   | I Met A Girl – William Michael Morgan (Warner Bros./WMN) |   |
| 18 | 18 | 2 |   | I Know Somebody – LoCash (Reviver) |   |
| 19 | 20 | 2 |   | It Don't Hurt Like It Used To – Billy Currington (Mercury Nashville) |   |
| 20 | – | 1 |   | Daughters Of The Sun – George Canyon* (ole red dot) |   |
This Week's Adds: Bush Party – Dean Brody* (Universal)
Contact Bruce atThis email address is being protected from spambots. You need JavaScript enabled to view it.This email address is being protected from spambots. You need JavaScript enabled to view it.
*INDICATES CANADIAN ARTIST
Details
MEMORIAL FOUNDATION ASKS FOR SITE OF GREAT WHITE CONCERT FIRE TO BE DROPPED FROM ``POKEMON GO''

The foundation that is building a memorial to the 100 victims of the 2003 nightclub fire in West Warwick, Rhode Island, has formally asked for the site to be removed as a stop for the game ``Pokemon Go.'' President Gina Russo of The Station Fire Memorial Foundation says the group has sent two emails to game creator Niantic to remove the Pokestop. She says they have yet to get a response. The fire started when Great White's pyrotechnics ignited soundproofing foam. The memorial is set to open in October.
---
'N SYNC REUNITE FOR BIRTHDAY

The guys of 'N Sync are back together, but just for J-C Chasez's birthday. Justin Timberlake posted a photo of himself with Chasez, Joey Fatone, Lance Bass and Chris Kirkpatrick. 'N Sync went on hiatus in 2002. Their last performance together was at the 2013 M-T-V Video Music Awards.
---
CHRIS LANE'S USHER REFERENCE TURNS INTO A HIT

Chris Lane's joke earned him a number-one country song. Lane says he had an Usher song stuck in his head when he was in the studio one day and started singing falsetto as a goof. His producer snapped around and said, ``That's what we should be doing!'' Lane used his falsetto on the song ``Fix'' and it became a hit. Lane says he grew up listening to Garth Brooks, Alan Jackson and George Strait, but he also loved singers like Usher, Justin Timberlake and the Backstreet Boys.
---
BELLY; HOW DOES ``FEED THE TREE'' GO?

You'd think Belly frontwoman Tanya Donelly had sung ``Feed the Tree'' so many times she could do it in her sleep. She says that was the song she struggled with the most when Belly went into rehearsals for their reunion tour. She says her brain did a ``file dump'' on that one, while she had no problem with songs Belly performed live maybe four times. Donelly and bassist Gail Greenwood hit YouTube to find old footage of their live shows to remind themselves how they used to play certain songs. After seeing themselves jumping around wild onstage, Donelly says they looked at each other and said, ``I hope no one expects us to be doing THAT anymore!'' The Belly reunion tour began last night in Boston.
---
ZAC HANSON IS A DAD

Drummer Zac Hanson of Hanson is a dad again. People magazine reports Hanson's wife, Kate, gave birth to a girl on Saturday in Tulsa, Oklahoma. They've named her Mary Lucille Diana Hanson. The couple also have another daughter and two sons. 
---
GRACELAND WILL OPEN NEW HOTEL THIS FALL

Priscilla Presley says Elvis planned to build a guest house on his property as far back as 1960. He probably did not envision something this big. A six-story, 450-room hotel called The Guest House at Graceland will open in October. It's 22 times the size of Graceland. Presley describes the hotel as beautiful, subtle, contemporary and classy. Heartbreak Hotel is set for demolition because it's getting old. 
---
DIERKS BENTLEY, ONEREPUBLIC WILL OPEN NFL SEASON

Dierks Bentley and OneRepublic will launch the new football season. The N-F-L has announced Bentley and OneRepublic will perform the kickoff concert before the season opener between the Panthers and the Broncos in Denver on September 8th. The concert will be used in the hour-long pregame show on N-B-C and N-F-L Network.
---
CHEVELLE WILL THROW OUT CEREMONIAL PITCH AT WRIGLEY FIELD

Chevelle will fulfill their baseball dreams next week. They will throw out the first pitch for the second game of the Cubs-Brewers doubleheader in Chicago on Tuesday. 
---.
(Associated Press)
Details
TEGAN AND SARA - CREDIT CANADA

Tegan and Sara can attribute a lot of their success to one thing; they're Canadian. Tegan Quin says Canada has a strong arts program that funded artists
like them. She says when Canadian musicians like Tegan and Sara or Drake or Justin Bieber become big, that rallies public support for the program, so
more artists get funding too. She also credits fellow Canadian Neil Young and his manager, Eliot Roberts, for giving them the gift of time. Tegan and Sara
signed to Young's Vapor Records 16 years ago. Quin says they told Tegan and Sara they could take the easy way and possibly burn out quickly, or they could
take the harder route that would let them develop.
---
PETE FOUNTAIN - OBIT

Jazz clarinetist Pete Fountain has died of heart failure. His son-in-law and manager Benny Harrell says Fountain died Saturday morning in hospice care in
New Orleans at the age of 86. Fountain's song ``Just A Closer Walk With Thee'' was an unofficial anthem for traditional New Orleans jazz. T-V audiences
will remember him for his many appearances on ``The Lawrence Welk Show'' and ``The Tonight Show with Johnny Carson.'' Fountain was remembered with
videos at New Orleans' Satchmo Summerfest over the weekend. New Orleans Mayor Mitch Landrieu calls Fountain ``an inspiring performer'' whose
unmistakable sound defined the city's cultural heritage.
---
BLUES TRAVELER FRONTMAN - EMERGENCY SURGERY

John Popper of Blues Traveler can explain why it looks like he's been tipsy on stage lately; he's had an undiagnosed spinal issue. Blues Traveler have
postponed most of their August dates because Popper required immediate surgery to fix three collapsed vertebrae in his neck that are pushing on his spinal
cord. Popper says that's why he's had trouble holding a microphone or a drink in his hand. He says he could have faced total paralysis if it wasn't caught. 
Popper had a broken leg at the beginning of the year, then suffered a stress fracture when his other leg failed to compensate. Popper says he hopes to 
resume the tour on August 24th in Glen Allen, Virginia.
---
GREGG ALLMAN - SICK AND IMPERSONATED

It's bad enough that Gregg Allman is sick. It's even worse that someone is pretending to be him on Facebook and asking for money. Allman, who is 68,
cancelled all his live shows through late October because of ``serious health issues.'' He does not go into details. Allman's past health problems have included
hepatitis, a liver transplant and lung surgery. Allman's social media team writes on his website it has become aware of several Facebook sites that try to
friend people and request money. It says Allman's page is verified with a blue check and he does not send friend requests.
---
PRINCE - PAISLEY PARK

Paisley Park is not for sale. Bremer, the special administrator for Prince's estate, had asked a judge on Friday for permission to offer several of Prince's 
properties for sale. The original filing included Paisley Park. Bremer Trust issued a statement on Saturday saying it has no plans to sell Paisley Park. The 
trust also does not plan to sell the Minneapolis house used for exterior shots in the ``Purple Rain'' movie.
---
BRAD PAISLEY - RACHEL PLATTEN - COMMERCIALS

Brad Paisley and Rachel Platten are providing their take on the Nationwide insurance jingle. They each appear in new commercials for Nationwide. Paisley
says he was intrigued as a songwriter at the premise of there being more to the jingle than ``those seven catchy notes.'' Platten says she was able to show
her playful side that absolutely loves singing at her piano.
---

Details
JUSTIN BIEBER - COUPLE - PSYCH TESTING
A judge is asking Canadian pop-star Justin Bieber's former neighbours 
to prove that they're suffering from emotional distress because Bieber 
egged their house in 2014. Los Angeles Superior Court Judge Holly J. Fujie 
has ordered extensive 
psychological exams for Jeffrey and Suzanne Schwartz. Bieber paid 
the Schwartzes roughly 80-thousand dollars for damage to their home 
and has completed probation for misdemeanour vandalism. The 
Schwartzes sued Bieber last year for emotional distress, saying he 
spit on Jeffrey Schwartz and Bieber terrorized the couple with loud 
parties and aggressive driving. Bieber's attorney says he's pleased 
with the ruling. An attorney for the Schwartzes could not be reached 
for comment.
---
BILL WARD - BLACK SABBATH

Don't hold your breath for drummer Bill Ward to make a surprise appearance as Black Sabbath ends its farewell run. Ward's website responded to recent media reports that he would play drums on the band's tour as it winds up in Britain. The statement says, ``Bill is not playing with Black Sabbath in the U-K or on any other dates of the End tour.'' Ward has been in a dispute with the band in recent years.
---

EX-UNDEROATH SINGER - INJURIES

Former Underoath singer Dallas Taylor is in critical condition after an all-terrain vehicle accident near Ocala, Florida. The Ocala Star-Banner reports Taylor was driving on church property when the A-T-V went out of control and hit a sign. The A-T-V landed on top of Taylor. He was not wearing a helmet. Taylor has bleeding in his brain and a clot in his carotid artery as well as multiple fractures. Taylor now sings for the band Maylene And The
Sons Of Disaster.

---
CHARLIE DANIELS - AUTOBIOGRAPHY

Charlie Daniels finally has an ending to his book. Daniels says he's been working on an autobiography for 20 years and never could find a way to finish the story. He'll be inducted into the Country Music Hall of Fame this year, so that's how the book will end. An exhibit on Daniels will open at the Country Music Hall of Fame and Museum in Nashville, and he turns 80 on October 28th. Daniels is billing his Volunteer Jam in Nashville on November 30th as part of his birthday, so he says that means his birthday will last for more than a month. The Volunteer Jam will feature Daniels, Travis Tritt, Kid Rock, Chris Stapleton and Larry the Cable Guy.

---
SILVERSUN PICKUPS - ``CIRCADIAN RHYTHM''

Every time a band performs a song, they relive the emotions that inspired it. Silversun Pickups are quite happy with that in the case of the song ``Circadian Rhythm (Last Dance).'' Singer Brian Aubert says he wrote it for bassist Nikki Monninger to sing about a friend who died. Monninger
says it's nice to remember that friend every time they play it. Aubert says they get a little shy when they hear it's a hit because it's got personal meaning, but he thinks it's ``lovely'' that a lot of people are hearing it.

---
MARIAH CAREY - REALITY SHOW

One thing you can say about Mariah Carey; she isn't subtle about being a diva. Carey appeared before T-V writers at the Television Critics Association in a silver sequined outfit that barely covered her and she sat on a chair made of six half-naked muscle men. She then moved to a velvet and gold
coach to answer questions with a rhinestone microphone while her hair and makeup were constantly being touched up. It's to promote her upcoming reality show, ``Mariah's World,'' which premieres on E! on December 4th. When asked about doing another reality show after 
``American Idol,'' Carey said ``Idol'' was ``the most abusive experience'' and adds, ``By the way, you've just driven me to drink,'' as she took a swig of champagne.

---
(The Associated Press) 
Details
MUSIC NEWS: THURSDAY, AUGUST 4, 2016
OZZY OSBOURNE AND MISTRESS TELL DIFFERENT VERSIONS OF AFFAIR
Ozzy Osbourne's mistress says it was love. Ozzy Osbourne says it was purely physical. Osbourne's former hair colorist, Michelle Pugh, tells People magazine they had a four-year affair that was ``like an old-fashioned romance.'' She says, ``When I say he gave me the greatest love of my life, I mean it.'' However, Osbourne's representative says in a statement he's been dealing with a sex addiction for the past six years and he's in treatment. The statement says he is sorry if Pugh ``took their sexual relationship out of context'' and he's apologizing to the other women with whom he's had sexual relationships. Osbourne and his wife, Sharon, separated briefly but are back together. 
---
THE BAND PERRY PREPARE FOR BRAZIL
The Band Perry are mixed on whether to be worried about the Zika virus while they're in Brazil for the Olympics. Neil Perry says he isn't worried, but Kimberly Perry acknowledges she is. She jokes they're going to perform in Saran Wrap or in beekeepers' outfits, just to be safe. Team USA chose their song ``Live Forever'' as their theme. The Band Perry will perform it for the athletes in Rio de Janeiro. Reid Perry says they plan to go to the women's gymnastics final, and Kimberly Perry says that's worth fighting off any mosquito. 
---
THE GAME, SNOOP DOGG HELP OUT 3-YEAR-OLD SHOOTING VICTIM
The Game and Snoop Dogg have raised money for a three-year-old boy who lost an eye in a shooting that left his pregnant mother dead. The Game writes on Instagram the story of Zachaeus Waters of Asheville, North Carolina, brought tears to his eyes. The Game contacted the boy's father and started a fundraising drive. The Game says he raised five-thousand dollars for Zachaeus.
Snoop spread the word through his Instagram account too. As of yesterday, an online fundraising site says it has raised eight-thousand-700 dollars. Twenty-four-year-old Nathaniel Elijah Dixon is charged with murder and other accounts in the attack. He was arrested shortly after the shootings. 
---
MARTIN GARRIX RELEASES NEW SONG WITH BEBE REXHA
You will never know Martin Garrix's voice from his music. Garrix says he will sing on demos but he will always get someone else to sing for his songs. Bebe Rexha is the featured vocalist on Garrix's new song, ``In the Name of Love.'' Garrix says he first played that song in Miami in March, and he has been tweaking it ever since. He says it's a bit of a departure for him because most people know him for energetic club songs. 
---
MATISYAHU SURPRISES COFFEE SHOP MUSICIAN
A ukulele player at a coffee shop in Paia, Hawaii, just figured it was some surfer dude singing along as he played a Matisyahu (mah-tis-YAH'-hoo) song. Little did he know it was Matisyahu himself. Matisyahu's bassist, Stu Brooks, posted a Facebook video of the ukulele player performing ``One Day'' while Matisyahu sings along. Matisyahu is sporting long blond hair, no beard, a flannel shirt and swim trunks. At the end of the song, Matisyahu reveals who he is and invites the man to his concert. 
---
``WEIRD AL'' YANKOVIC EXPLAINS WHY HE NEVER COVERED PRINCE
Have you ever noticed ``Weird Al'' Yankovic never did a parody of a Prince song? It's because Prince kept shutting him down. Yankovic has a policy of asking the musicians before he makes fun of their songs. Yankovic tells People magazine he had not approached Prince in 20 years because he kept saying no, but he had a fantasy that Prince would finally agree and ``it would erase decades of weirdness between us.'' Yankovic says he had a parody of ``Let's Go Crazy'' about ``The Beverly Hillbillies'' and was toying with one for ``1999'' that involved an infomercial with those numbers in the phone number. Yankovic says Michael Jackson, on the other hand, was one of the most supportive acts he ever parodied. 
---
SPECIAL ADMINISTRATOR FOR PRINCE ESTATE CAN KEEP SOME INFORMATION CONFIDENTIAL
Some parts of how Prince's estate is being handled can stay secret, according to a court ruling. Bremer Trust, the special administrator for the estate, had asked to keep some documents sealed because of the sensitive nature of the information. Judge Kevin Eide says those documents may stay confidential. 
---
HARRY CONNICK JUNIOR PREVIEWS NEW TALK SHOW
Harry Connick Junior says his new talk show is ``an opportunity to do all the things I love to do under one roof.'' Connick tells TV writers at the Television Critics Association he will use music in a new way on his show. He says sometimes he and his band will play spontaneously just because they feel like playing. While most talk shows have a producer talk to the guests beforehand to come up with talking points for the host, Connick says he's not going to do that. He says he wants his show to have ``this undercurrent of rehearsal.'' Connick's show begins September 12 in syndication. 
--- 
MODEST MOUSE SINGER-CITED
Isaac Brock of Modest Mouse has been cited after a car crash in Portland, Oregon. Police say Brock fell asleep at the wheel and ran into a city-owned pickup truck. He was ticketed for careless driving. Police tell the Oregonian/OregonLive there were no signs that Brock was driving while drunk. 
---
THE O'JAYS PLAY ON ``COLBERT'' TONIGHT
The O'Jays will sit in with the house band tonight on ``The Late Show with Stephen Colbert.'' They will play with Jon Batiste and Stay Human going into and out of commercial breaks. 
---
(The Associated Press)
Details
MUSIC NEWS: WEDNESDAY, AUGUST 3, 2016
THREE DIE AT HARD SUMMER MUSIC FESTIVAL
One man and two women have died after attending an electronic dance music festival headlined by Ice Cube and Major Lazer in Fontana, California, last weekend. The San Bernardino County coroner's office says the causes of death are still under investigation. More than 146,000 people attended the Hard Summer Music Festival. It had moved to Fontana this year after two young women died of drug overdoses at last year's event at the Los Angeles County Fairgrounds in Pomona. 
---
FAN IGNORES NIALL HORAN'S REQUEST FOR NO PHOTOS
Niall Horan of One Direction can't even be sick without a fan taking his picture. Horan called out a fan on Twitter for posting a photo of him sleeping during a flight to London. Horan calls it ``unreal'' and adds, ``If you can't sleep on a plane without people taking photos of you, what can u do.'' The fan noted that Horan said he was sick and had asked for ``no selfies,'' but adds, ``Here is a pic I snapped when he was sleeping LOL he was so friendly!'' 
---
ABC WILL AIR CMA FEST SPECIAL TONIGHT
Luke Bryan remembers playing the C-M-A Fest in Nashville when he was on one of the lesser stages and it was 11 a-m, when hardly anyone was there yet. Now he's one of the headliners.
Miranda Lambert says she first came to the festival when she was a 12-year-old fan and it's crazy to think she's been a performer there for ten years now. Kimberly Schlapman of Little Big Town says the festival brings ``the greatest concentration of country music fans.'' Highlights from CMA Fest will be shown tonight on ABC as a three-hour special. 
---
THE STRUTS GET QUEEN'S LOOK
Singer Luke Spiller of The Struts always liked the Goth look of Queen's early albums and wondered how he could reproduce that. His mother suggested he contact Queen's wardrobe designer from those days. It was that simple. Spiller says he sent the designer an email and she got back to him right away. He says she was excited about making clothes for him because she had not worked with a musician for more than 20 years. While The Struts are often compared to Queen, they generally don't cover Queen songs.
Spiller jokes they'll do it only for large amounts of money. 
---
TONY BENNETT CELEBRATES 90TH BIRTHDAY
Tony Bennett turns 90 today and NBC is marking the occasion with the announcement of a Bennett tribute special that will run during the holidays. Andrea Bocelli, Michael Buble , Aretha Franklin, Lady Gaga, Billy Joel, Elton John, Diana Krall, k.d. lang, Rufus Wainwright and Stevie Wonder will perform, as will Bennett himself.
Bennett says he feels like he's just getting started and he looks forward to each day. ``Just Getting Started'' also happens to be the name of his new book, out November 15th. The two-hour special ``Tony Bennett Celebrates 90: The Best Is Yet to Come'' will air on December 20th. 
---
GERMAN FESTIVAL BANS BACKPACKS FOR SECURITY REASONS
Backpacks and bags will not be allowed at Germany's Wacken Open Air festival this weekend after a suicide bomber blew himself up outside a music festival last month. The festival outside Hamburg features Iron Maiden, Ministry, Twisted Sister, Whitesnake, Henry Rollins, Blue Oyster Cult, Foreigner and about 100 other bands. A festival spokeswoman says checking bags will slow down security checks too much. Fifteen people were injured in the bombing at a music festival in Ansbach last month. 
---
KANYE WEST AND DRAKE HINT AT ALBUM
Kanye West and Drake sure have been friendly lately. Could a collaboration album be in the works? West showed up during Drake's set at OVO Fest in Toronto on Monday. West asks the crowd if they are ``ready for this album'' as he pointed to Drake.
Last week, Drake was a special guest at West's concert in Chicago. 
---
ZIGGY MARLEY WRITES COOKBOOK
Ziggy Marley is ready to teach you to eat the way he does. He will put out a cookbook called ``Ziggy Marley and Family Cookbook: Delicious Meals Made with Whole, Organic Ingredients from the Marley Kitchen'' on October 11th. The book includes recipes for classic jerk chicken and fish, as well as many that are vegetarian, vegan or gluten-free. Marley decided to put together a cookbook after the success of his Ziggy Marley Organics line of hempseeds and coconut oils, launched three years ago. 
--- 
(The Associated Press)
Details
MUSIC NEWS: TUESDAY, AUGUST 2, 2016
THIRD EYE BLIND SELL ``SCIENCE'' SHIRTS AFTER CLEVELAND SHOW CONTROVERSY
Third Eye Blind are turning a Twitter topic into a political fundraiser. Singer Stephan Jenkins says they are selling T-shirts that say ``Raise your hand if you believe in science'' on their website and donating the money to the campaign of Democratic presidential candidate Hillary Clinton. That's what Jenkins said from the stage to an audience full of Republican National Convention attendees during a Third Eye Blind show at the Rock Hall two weeks ago. Jenkins says he looked out at the audience and saw ``a lot of pearls and blazers.'' His comments about science and gay rights did not sit well with that audience, and Third Eye Blind was a trending topic on Twitter for three days after that. 
---
PRINCE'S ESTATE RACKS UP $2 MILLION IN LEGAL BILLS
Figuring out the fate of Prince's estate is expensive. The special administrator overseeing the estate, Bremer Trust, is seeking permission from the court to pay several law firms for work on the estate. The biggest share is 1.9-million dollars to the Stinson Leonard Street firm. Other legal work brings the total to near two-million. Bremer is also asking the court to approve its own fees, but that amount is under seal.
Another document shows Bremer is requesting permission to sell some of Prince's properties. 
---
KESHA SHIFTS FOCUS IN DR. LUKE FIGHT TO NEW YORK
Kesha is dropping her California lawsuit charging producer Dr. Luke sexually abused her. But a similar case will remain in play in New York. Her attorney says Kesha wants to focus her legal efforts in New York, where she has also sued the producer charging that he raped her and frequently ridiculed her. Dr. Luke has denied her allegations and accuses Kesha of trying to get a better recording deal. 
---
JAKE OWEN REFLECTS ON ``AMERICAN LOVE''
Jake Owen's life was upside down in the past year. His and his wife divorced, she moved with their three-year-old daughter from Nashville to Florida, he had a new boss at his record label and he was living in random places as his house was remodeled.
Owen says he could have made a breakup album, but he found himself attracted to more upbeat songs. He says he owes it to himself and to his fans to make music they all enjoy. The result is the album ``American Love,'' out now. 
---
CYNDI LAUPER THINKS PINK
Cyndi Lauper is not ready to become a blue-haired old lady. Pink, however, is fine. Lauper, who is 63, tells AARP The Magazine she has reached an age where she can have pink hair if she wants it, or blue. She says blue tends to turn a little green, so she's going with pink for now. When asked about getting older, Lauper says, ``Age has nothing to do with it. You'll get wherever it is you want to go at whatever time in your life you want to do it.'' 
---
COLE SWINDELL WILL JUDGE MISS AMERICA PAGEANT
Cole Swindell will be watching the Miss America contestants very intently this year. He's going to be a judge for the competition. The other judges will be entrepreneur Mark Cuban, actress Sara Foster of VH1's ``Barely Famous'' and former Miss America Sharlene Wells Hawkes. More judges will be announced in the coming weeks. The Miss America competition will be September 11th in Atlantic City, New Jersey. 
---
REHAB FACILITY NAMED FOR AMY WINEHOUSE OPENS
The Amy Winehouse Foundation is marking the fifth anniversary of her death by opening a drug and alcohol rehab facility for women. The British newspaper The Guardian reports Amy's Place opened yesterday in east London, with facilities to help up to
16 women at a time. Dominic Ruffy of the Amy Winehouse Foundation says the facility will not just help women kick their addictions, but it will help them learn things like job skills or how to apply to school. Winehouse died in 2011 from accidental alcohol poisoning. 
---
12 ARRESTED AT LOLLAPALOOZA
Lollapalooza was a day longer this year, but the number of arrests plummeted from last year. The Chicago Tribune reports 12 people were arrested at the four-day festival this past weekend, compared to 34 arrests over three days last year. In 2015,
238 people were sent to hospitals, while 268 were transported to hospitals this year. Most of the medical transports were alcohol-related. Authorities say tighter security and cooler weather contributed to the drop in arrests.
(The Associated Press)
Details
MUSIC NEWS: FRIDAY, JULY 29, 2016
CANADA'S NATIONAL UKRAINIAN FESTIVAL KICKS OFF TODAY

CNUF is back for their 51st year of music and dance at Selo Ukraina just minutes south of Dauphin!
Events get underway today and will continue all weekend long! 
The Sunday night Catalyst Credit Union Main Stage headliner is Kozak System direct from Ukraine.
Tickets are still available.  
PRINCE - MUSIC TRIBUTE
Remember when the Billboard Awards and the B-E-T Awards battled to see who could put on the best Prince tribute? Now, the family of the late musician is out with plans to do their own musical tribute to Prince. It's set for October 13th _ just shy of six months after he died. No word on who will be involved; the family says it will release that information in bits and pieces as the date gets closer. In a statement, the family says it looks forward to having Prince's family, friends and colleagues come together to pay homage to the musician's life, talent and legacy. 
---
BOB DYLAN - MOTORCYCLE ACCIDENT - 50 YEARS LATER
It was 50 years ago today that Bob Dylan got into a motorcycle accident and was sidelined for months, just as his career was taking off. What happened is still a mystery. Dylan talks about it in general terms, and most witnesses don't say much.
Selma Thaler, the widow of Dr. Ed Thaler, who treated Dylan, recalls Dylan showed up at their house ``very upset'' and did not want to go to a hospital. He stayed at their house for about a month. Thaler says Dylan was sweet and quiet, but she doesn't remember any visible signs of injuries. She thinks he broke his neck. Thaler says Dylan came back to visit about four years ago. 
---
LOLLAPALOOZA - OPENS
Lollapalooza added a fourth day this year, but you don't have to pity the acts who played early on a Thursday. Bas teamed up with rappers Omen and Cozz to perform at 1:30 p-m yesterday and they loved it. Bas says everyone is still fresh and excited to see what the festival is going to be like, and they got to greet everyone. Melanie Martinez put a crib onstage during her set, which made perfect sense when you realize it has to do with the Cry Baby character from her music. Drummer George Daniel of The 1975 says they wanted to play Lollapalooza again because they got a better set time this year. 
---
BRUCE SPRINGSTEEN - AUTOBIOGRAPHY
Bruce Springsteen will put out a series of tracks to go with his autobiography. ``Chapter and Verse'' will include two tracks from his first band, The Castiles, as well as early bands Steel Mill and The Bruce Springsteen Band. The album will include the previously unreleased early 1970s songs ``He's Guilty (The Judge Song),'' ''Ballad of Jesse James`` and ''Henry Boy.`` It will also include E Street Band songs and solo tracks like ''Born to Run,`` ''The River,`` and ''The Ghost of Tom Joad.`` ''Chapter and Verse`` comes out September 23rd, four days before Springsteen's book, ''Born to Run.`` 
---
PRINCE - ESTATE
The judge handling Prince's estate may be easing up on some of the privacy constraints he has slapped on the proceedings. Minnesota judge Kevin Eide says he will consider letting cameras into his court _ but not for blanket coverage. The Carver County District Judge says he will decide on a hearing-by-hearing basis how much exposure the case will get. Media outlets, including The Associated Press, have been seeking more access to hearings that will determine who gets what of Prince's estate. But lawyers for the musician are balking over having the estate's business dealings made public. They argue that entertainment deals are usually kept close to the vest _ and that shouldn't change because Prince is dead. 
---
MARY J. BLIGE - DIVORCE
Some new personal drama for Mary J. Blige. She is splitting from her husband-manager. Her filing for divorce would end their union of nearly 13 years. The court papers say Blige is seeking a divorce from Kendu Isaacs on the grounds of irreconcilable differences _ and no other details for the breakup were listed in the filing. Blige has asked the court to deny Isaacs spousal support. The two have no children together. 
---
(The Associated Press)
Details
MUSIC NEWS: THURSDAY, JULY 28, 2016
TODAY IS THE CHAMBER STREET FAIR IN DOWNTOWN DAUPHIN

Take in the vendors, activities and live entertainment until Midnight. Enjoy a full day of live entertainment on the main stage. 10am Prairie Dust, 11am The 32, 12pm PTO, 2pm Metis Fiddler Brendan Chartand, 3pm Morgan Lane, 4pm Zirka Ukrainian Dance Ensemble and Bratsva Ukrainian School of Dance, 5pm Al Simmons, 6pm Bob Thompson, 7pm Chris Barker, 8pm Tere and Friends, 9pm Ten Stone, 10pm Refusion and the 730 CKDM/Battle of the Bands winner Kate's Outlaw at 11pm.
COUNTRY ACTS LINE UP TO HELP DALLAS POLICE OFFICERS
Moe Bandy says he moved a concert so he could be part of last night's Stars Behind The Stars police benefit in Dallas. Bandy says the minute he heard about the concert, he wanted to be a part of it. Other performers included Tanya Tucker, The Oak Ridge Boys, Mark Wills, Collin Raye, Janie Fricke, T.G. Sheppard, Kelly Lang, The Bellamy Brothers, T. Graham Brown, Johnny Lee, Gene Watson, John Conlee, Ronnie McDowell and Mickey Gilley. The concert raised money for the Dallas Police Association's Assist the Officer Foundation. 
---
SPIRIT GUITARIST'S TRUST FILES APPEAL IN ``STAIRWAY TO HEAVEN'' CASE
The fight over ``Stairway to Heaven'' is not over. An attorney for the trust of Spirit guitarist Randy California has appealed a jury decision that found Led Zeppelin did not steal the intro of ``Stairway to Heaven'' from the Spirit song ``Taurus.''
The filing does not say why the case should be reconsidered.
Attorneys for Led Zeppelin and other defendants, meanwhile, are seeking close to $800,000 in legal and other fees from the trust for taking them to court and failing to prove its case. A hearing is scheduled for August 8. 
---
BRIAN MAY REACTS TO ELIZABETH BANKS USING ``WE ARE THE CHAMPIONS''
Queen guitarist Brian May says Elizabeth Banks walking out to ``We Are The Champions'' at the Democratic National Convention was just as unauthorized as when Donald Trump did it at the Republican National Convention, but at least this time he laughed. May tells Rolling Stone the DNC did not ask permission to use the song. However, he says, ``Watching Donald Trump parade himself to 'We Are The Champions' gave me a sinister feeling - but Elizabeth's 'performance' was clearly lighthearted.'' May says he doesn't have much choice in the matter, but he'd choose using the song for comedy over hatred any day. 
---
O'JAYS ASK REPUBLICAN CONGRESSMAN TO STOP USING THEIR MUSIC
The O'Jays are asking a Republican to stop using their music for the second time in a week. In a statement released yesterday, Eddie Levert and Walter Williams say they sent a letter to Congressman John Mica of Florida. They want him to stop using their song ``For The Love Of Money'' in an online video featuring Donald Trump first posted in 2014. Levert says, ``Trump and his people have no right to help themselves'' to their music.
Levert adds that Trump ``presents himself as supporting 'law and order' but, in truth, he's not respecting the law at all.'' The O'Jays earlier blasted the Republican presidential nominee for using their song ``Love Train'' during last week's Republican National Convention. A version was remixed as ``Trump Train'' without the O'Jays' consent. 
---
VINCE NEIL PLEADS NOT GUILTY IN AUTOGRAPH SEEKER ASSAULT CASE
Lawyers for Vince Neil have entered a not guilty plea in a case in which Neil is accused of grabbing a woman's hair.
Attorney David Chesnoff says people should not prejudge the situation until all the facts are in. He says his team is still investigating the April 7 incident in Las Vegas. An autograph seeker told police Neil grabbed her hair and pulled her to the ground.
Bystander video shows actor Nicolas Cage physically restraining Neil until police arrived. 
---
UNDERSHERIFF: JUSTIN TIMBERLAKE SLAPPING INCIDENT IS ``A VERY MINOR EVENT''
Authorities in Reno, Nevada, say the incident involving a man who slapped Justin Timberlake on the back of the neck is not that big of a deal. Douglas County Undersheriff Paul Howell says it was ``a very minor event'' but he issued a news release because of the many media inquiries. TMZ posted a video showing someone's hand hitting Timberlake on the neck during a golf tournament at Lake Tahoe last weekend. Twenty-nine-year-old Keith Weglin of Sacramento was booked for disorderly conduct and released on bail. Howell says Weglin was arrested for his conduct as deputies escorted him out of the tournament, not for touching Timberlake.
Howell says Timberlake has declined to press charges. 
--- 
NO CHARGES AGAINST DR. DRE
Los Angeles prosecutors won't bring gun charges against Dr. Dre (DRAY). A spokesman for the Los Angeles district attorney says there was a lack of evidence that the record producer flashed a gun in public. Sheriff's deputies had cited Dre for a misdemeanour after a man reported that Dre pointed a handgun at him and threatened him outside Dre's Malibu home Monday. Dre told sheriff's deputies he didn't have a gun and had only asked the man to move the car blocking his driveway. 
---
FLORIDA GEORGIA LINE EXPLAIN WHY THEY DIDN'T WANT ARMED OFFICERS BACKSTAGE
Florida Georgia Line say they did not mean any disrespect when they requested that there be no armed officers backstage during music festivals last weekend. The band say in a statement it was a simple misunderstanding. They say their management was asked if they wanted local law enforcement for extra security, but the managers felt it was redundant when they already had security present. The general manager for the Country Thunder Music Festival in Twin Lakes, Wisconsin, says people complained on Facebook after the band requested no armed officers on Friday. A sheriff in Jones County, Iowa, told Fox News that the band made a similar request when they performed there Saturday. 
---
PERRY FARRELL EXPLAINS HIS ``I HATE EDM'' COMMENT
Perry Farrell is clarifying the comments he made about electronic dance music and Lollapalooza. The Chicago Tribune had asked Farrell about booking current EDM artists for Lollapalooza and he replied, ``I hate EDM. It makes me want to vomit out of my nostrils,'' and ``I sometimes cringe at my own festival.'' Farrell writes on Facebook he loves dance music, and he points out the festival named the EDM area after him because of his passion for it.
He says he's fought so hard over every Lollapalooza lineup that he's nearly come to physical altercations over it. However, he says his comments to the Tribune were ``unrestrained and straight from my heart.'' Lollapalooza starts today in Chicago. 
---
SLASH JOINS ``SCHOOL OF ROCK'' KIDS FOR REHEARSAL
The kids in the Broadway musical ``School of Rock'' were rehearsing ``Sweet Child O' Mine'' on Friday when in walked Slash himself. He joined in with young guitarist Brandon Niederauer, but singer Bobbi MacKenzie did not notice until after the song is over. She covered her mouth in surprise. Slash shook hands with the kids before they all broke out ``Paradise City.'' 
---
LORI McKENNA: THE MAC AND CHEESE GRAMMY
The woman who co-wrote ``Girl Crush'' for Little Big Town is trying not to take herself too seriously after the success of that song. Lori McKenna won the best country song Grammy and jokes most people drink champagne out their trophies, but at her house, they wanted to put macaroni and cheese in it. McKenna says her kids think the Grammy is cool but they don't think she's cool.
It's probably for the best, because it keeps McKenna from getting lost in music. She says she can't take herself too seriously as an artist when someone in her house is asking when dinner is. McKenna will release her tenth album, ``The Bird and the Rifle,'' on Friday. 
---
PUBLIC ENEMY ACTION FIGURES ON THE WAY
Public Enemy are getting their own action figures.
The four-inch figures will have movable arms, legs and heads and show Chuck D, Flavor Flav, Professor Griff, and DJ Terminator X in their iconic looks from the 1980s. The set will sell for $60 beginning next month. 
---
THOMAS DOLBY PUBLISHES LIFE STORY
Thomas Dolby says most of the characters in his life are dead or in jail, so he felt it's time to spill the beans.
Dolby will publish his autobiography, ``The Speed of Sound: Breaking the Barriers Between Music and Technology,'' on October 11. One of the anecdotes he relates in the book is getting fired from his job at a grocery store when he was 16 and finding an abandoned synthesizer in a dumpster. That's how he launched his music career.
He also discusses being an early MTV star and his second career in Silicon Valley. 
---
CURE DRUMMER PLANS BOOK
Drummer Laurence ``Lol'' Tolhurst of The Cure will give the inside story of the band. Tolhurst will put out an autobiography called ``Cured: The Tale of Two Imaginary Boys'' on October 11. Tolhurst met singer Robert Smith on the first day of school when they were five years old in Crawley, England, in 1964.
Lolhurst calls the book ``a record of the things that have kept me awake at 4 a.m., the precious flowers of the past blooming in the dark corners of memory.'' 
---   
ECHOSMITH WILL PERFORM FOR SKATERS AND GYMNASTS
Echosmith will provide the soundtrack for a TV special that features the top talent from the worlds of figure skating and gymnastics. Echosmith will perform live for the Colgate Skating and Gymnastics Spectacular on December 7 in Amherst, Massachusetts. The event will feature skaters Meryl Davis and Charlie White and Nancy Kerrigan. The gymnasts will be announced after the Olympic Games in Rio de Janeiro. An air date has not been announced. 
---
(The Associated Press)
Details