Local News
Manitoba has had a poor history of managing fisheries dating back several decades.
The Manitoba Wildlife Federation and several other angling related organizations have made some recommendations to the minister of sustainable development to help fix fisheries in Manitoba.
Just like Lake Winnipeg our local lakes have faced a dropping Walleye population. The large Walleye population has dropped by 85 percent since 2012 and it could get worse.
Brian Kotak, managing director of the Manitoba Wildlife Federation, explains what dropping fish populations will do.
"The farther we drive the fish stocks down, the more we risk not only the commercial fishery itself but we also risk the economic spinoffs and benefits of the angling fishery."
Just from the past two years, there was $221 million in direct spending by anglers, adding $102 million to the province's GDP, $44 million in wages, supporting more than 1,500 person-years of employment, and contributing $52 million in taxes. That's all from Walleye in Lake Winnipeg.
Kotak wants people that are concerned to get in contact with their MLA, so they know the importance of angling in the province.
Details

Contributed by

Isaac Wihak
Highway 19 in Riding Mountain National Park is being rehabilitated.
The first of the two-phase project starts today and will continue until December 14th.
Phase one will involve clearing trees in the ditches and the replacement of 23 culverts along the corridor. As necessary, the road will be re-graded or widened and culverts added or replaced.
The whole rehabilitation project will improve the safety and reliability of road infrastructure, improve ditches and drainage, and offer safe vehicle access through the East Gate.
Parks Canada is committing approximately $3 million to the project.
Road restrictions will be implemented during the construction period. Weight restrictions of 6006 lbs or 2730 kg gross vehicle weight will be enforced on Highway 19 within the boundaries of Riding Mountain National Park. As an approximate guide, the largest vehicle allowed would be an empty three-quarter ton truck or a loaded half-ton truck.
Travellers should be prepared for a construction zone and occasional delays of up to 20 minutes.
Phase two of the project will begin in 2019 and continue until spring 2020. More details on this portion of the project will be shared closer to the commencement of the work.
Details

Contributed by

Benjamin Schwab
Getting vaccinated is important for people, but how important is it for pets?
Dr Roxanne Neufeld, owner and vet at the Dauphin Vet Clinic, says it's very important to vaccinate pets because the vaccines will keep pets from getting a variety of diseases.
Vaccinations for pets and farm animals can be done at the Dauphin Vet Clinic.
One of the most important vaccines they give out to cats and dogs is the rabies vaccine.
Other core vaccines for dogs are parvovirus and distemper.
For cats, the core vaccines are for rhinotracheitis, calicivirus, and panleukopenia.
They can also do other vaccines based off of the lifestyle and risks for the certain type of pet.
Details

Contributed by

Isaac Wihak
A 61-year-old man from Austin is dead after a collision resulted in an auger landing on him.
Yesterday at 5:00 p.m., officers from the Amaranth RCMP received a report of a collision at a farm site located approximately six kilometres north of Highway 16 on Provincial Road 242 in the RM of Portage La Prairie.
A tractor operated by a 59-year-old man from the RM of North Norfolk was pulling a grain auger when it collided with low-hanging branches and fell over on its side.
The auger ended up landing on a 61-year-old man from Austin, who was assisting in the site-to-site transfer of the auger.
The 61-year-old man was pronounced deceased at the scene.
Amaranth RCMP and Manitoba Workplace Safety and Health continue to investigate.
Details

Contributed by

Darnell Duff
Grade 12 provincial 40S language arts and mathematics test results are going to be published by the province.
The Manitoba government is bringing back the practice of publishing results from each school division in the province.
Pam Iwanchysko, the chairperson of the parent advisory council at the DRCSS, gives her thoughts about the province releasing these results.
"I think it's critical. It's really important, as a parent to understand where we're at in regards to our education system and how our kids are faring with regards to the rest of the province. So I think it's great that they are releasing those results."
She had a chance to look over the results from the Mountain View School Division.
"I think it's really important to stress where, for example, our local division is, in relation to results in terms of the averages. Within the Mountain View School Division, for example, they've really focused on the math and English skills. And although the ELA is still below the provincial average, the math skills are definitely going up."
Education and Training Minister Kelvin Goertzen says that sharing the results will encourage school divisions to use the information benchmarks to monitor performance and to engage community members on solutions to local issues.
The province previously posted results at the division level but moved to release provincial-level results in 1999.
Details

Contributed by

Benjamin Schwab
Tonight is your chance to sample wines from across the world, right here in Dauphin.
The annual wine tasting fundraiser hosted by Dauphin's Rotary Club and the Dauphin Liquor Mart is tonight.
It starts at seven and runs until ten.
Howard Wirch, chair of the event for this year, talks about what everyone should expect.
"There's different tables set up by various vendors that represent different wine distribution companies. They display a verity of wines from all over the world. There are wines from Canada, of course, from B.C. and Ontario. There is even one table that is featuring Manitoba wines. Then there are wines from across the world."
Wines are coming from typical wine producing countries like France, Spain, Australia, Chile, and Argentina and the US.
Wirch explains how the night works.
"As part of your entry, we give away complementary programs which have all the wines and tables listed in the program so that you can make notes or check off the wines that you do like. Obviously, everyone is drawn to different types of wines. Whether it be white or red, or Rose or Sparkling. All are featured, and each representative will probably have a verity of different wines on their table."
Tickets cost only $30 for the night out and include the wine, the Co-op's deli department showcasing a selection of cheeses and other deli items for sampling plus lots of entertainment.
it's taking place upstairs at the Parkland Recreation Complex.
They can be purchased at the Dauphin Liquor Mart, or you can call Howard at 204-647-3005, or Ryan at 204-647-5903.
Details

Contributed by

Benjamin Schwab
The Dauphin Legion Branch's poppy campaign has begun.
Today and tomorrow you can get poppies at a few locations.
The locations you can get a poppy are Co-Op, No Frills, the liquor store, and the mall.
A few other businesses downtown will have poppies as well.
The poppy is to remember what we went through with the wars.
The money made from poppies goes back into the community to help veterans and seniors.
Details

Contributed by

Isaac Wihak
Tonight around 5:30 you might see a bunch of zombies walking around in Dauphin.
It's a celebration put on by the Dauphin Friendship Centre for Halloween.
Their walk usually takes them somewhere on Main St. before they turn around and go back to the Friendship Centre.
Kids will start to show up at the Friendship Centre around 5:00, with the walk starting at 5:30 tonight.
After the walk, the kids will have supper, hangout and eat candy at the Friendship Centre.
If someone wants to do the Zombie Walk that hasn't attended youth activities with the Dauphin Friendship Centre there will be a little sign-up.
Details

Contributed by

Isaac Wihak
The key interest rate has been raised by the Bank of Canada.
When the interest rate goes up it means those who borrow money will have to pay more, whereas those who are saving money will be happy.
The rates get increased because the bank of Canada worries about inflation.
President of Sunrise Credit Union, Tim Klassen's advice is to plan ahead if you know you have a loan or mortgage that will need to be renewed soon.
CEO of Fusion Credit Union, Ron Hedley's advice is to control your debt or try to lower it.
Fusion Credit Union won't look at making changes until sometime next week.
Details

Contributed by

Isaac Wihak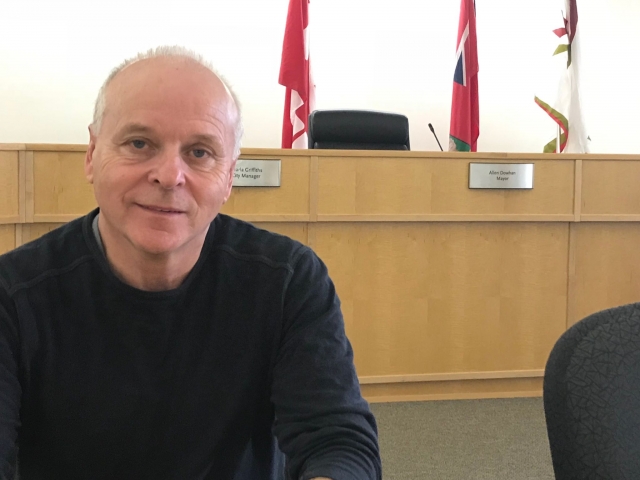 City of Dauphin voter turnout was down for this year's municipal election.
There was a 30 percent turnout, compared to 34 during the last election.
Kirk Dawson, the Senior Election Official, talks about the election and why he thinks the turnout was so low.
"We anticipated, actually, a stronger showing as the advance polls were up 18 percent on October 18th. Our analysis would be that because there was no mayoral candidates being elected that maybe that was why the turnout was a little lower. The actual election itself was uneventful and went very smoothly."
He talks about the campaign overall.
"I thought it went great! Obviously, Al Dowhan was acclaimed as mayor, but as the councillor standpoint, the participation of all ten candidates was very strong. I think people saw signs around town, the Chamber of Commerce event where the debate happened was excellent and well attended. We look at the media hits; there it was strong. I think the electorate was well informed. All candidates did themselves proud."
For the low turnout, Dawson thinks it's something the community needs to talk about. He wonders what causes it and what could bring more people to the polls. Is it more awareness, is there voter apathy?
He says voting is essential for democracy and he would hope voter turnout numbers would be more than 50 percent.
Details

Contributed by

Benjamin Schwab
Update: Around 12:30, roads opened back up and everything has been cleared up.
-----
There is a big anhydrous leak around McCreary.
RCMP are asking that everyone avoid the area.
The gas leak is south of town and no one is being evacuated within the community.
RCMP have closed the intersection of Highway 50 and 5 and two miles south.
We'll keep you updated as more information is released.
Details

Contributed by

Benjamin Schwab