Local News
A Dauphin doctor has been recognized for his work.
Dr. Scott Kish, site lead for the Parkland's Family Medicine Unit, won the 2018 Manitoba College of Family Physicians award for Family Physician of the Year.
Dr. Kish explains what the award means to him:
"It's an honour, for sure, and a surprise as well because I wasn't aware that I was nominated. I think the recognition of who's gone before me with this, in terms of our residency program, Dr. Mike Penrose has won this award and Dr. David O'Hagan has as well, and just knowing them personally and knowing what their practices have been like and the standard of care they provide; I think that makes this even more meaningful for me."
Dr. Kish will receive the award in April at the Annual Scientific Assembly in Winnipeg.
Details

Contributed by

Brady Lang
A new unique testing system is now available in Dauphin.
Heartland International English School is bringing IELTS to its second Manitoba location, which will be here.
David Kunza , Mountain View School Division Coordinator for the International Student Program, explains what the testing system is:
"It stands for International English Language Testing System and it's an English proficiency test. It tests the test-takers on their speaking, reading and listening abilities.
This testing will help international students come to school here, and any foreign workers who are applying for immigration or work visas.
Details

Contributed by

Jennifer
A teacher from Dauphin received a nomination for Manitoba's Educator of the Year.
Lindsay Agnew was nominated for her work with students at the DRCSS.
She says it was a team effort to accomplish what she was able to do, with the students and her peers at the school.
Agnew talks about the work she has done, and that she was very honoured her peers nominated her for such an inspiring award.
"The program I was running at the time was the Community Transitions Program, at the DRCSS. I have students between the ages of 12 to 21 that are transitioning out to the community. So we do a lot of activities within the class room, the school, and also the outside community. Whether it be work placement, regular classrooms, life skills, social skills, various things like that."
As a nominee, Agnew traveled to Winnipeg to attend the Manitoba "Yes I Can" awards last Thursday.
Details

Contributed by

Benjamin S
A Wine Draw Fundraiser is scheduled for next Thursday.
The event is put on by the Dauphin Kinette's Club and gives people the opportunity to win back their wine.
Nicole Gulenchin,Treasurer for the club, explains what the event is:
"What we do is you buy your ticket for ten dollars, you buy a bottle of wine from the liquor mart or wherever you buy your wine. The wine must be store bought. Bring it with you, we take your wine and pool it together with everyone else's wine and then we give it away in increments. The smallest prize we had was three bottles last year and the largest last year was 9 or 15 bottles. Last year we had 20 prizes."
There will be a 50-50 and multiple draws, and the proceeds will go to local clubs.
It starts at 7:30 in the evening, at the 8th Ave. Hall, and for tickets call 204-647-2000.
Details

Contributed by

Brady Lang
All credit unions will be able to continue to use the terms 'bank, banker and banking.'
The change in the ruling came, thanks to the federal budget stating that credit unions would have the flexibility to use those terms.
Last summer, the Office of the Superintendent of Financial Institutions planned on enforcing the Bank Act rules and prohibited credit unions from using terms surrounding 'bank' in their operations.
The Canadian Credit Union Association estimated the change could've cost $80 million dollars.
Details

Contributed by

Jennifer
RCMP were called to the scene of an incident.
On Monday, apasserby reported finding an unresponsive 40-year-old female, discovered in the ditch along Provincial Road 354, south of Oak River, and 70 kilometres northwest of Brandon.
Emergency Medical Services arrived and transported the female to the hospital, where she was pronounced deceased.
RCMP is investigating the death as suspicious.
Details

Contributed by

Benjamin S
Parkland agri-producers are encouraged to attend the Farm Credit Canada Forum taking place in Brandon.
It's your opportunity to be inspired and network with business owners around the Parkland and Westman areas.
Presenters will share their stories of success and offer insights to help agri-business owners grow business.
FCC District Director Wilco Van Meijl says the speakers they have lined up are worth the drive to Brandon:
"They motivate us, they bring up unique ideas, to think outside the box in our businesses. They inspire us to achieve more or have a dialogue in a different way within our business. It's a really cool event."
The speakers at the forum are sportscaster Brian Williams, Dragons' Den star Manjit Minhas, and psychologist and stress expert Dr. Georges Sabongui.
You can still register for the event on Friday by going to https://www.eventbrite.ca/e/fcc-forum-brandon-tickets-36695918480
Details

Contributed by

Benjamin S
Parkland Crossing held their Coldest Night of the Year event last Saturday.
It was held at Parkland Crossing, where they had a 2-, 5- and 10-kilometre walk, followed by supper and entertainment.
Jamie Harvey, Director of Parkland Crossing, explains how the night went:
"We had a great evening for the Coldest Night of the Year walk and dinner. We had 9 teams register with a total of 26 walkers and we raised a little over 13 thousand dollars so far."
Parkland Crossing raised the money for their greenhouse project.
Details

Contributed by

Brady Lang
The three free home renovation workshops, which start on Thursday, are now full.
The Dauphin Neighbourhood Renewal Corporation and the Dauphin Consumers' Co-op partnered up to offer these classes.
Alison Moss, Community Liaison for the Dauphin Neighbourhood Renewal Corporation, talks about the response to the workshop:
"We have had an incredible response from the community. Tons of messages every day, and all three sessions are now full, with 40 people per session. So that is an incredible response from our community."
The first session starts on Thursday and is teaching drywalling techniques and hanging an interior door.
Details

Contributed by

Jennifer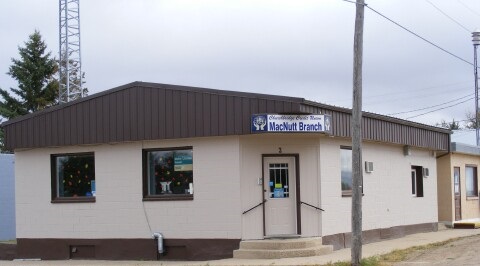 MacNutt Credit Union, in MacNutt, Saskatchewan, is closing its doors for good today.
The membership in the branch has decreased by 11 percent since 2010.
The credit union is staffed by only one person, and after it was robbed in 2007, it has been deemed a safety risk.
All the accounts will be transferred to Langenburg.
Details

Contributed by

Jennifer
A precautionary Boil Water Advisory for Bowsman is in effect until further notice.
A line break on February 27th, has led to the loss of water pressure in the distribution system.
All water used for consumption should be brought to a rolling boil for at least one minute.
Details

Contributed by

Brady Lang