Local News
New councillors for the RM of Dauphin are sworn in.
The RM held a ceremony last night where each councillor took the oath of office.
New Reeve Ron Ryz is looking forward to working with the new group of councillors.
"I told the other councillors that they got elected as individuals and now we are going to work as a team. The RM we have our team in place already. We have our crew that works outside. Then we have our office team. The ladies in our office are awesome. They get along very well. Then we have our council, and we're going to be a team. We're going to put all those teams together and basically form one great super team."
He says they have a lot of work ahead of them and that he's quite excited about it.
"We had a lot of accomplishments that we did last term, and we're going to build on them. When we meet with council we will determine what direction they are going to go and what we are going to do."
Details

Contributed by

Benjamin Schwab
There were no injuries in the collision on Main St. yesterday afternoon.
A northbound car was turning left and was hit by a car driving south.
The two-vehicle accident occurred on Main Street by 7-11 and Parkland Source for Sports.
Details

Contributed by

Isaac Wihak
A trailer was burned to the ground north of Ochre River.
The Ochre River Fire Department responded to the home around 1 in the afternoon yesterday and stayed until around 8 in the evening.
When they arrived, the entire building was fully engulfed in flames.
The fire department determent that a baseboard heater was probably the cause of the fire.
No one was home at the time of the fire.
Details

Contributed by

Benjamin Schwab
The Farm Products Council of Canada has started the public hearing process to figure out the benefits of a hemp Promotion and Research Agency.
Having the hemp PRA would allow hemp growers to be involved in the advancement of the industry while helping them with research and promotion as well.
The biggest reason for getting a national agency is that hemp is a small acreage crop.
If there were 3 or 4 provincial agencies funds would get eaten up by administration costs.
Details

Contributed by

Isaac Wihak
The final crop report from Manitoba Agriculture is out, and despite all of the challenges this year, most harvests are 98 to 100 per cent complete.
The only crop harvests outside of that range are the Sunflower harvest at 80 per cent complete, and the Grain Corn harvest at 61 per cent complete. The total amount of seeded acres across the province for Canola is 3,258,323, and for Soybeans is 1,892,391.
In the Northwest region of the province, Hard Red Spring Wheat yields have averaged around 65 to 85 bushels an acre, and Canola yields averaged around 50 to 60 bushels an acre.
See the full seasonal summary crop report here
Details

Contributed by

Alec Woolston
Intermountain Conservation and Turtle River Watershed Districts are being forced to come together.
Intermountain currently covers seven municipalities, and the merger area will cover around 15.
Jeff Thiele, the manager of Intermountain, says both are set up differently, and this is a concern as they come together.
"We're going to have to get together and figure out how they are going to run one district that have two different mandates sort of thing, and how they are going to do all that. Because Turtle River is still going to have infrastructure to deal with. So how are they going to deal with that?"
Turtle River deal is an infrastructure district that deals with things like culverts and ditches while Intermountain focuses mostly on conservation projects.
"It doesn't look like Intermountain is going to have to deal with the infrastructure, our way. So that will remain the same. Is Turtle River going to be able to do some of the conservation programming that we currently do in Intermountain?"
The province is forcing a merger in 2020, and they want a draft plan by this upcoming March.
Right now the province is saying the districts won't get any extra money and stay at the current budget they are at right now.
Thiele says he knows it's going to be a big job while planning for the future while also keeping their current projects going. But he thinks it can be done. It'll just require a lot of work and communication.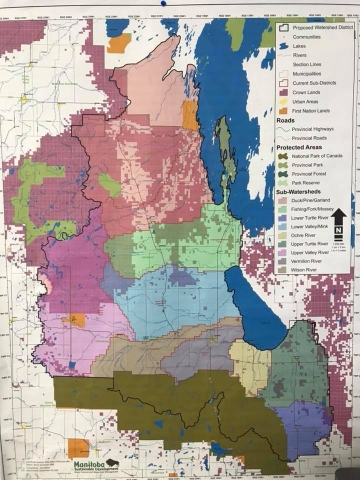 (source: Turtle River Watershed Conservation District Facebook)
Details

Contributed by

Benjamin Schwab
About 80 customers in Gilbert Plains lost natural gas service because of a leaking valve in the supply line.
The leak occurred early last night. The valve is now repaired and Manitoba Hydro service personnel have started the process of going door to door to assist affected customers with relighting any pilot lights on furnaces, hot water tanks, etc.
They will get to the remaining effected customers this morning.
Details

Contributed by

Benjamin Schwab
Main Street South In Dauphin, between 7th ave and 8th ave, will be closed starting this morning.
The City of Dauphin is closing the street at 7:00 to install a water and sewer service.
They say it will stay closed till sometime late in the afternoon tomorrow.
The city asks that you be prepared to detour.
Details

Contributed by

Benjamin Schwab
A two-vehicle accident occurred on Main Street by 7-11 and Parkland Source for Sports earlier this afternoon.
We've reached out to the RCMP to find out all the details of what happened.
CKDM will have an update when more information becomes available.
Details

Contributed by

Benjamin Schwab
There's a structure fire on Highway 20A just north of Ochre River.
Emergency crews are currently on scene putting out the fire.
CKDM is reaching out to emergency services to get details.
Details

Contributed by

Benjamin Schwab
A rotating strike by Canada Post employees is causing disruptions for mail delivery in Dauphin.
Carrie Brook, President of Dauphin-Swan River Local 722, hopes the strike and the disputes behind the strikes get resolved quickly.
"Brandon and Winnipeg are on the rotating strike as of today. so as of right now, there is very limited mail that is actually being distributed. So the movement is still there, but right now there is a little bit of disruption as there has been for the last two weeks across Canada since the start of the rotations."
"As an employee, as a person that does this job, we don't want to be on strike, we don't want to have to do these things. But when you need to fight for the rights you are entitled to that are stipulated in labour code and otherwise that it's important that we stand up for ourselves."
The movement of mail is still there but it's limited as much as it can be and limit the hurt on Canadians.
"This is where we stand up for ourselves, and the hope is that we don't have to have a full strike, that's not what the hope is. But we'll see."
Details

Contributed by

Benjamin Schwab