Local News
Dauphin and Ste. Rose Co-ops are accepting donations in support of the Humboldt Broncos.
Monetary donations can be made as well as special cupcakes are for sale, with all the proceeds going to the SJHL Assistance Program.
Joan Chetyrbok, the Marketing Manager at the Dauphin Consumers Co-op, explains what's going on.
"Today they can stop in at any of our locations, make any type of donations that they like and we'll match. And we are selling cupcakes today for $3.99 with a green ribbon on them."
She also tells 730 CKDM about how those in the Parkland can show support.
"Federated Co-op has stepped up to help fund the Saskatchewan Junior Hockey League Assistance Program. It's a new thing they started to help all the teams, the parents, and the communities that are dealing with this."
The Dauphin Minor Hockey players will be at the Food Store between 4:00 p.m. & 7:00 p.m. and the Ste. Rose Minor Hockey players will be at the Ste. Rose Home Centre from 4:00 p.m. to 5:30 p.m., where they will be filling their helmets with donations.
Details

Contributed by

Benjamin Schwab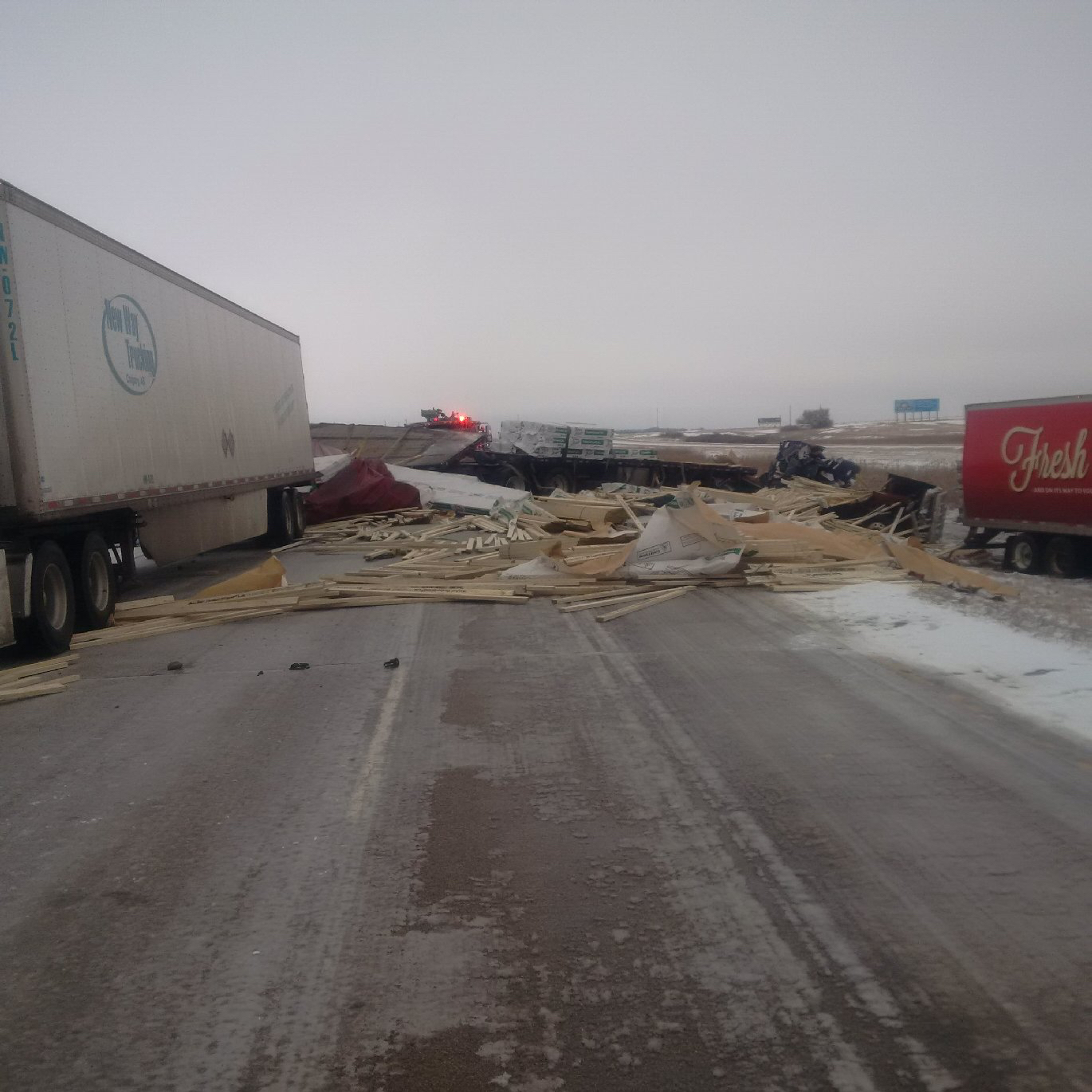 Highway 1 west in the vicinity of Brandon to 8 kilometres west of Kemnay is now open.
Emergency crews were tending to an incident involving multiple vehicles this morning.
The highway is down to one lane and drivers are being told to proceed with caution.
They have not stated the severity of the crash.
CDKM will provide updates as they become available.
Details

Contributed by

Brady Lang
A 13-year-old youth was arrested for making online threatening comments towards the Gilbert Plains Elementary School.
Mr. Fisher, Principal of the school, investigated the matter, contacted the RCMP, and then followed the division's threat assessment procedures.
Sergeant Paul Manaigre, RCMP Media Relations Officer, says the RCMP followed up on the report from the school.
"With this information the officers were dispatched to the location. Statements were made with all those involved and we determined that the threats were made by a 13-year-old male youth, who we've been told has been suspended from school for several days. He has subsequently been arrested by the RCMP and given a court date for a future date in Dauphin. Charges are probably applicable for uttering threats for a later court date."
Both MVSD Division and the RCMP are working together to ensure the safety of staff and students.
"Well right now, I would say we are still working with the school. We want to make sure the students and staff there have a safe work and learning environment. It's unfortunate that these kinds of comments were made. We've determined that there was no intent to do it. With social media these days and the way kids are, they're saying things that they shouldn't be and it gets out of hand, but we have to deal with it as if the threats are real and now we'll leave it in the hands of the courts."
Any parents with questions can contact the principal at the Gilbert Plains Elementary School and a letter is being sent to parents today.
Details

Contributed by

Jennifer
There were reports of online threatening comments made towards Gilbert Plains Elementary by a student yesterday.
Mountain View School Division Assistant Superintendent, Dan Ward, tells 730 CKDM more about the situation.
"My understanding of the situation at this time, is that it was reported to the principal of Gilbert Plains Elementary, that a student made some threatening comments towards the school community on an online social media platform. So as soon as the principal received the reports, he followed up on the situation by collecting information and contacting students and parents impacted and as more information came to light, he contacted the RCMP and initiated our divisional threat assessment procedures."
MVSD has taken the appropriate steps to ensure the safety of all involved and the matter is being handled by RCMP.
Any parents with questions can contact the principal at the Gilbert Plains Elementary School.
A letter is being sent both electronically and home today with students explaining the situation.
Details

Contributed by

Jennifer
The Trans Canada Highway is still closed eastbound at the Highway 21 junction just east of Virden due to a multi-vehicle collision involving semis this morning.
There were reports that a semi spun out of control on Highway 10 near Minnedosa this morning, closing the road.
The road is now open.
CKDM will continue to provide updates as they become available.
Details

Contributed by

Brady Lang
The first of the 16 funerals will be held today in Humboldt following the Broncos bus crash.
The family and friends of Tyler Bieber, the play-by-play announcer for the club, will gather today, less than 24 hours following the passing of team physiotherapist Dayna Brons.
The funerals of Jacob Leicht and Adam Herold, who would have turned 17 today, will commence tomorrow.
Details

Contributed by

Brady Lang
Ochre River is hosting their Open Mic Night on Friday.
The funds are going to the Bridge, a youth drop in centre in Ochre River.
Brad Muller, a volunteer at the Bridge, explains who will be performing and who will be coming out.
"It features local people mostly performing music, singing, playing guitar, whatever it may be. It's open to anybody who has a skill that they want to showcase."
There will be a silver collection at the door, concessions on site, raffle draws and a 50/50.
The event is free to attend, but is first come first serve for performers and starts at 5:30.
For any more information on performing or the event, call Tim at 733-2488.
Details

Contributed by

Brady Lang
New school supplies and running shoes are needed for the children at the Internat in Nadvirna, Ukraine.
Boxes of Love is going to be in the old Reitman's space of the Dauphin Marketplace Mall, to accept donations.
Nicole Yunker, Organizer for Boxes of Love, tells 730 CKDM, the need for childrens footwear.
"Our big push for mall day is to collect new running shoes. There are 100 students at the Internat and we always like to send extra as kids grow through the year, so our huge push is new running shoes."
A variety of sizes are needed for the students.
"For the running shoes, what we are looking for, is the sizes for children ages 5 to 16 and they need to be brand new."
Donations can be dropped off at the mall on Thursday, May 3 starting at 10:00 in the morning.
Details

Contributed by

Jennifer
The life of another victim has been claimed in the accident involving the Humboldt Broncos team bus.
Dayna Brons, the team's physiotherapist, passed away this afternoon.
Brons suffered serious head trauma, undergone two surgeries and was on a breathing apparatus.
She was the 16th victim to pass away from the tragic accident.
Details

Contributed by

Jennifer
Parkland farmers are starting to get ready to hit the fields for the first time this year, but first they have to wait for it to dry up enough.
Dan Mazier, the President of KAP, won't be concerned about the weather unless they can't get out until the end of May.
"At least we don't have a drought on our hands. It's a good thing. We'll take the slow, continuous, melt a lot quicker. That would be my alternative than a fast, all of a sudden going up to a plus 20 and everything melts off quick and everybody is out on the land April 15th. So, this is probably the better way of going right now."
Mazier says they are going into this growing season a little dryer so any rains that come before seeding starts will help flushes the frost and warms the ground up.
Just like typical farmer fashion, Mazier says they will take it one day at a time.
Details

Contributed by

Benjamin Schwab
The annual banquet put on by the Intermountain Conservation District is next week.
At the event, the future plans of the organization will be discussed, focusing around the idea of changing boundaries and becoming watersheds.
Jeff Thiele, Manager for IMCD, talks about this year's banquet.
"It's on April 19th, which is a Thursday, and we're trying a Thursday this year; normally we do it on a Friday. It's at Cowan, Manitoba at the community centre. Last year we had it in Dauphin and we just kind of move it around to all the different communities in our area and this year it's Cowan's turn."
Tickets are $20 each and are available by calling the office at 742-3764.
Details

Contributed by

Jennifer