Local News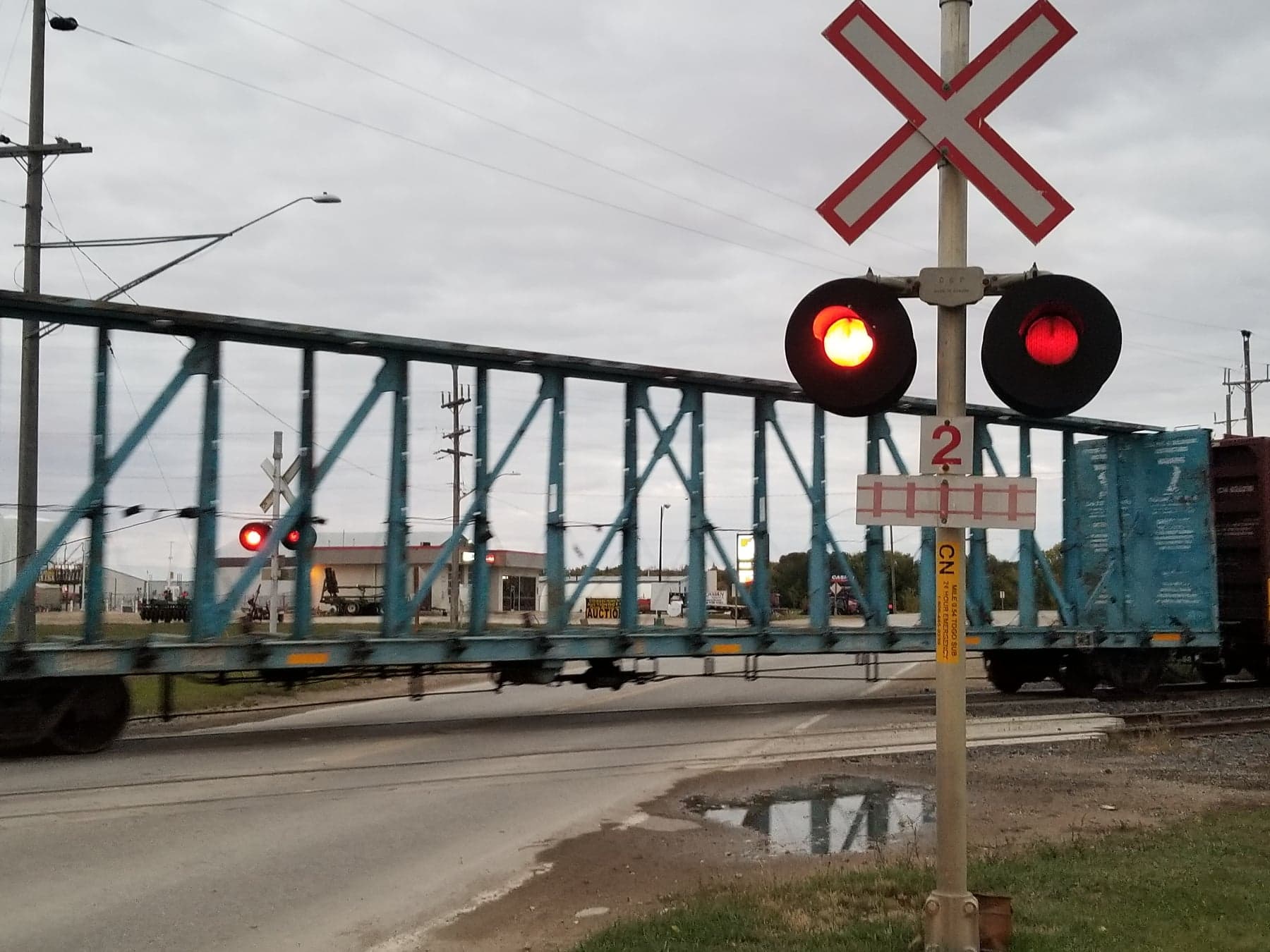 There has been a slight increase in the number of trains going through Dauphin.
A temporary workaround is going on right now as CN does maintenance and improvements on tracks between Melville and Rivers.
As a result, they are sending trains on different routes, which include some going through Dauphin.
A representative from CN says it's only a minimal increase and it should be back to normal by the end of the week.
Details

Contributed by

Benjamin Schwab
A new statue has been unveiled at Vermillion Park.
The statue is located by the 3rd Ave NW entrance to the park.
The new statue is the final statue in the statue series and it signifies co-operation.
Having statues in Dauphin shows that the city is progressive.
It also shows that Dauphin understands the importance of art, history, heritage, and culture.
Details

Contributed by

Isaac Wihak
Freezing rain is a problem for hydro lines.
The freezing rain builds up ice on the hydro lines, weighing down the lines.
There is a possibility that the built-up ice on the lines can bring down entire grids.
There are massive power outages around the RM of Dauphin and throughout the parkland.
In the RM of Dauphin, there are 28 outages with 172 customers affected. In Sifton, there are 9 customers affected.
And 4 are without power in Neepawa, around 1pm 780 customers had no power.
Details

Contributed by

Isaac Wihak
Larry Artibise is running for the office of councillor in Ward 5 of the RM of Lakeshore.
He is running because he wants to be a strong voice for the people living in the lake area.
He doesn't see any major issues, however, he would like to address the roads, clean up, and people that live at the lake are concerned that they might pay more taxes than those who don't live at the lake.
Artibise has experience being on council, he was on city council for 14 years in Dauphin.
If you want to know more about Larry Artibise, you can talk to him anytime by phone or on the street.
The election is on October 24th.
Details

Contributed by

Isaac Wihak
Today is the last day to vote for Whitmore School's playground in the Aviva Community Fund contest.
Melissa Ferland, a teacher at Whitmore School explains what Whitmore School is trying to win.
"So we're competing with 50 other schools for 50 prizes of $10,000."
The school is not in a position of a guaranteed win and they need all of Dauphin's support.
Click here to go to the voting website.
Details

Contributed by

Benjamin Schwab
This afternoon, teachers will be doing a few different sessions for the divisional professional development day. There are breakout sessions for teachers and clinicians, a library assistant session, custodial staff session, NVCI training, and a session on working with differences.
Professional development day ends at 3:30 today.
Details

Contributed by

Alec Woolston
Is your business ready for legal marijuana?
There are a couple of things you can do, before legalization, that will set you up to deal with potential problems.
Kirk Nyquist, a co-host of the Reefer MEDness Podcast, recently had a conversation with HR specialist Wendy Hofford for the podcast.
She gives some tips on how a business can get ready.
"Educate your people and make sure as an organization that you're educated. Keep an eye on where legislation is going. That's huge depending on the province you're in. Also, looking at those policies, making sure that you're' prepared. Making sure that you have systems in place that you can be able to address that."
"Making sure that you have your policies that cover all of the reproductions. So I always say drug and alcohol, sensitivity policy, smoking policy, company vehicle policy, you're not allowed to drive when you're impaired.
Going deeper into the idea of policies, she gives an example of an issue that might come up.
"It's a good idea to take a look at your smoking policy because if somebody has been given medical cannabis, let's just say for a quick second, and the only way that it's effective for them is to smoke it, then you have a duty to accommodate. Is that going to impact you? Where are they going to smoke it? Is it going to be in the smoking area? If that's the case and you have a designated smoking area, now you're getting into scents. That might offend someone else."
Medical cannabis will be a bigger concern for businesses once the drug is legalized later this month.
She spoke about what owners should be aware of now that medical cannabis is becoming more prevalent.
"They are obligated by human rights duty to what they call 'duty to accommodate.' So when somebody comes in and they are on medical cannabis, you need to make sure they have a prescription. That they understand what it is. So I really, really encourage employers and HR professionals to make sure you understand what that prescription looks like. Is it CBD oil, what is it? How are they taking it? Is it THC? What are the psychoactive is it not psychoactive? So really understanding what it is that the employee is taking. It's very important when you want to accommodate."
You can find their whole conversation by listening the S2E02 Reefer MEDness Podcast by visiting www.reefermed.ca

Details

Contributed by

Benjamin Schwab
The Moose Hide Campaign is a grassroots movement where men are standing against violence to women and children.
The Moose Hide campaign started in BC in 2011.
To get involved with the campaign, you can pick up Moose hides at the Dauphin Friendship Centre.
Wearing the moose hide signifies your commitment to honour, respect, and protect the women and children in your life and to work together to end violence against women and children.
Details

Contributed by

Isaac Wihak
RCMP say the two missing siblings from Brandon, as well as their mother, have been found safely in St. Albert, Alberta.
Police say the children, ages eight and six, were not dropped off at school last Friday after what was supposed to be a two-day legal parental visit with their mom. When their father went to pick them up, he was told the children had been absent on Thursday and Friday.
Police say Jessica Chartier has been arrested and faces charges.
Details

Contributed by

Benjamin Schwab
It's time to beware of road conditions.
The snow falling right now is making highway driving a little more challenging.
One report from a listener to CKDM says the highway between Dauphin and Yorkton is slushy, snow-covered and is icy in some area. They report a quarter of a mile visibility.
Make sure you turn your headlights on to stay visible with the snow still falling.
Danielle Katyrynuik asks people to slow down for tow truck drivers who are working along those highways. Saying "We do want to come home to our families. There is a law to slow to 60 and pull over for all emergency vehicles. Police cars, ambulances, fire trucks and tow trucks."
Charlene Flatfoot sent us this photo while she was heading to Dauphin from Pine Creek. She encourages everyone to be careful out there.
Details

Contributed by

Benjamin Schwab
Police confirmed the identity of a woman from God's River who was found at a recycling depot Friday night in Winnipeg.
Relatives say 33 year old Mary Madeline Yellowback was visiting Winnipeg for a medical trip.
Police responded to a call at around 7:05 in the evening on Friday when her body was found mixed in with recycling materials.
Details

Contributed by

Benjamin Schwab