Local News
The City of Dauphin is planning to improve their wastewater treatment facilities.
The city is applying for a Government of Canada Investing in Canada Program available to communities in Manitoba.
Sharla Griffiths, the Assistant City Manager explains what upgrades they need to make and how much they will apply for. "We do need more capacity at our lagoon and increase the size. The cost estimate that we have from an engineering report is that it is $13 million dollars to do that."
She continues by talking about how the project will be funded. "We're hoping to secure those funds as well as some funds through the province and the rest will have to be made up by City of Dauphin utility rates."
The initial stage of applying is the Expression on Interest, which is due on Friday.
At this point, the city is focusing on the lagoons and doesn't have any big plans for other possible facility upgrades.
Details

Contributed by

Benjamin Schwab
64 percent of boating-related fatalities in Manitoba happen while people were drinking.
The Canadian Safe Boating Council is holding Operation Dry Water this weekend in an attempt to warn people of the dangers of being intoxicated while boating.
Christopher Love the Water Smart Coordinator for the lifesaving society—Manitoba Branch encourages to save the partying until after the day out on the water.
"From our point of view as an education effort, we want to raise awareness that this is a dangerous thing to do. And can results in serious injury or death to you if you're under the influence and driving." He continues, "But there's also the fact that very serious charges could be brought against you as well if you are caught under the influence by enforcement officers, bylaw officers, or police."
Human-powered boats are not excluded from the definition of a vessel and means if you are caught drinking in a canoe you could be charged with impaired operation of a Vessel under the Criminal Code of Canada.
Love says alcohol isn't the only thing Operation Dry Water is warning people to stay away from. "Drugs, there are some intoxication cases, but alcohol is the big one and the one Operation Dry Water is really focusing on. But of course, we are concerned. We are going to have cannabis legalization coming up and that could also affect our stats. So, at this point in time we are just asking everybody, 'hey, be boating sober no matter what it is you're taking'."
"Summer is all about having fun, and being out on the water is one great way to do that," said S/Sgt Bob Chabot of the Manitoba RCMP. "However, that fun can come to a crashing halt if someone gets seriously injured or dies because of a decision to boat while impaired. The RCMP will be out on the water during Operation Dry Water to help keep it safe, which will keep it fun."
Across Canada, 40 percent of boating-related fatalities are caused when people are drinking.
Details

Contributed by

Benjamin Schwab
The tornado in the RM of Alonsa, on Saturday, had speeds between 218 and 266 kilometers per hour.
It's was originally classified as an EF-3. That's in the middle as the scale goes from 1 to 5, 5 is the most severe.
It has now been upgraded from to the First EF-4 Tornado in Canadian History Under the New "Enhanced Fujita" Classification.
Reeve of the RM Stan Asham called the destruction on Saturday "overwhelming".
Meteorologists with Environment Canada say the tornado was on the ground on Friday night for 45 minutes.
you can check out a big album of destruction photos taken by Vanessa Lambourne Whyte by clicking here.
Details

Contributed by

Benjamin Schwab
It's going to be a hot week in the Parkland.
Environment Canada is warning that there's going to be a four to five day stretch of daytime highs of 30 degrees or higher with overnight lows in the mid to upper teens.
Heat warning might be issued as the stretch approaches.
Details

Contributed by

Benjamin Schwab
Another "Bear in the Area Warning" has been issued for Moon Lake Trail.
Officials from Riding Mountain National Park warn that they are frequenting that part of the park.
They ask that you use caution while in the area and make lots of noise while in the area.
If you see a bear while out in the park phone the Parks Canada Dispatch line at 1 (877) 852-3100.
Details

Contributed by

Benjamin Schwab
Retired teachers and especially those who taught in one room schools are being recognized this year during the Annual Moleben Service at the Trembowla Cross of Freedom Site.
The annual service is taking place at 12:30 Sunday afternoon as part of Canada's National Ukranian Festival.
Kay Slobodzian, the secretary and program planner for the Trembowla Site shares why teachers were chosen.
"We feel that teachers have really made a significant change and promoting the language and all the culture and in learning all about the history, not only of Canada but as a whole, I think teachers are really worthy of being recognized."
There is also an anniversary that is being celebrated.
"It signifies the 50th anniversary of the Trembowla School that was preserved at the site. All the little rural one-room schools were being closed gradually when the large area boards were set in. Trembowla was one of the last schools that was closed because there was still students attending it. So this year is the 50th anniversary of the school that was relocated to this cross of freedom site."
You can find the Trembowla Cross of Freedom Site by going to 27 km northwest on Provincial Highway 362 and then turn left of the Trembowla Road 491.
Details

Contributed by

Benjamin Schwab
A hailstorm hit the Parkland.
At around 7:30 yesterday evening for about half an hour hail ranging in size from small to loonie sized pelted the region.
No reports of damage have come in.
Details

Contributed by

Benjamin Schwab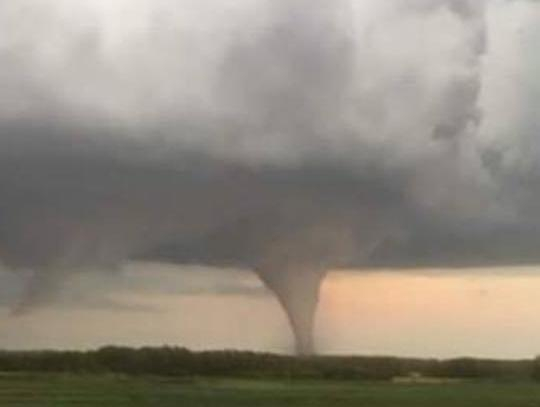 A 77 year old man has died after the tornado destroyed his home last night near Alonsa.
Environment Canada has confirmed the tornado touched down in the area shortly before 9 p.m.
Reports say the man was found outside of his home around the Silver Ridge and Ebb and Flow area. it is not known at this time what caused his death.
The storm destroyed a handful of homes and cabins in the area.
Reports that Environment Canada received say the tornado was on the ground for up to half an hour.
Stan Asham, the reeve of the RM of Alonsa said the damage was centred just east of Alonsa at Margaret Bruce Provincial Park, which is on the west side of Lake Manitoba.
He says many trees and power lines were knocked down and at least one home near the lake was destroyed as well as two cabins, a number of trailers and some campers were toppled over.
Here are some photos taken by Vanessa Lambourne Whyte of the aftermath at Margaret Bruce Beach, east of Alonsa by Silver Ridge.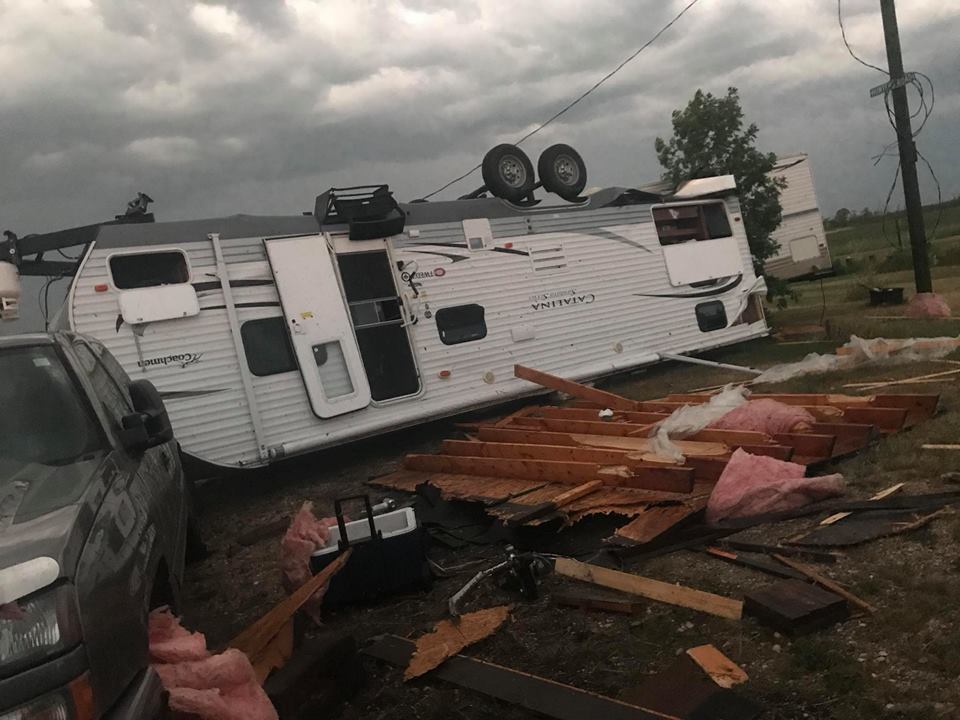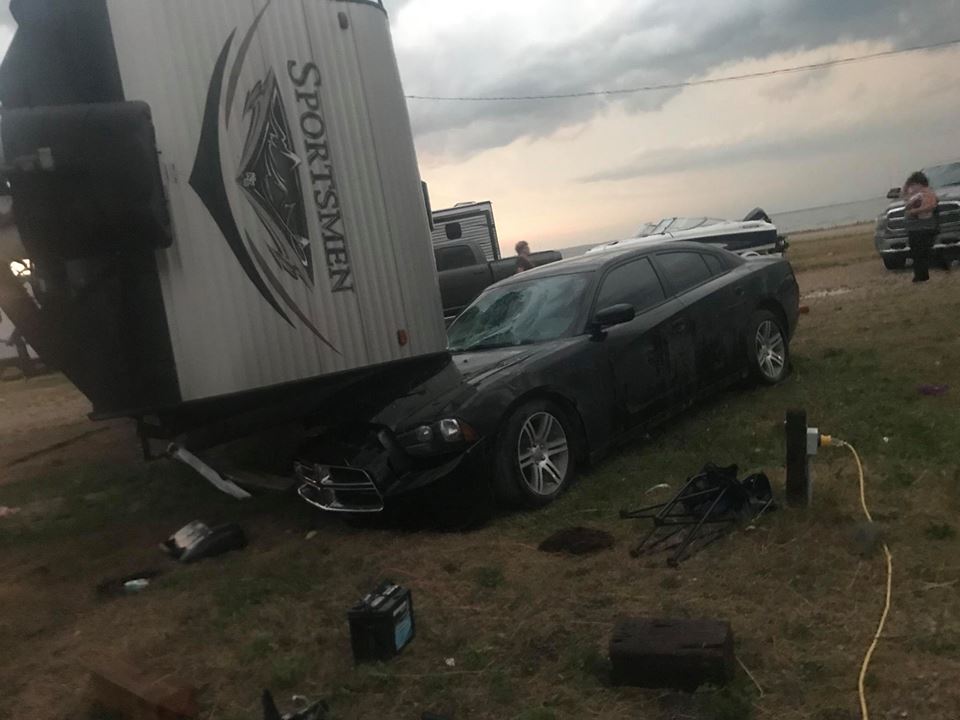 Details

Contributed by

Benjamin Schwab
Environment Canada is warning of a possible tornado in the Interlake area.
Meteorologists are tracking a severe thunderstorm that is possibly producing a tornado. Damaging winds, large hail and locally intense rainfall are also possible
The warning is for the R.M. of Alonsa and includes Ebb and Flow and Sandy Bay.
Doppler radar indicates a potential tornado south of Alonsa tracking northeast towards Silver Ridge.
Take cover immediately, if threatening weather approaches. If you hear a roaring sound or see a funnel cloud, swirling debris near the ground, flying debris, or any threatening weather approaching, take shelter immediately.
Go indoors to a room on the lowest floor, away from outside walls and windows, such as a basement, bathroom, stairwell or interior closet. Leave mobile homes, vehicles, tents, trailers and other temporary or free-standing shelter, and move to a strong building if you can. As a last resort, lie in a low spot and protect your head from flying debris.
Details

Contributed by

Benjamin Schwab
The City of Dauphin has an opportunity to try out a new way of repairing water mains that don't require tearing up a street.
The city is planning to utilize trenchless technologies for the rehabilitation of a water main on Marigold Street.
Sharla Griffiths, the Assistant City Manager says this new way of repairing pipe will save not only the streets but taxpayer money.
"Typically if we were to replace a water main we would have to dig up the street, dig up that water main, and disrupt the connection to the houses on that street for several days. We would provide basically garden hoses to get water for them or we would do it in chunks which would take a lot longer but it would be less disruptive to the residents.
This means the entire street minimally requires new asphalt to be installed or the entire street needs to be reconstructed. In most situations, water main renewal is planned with the total reconstruction of a street the following year.
Cured-in-place-pipe is the way for the city to create a new pipe inside of an old pipe by installing a liner that is inserted and hardened inside the existing pipe. The city has done this before, but the company Canadian Induracoat Corporation can use a trench method to save the street.
She explains how the services from the Albertan company will work.
"This way we are looking at doing a cast-in-place pipe and it is using a non-invasive technology. So there's a pipe is re-lined and there's structural integrity to it, so it is strong just like a new pipe."
The company was already coming out to do work for another community in the province. Now Dauphin can work with the other community to cut down on travel costs.
Sharla Griffiths, the Assistant City Manager says this is a special case and will only be used infrequently.
"I don't know if this will become the norm, but if it works, if this project goes smoothly, it may be another tool in our toolbox. For water mains under streets that need to be repaired and need to be dug up anyways, I think our traditional methods would suffice. At the same time, we would also put in new pavement if that was part of the bigger plan."
Lead pipes need to be replaced in Dauphin and Griffiths says the normal way of repair will be used.
With the new method, the city ends up with an old pipe that is just as strong or stronger than the pipe was when it was first installed. This method saves the city money as they don't have to do major road work.
Details

Contributed by

Benjamin Schwab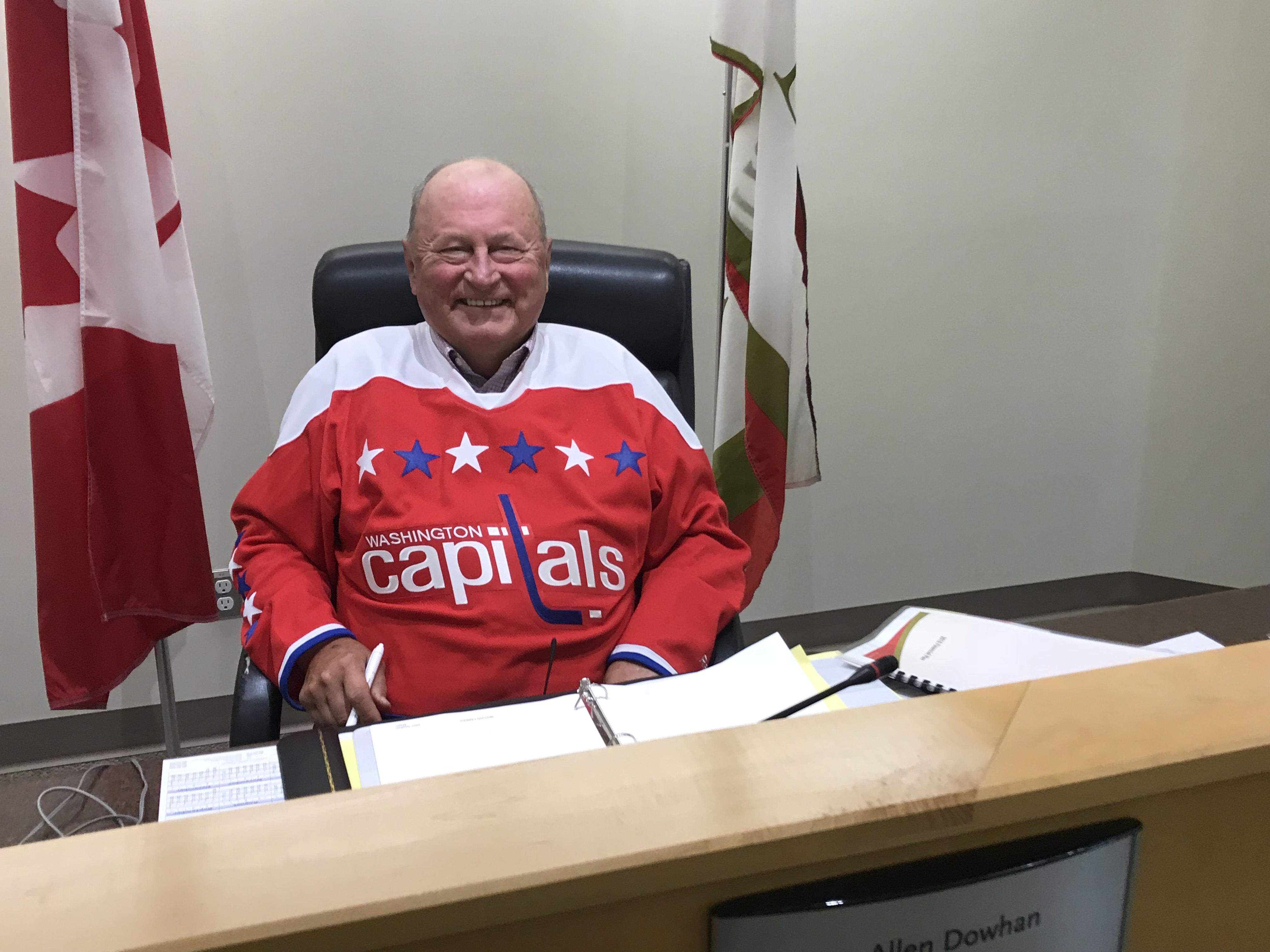 The details of the Stanley Cup wager have finally been finalized.
Mayor Allen Dowhan and Summerside PEI's Mayor Bill Martin made the wager during the Stanley Cup finals earlier this year.
When the Washington Capitals and former Dauphinite Barry Trotz won the Stanley Cup, it was originally discussed that Mayor Dowhan would travel to PEI this summer to cash in on the bet.
This week, a different arrangement was agreed to.
Mayor Dowhan won't be going to the East Coast. Instead, 100 lbs of lobster will be shipped to Dauphin this month and will be donated towards the community fundraising initiatives related to Barry Trotz's visit on August 22.
Mayor Dowhan spoke with us about the announcement. "We're picking it up in Winnipeg. we're pre-selling it or selling it to people at 20 dollars apiece and all the money is going to match Barry Trotz's contribution."
"I thought I could make it, but I just got busy, I promised the mayor there we're going to go on a PEI vacation there next year, on my own dime, and I'll visit him then. I thought we received excellent national exposure and that was the prime purpose of it." He continues, "It's a great national news story for us."
"I'm pleased to be able to contribute my winnings towards a worthy fundraising cause for Dauphin. And should Mayor Martin decide to accompany the lobsters to Dauphin, he will definitely be treated to a good old Ukrainian meal", said Mayor Dowhan.
The Rotary Club of Dauphin will be selling the lobster for $20 a piece with details to be released through their Facebook page next week.
Details

Contributed by

Benjamin Schwab