Local News
The funeral for Mark Cross, the assistant coach of the Humboldt Broncos junior hockey team, is to be held this afternoon.
it's taking place in his hometown of Strasbourg, Saskatchewan.
Team president Kevin Garinger says Mark Cross was a ferocious hockey player, a hard worker, extremely bright and one of the most caring people he's ever met.
Cross, who was 27, was one of 16 people who died after the team's bus and a semi-truck collided two weeks ago.
Details

Contributed by

Benjamin Schwab
The provincial government is planning to change conservation districts into watershed districts.
This has representation in the Intermountain Conservation District concerned.
According to Jeff Thiele, Manager for IMCD, the provincial plan is to increase the district size.
"Right now it looks like they want to make them bigger, so we are a little bit concerned about the size of them. We'll probably lose some local input. As these organizations get bigger we have kind of seen that some of the previous amalgamations whether it's the school boards or the RMs."
Thiele spoke at the IMCD banquet this past week and says he has heard nothing but positive things regarding how the district is run, and wonders why the government would want to change that.
Thiele and other representatives are attending the Kinsmen Business Expo taking place this weekend. He encourages everyone to come to their booth and see what services the IMCD offers.
Details

Contributed by

Benjamin Schwab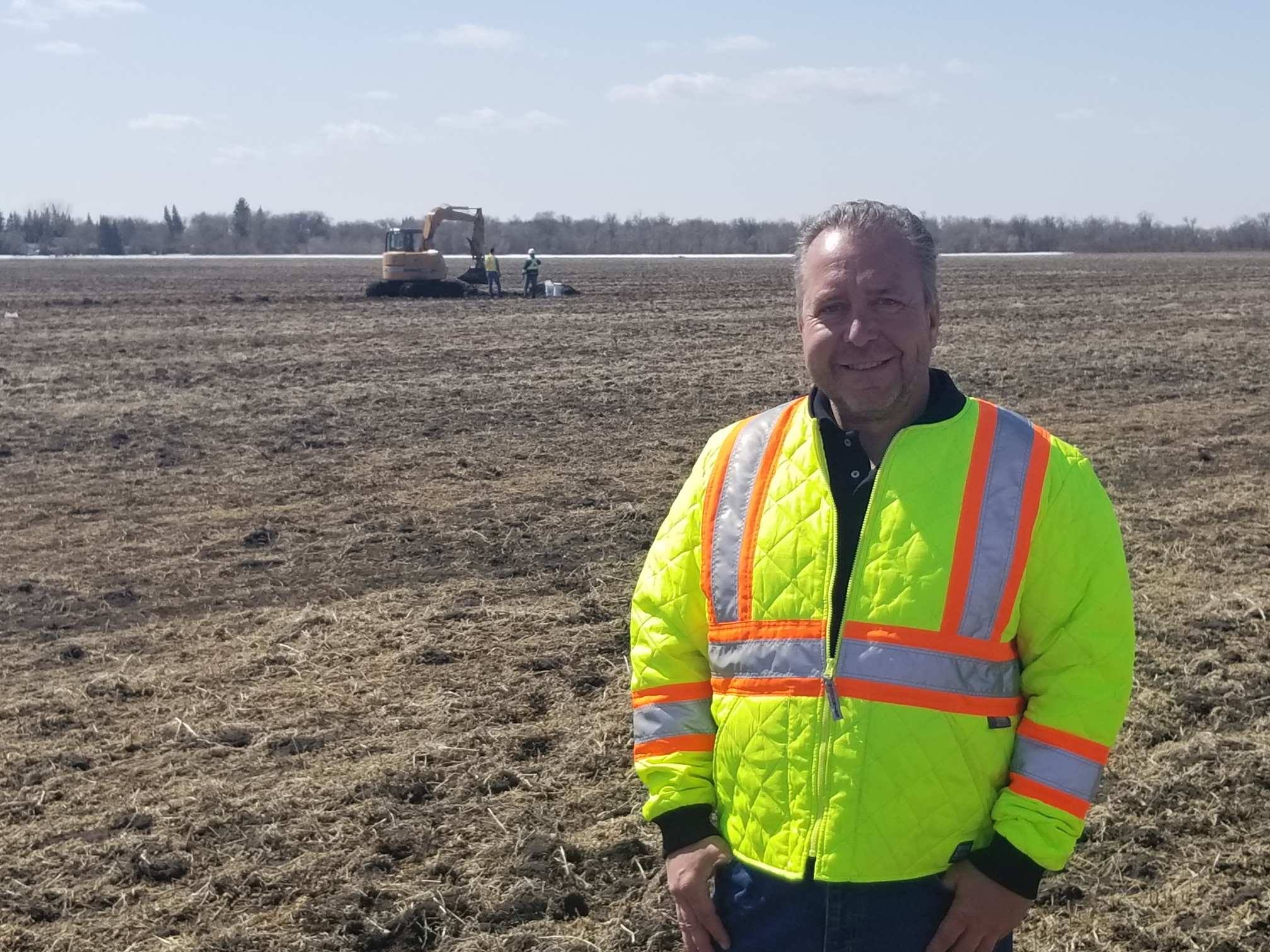 Preliminary work has begun on the new Vermillion Growers greenhouse.
Over the weekend crews are digging holes on the site of the future building.
Lucky Deschauer, of Vermillion Farm Holdings, explains what is going on in the field north of town.
"What we're doing today is doing some final testing on the clay levels for our retention ponds. This is where we are going to be holding water, catching all the service water from the top of the building and the ground and storing it for use in plants."
For those wondering what is going on over the next couple of weeks, Deschauer says it's a lot of early work.
"I think you will see things like surveyors coming out, initial ground movement going on. I say, sometime in June people will start to see a lot more action."
Samples collected this weekend will be sent to a lab for testing to determine the compact ability of the ground and then scientists will be able to tell Vermillion Growers what they exactly have to do next.
Details

Contributed by

Benjamin Schwab
The rail strike by CP rail unionized employees has been stopped, for now.
The two unions representing the workers made the decision after the federal labour minister ordered employees of the rail company to vote on the company's final offers, this afternoon.
Representatives for the unions are encouraging their members to reject the company's offers.
Details

Contributed by

Benjamin Schwab
RCMP responded to a call this afternoon, of a deceased male inside a residence in Silver Harbour, Manitoba, 281 kilometers East of Dauphin.
When officers arrived on the scene, a 36-year-old male was deceased and the death is being treated as suspicious.

Officers arrested a 29-year-old male in the residence who remains in custody at this time.
The victim and the suspect were known to each other.
The investigation is ongoing.
Details

Contributed by

Benjamin Schwab
Following the announcement of lead in the City of Dauphin's water, Prairie Mountain Health is trying to educate residents of its impacts.
A Medical Officer of Health for PMH, Dr. Amy Frykoda, explains the health impacts.
"Exposure to lead for health can cause a wide range of health effects. The exposure for humans to lead has declined significantly in the last 30 years and this is due to the removal of lead in gasoline and lead in paint. But we do know there's new information now from Health Canada that has shown that lower levels of lead can affect human health more than was thought in the past, and this is particularly important for children's health."
Dr. Frykoda continues on about how children are more susceptible to lead in water.
"How lead works is that lead can affect the developing brain and children are more sensitive to this, and these exposures to lead for children can be associated with developmental delays of childhood behaviours, decrease in language skills (and) intellectual disabilities."
High levels of exposure for long times for adults can result in issues with digestive function, kidney function, increased blood pressure, heart disease, fatigue, depression, nerve damage, memory loss, concentration and insomnia.
Showering and bathing in water with increased lead levels does not absorb through the skin, and is not considered a risk.
If you have a home with a lead service line, it is recommended that you replace all taps that are certified in reducing lead as drinking water, and activities such as brushing your teeth may be harmful to your long term health.
Details

Contributed by

Brady Lang
After amalgamation Catalyst and Vanguard Credit Unions are still strong supporters of the community.
According to Ron Hedley, Chief Executive Officer of Catalyst, Vanguard Credit Unions their commitment to the community will only grow after amalgamation.
"I think it makes us a strong community partner with us joining with Vanguard. Both have made commitments a while ago to be strong community partners and this just makes us that much more effective.
Membership in the new organization has increased by over 13 percent since last year.
Details

Contributed by

Benjamin Schwab
Hemp growers in the Parkland are waiting for federal regulation changes to finally be passed.
Over the past few years, there have been successful strides in reducing red tape during discussions between local industry groups and Health Canada.
Executive Director of the Hemp Trade Alliance, Kim Shukla is happy with the progress they've made.
"There has been a lot of regulation and it's certainly has been hampering the industry. But the Canadian Hemp Trade Alliance has been in discussion with Health Canada over the last three to four years. And in the last year we've made some tremendous progress with them as it relates to the changes we want to see. Number one was the ability for farmers to utilize the whole hemp plant, as currently that is not permitted."
Shukla is anticipating the new regulations will come into effect by late July or August or early September.
Details

Contributed by

Benjamin Schwab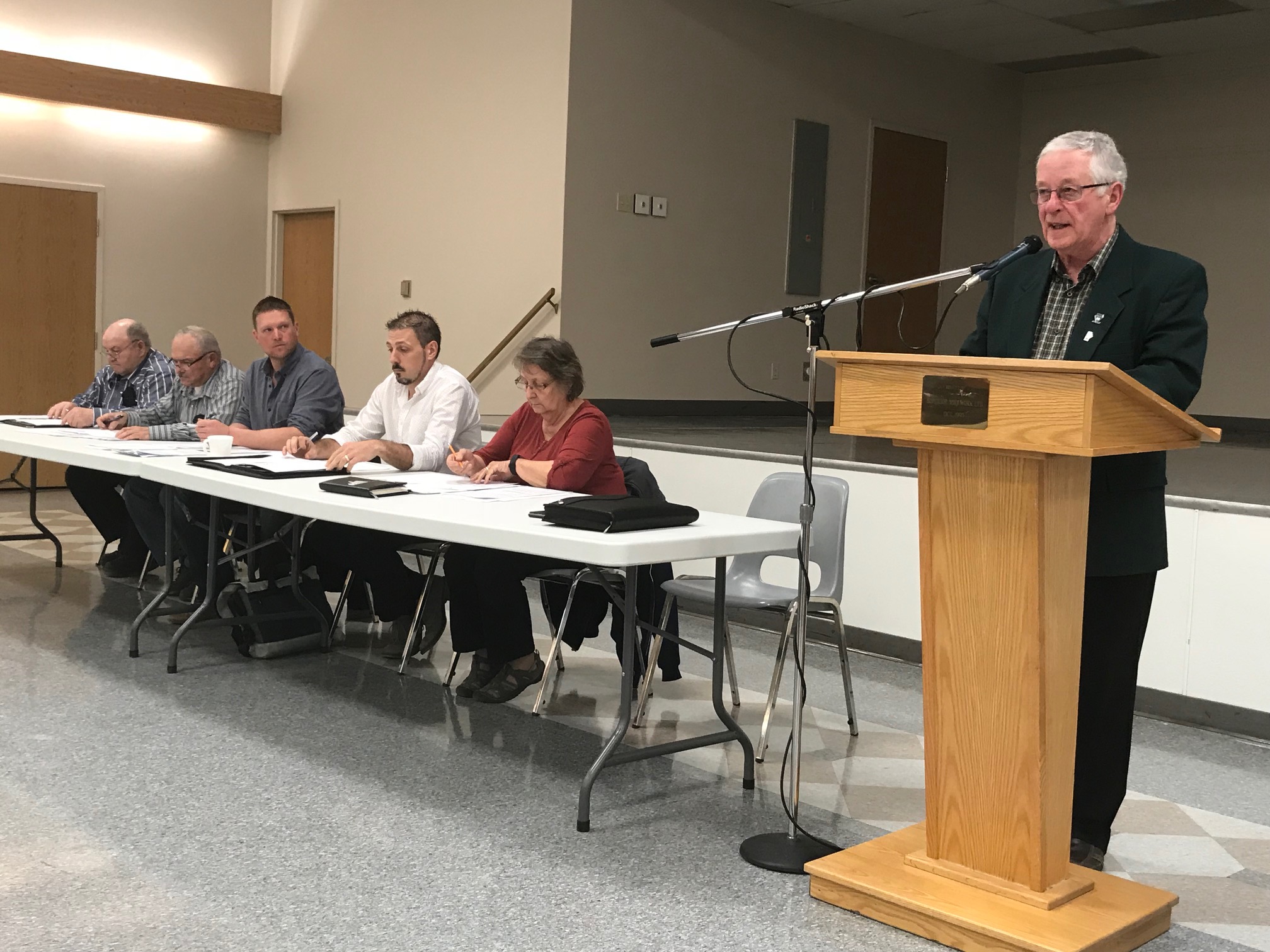 Ratepayers in the Municipality of Roblin came out to a public meeting last night to hear about five proposed special service levies.
Over 100 people came out to hear about the levies on recreation, street lighting, recycling, waste, and essential services such as policing and fire.
Ron Landry, a ratepayer who was a former Town of Roblin Councillor and has lived in the area for 52 years, finds this a fairer system than what was implemented in previous years.
"I think that what they are proposing is much more equitable than the former system we had and that if people have questions and get them clarified, and concerns, I think the people that were here explaining are prepared to listen and I think they did a very good job of explaining what was there."
Landry knows people are confused about taxation.
"I think generally people have a misconception about taxation, generally. For instance mill rate is an issue that most people don't understand and they don't recognize that the assessment branch had the biggest influence. If we're not prepared to accept what they give us, what the assessment branch assess us at, our municipality has no say in that at all. Go to a Court of Revision Hearing and enjoy sitting with the assessment branch; it's not a nice experience, I guarantee you."
The majority of people in attendance at the meeting were in favour of the levies.
Details

Contributed by

Jennifer
A Swan River man charged with Manslaughter will appear in court again.
Norman Brass was arrested after RCMP received reports of a death in Swan River on February 18th.
They later found a 36 year old man deceased in the home where Brass was.
Brass was in Swan River Provincial Court Wednesday and was remanded into custody until May 2nd.
Details

Contributed by

Brady Lang
Randy Oudie, from Dauphin, appeared in court on Wednesday in connection with posting a picture of a handgun to social media.
He was arrested near the Rossburn Collegiate on March 14th and was found with a C-O-2 powered replica pistol and ammunition.
Oudie was in Rossburn Provincial Court on Wednesday and had his matters adjourned until May 16th.
Details

Contributed by

Brady Lang