Local News
On Tuesday, RCMP received a report of a theft of a tandem axel gravel truck and a tilt deck trailer with a compact excavator on it was taken from a Dauphin business.

It's believed that the theft occurred this past weekend.

The stolen equipment was found yesterday during a plane ride.

Anyone with information is asked to call the Dauphin RCMP detachment at 622-5020 or Crime Stoppers at 1-800-222-8477.
Details

Contributed by

Jennifer
Gardening is becoming more and more popular in Dauphin.
A Community Gardening Workshop is being offered by the Dauphin Neighbourhood Renewal Corporation on Monday.
Allison Moss, Community Liaison, has seen gardening growing in the community.
"I think we've seen an uptake in the last couple of years in terms of interest in the community garden network. This spring, we have seen just a ton of enthusiasm around it and the network is expanding in Dauphin. So Parkland Crossing recently put in four additional raised garden beds near the food bank entrance and that has seemed to generate an interest, in addition to the garden beds behind the facility. Whitmore School is putting in four garden beds for students and community members in that neighbourhood. Echo Housing has garden beds. They've just put in an addition four so that's five in the back yard. With that and when we are seeing infrastructure being created, there's always an opportunity to get together and learn from one another."
The workshop starts at 5:30 p.m. at Birss Greenhouse, located on 4th Avenue N.E., across from the Co-op.
Participants should bring a lawn chair and a donation for the foodbank.
The workshop is free and to register call Moss at 622-3164.
Details

Contributed by

Jennifer
22-year-old, Ryan Stevenson of Dauphin made another court appearance for a fatal single rollover with a stolen vehicle.
Last summer, RCMP responded to an accident just 15 kilometers west of Camperville on Highway 20.
Pronounced dead at the scene was a passenger, a 23-year-old Dauphin man.
Stevenson is to appear in court in Dauphin on June 12.
Details

Contributed by

Jennifer
A new court date has been set for July 3 in Dauphin for the death of a 37-year-old Camperville man.
Spencer Sumner, 25-years-old from Fairford, faces Manslaughter charges
Back in January of this year, RCMP responded to a call in Camperville about a disturbance and found the victim deceased.
Sumner will appear in court in Dauphin on July 3.
Details

Contributed by

Jennifer
A tentative deal has been reached between CP Rail and the union representing the engineers on strike.
Details of the agreement will be presented to the employees for approval.
If ratified, operations could resume by tomorrow morning.
Details

Contributed by

Jennifer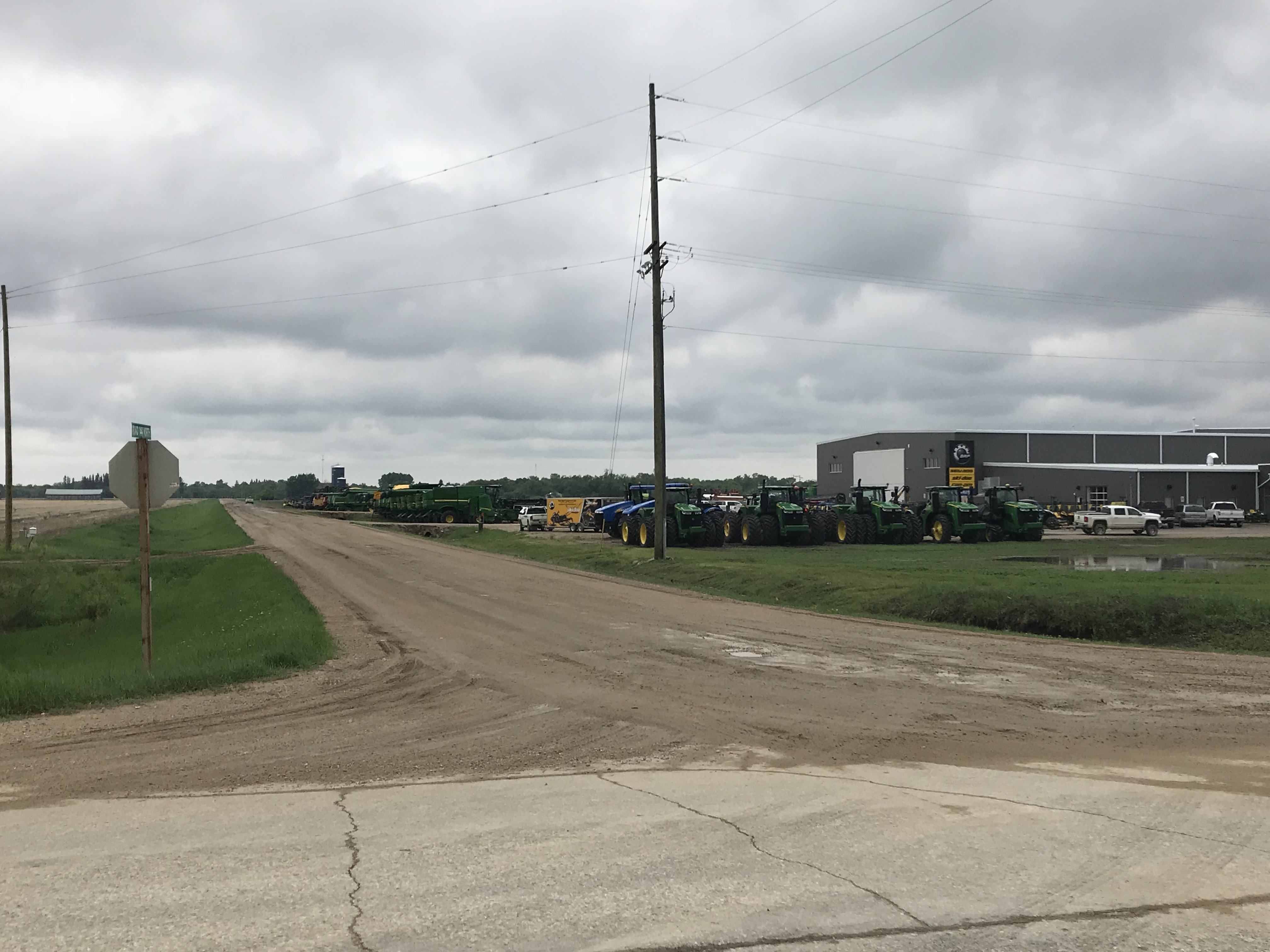 A Dauphin road may soon be closed off.
That is the hope of impacted residents after they presented their concerns during the most recent city council meeting.
Bruce Rampton lives on Range Road 144N and he says both the people that live there and Reit-Syd Equipment never imagined the problems that would develop as the road became more popular.
"We were hoping it would be a win-win for everyone. The municipal governments wouldn't' have to be spending all that money keeping up a road. It would take us longer, the people that live there, to go to town then affect anybody else. Reit-Syd would like to see it too because it's such a cost to them trying to control that dust. It's even difficult on their workers when they are working outside and they constantly have to keep the doors shut to their bays and their repair shop because there is so much dust floating."
Rampton argues that the road isn't even that much quicker to travel on as opposed to going along the bypass. He says after testing how long it takes both ways, you are only saving around 6 seconds if you go the speed limit.
Details

Contributed by

Benjamin Schwab
The registered nursing profession is now under The Regulated Health Professions Act as of today.
The RHPA sets out a new way of regulating who does what in the provision of health services by designating reserved acts for those duties that need to be done by a competently trained professional.
Registered nurses will be able to do 14 of the 21 categories of reserved acts.
Reserved acts are activities such as screening and ordering diagnostic tests and prescribing and administering drugs.
This regulation allows for a new designation of registered nursing, which will be called the Registered Nurse Authorized Prescriber.
For more information on the RHPA go to www.gov.mb.ca/health/rhpa.
Details

Contributed by

Jennifer
The Palliative Care Redevelopment Project at Dauphin's hospital is making some headway.
The first phase has been moving along well thanks to many donations from around the Parkland given to the Dauphin Hospital Foundation.
The project will see renovations and upgrades to the four Palliative Care Unit Rooms including wall repairs and new furniture.
Some of the larger community donations for the project over the past year came from the Dauphin Ukrainian Orthodox Young Men's Society of $5,000, the Dauphin Community Foundation of $5,000, Dauphin Knights of Columbus with $3,000, Cargill with $2,500 and Reit-Syd Equipment with $500.
The last time any direct enhancements of the unit took place was over 16 years ago.
Details

Contributed by

Benjamin Schwab
It's a busy season for the Grandview Recreation right now.
All the summer activities are in full force along with a new building being constructed in Wilson Park.
Jill Wiebe, Grandview Recreation Director, talks about the new building going up.
"We are building a new building at our Wilson Park. This building will house bathrooms, showers, and a concession. We are about 50% through our build. We are just hooking up the water and electrical and after all that is done, we will continue with our fixtures and the siding and the landscaping. We are happy to have that going on and we also will hopefully have that done by the end of June.
The facility will be wheelchair accessible and be open for those staying at the campground.
The Grandview Rec Commission is gearing up for a busy swimming season and just opened up the pool this week. There is also a four week long Kids Play Program that they're currently taking registration for as well as a town wide yard sale scheduled for August 18.
For more information contact the rec office at 546-5260.
Details

Contributed by

Jennifer
Almost 375 thousand people are expected to head down to Riding Mountain National Park this year.
That's down from last year's 420 thousand, thanks to the Canada 150 free park passes.
Even with the numbers dropping, Cal Martin, the Visitor Experience Manager, tells us that's still more than pre-2017 attendance.
"Not only did it increase visitation overall but I think a number of people that haven't been to the park in a long time came back to check it out, to see what's new. And I think a lot of those people are coming back again this year. Other people that came last year were ones who had never been to the park and wanted to check it out. I think for those two groups specifically, it's really made an impact. Because we are definitely seeing an increase compared to a normal year."
All services in the park are officially open with the visitor centre, all restrooms, shops, and restaurants opening for the Victoria Day long weekend.
Details

Contributed by

Benjamin Schwab
The R.M. of Lakeshore is issuing burning permits for two day periods only.
Burning permits can be denied at the discretion of the Fire Chief.
Extreme caution when burning is recommended, and fire guards and reasonable measures must also be in place.
Please contact the municipal office if you have any questions.
Details

Contributed by

Jennifer