Local News
The province won't be charging provincial sales tax on pot when it's legal.
A social responsibility fee of six per cent will be applied to the total annual revenues of each cannabis retailer.
A 75 cent per gram markup will be applied plus an additional nine per cent at the wholesale distribution level.
These fees will help pay for a number of programs including, public education, safety enforcement and addictions programs.
It was announced in the Budget Implementation and Tax Statutes Amendment Act released yesterday.
The province intends to keep the price of pot low enough to get rid of the illegal market.
Details

Written by

Benjamin Schwab
Canadian Blood Services is in urgent need of donors before the long weekend.
They say they need more than 22 thousand donations of blood before the 26th.
Steve Raizen, with Canadian Blood Services shares why getting donations next week is important.
"Summertime is obviously a very busy time for families and donors enjoying summertime activities. We generally see a drop in donors during the summer, so we're encouraging Canadians to come out and donate blood before the long weekend."
The next clinic that Parkland residents can go to is in Brandon next Thursday, the 23rd at the Keystone Centre.
Raizen encourages anyone already heading to Brandon to stop by the clinic that'll be set up at the Keystone Centre.
"You know we're looking at donors who may be able to go to Brandon. But certainly, anyone who's travelling to Brandon on other business be it shopping or medical appointments. We're encouraging them just to think about blood donation while they are making their travel plans."
Details

Written by

Benjamin Schwab
For every A & W Teen Burger bought today two dollars is being donated to the Multiple Sclerosis Society of Canada.
Amanda Novak, the Development Manager for the MS Society of Canada- Manitoba Division says the disease impacts so many in the Parkland.
"Primarily the prairie provinces have huge amount per capita of those folks living with MS. I believe that the more money that goes into research, we have already come so far. Research is improving every day. Every month there's something new and treatments, there's new medication, things like that, that are definitely improving quality of life for those that are inflicted by the disease."
For those who want something other than a Teen Burger Novak shares how else you can donate.
"There's more than one way you can actually donate and participate in Burgers to End MS. Not everybody likes burgers, so if you want to come out to A & W that day the folks at A & W are more than willing to take a donation, they could ask you to round up your orders."
This year's Burgers to Beat MS is the 10th year the MS society and A and W are working together to help fund MS research.
Details

Written by

Benjamin Schwab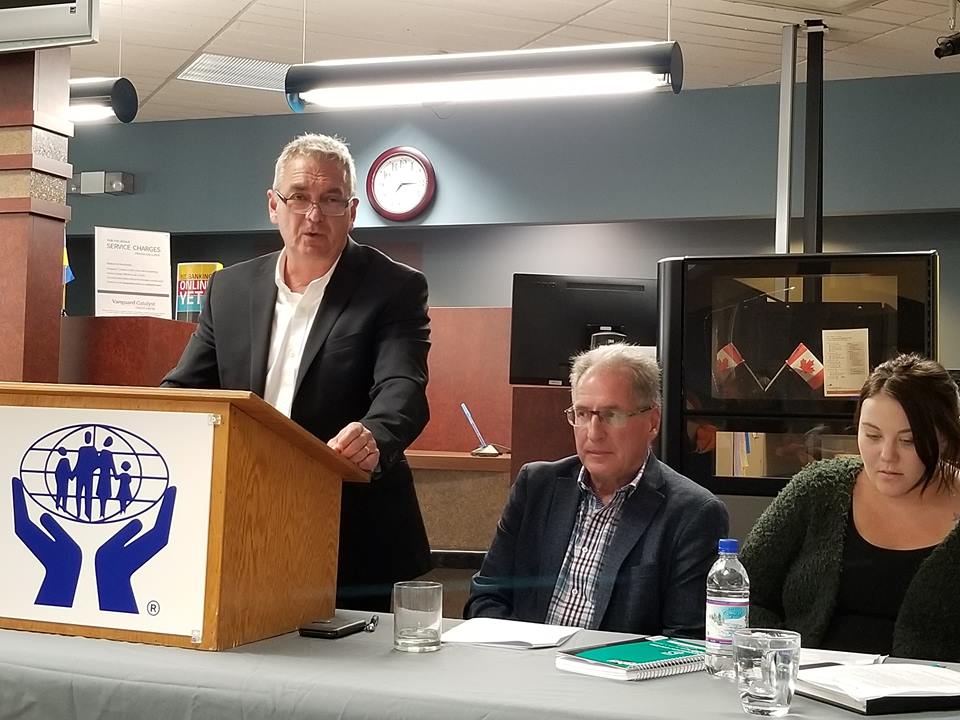 Fusion Credit Union Limited is the new name of a recently merged Parkland credit union.
Last night members of the formerly named Vanguard-Catalyst Credit Union voted for the change. It took place at meetings simultaneously across the Parkland including in Dauphin and Roblin.
Fusion was suggested 4 times out of 650 names submitted as possibilities.
The name was selected through a contest for members and staff, which generated 650 entries. The amalgamation committee reduced the number to 50 entries and staff and members voted on those. The Board selected Fusion, the most popular new name based on three voting groups – members, staff and the amalgamation team.
Through the process, it was constantly in the top three choices of the project team, the staff, and the board of directors.
Ron Hedley, Fusion's CEO says they were looking for a fresh start and didn't want to re-use either of the former names.
135 members attended the name ratification vote, held in Dauphin, Rossburn, Hamiota and Roblin.
Details

Written by

Benjamin Schwab
Burn bans are back in effect in parts of the Parkland.
A fire ban is in effect for the Municipality of Roblin as of 7 o'clock this morning, and effective as of 8 o'clock this morning, the Grandview Municipality will impose a burn ban.
In Roblin, permits are void and no new permits will be issued until further notice. Absolutely no stubble, brush, crop residue, grass fires or use of fire pits are allowed at this time.
In the Grandview Municipality, no fires are allowed throughout the Municipality, both urban and rural. The ban will stay in effect until further notice.
Details

Written by

Benjamin Schwab
There are only a couple more days to hire a local student to do some odd jobs as part of the Manitoba Youth Job Centre program.
If someone wants to hire a student for a casual, part-time or full-time job they have until this Friday.
Mandy-Jo Stratuliak the Youth Engagement Leader at the MYJC explains why the program is great for teens around town.
"So, the Manitoba Youth Job Centre is a great program for students who are just starting to get into the workforce adding some valuable work skills and experiences that will, for sure, benefit them in the future. It also shows that local youth are eager to work hard no matter what the job is."
Stratuliak continues to say they learn a lot.
"So it helps the students develop basic skills such as communication, organization, and time management, independence, and many more.
You can give the centre a call at 648-6909 to place a job order.
Details

Written by

Benjamin Schwab
A driver now faces nearly thirteen-hundred dollars in fines after he was caught by RCMP going more than 180 kilometers an hour with a baby and a toddler in the back seat.
RCMP say the man was pulled over after he was spotted speeding on the Trans-Canada Highway yesterday morning near Carberry.
They also say the baby was in a proper car seat, but the two-year-old toddler was merely sitting in a booster seat.
The driver received a 992 dollar speeding ticket and was also charged with driving a car when a child is not properly restrained, which is a 298 dollar fine.
Details

Written by

Alec Woolston
Prairie Mountain Health has almost reached the yearly average number of syphilis cases reported.
On average there are 33 confirmed cases each year, so far there have been 31.
Symptoms consist of painless open sores, that usually appears on the site where the bacteria entered the body.
It takes between three days to three months before symptoms develop. Symptoms might not even develop for years.
This seems to be a trend, as the Winnipeg Regional Health Authority has also seen a spike.
The popularity of online dating and hookups apps are considered a big possibility for why there is an increase in STI numbers.
Details

Written by

Benjamin Schwab
Vanguard-Catalyst Credit Union is holding a vote tonight to approve a new name.
After a contest, collecting input from staff and members for recommended names the Board Of Directors reviewed the options and made a decision.
The Board made choice by considered for the following criteria as part of their decision:
Can they evolve into the new name
It had to reflect their standards, goals, and priorities
could they make it distinct in the marketplace,
and is it marketable, easy to say, understand, and remember
To make it official, a resolution to change the name of the credit union must be approved by the members.
Doors open at 6:30 this evening at the Dauphin, Hamiota, Roblin and Rossburn branches.
Details

Written by

Benjamin Schwab
You've always wanted to use a stick that a Dauphin King did, or you have a favourite Kings player from the past and you want a jersey... well, you can make it happen.
The Dauphin Kings will be hosting a Yard Sale this Saturday at Credit Union Place.
"Earlier this summer the MJHL signed a contract with the CCM, which means players in the league can't use Sherwood stuff," said Christian Laughland, Marketing Director and Media Relations for the Kings. "So, we have to sell all our Sherwood equipment to make room for the CCM stuff."
Things that will be available at the sale include sticks, jerseys from the past that are game worn, socks, and so much more.
"It's an opportunity for the public to get their hands on some really good deals right before the hockey season," said Laughland. "Like, we're going to be selling things 50-75% off, and it's all really good stuff."
The sale goes down at Credit Union Place (North Entrance) on Saturday, August 18 from 11:00 a.m.- 6:00 p.m.
"All the proceeds will go towards and help us with all of the renovations we're doing in our dressing room right now," Laughland added.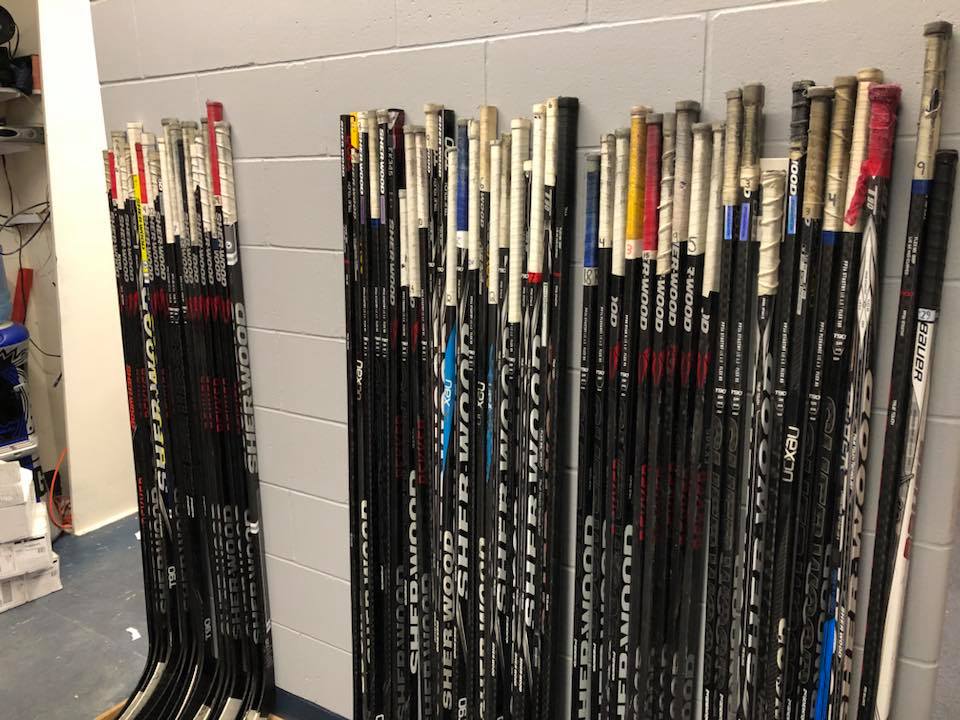 Photo Credit - Dauphin Kings.
Details

Written by

Darnell Duff
Crops and lakes could be affected by the Prairies entering into a dryer climate cycle.
Climate Change might be shifting how the typical 10 year wet and dry cycles function.
Ruth Eden the Acting Assistant Deputy Minister from Manitoba Infrastructure says more droughts and lower water levels in lakes are some effects.
"This is just a symptom of leaving a wet cycle and going into a dryer cycle. The lake levels may not be what they've been for the past ten years, we'll just have to watch that. But we could be going into a more within the normal range over the history."
For the past eight to ten years Eden says the prairies have been in a wet cycle and is at the point when it begins to shift.
Details

Written by

Benjamin Schwab