Local News
Incumbent Perry Bellegarde was elected to a second term as national chief of the Assembly of First Nations.

He won on the second ballot.
Sheila North of Manitoba finished second with 125 votes while another Manitoban, Katherine Whitecloud, was eliminated in the first round for having the fewest number of votes
The results of the final ballot:

Perry Bellegarde — 328
Sheila North (from Manitoba) — 125
Miles Richardson — 59
Russ Diabo — 10
Details

Contributed by

Benjamin Schwab
This time of year bears are getting close to walking trails as they look for berries and other vegetation to eat.
Doug Bergeson, a wildlife biologist in Riding Mountain National Park, says bears are currently hitting up Saskatoon berries along the trails.
This time of year the vegetation is very thick and bears sometimes have trouble hearing people approaching.
Bergeson says this is one case when park officials decide to close trails.
"Occasionally during the year we will have to close a trail for a little while if a hiker or a biker or somebody comes in close proximity to a bear, especially a sow with cubs."
People hiking along trails should be aware that Riding Mountain National Park is bear country and they should inform themselves as much as they can to protect themselves from having a negative encounter with bears.
Bergeson gives those planning to head out to the park some safety tips.
"When they are out hiking certainly I recommend people going in groups, you know, two or more. Make noise on the trail. A big one is definitely keep dogs on a leash at all times. Dogs can antagonize a bear, so we don't want that situation. Be aware of their surroundings. If they are on a trial look for bear signs like tracks, or droppings or scrapes or beds or that kind of thing and just be aware."
"If you are in an area that has bear signs, make lots of noise, and if you encounter a bear give them lots of room. Slowly back away."
Bergeson says bikes are fairly quiet and can sneak up on a bear. He also recommends carrying bear spray.
Details

Contributed by

Benjamin Schwab
Customers of Manitoba Hydro who have experienced a big and unexpected jump in their energy bills are being asked to call the utility right away and provide a meter reading.
Manitoba Hydro spotted a glitch that appears to affect customers who did not have a meter reading at the time of billing.
Hydro says it first became aware of the problem on July 13th when a number of bills with higher than expected consumption estimates were noticed.
Any affected customers are asked to pay their bills as normal but Hydro says their meters will be read this month and their accounts will be reconciled in the next billing period.
Details

Contributed by

Benjamin Schwab
There's another road closure to be aware of this morning.
From 9 until the midafternoon, a section of the 500 block of Wellington Cres will be closed to traffic to install water & sewer services.
The city asks that you be prepared to detour if you have to go down to that area.
Details

Contributed by

Benjamin Schwab
In the middle of the night on Monday, a thief broke into the Ste Rose CO-OP Agro Compound and stole a Reit-Syd Equipment truck.
The thief drove the truck thru the locked compound gate. He was caught on camera and is described as a middle-aged man with a heavier build.
Don Tarrant, General Manager of Reit-Syd, says the truck should be easy to identify.
"The truck has RSE Services, our name, on the side so it should be very specific because it's just a grain truck with a water tank in the back. So, it's quite unique."
They found out the truck was stolen around 9 am on Monday.
Tarrant gives us some details about the truck. "2009 Mack, CXU 613, it's a tandem truck, it's got a white 22-foot grain box on it. Inside the grain box is a 3000-gallon water tank with a pump system. And then it was towing a black utility trailer."
The Truck that was stolen is same as the one provided in the photo, except it has White Box.
If you have any information related to this missing Truck, please contact Reit-Syd Equipment at 204-638-6443, the Ste Rose RCMP, or the DauphinRCMP Detachment at 204-622-5020.
Details

Contributed by

Benjamin Schwab
The missing 24 year old from Keeseekoowenin Ojibway First Nation has been found.
RCMP have announced they safely located Megan Sportak.
She was reported missing back on July 12th.
Details

Contributed by

Benjamin Schwab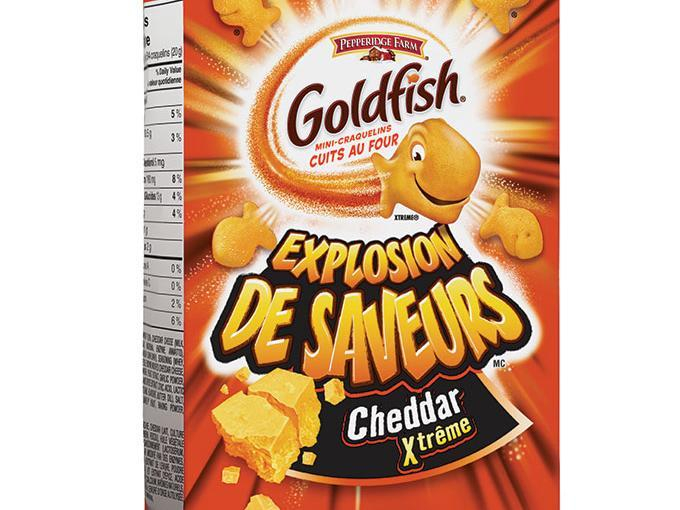 Goldfish Flavour Blasted Xtreme Cheddar Crackers are being recalled.
The Canadian Food Inspection Agency says in both 180-gram and 69-gram packages are being recalled due to salmonella contamination.
There have been no reported illnesses linked to eating the crackers.
You should throw out or return any packages you have to the store where they were purchased.
The larger packages have product codes listing several dates for January and February of 2019 and the smaller packages display dates for January only.
Details

Contributed by

Benjamin Schwab
The City of Dauphin has closed a road this morning to renew the water main and house service.
7th Avenue NW from Main Street North to River Avenue West is closed.
The road restrictions start today and continue into mid-August.
Please avoid the street or be prepared to detour
Details

Contributed by

Benjamin Schwab
Road construction on highway 5 west has now expanded into Dauphin from the bypass to Jackson Street and Provincial Road 362 North.
Construction is also going north on road 362 North for 9.2 km.
Signs along the road warn of loose stones and to go 40km/h to avoid throwing them.
Expect frequent delays and watch out for equipment and crew members working.
Details

Contributed by

Benjamin Schwab
2018 will be a year to remember for Neepawa's Darlene Gillies.
That's because she was awarded the 2018 UCT Volunteer of the Year Award.
UCT is the United Commercial Travellers of America, who provide community services, supports and plan charitable fundraisers on a volunteer basis.
Darlene received her award at the organization's convention in Savannah, GA earlier this month.
"I always attend the convention, and I knew my name had been submitted... but it had been many times for the same award," said Gillies. "There are so many people across North America in our organization that do a lot of work."
"I had no idea that I would be selected for the Volunteer of the Year Award," added Gillies. "It's the highest UCT award you can win. It's really quite the honour that I won it."
Gillies first became a UCT member in 1990. Since then, she's been volunteering locally, nationally and internationally, and she shares some of her fondest moments as a part of UCT.
"Every other year, Neepawa host "Progress of Farm Safety Day", said Gillies. "We have approximately 200 grade 5 and 6 kids from Neepawa and Carberry that take part, and it's organized by Emergency Measures of Neepawa, but UCT supplies all of the food for the day."
"I was the coordinator with the EMS to make sure that day went well," she added. "So that's probably one of my favourite ones because if we can go towards preventing one accident or death, it's a great cause."
Darlene also volunteered for Palliative Care at the hospital and at the nursing home, and she became extremely close with one individual.
"A lady was in the hospital for 105 days, and I visited her very regularly before she passed," added Gillies. "I was able to create a bond with her and try to keep her at peace. Her spouse was also there, so it was nice that we all got the opportunity to spend an extended period of time together."
28 years have passed since Darlene became a member of the UCT, and that number is expected to grow.
"It just comes naturally to me," said Gillies. "I'm just a community volunteer."
"I don't plan on stopping anytime soon," added Gillies. "I'm not as active as I was probably 10 years ago, but I still plan on volunteering in the future absolutely."
Darlene also is the President at Neepawa Tire LTD.
Details

Contributed by

Darnell Duff
One year later, and the family of a man who went missing in Duck Mountain Provincial Park is still on the search.
37-year-old Mark McKelvey disappeared while working in the park on July 24th last year. He was last seen at the Trisum logging camp where he was employed.
Those close to him still regularly return there to look for him, and most recently took a 10 day trip to the area a couple of weeks ago.
They plan to resume their search efforts later this summer.
Details

Contributed by

Alec Woolston