Local News
Barry Trotz stopped by 730 CKDM's Al Morning Show this morning to talk with Darnell Duff and Al Gaines.
He shared how CKDM played a part in his early hockey career while he coached in Dauphin.
"CKDM has always been a big part of my life. Because when I started coaching and all that CKDM followed us, followed the Kings. I was able to get on the radio, all that." He continues, "thank you for the support getting the word out."
Trotz wants to thank the community for the support he's received including the mayor, the people organizing the parade, and his family.
He shares what he hopes to come out of the fundraising. "I wanted to leave something here in Dauphin so that everybody can enjoy it. Whatever it is, an improvement in maybe some facilities, maybe something for the seniors, maybe something for the hospital. I'm going to let the committee target that."
Make sure to attend the Stanley Cup parade starting at 12:30 starting at Henderson school and going down Main Street.
Also from 1 to 5 this afternoon, head down to credit union place to get a picture with Barry for 2 dollars.
All money raised today will be matched by Barry and put back into the community.
Details

Contributed by

Benjamin Schwab
Barry Trotz stopped by 730 CKDM's Al Morning Show!
Details

Contributed by

Benjamin Schwab
Update:
The Gilbert Plains Co-op carlock has been turned back on, however clear gas and clear diesel ( the small nozzle) has not been replaced yet.
----
A gas pump at the Gilbert Plains bulk fuel station was on fire this morning.
One witness says it was blazing around 8:35 this morning.
The Gilbert Plains Co-op says one pump has been destroyed. The entire cardlock is closed down until further notice for all products.
Details

Contributed by

Benjamin Schwab
The Dauphin Public Library recently unveiled a fresh new website.
With the update, the library can advertise their services more than in the past.
Jean-Louis Guillas, Director of the Dauphin Public Library, thinks it's much more dynamic and features a similar format to other library websites from other communities. Making it more user-friendly.
"It's been a project that's been overdue for us. We got a small grant from the province that allowed us to make this change and have a much more functional website in terms of having the ability to advertise our events in it. That was a big change for us. Much more user-friendly than our old website. We can do the changes ourselves rather than relying on a specialist to do things for us."
Guillas gives an example of how the new website can show off their products.
"For example, we do have service called Canopy which is a streaming video service. We had a soft launch adding that service in January, but not a lot of people knew about it unless we captured them in the library to tell them about it. The website has an easy link to that service, and it allows us to sell that a little bit more."
One service they plan to have in the future is the ability to suggest a book or magazine that the library can buy.
Details

Contributed by

Benjamin Schwab
Barry Trotz is a Stanley Cup Champion, and yesterday evening, the City of Dauphin honoured him by unveiling Barry Trotz Way.
The 200 block of 5th Avenue S.E. is now called "Barry Trotz Way".
"I really think this is a long overdue recognition for a man that's so accomplished," said Melisa Stefaniw with Tourism Dauphin. "He's really strived to be a great example and he's great at what he does. We wanted to honour him, and we made a big step in doing that by unveiling "Barry Trotz Way."
"I would go to the outdoor rink, to the DMCC, to the fairgrounds and this way basically my route all the time," said Barry Trotz. "This really was my highway, and it's a legacy for mom and dad. This unveiling is really at the perfect location."
"I really appreciate this and everything that went into it," he added. "It really does mean a lot."
And with today being the "Parade Day", Melisa wants the whole community to rally around and support Barry and come out for a great day.
"The parade is really going to be something else," said Stefaniw. "We really want to show Barry the spirit of the community. So bring all your hockey equipment out and come to congratulate Barry."
It starts up at 12:30 at Henderson School.
Details

Contributed by

Darnell Duff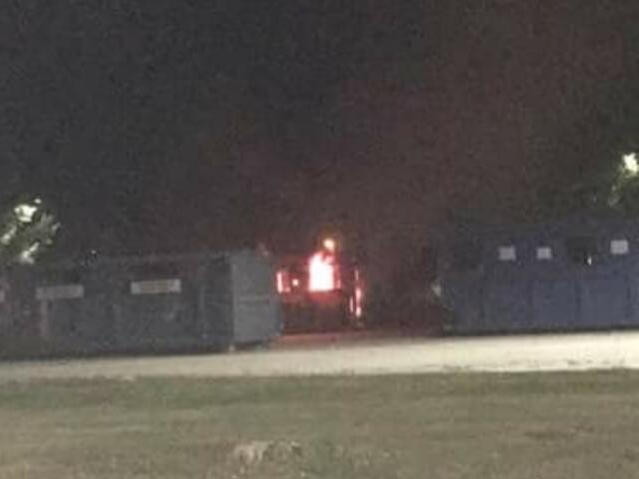 Shortly before 11:00 last night the Dauphin Fire Department received report of a dumpster on fire in the back lane between 1st & 2nd avenue northeast.
Then, at approximately 11:40, the Fire Department received a report of another dumpster fire taking place at the recycling drop-off on 1st avenue southeast.
Both fires were contained to the dumpsters, and are considered suspicious. Anyone with information is asked to call the Dauphin RCMP at 204-622-5020.
Details

Contributed by

Benjamin Schwab
Manitoba Beef and Forage Initiatives officially opened their new Learning Centre at the MBFI Brookdale Farm north of Brandon.
The new facility includes a 2,200-square-foot classroom, internet access and audiovisual equipment for distance learning, and a food preparation area. Office and interpretive gallery spaces are being added later on.
The centre is intended to be a hub for producers, students and the general public to gather, learn and network
"We now have the ability to provide a comfortable learning environment in the MBFI Learning Centre that can be paired with hands-on learning from MBFI researchers in our fields to represent a valuable experiential experience for visitors to MBFI." Ramona Blyth, who is the MBFI president, said.
Manitoba Agriculture Minister Ralph Eichler spoke at the event this morning. He said the work being done at MBFI is an invaluable resource for Manitoba producers and the whole agricultural sector. "MBFI is a prime example of what can be achieved through a partnership between beef and forage producers, conservation organizations, industry stakeholders and governments."
The 500 thousand dollar project was built with a combination of federal and provincial government funding through the Growing Forward 2 program and private-sector contributions.
Details

Contributed by

Benjamin Schwab
The Stanley Cup Parade in honour of Dauphin's Barry Trotz starts tomorrow afternoon.
Karen Rauliuk, an organizer of tomorrow's events, shares where it's going.
"The parade starts at 12:30. It starts From Henderson School, going down River Avenue, to Main Street, it will be turning at City Hall, and heading to the CUP." She continues, "during the parade route we want everyone to wear their favourite hockey jersey, make signs, congratulations Barry, whatever kind of sign they want to make, to congratulate Barry and fill up the route."
Who's walking the parade route? Rauliuk gives us an update. "In the parade we have we have the band PTO, Party Time Orchestra, they will be strumming along the whole parade route with Ukrainian tunes. Then we have a few, quite a few, Dauphin Minor Hockey kids walking the parade route with Barry. Barry, the cup, and of course his family and we have the riding and dancing Cossacks."
Rauliuk says the parade will starting right on time during the noon hour because she knows people will have to get back to work. She encourages people to get there early and get a good spot.
After the parade, you can get your picture taken with Barry and the Cup at Credit Union Place.
Details

Contributed by

Benjamin Schwab
You will be able to buy pot online if you are ordering in Manitoba from a Manitoba retailer.
Every retailer who is allowed to sell marijuana in Manitoba can sell it online within the province.
Michael Legary, a spokesperson from the Government of Manitoba gives some examples of how sales can work.
"So, if you are in the province of Manitoba you can be, say from Fargo and be in Manitoba, and purchase cannabis if it's delivered in Manitoba. Or if you're a Manitoban you can have it purchased here. But a retailer can only sell and deliver cannabis in Manitoba."
If you find a strain you like while out of the province you won't be able to buy from that location once you are back home.
Don't worry though, Legary says the same kind of ordering of special products at liquor stores applies to pot sales.
"What you will be able to do is contact one retailer and say 'I like this strain can you bring it in.' There will be the opportunity for, because the supply through Manitoba Liquor and Lotteries, you can go to your retailer and ask them for a product you like and be brought in. Just like alcohol, if you have a particular wine or scotch you like Liquor and Lotteries can order that and bring it in."
If you find a strain of marijuana you like while doing some shopping in Yorkton you don't have to worry when bringing it back to Dauphin.
Once pot is legal you can cross any provincial border without breaking any laws.
Legary says there is a limit to how much you can bring across any provincial border.
"So you can bring up to, for personal consumption, 30 grams. So, if you drive there and you find something you like and you want to bring that across the border, you can bring your personal allotment back."
If you want to find out more about provincial pot laws, check out the locally produced Reefer MEDness podcast hosted by Trevor Shewfelt and Kirk Nyquist.
Details

Contributed by

Benjamin Schwab
The Dauphin Fire Department responded to another house fire in the city.
Shortly before 11 o clock last night, the department was notified of a structure fire on 3rd avenue south west. Upon arrival, firefighters found the home completely consumed by fire with flames spreading to the house next door. The neighboring home's roof and eaves were on fire and one window had broken from the radiant heat from the original fire.
All the tenants of the property were safely accounted for, so the firefighters turned their attention to the neighboring home. The initial structure is a complete loss, however the second property was saved. The fire had travelled into the wall and roof/attic space of the second property, but firefighters were able to gain access into the home and fully extinguish the concealed fire by opening up the wall and ceiling.
Crews remained on scene until approximately 3:30 this morning to ensure the fires were completely extinguished.
There are no injuries or estimates on damages at this time, and the cause of the fire is determined to be suspicious. If anyone has any information regarding this incident, please contact the RCMP-Dauphin Detachment at 204-622-5020.
Details

Contributed by

Benjamin Schwab
A fire broke out at a grain elevator in Crystal City, Manitoba.
The Paterson Grain facility, located in the community west of Morden, was engulfed in flames around six this evening.
Hundreds of customers are without power.
Details

Contributed by

Benjamin Schwab