Local News
One man was shot and another seriously assaulted in Portage la Prairie yesterday morning.
Portage la Prairie RCMP responded to gunshots near 17th Street at around 12 a.m. yesterday
When they arrived, officers located an 18-year-old man who had been seriously assaulted, and a 20-year-old man with a gunshot wound.
Both, are in the hopsital in stable condition, and the investigation is ongoing.
Both victims are from Portage la Prairie..
Details

Contributed by

Cole Papalazarou
This week is National Drowning Prevention Week.
Kinsmen Aquatic Centre is hosting a free program featuring a class and a swim.
Tamara Kolida, Programs & Promotions Coordinator, shares with us the centre has planned.
"We are doing classes each day from 10 to 10:30. So instructors will go over drowning prevention measures, water safety tips, etc., stuff that you would kind of learn in swimming lessons. And then follow that with a free swim."
Kolida also talks about why this program was created.
"We realized that a lot of people can't afford swimming lessons, or to afford to come swimming at our facility. So we thought we would combine a free swim with a little bit of education."
Up to 50 kids can register for the classes. You can attend all week or just one of the days.
The program is sponsored by the South Parkland Healthy Child Coalition.
Details

Contributed by

Benjamin Schwab
A 32-year-old was found dead at a house party in Dauphin on Saturday morning.
Around 3:00 in the morning the RCMP responded to a report of a stabbing at a residence in the 100 block of 9th Ave SW.
When they arrived officers found the man in the residence.
Reginald Morrisseau, a 29-year-old-male from Fishing Lake First Nation, Saskatchewan, was arrested at the scene and has been charged with Manslaughter.
He has been remanded into custody and is scheduled to appear in Dauphin Provincial Court tomorrow.
The RCMP's Major Crimes Unit and Forensic Identification Unit continue to assist with this investigation.
Details

Contributed by

Benjamin Schwab
Everyone in the Parkland should be aware of the possible risk of severe thunderstorms.
A watch is in effect for communities all across the region including, Dauphin, Gilbert Plains, Grandview, Winnipegosis, Russell, Roblin, Ochre River, and Riding Mountain National Park.
Environment Canada warns people to be on the lookout for adverse weather conditions and take necessary safety precautions.
Details

Contributed by

Benjamin Schwab
The RM of Dauphin is looking to replace Dauphin's swinging bridge.
They had initially hoped to save the wooden structure. So they got an engineer to look at it and he said the old material was beyond salvation.
Jack Bremner, a councilor with the RM, hopes to turn the bridge into a tourist site for Dauphin and preserve the history of the area.
"I know a lot of kids partied on the bridge. One guy carved his name into the wood with him and his girlfriend, you know it held a special place for them. So hopefully we can salvage and make something out of it."
The project qualifies under the provincial Transitional Municipal Road and Bridge Program. They applied and are now waiting on a response from the government.
The RM hopes to have a 50 percent cost share of the $135,896.25 project between the province and through fundraising.
"To take public tax money and fund a small bridge like that, I don't know if we can do it. But if the public is willing to help, maybe raise part of the funds then the council would look into it and see if we can go ahead with the project."
If it's approved Bremner hopes to get the public behind the project and raise enough funds to complete the project.
"We had one meeting and we had some interest in salvaging it. There were some people willing to donate stuff for a fundraiser and hopefully those feelings are still there."
Details

Contributed by

Benjamin Schwab
Brandon Police were busy last night with a standoff that lasted over 5 hours.
Witnesses reported that it started after 7 when two police cars, two 4x4 vehicles, and a tactical unit arrived blocking several streets from 9th and 10th Streets to Stickney and Assiniboine.
The standoff ended around 12:05 in the morning.
The police haven't issued a statement at this time.
Details

Contributed by

Benjamin Schwab
The heat warning in the Parkland is continuing today but should end this evening.
Daytime temperatures are expected to reach over 32 today with the humidex of 40.
A cold front is going to pass through tonight ending the extreme heat.
Environment Canada advises to watch for the effects of heat illness, such as swelling, cramps, fainting, and worsening of some health conditions.
Details

Contributed by

Benjamin Schwab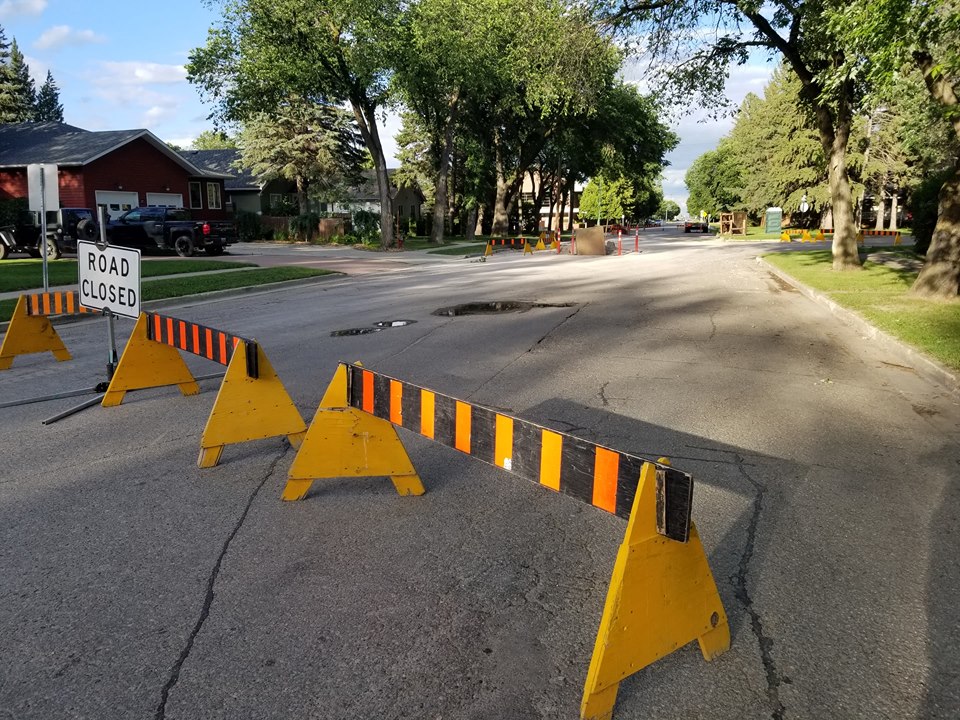 River Ave W is remaining closed through the weekend.
The city is continuing construction and plans to re-open the street in the afternoon on Tuesday at the earliest.
They ask that you be prepared to detour and thank you for your patience.
Details

Contributed by

Benjamin Schwab
This afternoon is your chance to support local producers.
Dauphin's Famers' Market is back again for the summer.
Joy Huska, the coordinator for the market, says it's a great way for producers to sell their products here at home.
"We always try and promote local. It's one way of supporting our local producers."
"For our seniors that have moved into town, who are no longer able to garden, it's one way that they can still get fresh fruits and vegetables and stuff like that."
Huska shares with us some of the different products that are available this year.
"We have baking, we have jams, we have produce, and we have homemade crafts the way of sewing. We have woodworking crafts. We have one gentleman who does craft work with using small stone. Another vendor has a lot of different types of honey. Another one, she just came in last year, she has flavoured popcorn, which is quite unique."
The Dauphin Farmers' Market runs every Friday from 4:30 to 6:30 in the parking lot at 831 Jackson Street.
Details

Contributed by

Benjamin Schwab
It's an inspirational night in Dauphin as YouTube star Christopher Duffley will be holding a performance.
Christopher who is from the U.S. and is known for his youtube videos, is in town to visit his grandma.
Christopher's mom Christine Duffley says tonight is an opportunity for him to perform for his grandma, as well as everyone else who wishes to come out and be inspired.
"First of all, you will be inspired. Inspired by family, about the love we have for one another. And how through all these years that love is what binds us all together. Family is beautiful amidst things that might happen. Secondly, you will laugh because Christopher is funny. And then you will be inspired."
He is performing at Saint Viator's church at 730 and is free to attend.
"The music will inspire you, the story will inspire you, and just who he is will just make you feel so good."
"We're so glad that what we could do in the US we could bring here to Dauphin."
You can find the link to his YouTube page by clicking the link here.
Details

Contributed by

Benjamin Schwab
An increasing ridge of high pressure is expected to bring extreme heat to the area tomorrow and Saturday.
Daytime high temperatures of, or exceeding, 32 degrees are forecast tomorrow and Saturday with little reprieve as overnight lows will be in the high teens on Friday night and Saturday night.
A cold front is expected to pass through Saturday night ending the extreme heat with more tolerable temperatures in the mid-twenties forecast for Sunday.
Watch for the effects of heat illness: swelling, rash, cramps, fainting, heat exhaustion, heat stroke and the worsening of some health conditions.
Details

Contributed by

Benjamin Schwab