Local News
Sunrise Credit Union continues to grow.

As of last night, Strathclair Credit Union passed a motion to merge with Sunrise.

Strathclair Credit Union has three branches in Strathclair, Shoal Lake and Oakburn.

The amalgamation takes place on January 1, 2019.
Details

Contributed by

Benjamin Schwab
Manitoba Public Insurance says the massive hailstorm last week that dropped softball-size hail in southern Manitoba could lead to 20-million dollars in insurance claims.
MPI says it's already processed 2,000 claims and expect the number to double by the end of the week.
They plan to open two emergency hail centres in Winkler and Ninette to speed up claim processing.
Manitoba Agricultural Services Corporation says, as of the end of the day Friday, they received around 190 hail claims from last week's storm.
About 90 of those are stage one, meaning reseeding is being considered.
MASC is advising farmers to contact their adjuster as soon as possible and to leave strips in the field if it's a worst-case scenario.
Details

Contributed by

Benjamin Schwab
The Vermillion Growers Green House project is one step closer to becoming a reality.
A groundbreaking ceremony for the project happened this morning at 10.
Lucky Deschauer, of Vermillion Farm Holdings, says it was a great turn out.
"Fantastic Response! There has been an overwhelming support from the community and we look forward to adding more benefit and more assets to this community."
Deschauer expects people to start seeing the warehouse come up by August. The greenhouse will start popping up next spring, and should be completed by June of next year.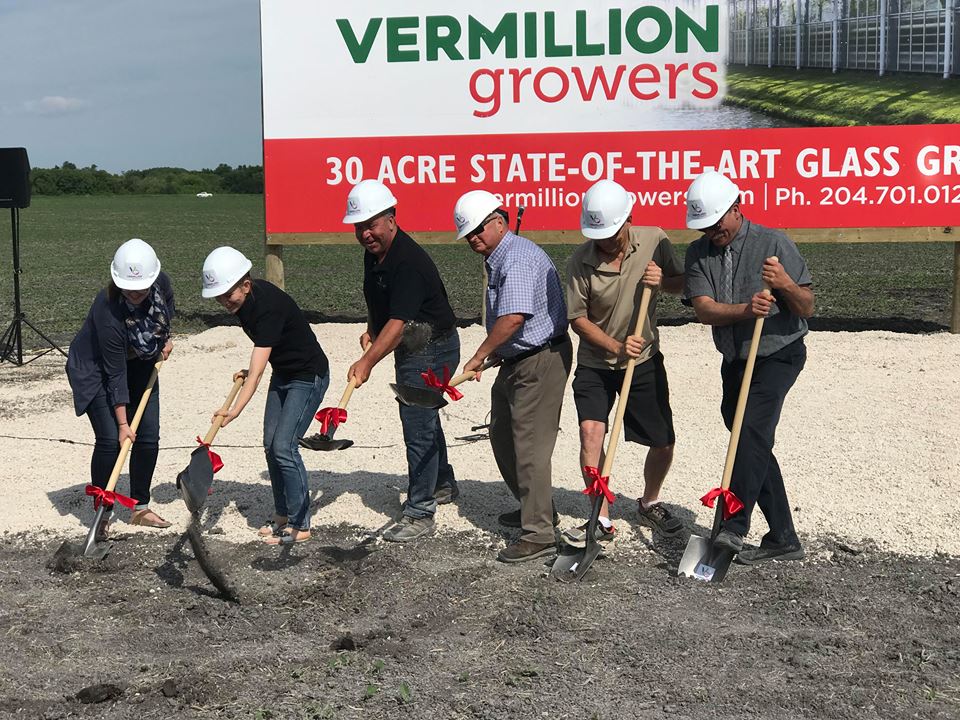 Details

Contributed by

Benjamin Schwab
The fire that destroyed multiple buildings in Brandon last month might have been caused by people.
Brandon Police say multiple witnesses reported seeing a number of people in the area before the building was engulfed in flames, suggesting that the fire might have been a result of human involvement.
They also say evidence suggests that the fire began in a grassy area between the CP rail line and the north side of Christie's Office Plus then ignited the north side of the Christie's structure.
Police now estimate the fire caused roughly $25 million in damage.
Although appropriate measures were taken to secure the fire sites for public safety reasons, officials ask that the public continue to consider these areas a safety hazard.
The investigation is ongoing and anyone with information related to this incident is asked to contact the Brandon Police Service.
Details

Contributed by

Benjamin Schwab
The 5th annual Dane Kaleta Memorial BBQ raised more than last year.
This year the BBQ raised 15, 080 dollars. That's including the 4 paint nights that were held.
Last year the event was able to collect 12,000 dollars.
The funds raised go towards the Ronald McDonald House, the Dauphin Girl Guilds, and the Dane Kaleta Memorial Scholarship.
Details

Contributed by

Benjamin Schwab
The Dauphin-Swan River-Neepawa federal riding's child poverty rate is higher than the national average.
The riding has a child poverty rate of 33.8 per cent. That translates to 6,910 children aged 0-17.
That is well above the national average of 17.4 per cent.
Overall the riding of Dauphin-Swan River-Neepawa is ranked 9th in the country.
In a report published by Campaign 2000, a group dedicated to ending poverty in Canada, it showed our riding isn't the highest.
The riding representing Churchill and area has the highest child poverty rate in the country with a rate of 64.2 percent.
Details

Contributed by

Benjamin Schwab
The Canadian Red Cross is sending nearly 800 refrigerators and freezers to two Manitoba communities that were evacuated due to wildfires.
There hasn't been electricity in Pauingassi and Little Grand Rapids First Nations for weeks, and people's appliances will have rotting food inside and won't be fit to use.
Clean-up crews are disposing of the rotten food and appliances.
Residents aren't ready to go home yet, noting power needs to be restored and then the water treatment plants can be reactivated.
Details

Contributed by

Cole Papalazarou
A stabbing in Steinbach has lead to one arrest and police on the lookout for one more suspect.
RCMP said an altercation occurred around 7:30 a.m. on Saturday when two men stabbed a 24-year-old man. The victim was taken to hospital, but has been released.
Police arrested Travis Nolin, and charged him with aggravated assault and possession of a weapon for a dangerous purpose.
A warrant has been issued for the arrest of Logan Antinozzi, pictured above,
a 28-year-old from Tolstoi, Man., who is facing charges for aggravated assault and other weapons related charges.
Anyone with information is asked to contact your local RCMP.
Details

Contributed by

Cole Papalazarou
An abandoned bag was to blame for a security incident that closed Winnipeg's airport yesterday.
Police say the airport was evacuated, but people were allowed back in after an hour when it was determined the bag didn't pose a threat.
Normal operations then resumed.
Several flights were delayed following the incident.
Details

Contributed by

Cole Papalazarou
The Ste. Rose Library building is 100 years old and a celebration is being planned.
It has housed a few different purposes in the community such as a school, then converted to a library.
Germain Jacobs, member of the Dreamweavers Art Group, tells us when the celebration takes place
"We're choosing July the first, Canada Day, to commemorate these hundred years of this building and we're opening it up to anyone who is in our community and around; people who have come to this school and used this library. We have opportunities for them to come in and sign the chalkboard we have available and set up for the occasion. There'll be an indoor and outdoor program also we have walking about tours that are going on about the building."
Elvier Brunel also a member of the Dreamweavers Art Group tells us what there is to all take in that day.
"We also have a community art exhibit, so people in the community are asked to bring up to three items of art that they've made and it will be on display. On the third floor we have our Dreamweavers Art Studio, so we're going to open that up too. That's our art studio and we come up here to do some art. We also have a little 1950's mini museum. This little replica of what our Main Street looked like in the 1950's and it's really well worth seeing."
There will also be a Story Time tent, BBQ lunch and 100th Anniversary Cake as part of the celebrations.
Both women had ties to the building. Jacobs worked as a librarian there and Brunel was a teacher in the old school.
Details

Contributed by

Jennifer
One person is dead and 5 people are injured in a rollover in Peguis First Nation.
At 2 this morning, RCMP responded to the incident on West Road in the community.
The driver, who was a 26 year old female from Wabowden was pronounced dead at the scene.
Her 5 passengers, ranging from 25 to 52 in age, were brought to hospital with various injuries.
It appears seatbelts were not being used and alcohol is thought to be a factor.
The investigation is ongoing.
Details

Contributed by

Benjamin Schwab