Local News
There has been an accident around the Keld intersection on Highway five, west of Dauphin.
Unconfirmed report say the RCMP had closed the road for around 45 minues.
We've reach out to the RCMP for details.
Details

Contributed by

Benjamin Schwab
Steinbach RCMP have found the missing 17 year old, Heather Flett.
Flett was located safe and sound.
She had been missing since October 24th.
The RCMP thanks the public and media for their assistance.
Details

Contributed by

Isaac Wihak
Today is the best time to donate to the Dauphin and District Community Foundation.
Today is the 24-hour Giving Challenge.
"It is an opportunity for their donations to the Dauphin and District Community Foundation stretched. For every five dollars donated the Winnipeg Foundation will donate one dollar, and the Province of Manitoba will donate one dollar. So, a five dollar gift becomes seven dollars. We can receive a maximum of two thousand each in stretch from the Winnipeg Foundation and the province. So that's potentially an extra four thousand dollars."
Kit Daley says it's a straightforward process where you can either go to their website at Endowmantioba.ca or phone toll-free at 1-877-974-3631.
She explains where the money raised today is going.
"It goes into our Undesignated or Unrestricted fund. Which means the board will interview each applicant and get information on the project that they are applying for a grant for. And then the board will meet to discuss all the projects and who will benefit and what is the lasting legacy of the project and decide what we can support and with how much money."
Last year the challenge raised $34,730 for Dauphin. Since 1996 the foundation has granted out one million dollars.
Details

Contributed by

Benjamin Schwab
Barry Trotz is giving back to the community today.
His family went to different groups around Dauphin this afternoon giving out money raised during the Stanley cup day celebrations.
His parents went to Whitmore School, the Dauphin Hospital, the Senior Centre and presented a cheque to the Dauphin Community Fund.
"He really has done a wonderful job, and he never forgets his home routes. We're very proud of what he's accomplished," his mom said.
"I'm very proud of my son and the people that helped," his dad said.
15,640 dollars were donated to fund the Lifeline program at the senior centre, and 31,260 was given to create a fund in Barry Trotz's name for the Dauphin and District Community Foundation.
Whitmore School received a donation from the money raised on Barry Trotz Day. They received 15 690 dollars.
Lesia Jensen is very thankful for the donation.
"It will be used for our new play structure which we are currently fundraising for."
The Dauphin Regional Health Centre got 17, 650 dollars for their palliative care redevelopment project. The director of the Dauphin Regional Health Centre, Curt Gullett, says the donation is huge.
"What this is going to mean is it's going to allow us to complete phase one and a portion of the funds will be transferred over to phase 2"
The donation is huge for the project. It will help them buy TVs for the rooms and other items to make the rooms more comfortable.
There will be more donations coming in the future.
Details

Contributed by

Benjamin Schwab
Members of the Canadian Union of Postal Workers continue to be on strike in Dauphin and other cities across the province.
There is no end to the overall rolling strikes in sight, although employees in Dauphin could return to work on Monday unless told otherwise.
Job security, pay equity, and unpaid hours of work are some of the issues surrounding the collective bargaining negotiations.
Details

Contributed by

Isaac Wihak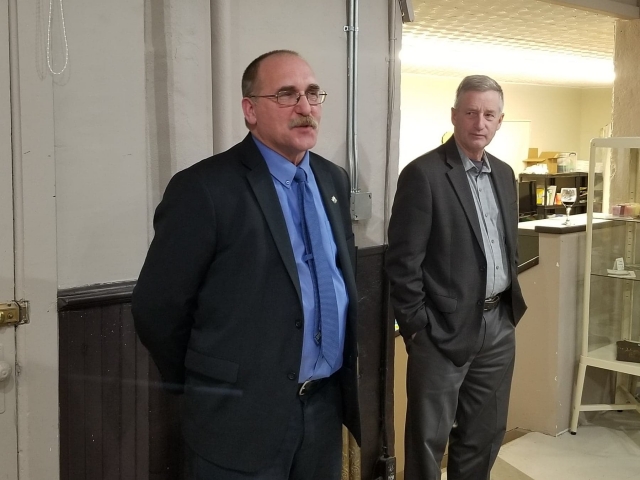 Last night Brad Michaleski hosted a wine and cheese night for volunteers.
"It's just to show recognition for the tremendous group of volunteers we have throughout the community."
Michaleski thinks the night was great and always enjoys meeting and talking to volunteers.
This was one way to show appreciation for all the work the volunteers do in the community.
Details

Contributed by

Isaac Wihak
Veterinarians always warn about leaving your favourite family members in cars during the hot summer, but what about in the cold winter?
"It would be a good idea sitting in a vehicle for a long time outside because your vehicle can get a little chilly as well. Just make sure that if it's too uncomfortable, it might be uncomfortable for them as well."
Dr. Roxanne Neufeld shares some tips on making sure your animals are comfortable in the minus weather.
"If it's really, really cold on our feet it's probably going to be cold on their feet as well. They still need water. They should not have to fend for themselves eating snow. They do need fresh water. Be careful about leaving them out for a long time, especially when there is a wind chill. They can get wind chill."
If your pets are wanting to go outside in the cold, let them. But as soon as they start dancing around because their feet are cold, Dr. Neufeld says that's when it's time to wrap your activities up and go back inside.
Details

Contributed by

Benjamin Schwab
Canada Post employees are now on strike in Dauphin, as well as Brandon, Portage La Prairie, The Pas, Flin Flon, Thompson, and Winnipeg.
However, in Winnipeg, workers at the processing facility are not on strike.
The strikes are now into their fourth week, and have affected Canada Post facilities and Canadian addresses country-wide, according to Canada Post.
For updates on the strikes from Canada Post, click here.
Details

Contributed by

Alec Woolston
Tomorrow there is a workshop for learning indigenous languages.
The master, apprentice program pairs a fluent language speaker with a committed adult learner.
The master and apprentice will do activities such as baking, driving in a car, doing cultural activities, or having conversations.
Heather Suter is the program director. She wants to make it clear that no indigenous languages are safe in Canada despite what might be heard.
If you are interested in going to the workshop pre-registry is required.
To register, email This email address is being protected from spambots. You need JavaScript enabled to view it., or call 204-647-0081 today.
Details

Contributed by

Isaac Wihak
Producers around Dauphin are encouraged to come out to the Keystone Ag Producer's District 11 meeting next week.
It's taking place on Thursday and will feature KAP's new president Bill Campbell listening to producers.
Don Dewar is encouraging people to come out.
"Come out and learn. There are some big changes, lots of discussion about carbon tax, our education tax system what's happening there. Bill is coming to listen. So I think people will want to come out and tell him what the problems are. We have a huge district. We're starting at 7:30 at St. Viator's Hall. We'll have coffee and doughnuts for people, and hopefully, we can get a decent turnout."
Around the parkland, District meetings are taking place on Tuesday in Arborg, Wednesday in Neepawa, and Thursday in Swan River.
Details

Contributed by

Benjamin Schwab
The latest report on the cougar from McCreary is that the animal did leave McCreary overnight.
Conservation Officers have been monitoring the situation and tracking the cougar which appears to be headed to the Riding Mountain National Park Area.
Details

Contributed by

Isaac Wihak