Local News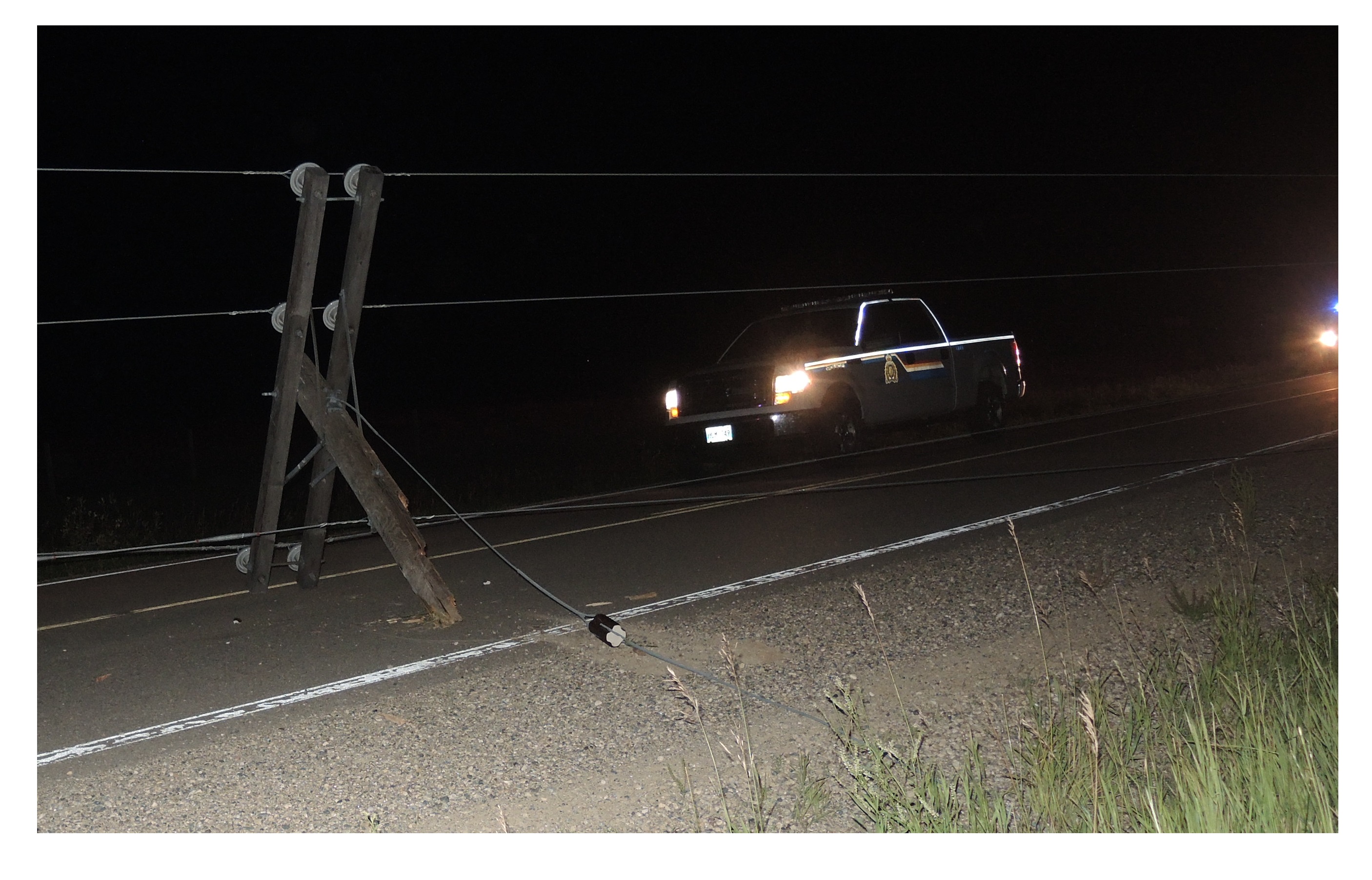 A 21-year-old is in the hospital with serious injuries after his pickup truck hit a hydro pole and ended up in a ditch south of Roblin.
A RCMP officer was driving on Provincial Road 482 northbound towards Asessippi Park when he came across a car tangled in down power lines laying across the road. The driver of that car was uninjured.
The officer then saw a pickup truck was in the west ditch. It had struck a hydro pole causing the lines to come down across the road.
The driver of the truck was the 21-year-old who is from Saskatchewan. He was brought to hospital with severe injuries where he remains.
It appears speed may have been a factor in the collision.
MB Hydro attended and addressed the downed lines and any safety issues.
A Forensic Collision Reconstructionist is assisting with the ongoing investigation.
Details

Contributed by

Darnell Duff
A 29-year-old from Fishing Lake First Nation, Saskatchewan will have to wait another week to find out his fate.
Reginald Morrisseau was charged with Manslaughter after he stabbed a man to death at a house party this past weekend in Dauphin.
Morrisseau appeared in Provincial Court yesterday, and his court date was remanded to Tuesday, July 24.
He remains in custody.
Details

Contributed by

Darnell Duff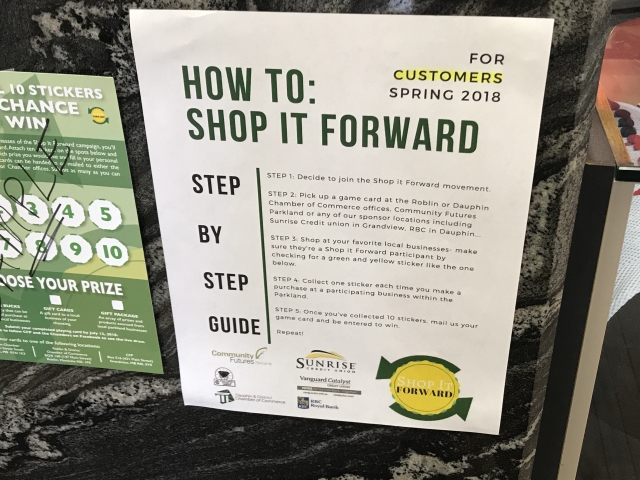 Three winners have been picked in the Shop It Forward draw.
Breann Maxwell, from Community Futures Parkland in Grandview picked one of the names from the draw.
Maxwell says a change they made this year worked out successfully.
"It was really positive this year." She continues saying, "it was the first year we did the game card format as the program and I think it worked a lot better then it had in previous years where we did it all online."

"We had quite a lot of businesses participating from across the Parkland and lots and lots of entries."
The winners are;
Ann Manweiller, she chose a Gift Package with items from Parkland-based businesses, valued at $100,
Grant White, he chose a $100 gift card from a local business of his choice,
Midge Sametz, she chose $100 Chamber Bucks as her prize.
Details

Contributed by

Benjamin Schwab
At least two companies from eastern Canada are expressing interest in expanding operations following Greyhound's decision to end service in Western Canada at the end of October.
Ontario-based Kasper Transportation has already expanded into Manitoba and says it's working on a route connecting Winnipeg to Saskatchewan.
Maritime Bus says it sees room for a new network of services involving private businesses with support from provincial and federal governments.
It picked up the slack when an international company dropped its routes in New Brunswick six years ago.
Details

Contributed by

Cole Papalazarou
If you are thinking about running for a position on the RM of Dauphin council, you have the opportunity to ask questions before putting your name forward.
The RM of Dauphin is holding a "Potential Candidate" Information Session on Thursday, July 26th.
You can ask questions about what the responsibilities and expectations for council members are.
Some of the topics that will get covered include meeting schedules, committee time requirements, and compensation.
They ask that you register this week, but you can still register next week.
If you have any questions about this session prior to attending, contact Tyral Solski, the Assistant Administrator, at 204-638-4531.
Details

Contributed by

Benjamin Schwab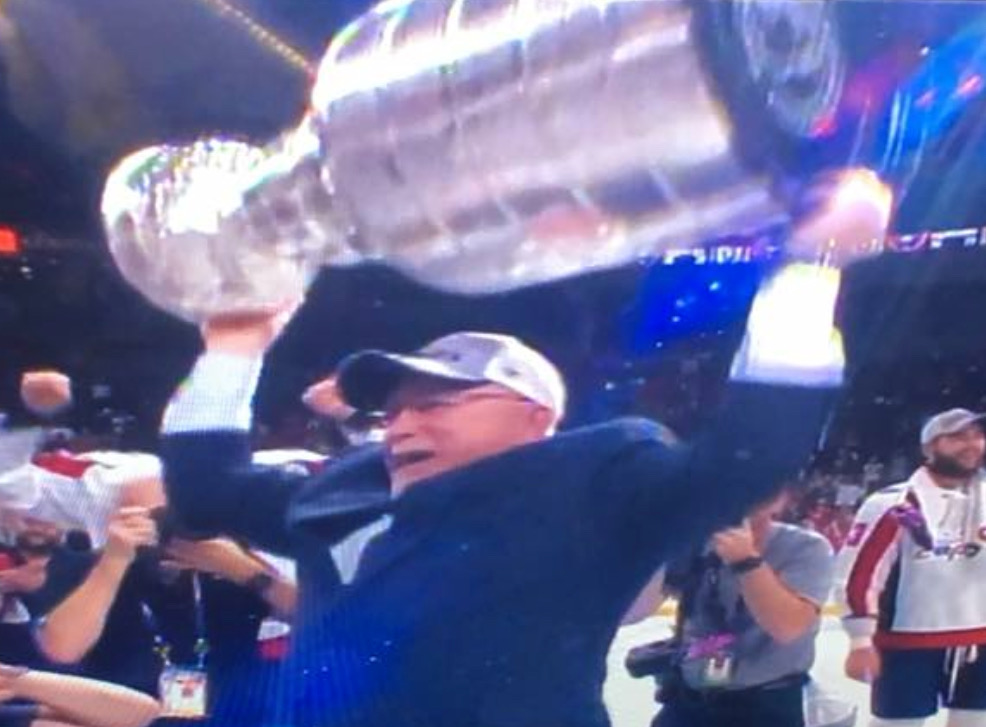 Dauphin's Barry Trotz is a Stanley Cup Champion, and now he's set to share it with the entire Parkland.
Barry will be coming to Dauphin with the Cup on August 22.
No details will be provided at this point as far as an itinerary or anything, but the countdown can officially begin.
"We're all really excited," said Karen Rauliuk, Barry's cousin. "We've all seen Barry with the Cup on TV, but now we're going to be able to see it all right in front of us. It's a proud moment for the whole family, and we can't wait."
"The entire community should be proud that Barry is bringing the Cup and coming back to Dauphin," she added. "It's putting Dauphin on the map, and it's making history in the city as well."
Keep it locked here to 730CKDM to find out the exact schedule for the day when it becomes available.
Details

Contributed by

Darnell Duff
The driver of a gravel truck that flipped upside down is not injured.
The accident happened around the noon hour north of Dauphin, past the bridge construction on Highway 20.
RCMP says the driver was looking down as he was shifting gears.
He drifted to the shoulder and one of his tires dropped off the side of the road.
He was pulled into the ditch and that's when the truck flipped.
He was taken to hospital by a crew member working on the bridge and was gone before emergency and police showed up.
Details

Contributed by

Benjamin Schwab
There is some damage to a family farm after a possible tornado touched down in the Interlake on Saturday.
Darcy Timchishen and his family farm around Arborg, which is about a 41-minute drive east of Eriksdale and about an hour and a half drive directly north of Winnipeg.
Timchishen, says there was some minor damage from the storm.
"You could see the definite rotation of everything basically went by the house and across the farm and tipped over an auger, a conveyor, and dented some hopper bins."
He believes it was a narrow storm because equipment 50 feet away from the damage wasn't moved.
"The wind picked up and we could see the wind coming and all of a sudden a few trees snapped off right in front of us and the swirling twigs and branches and debris came right by the house on the farm here."
Timchishen and his family had a full day of cleaning up yesterday and still have some more to do today.
Details

Contributed by

Benjamin Schwab
Moon Lake Trail is closed until further notice.
The lake and campground remain open.
Parks Canada has closed the trail because there has been an increase in black bears frequenting the area.
Access to the trail is forbidden and visitors might be charged with up to a $5000 fine under the National Parks Regulations.
Park officials are also warning about more bears around the Grey Owl Trail.
They are asking anyone going down that trail to be cautious when in the area and make lots of noise while there.
If you are in the Grey Owl Trail area and see a bear you are asked to report sightings to Parks Canada Dispatch line at 1 (877) 852-3100.
Details

Contributed by

Benjamin Schwab
The City of Winnipeg is hoping to become a destination when it comes to hosting major cricket tournaments in Canada.
The city says two new cricket fields with concrete pitches will be constructed in La Barriere Park.
Manitoba Cricket Association reports the number of players in Winnipeg has doubled in just the last two years.
Having two more fields in the city will increase playing opportunities for teams, assist in athlete development and ensure Winnipeg is a destination for cricket tournaments.
Details

Contributed by

Cole Papalazarou
One man was shot and another seriously assaulted in Portage la Prairie yesterday morning.
Portage la Prairie RCMP responded to gunshots near 17th Street at around 12 a.m. yesterday
When they arrived, officers located an 18-year-old man who had been seriously assaulted, and a 20-year-old man with a gunshot wound.
Both, are in the hopsital in stable condition, and the investigation is ongoing.
Both victims are from Portage la Prairie..
Details

Contributed by

Cole Papalazarou