Community News
The Ste. Rose Rec Commission is hosting a fundraising Valentine's Dinner and a Movie, on Friday, February 16th.
Doors open at 6; buffet is at 6:15; 7 pm movie start time. Only $20 per person.
Tickets must be purchased from the Ste. Rose Arena, or call for more info and to reserve tickets, at 204-447-2154.
Tickets must be purchased in advance by February 14th.
Details
Participate in the Rorketon Curling Club Grand Re-opening Bonspiel, February 16th to 18th. Enter for only $160 per team, by calling 732-2464; this entry fee also includes a supper and dance on Saturday night. Separate supper and dance tickets are also available for this event.
Deadline to purchase tickets is February 15th.
Get tickets from the RM of Lakeshore office in Rorketon.
Details
You are invited to attend a welcome to the Community Meet and Greet for Dr. Carleton, at the Winnipegosis Medical Clinic in the Winnipegosis Health Centre, on Thursday, February 15th, from 3:30 pm to 4:30 pm; come out and welcome Dr. Carleton to the community.
Details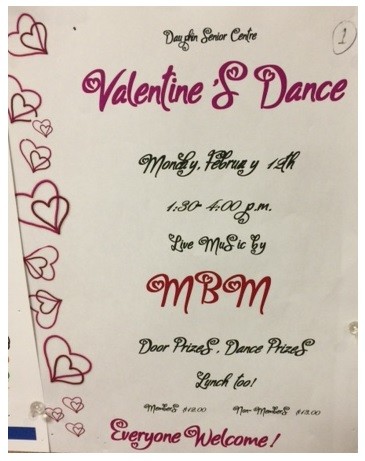 The Dauphin Senior Centre is hosting their Valentine's Dance on Monday, February 12th, from 1:30 pm to 4 pm, with music from MBM.
There will be door prizes and lunch.
Purchase your tickets from the Dauphin Senior Centre.
Details
Attend the Senior's Old Time Dance, at the Russell Leisure Centre in Russell, on Monday, February 12th, from 7:30 pm to 11 pm, with music by the Pelly Trail Band.
Potluck lunch and admission is $10.
Details
Special thank you to the Dauphin Clinic Pharmacy for their Walking Track sponsorship at Credit Union Place; come out for free walking on Monday, February 12th and Thursday, February 22nd.
It may be cold and icy to walk outside, so why not walk indoors, on the DCP Walking Track.
Details
You are invited to attend a Free-Will Offering Pancake Breakfast, at St Paul's Anglican Church in Dauphin, on Sunday, February 11th, following the regular morning service at 10:30 am.
All are invited to attend the Service and the Pancake Breakfast.
Details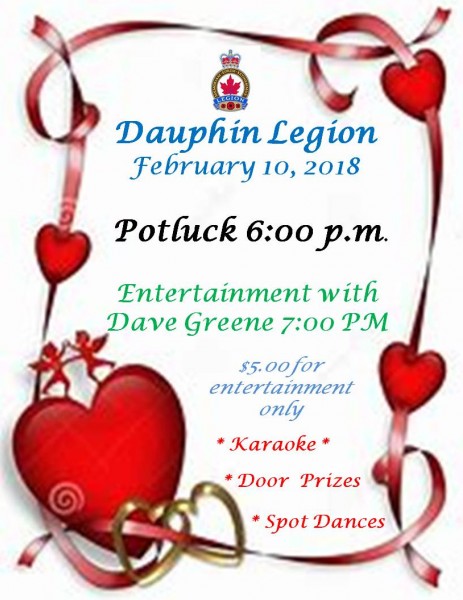 Feb. 10th: Valentine'
s Potluck Supper - 6:00 PM -
Dave Greene Entertainment at 7:00 PM - $5.00 for entertainment only.
Come on out for a Valentine's Potluck Supper at the Dauphin Legion! With Dave Greene performing, it's sure to be a lovely evening.
Details
Winter Wellness events are in Dauphin! From 6 to 9 pm, enjoy free family swimming at the Kinsmen Aquatic Centre, on Friday, February 9th.
Details
Enter your team for the Winnipegosis Ladies Bonspiel, to be held February 9
th
to 11
th
.
Entry deadline is Wednesday, February 7
th
, at 6 pm.
Enter by calling Carol at 657-2460, or Brent at 656-4202.
Details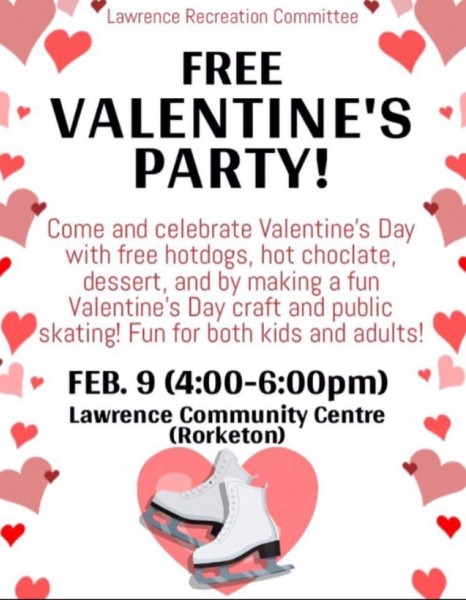 Enjoy a free Valentine's party in Rorketon, at the Lawrence Community Centre, on Friday, February 9th, from 4 pm to 6 pm.
Come out for free hot dogs, hot chocolate, dessert, crafts, skating, and more! It's a fun day for both the kids and the adults!
Details